Looking for something to sip that will make you say "cheers"? These 30+ cocktails to make at home are all quick and easy and totally delicious.
You KNOW I'm a wine lover, but I also really enjoy making mixed drinks! I find it really fun to use different types of liquor and mix them with fresh, seasonal flavors to create delicious drink recipes (I especially love vodka recipes!).
My recipes don't usually require special ingredients or tools so anyone can make them.
You're going to love these easy cocktail ideas!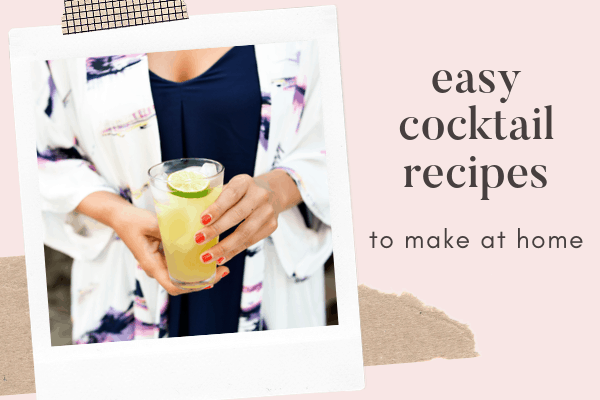 Some links in this post may be affiliate links. As an Amazon Associate in the Amazon Services LLC Associates Program, I earn from qualifying purchases by linking to Amazon.com and affiliated sites. I also participate in affiliate programs for other retailers.
If this gets overwhelming because I have a LOT of easy cocktails to make, just use the search bar at the top of the page.
Cocktails to Make at Home
Since I'm not an expert (just a mom who likes to unwind with an adult beverage from time to time) I like to keep my cocktail recipes easy and without fancy techniques.
These cocktail recipes are great for parties or just having friends over to hang out (or, on rare occasions, drinking by yourself whilst hiding from your kids in your closet - you KNOW the type of days I'm talking about).
I'm not linking every single recipe from this page, but all are only a click or two away. This is my way of keeping things organized by liquor or drink type.
Cocktails to Make with Vodka
While I love creating fun cocktails recipes with a variety of liquor, I have an almost alarming number of different kinds of vodka in my cupboard. Over the years, various companies have sent me bottles to use in recipe posts.
So I decided to focus on vodka recipes, which are super refreshing and quick to make, to work my way through the alcohol. Vodka is super popular, there are a bunch of inexpensive brands to choose from and its versatile.
So I knew that many of my readers would be able to make the recipes I share.
You can see all of them here: VODKA RECIPES TO MAKE FOR HAPPY HOUR
Here are just a few of the recipes you'll find:
Scroll through all the vodka recipes here.


Homemade Tequila Cocktails
Tequila gets a bad rap (thanks, college)! Over the years I've grown to really love it. These easy tequila-based cocktails to make at home are perfect for your next fiesta.
You may also want to check out these yummy margarita cupcakes because sometimes you just have to eat your tequila.
Wine Cocktails to Try
Most often, you can find me drinking a glass of nice, crisp white wine. But cocktail recipes are truly fun to make and serve. Wine Cocktails are my jam and I totally nerd out over them when I see them on a restaurant's cocktail menu. Here are the recipes I've created that I know you'll love!
You can get the full recipes here: WINE COCKTAILS TO MAKE YOUR MOUTH HAPPY
Check out all my wine cocktails.
Moscow Mule Variations For a Night In
Maybe it's because I love anything that lets me buy new accessories (copper mugs are the cutest!), but I adore making all different kinds of Moscow Mules. These easy recipes are tasty twists on the classic.
Browse all the Moscow Mule Variations.
Sip on These Rum Cocktails
Gin Cocktails to Make at Home
It's very clear that I am neglecting Gin. I really should start experimenting more with it!
Bourbon/Whiskey Cocktails
Miscellaneous Recipes for At Home Cocktails
Cocktail Recipe Lists for Every Occasion
Other Recipes (and cheats!) for Cocktail Making at Home
Still need more cocktail recipes? (you cray!) Check out these blogger babes who I love to share cocktails with:
Celebrations at Home | Thoughtfully Simple | Besos, Alina
Pin These Easy Cocktails for Later
Easy recipes are good for home entertaining, summer vacations and Tuesdays. What are your favorite cocktails to make at home? Let me know in the comments!