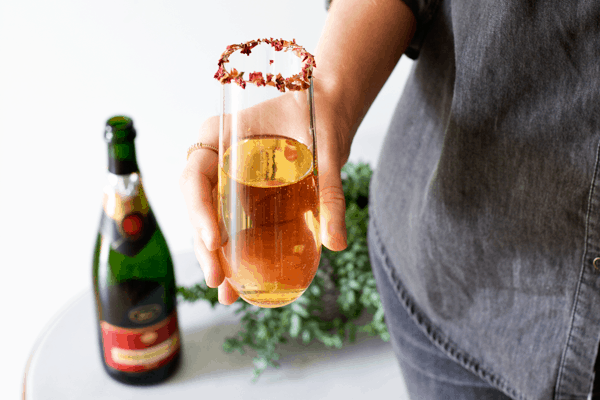 I love to find simple ways to make something feel extra special. And while champagne feels pretty darn special on its own, even that can use some dressing up once in a while. I keep dried rose petals on hand so I can easily make my favorite goat cheese appetizer recipe so I like to figure out how else to fit them in to my cocktails or cooking. This rose rimmer for your glass is super simple but adds a fun bit of color and taste to your glass of bubbly.
It kind of reminds you of confetti which is super festive, right?
All you need is a great bottle of champagne, some rose syrup and dried rose petals (edible, food grade so you know they're safe!)

Rose syrup is super sweet and yes, flower-y. It gives drinks a really pretty color and, because you don't use much in each recipe, the flavor is actually pretty subtle. But it's really sticky so it works perfectly for rimming a cocktail glass. You can easily find this at your local international market.
The dried rose petals come in a bag that looks a little bit like potpourri. But you just have to get past that. Dried roses are SO great in so many ways. They add such a fun flavor to dishes and people are shocked to learn that there are roses in their food. Plus they're pink! Pink food always tastes better. Said every little girl.
There isn't much prep needed for this aside from rough chopping the dried rose petals.
Then you just spin the edge of your cocktail glass or champagne flute in the rose syrup.
Then dab the sticky edge in the dried rose petals. That's it. Done. Depending on how much syrup you end up with on your glass, it may start to run a little. I love things that aren't super perfect so the drippy rose syrup looks really pretty to me. Others may not love it so just be aware it can happen and wipe the excess off if you need to.
Most of the rose flavor comes from the syrup and not the rose petals. They look really pretty but if you aren't in to cocktail rimmers (I don't usually love them – why do they have to be so messy?) then just skip this and make my appetizer instead. And of course drink a glass of champagne. Because even without a rimmer, it's still delicious! I know these would be a hit, though, at a Bachelor or Bachelorette watching party. Or you could even do it with lemonade for a fancy little girl's party. Cheers!
If you liked this post, you may also like:
Goat Cheese Appetizer with Roses and Sumac
Champagne Float with Strawberry Lemonade