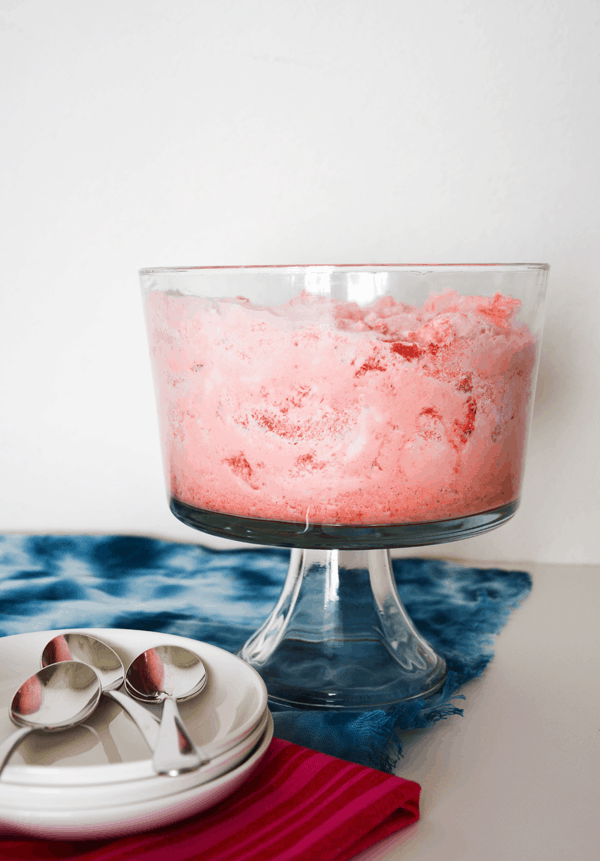 This might be the best dessert idea ever! This nostalgic strawberry cake is so easy and is a total crowd pleaser! It only uses a few simple ingredients but is so flavorful and reminds me of summer! My mom used to make this for us on summer break and it makes my heart smile just thinking about it. I love that I now get to make it for my own kids! 
It's really more like a dump cake. But it/s no bake which is why it's perfect for warmer weather. This poor, sad, ugly little cake. This is not the dessert you will make if you are trying to impress guests who are superficial and in to outward appearances. This is the strawberry cake recipe you make for your friends when you want to give them a mouth hug.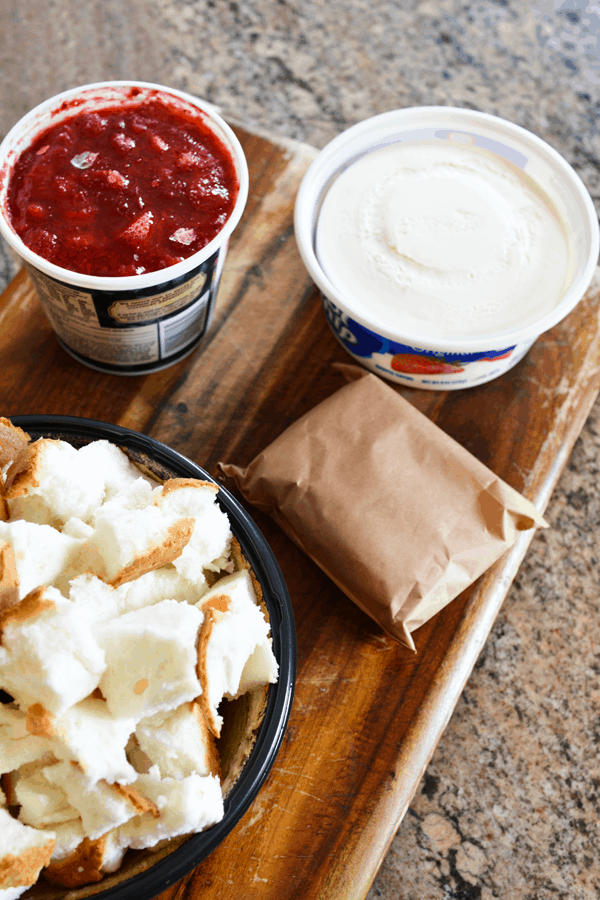 This is my go-to dish for a family or neighborhood potluck and it's always gone immediately. It's so unfortunate that it's just not that pretty. But it sure is pretty on the inside. Ingredients are strawberry jello, frozen strawberries, frozen whipped topping, and pre-made angel food cake. Pretty straight forward stuff.  
First you mix the Jello powder with boiling water. And immediately add your frozen strawberries. The hot liquid will help to thaw the berries. Stir, stir, stir. I always seem to screw this step up by waiting too long to add the berries. It makes it really hard to thaw the berries if the water has cooled down too much.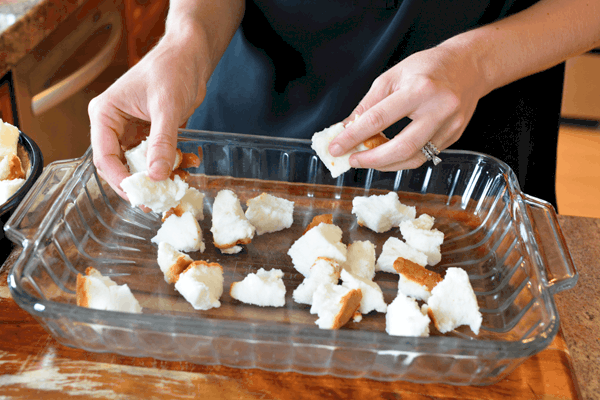 This post contains affiliate links.
Break up the ring of cake and add half to the bottom of a dish. If a few pieces fall up in to your mouth, that's ok. You CAN make angel food cake. But why? Store-bought A cake is super yummy and keeps this dessert quick to prepare. Take the time you would have used to make the cake and go read a magazine. 
Once your berries and Jello are mixed well, you'll add in the whipped topping. Mix until well combined. 
To put this strawberry jello cake together(I realize this isn't really a cake, but it has cake in it so…), you'll layer the ingredients. Half the cake cubes on the bottom, followed by half of the pink goodness. Followed by the other half of the cake pieces and the rest of the strawberry mixture. You'll want to take the back of a wooden spoon and push down any cake pieces that are sticking out the top so they are submerged and can soak up all the flavor. 

Cover it with foil and put in the fridge until ready to serve. So simple. So tasty.
A reader suggested I try using a trifle bowl so I did. It's a lot cuter in terms of dish choice but the dessert itself…not so much. 
I must have taken 300 pictures of it trying to get it to look appetizing. Nope. You're going to have to trust me on this one. And I know my sweets. Try to serve it on a cute plate at least, and definitely use a trifle bowl in stead of the 9 x 13 pan. Everything looks better in a trifle bowl! 
This strawberry cake was always our favorite. It reminds me of big get togethers and hanging out with my sister. I hope you'll make this for the ones you love too. It's a great recipe to get the kids to help out with. Aside from the boiling water (parents, YOU do that part please!), it's a lot of stirring and tearing. Kids excel at tearing.
The Easiest Strawberry Cake Recipe

Ingredients
1 ring Angel Food Cake (store-bought)
1 large pkg. Strawberry Jello
2 cups boiling water
1 small container frozen whipped topping (like Cool Whip)
1 large pkg. frozen strawberries (the kind that also have juice, not whole frozen berries)
Instructions
Break 1/2 of the angel food cake in to chunks and put in the bottom of a 9x13 pan.
Mix Jello in a bowl with 2 cups boiling water.
Add strawberries immediately and stir.
Stir in spoonfuls of Cool Whip until well mixed.
Spoon 1/2 mixture over angel food cake in dish.
Repeat layers and set in refrigerator for several hours.
Cut in to squares and serve immediately.
https://www.cupcakesandcutlery.com/the-easiest-strawberry-cake-recipe/
I bet you'll also love these other simple recipes!