Listen, I know some of you will see the Fireball Whisky and shudder. But don't! I'm not suggesting shots. (We all know a hangover as a mom is the WORST!) The cinnamon Whisky adds such amazing flavor to cocktails! You know I love Moscow Mule recipes so, with Valentine's Day right around the corner, I decided to create a Cinnamon Whisky Mule. You'll LOVE this recipe!

I only share things I love and think you'll like too. This post includes affiliate links which means if you purchase through one of these links, I am compensated.
A Valentine Mule just seemed like the right thing to make. I always start with the best Moscow Mule recipe (the original!) and then think of ways to change it up. Since Valentine's Day is all about love, I decided I wanted this cocktail recipe to be a little spicy. I started thinking about cinnamon and thought it would pair perfectly with the ginger beer and lime juice that are a big part of a Moscow Mule.
I saw an ad for Fireball Whisky and knew it would be perfect for this Cinnamon Mule with Whiskey! I didn't have any at home so I had to buy it. It was super easy to find, I think they sell it just about everywhere. I took a swig to make sure it was what I wanted for this recipe. And it wasn't half bad! I can totally see how it would be great in tons of fall cocktails.
And I wouldn't say no to a shot (as long as it was the perfect time and place and I just had one and then tons of water and then my favorite hangover supplement because this is what middle-aged drinking is like…)
How to Make a Cinnamon Whisky Mule
Like most Moscow Mule recipes, you need very few ingredients. I always keep ginger beer and bitters on hand so I can make a drink whenever I want. While fresh limes are usually harder to have around, I usually have one or two because my oldest son and I really like a little sparkling water with lime in the afternoon. But if you don't have a fresh lime, bottled lime juice will work too.
Ingredients for a Cinnamon Mule:
• Fireball or other Cinnamon Whisky (sometimes they spell whiskey with an "e", I think it depends on where it was made. It's super confusing so I always spell it with and without the "e" to try to cover everyone reading.)
• Ginger Beer
• Bitters
• Fresh lime juice
Steps:
• Add ice to a Moscow Mule mug
You don't have to have a copper mug, but they are super awesome and once you have them, you will use them all the time. Of course, you can use them for all kinds of cocktails, not just a whiskey mule. I love to drink basil iced tea of them too.
• Add 2 oz. of Fireball Whisky
• 4 oz. ginger beer
• 1/2 oz. of fresh lime juice
• a few dashes of bitters (you should also check out this Soda and Bitters idea – it's perfect for when you want a cocktail but maybe shouldn't have a cocktail.)
• Stir with a bar spoon
• Garnish with a cinnamon stick and enjoy!
And, OMG, can we talk for a second about these Chewy Red Hots Hearts?! SO good! Like a Hot Tamale but even more cinnamon flavor! I'm obsessed.
This Cinnamon Whisky Moscow Mule is so easy to make. It has delicious spicy, cinnamon flavor but is still refreshing to sip on. It's not overly sweet which I LOVE! It's the perfect Valentine's Day cocktail idea for your special someone.
I'm not usually a fan of flavored liquor. But I really love the intensity of the cinnamon flavor you get from Fireball. You can probably make a cinnamon simple syrup (similar to this Vanilla Bean and Cinnamon Simple Syrup) but I think the cinnamon flavor would be much more subtle.
The fresh lime really adds the perfect amount of freshness to this whiskey mule. It's crazy to me how much depth of flavor a little fresh lime can add to a drink.
Printable Recipe for a Cinnamon Whiskey Mule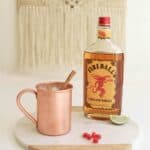 Cinnamon Whisky Mule
If you are a fan of Moscow Mules, you'll love this spicy Cinnamon Whisky Mule that is the perfect Valentine's Day cocktail.
Ingredients
2

oz

Fireball Whisky

4

oz

Ginger Beer

1/2

oz

fresh lime juice

4

dashes

bitters
Instructions
In a copper mug, add whisky, ginger beer, lime, and bitters.
Would you give this Cinnamon Whisky Mule a try? Or do you think it will be too much for you? Give it a try and let me know what you think in the comments.
Shop this post:



Pin this Cinnamon Whisky Moscow Mule for Later
You may also love these yummy, easy cocktail ideas!