This Spiced Rum and Wine Cocktail with White Zinfandel is fruity with a hint of cinnamon and it's one of my favorite spiced rum cocktails to make at home!
It's the perfect poolside drink. It tastes like a vacation in a glass and looks like a pretty sunset. It's the best summer cocktail that you can drink all year long.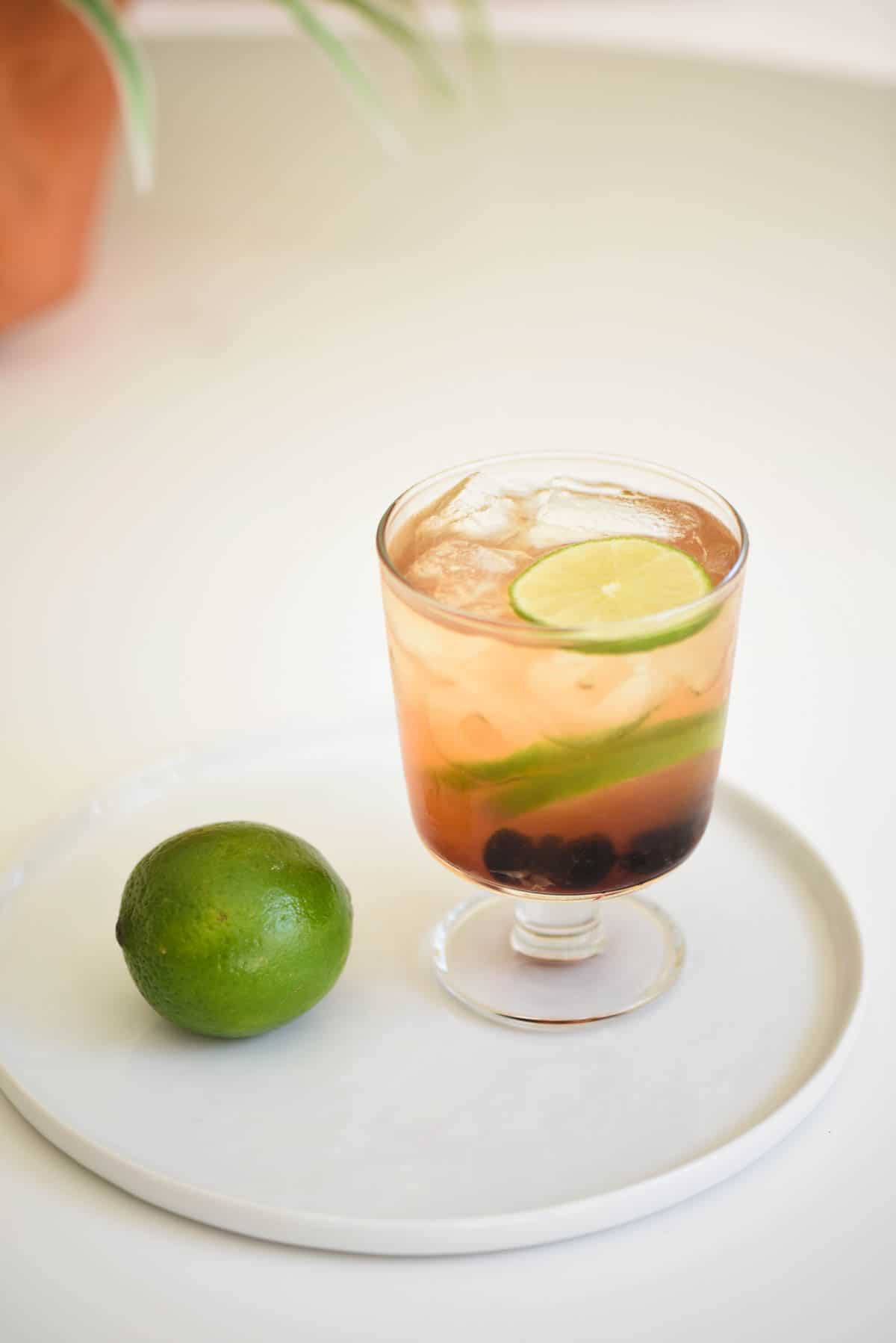 Spiced Rum is quickly becoming one of my favorite liquor to use in cocktails! With the cinnamon and nutmeg notes and caramel-y sweetness, it's a great ingredient to make a drink feel tropical and comforting.
And, of course, you can always use it in Rum Punch!
Jump to:
Why This Spiced Rum Cocktail Works
Yes. This cocktail combination sounds bonkers. Spiced rum and white zinfandel? Together? In a drink recipe? YES! Trust me, you're going to love it!
The ingredients give it a tropical flavor making it amazing to drink during summer. But it's perfectly acceptable to drink at any time. And you'll want to.
No matter the occasion, it's a beautiful drink with a bit of spice that will wake up your tastebuds. And it's way easier to make than a Pina Colada.
I was super surprised to find that the spiced rum paired so well with the wine! It's a drink I've made several times since, for all different types of crowds.
And everyone always loves it. And I pretty much force it on everyone. Mostly because when I tell them what's in it, they feel like they are being pranked.
Spiced rum has proven to be a delicious pairing. (And you can also use it to make a tasty Moscow Mule with Rum.
Key Ingredients
The spiced rum for this post was provided by Captain Morgan 1671 Spiced Rum. All opinions, images, etc. are my own.
I know. This list of ingredients is weird. But the result is SO tasty!
With notes of vanilla and dried fruit, I am a big fan of this spiced rum. And it pairs really well with the white zinfandel and lemon-lime soda.
Scroll down to the end of the post for a printable recipe card with full measurements and more detailed instructions.
How to Make a Spiced Rum Cocktail with Wine
First, you'll prepare your serving glass.
The original recipe called for a footed glass (or wine glass) but I think any type would work.
Use the back of a spoon or muddler to press the lime slices and cherries so they release juices.
Then set aside for a minute.
In a tall ice-filled glass or bar pitcher, add Captain Morgan spiced rum, wine zinfandel, pineapple juice and lemon-lime soda.
Use a bar spoon to stir the ingredients together in the tall glass then using a strainer, strain over fresh ice in your prepared cocktail glass.
Garnish with lime wedges or wheels. Whatever you prefer.
What?! How is all that supposed to work together in harmony in my mouth? Somehow it works! And you'll want to make this over and over.
What happens when all these ingredients come together is purely magical. I would have never dreamed that mixing rum and wine, especially white zinfandel, would tast this good.
It's tropical and fruity without being too sweet. It's pretty to look at and super smooth to drink.
And your guests will most likely not have tried it before so you can be their hero. You definitely need to pin this recipe.
Top Tips for Making Spiced Rum Cocktail Recipes
Save time | If you want to cut out a step, you totally can and it won't change the flavor too much. Just muddle the fruit in your serving glass, add ice and then add the rest of your ingredients right into the glass.
Make more | It's super easy to turn this simple cocktail recipe with spiced rum and white zin for one into a party punch! Scroll down the recipe card where you can slide the "servings" to up to 20. Or do the math yourself. Ew.
Money-saving | Aren't ready to buy that full bottle of spiced rum? Head to Bev Mo or other liquor store and see if there is a small, airplane-sized bottle for you to try out first!
Substitutions
If you don't have this rum | Captain Morgan 1671 is a commemorative blend, that in my opinion, you need to track down. But if you can't find it, you can use any other spiced rum. And then also use it to make a Rum Cake.
If you don't have spiced rum | You can still make this drink. You can try to make spiced rum at home, but that will take a while and lots of ingredients.
Instead, I would use light rum or dark rum and then use a bit of vanilla extract and ground cinnamon.
You could also make this Cinnamon Vanilla simple syrup. This will give the drink a lot more flavor but it will also sweeten it up.
And I recently just figured out that if you go really heavy on bitters, it also adds tons of herbal, cinnamon, and nutmeg notes.
Try flavored rum | While you may lose out on some of that vanilla and cinnamon flavor, you can try using coconut rum along with some of my flavor hacks above for even more tropical flavor.
If you don't have fresh cherries | The original recipe called for fresh cherries but using Luxardo doesn't change the flavor much at all. It's mostly for the color I think.
If you don't have white zinfandel | You could also make this drink with a sweeter white wine like reisling or moscato. I also think sauvignon blanc would be quite tasty.
Frequently Asked Questions
What else can you mix with White Zinfandel?
I'm not a white zinfandel expert. I love rosé but white zin is a bit different.
It's made from white wine, that has sat with some Zinfandel grape skins to give it that blush color.

They are typically on the sweet side and are a fairly light wine. Turns out it's a decent mixer for cocktails. I think you can use White Zinfandel in any wine cocktail recipe that calls for white wine without changing up the flavor too much.
Is spiced rum good for cocktails?
Yes! Spiced rum is great for cocktails! It adds such a fantastic flavor to whatever mixer you use. And it has a great versatile taste that makes it perfect for summer drinks and just as great in the fall (especially with a little apple cider)!
How quick are you going to try this spiced rum and wine cocktail with white zinfandel? It's full of tropical flavor that you're going to crave!
10 More Spiced Rum Cocktails To Try
While I love classic rum cocktails, I lean more toward tropical vibes during the summer months. The refreshing cocktails below are great options!
Spiced Rum and Wine Cocktail with White Zinfandel
You may look at the ingredient list and think, "nope" but I promise you, this cocktail is ridiculously tasty! This Spiced Rum and Wine Cocktail is fruity with a hint of cinnamon and spices. With white zinfandel, it's one of my favorite wine cocktails to make at home and is the perfect summery pool-side sipper.
Print
Pin
Rate
Save
Saved!
Instructions
Prepare the cocktail serving glass by adding 3 slices of limes and several cherries. Use the back of a spoon or muddler to press into the fruit and release the juices. Set aside.

In a tall, ice-filled glass or the bottom part of a shaker, add Captain Morgan spiced rum, wine zinfandel, pineapple juice and lemon-lime soda.

Use a bar spoon to mix. (Never shake a drink in the shaker that has any type of carbonated beverage).

Strain cocktail over fresh ice in the prepared serving glass.

Garnish with a slice of lime.
Notes
This can be made into a larger batch and would make a great party punch.
Try to make this, as is, first so you know how great it is then you can modify based on what ingredients you prefer.
Nutrition
Serving:
1
g
|
Calories:
201
kcal
|
Carbohydrates:
35
g
|
Protein:
2
g
|
Sodium:
14
mg
|
Fiber:
6
g
|
Sugar:
16
g
I found this recipe on the Captain Morgan site. They called it Tortuga Nights. This was originally posted August 7, 2014 and I've updated it to include better images and instructions.