Wine Cocktails you guys! Fun, right?! Of course, a glass of wine is super easy to pour and even easier to drink. But cocktails can be so flavorful and fun to sip on!
That's why I love to make wine cocktails. They are the best of both worlds and let me be creative and experiment with all the flavors. All of these easy mixed drinks include wine so you can choose your favorite varietal and start mixing!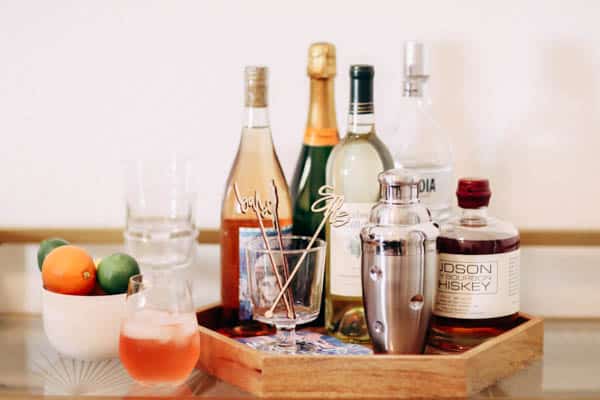 Wine Cocktails are my Favorite!
I'm a total spritzer gal. And I LOVE white wine sangria. But using wine as just one ingredient in a cocktail recipe is so much fun. Wine has such a unique flavor and it marries perfectly with so many other flavors!
But they aren't really that common. I always get so excited when I see a wine cocktail on a menu.
Cocktails with wine are easy to make at home. Most start with a bottle of chilled wine plus simple ingredients you probably already have at home.
I've broken up the recipes by type of wine. Champagne cocktails are generally super easy and most often is paired with just another ingredient or two.
Most are single-serve but there are a few wine drinks that make enough for a crowd (trust me, it will still go quickly!).
The Best Wine Cocktails to Make Now!
Drinks with Champagne
Best Ever Champagne Punch | This is my mom-in-law and my favorite champagne punch recipe! We make this for all the big occasions like baby showers etc. and for holidays. It's so easy and SUPER delicious! It's citrusy so it's easy drinking for people that aren't big into cocktails.
Kombucha Mimosa | If you love the tang of kombucha, you'll love this twist on the classic morning cocktail. I always look for a ginger-flavored kombucha for extra flavor!
Champagne Float with Strawberry Sorbet | Easy to make and super easy to drink, you'll love this boozy float that is a perfect summer sipper!
Passion Fruit Sangria | If I could drink this every morning instead of coffee, I totally would. The passion fruit juice makes this sangria sweet with an unexpected flavor. Every time I serve this I'm asked for the recipe!
Spiced Pear Bellini | This one takes a little while to make since you are infusing the pear juice with delicious spices but it is totally worth it! This is delicious and would be perfect for spring although I usually make it around New Year's Eve.
Bourbon Cocktail with Champagne | This tasty fun cocktail is easy to make and it's perfect for groups with both men and women.
Watermelon Mimosa | Watermelon is super refreshing which makes this bubbly drink great for brunches and celebratory breakfasts!
Aperol Spritz | Nothing says summer like an Aperol Spritz! They're super refreshing and are really well-known wine mixed drinks to drink while on vacation.
Pear and Wine Cocktail | Dry white wine is a great pairing for flavorful pear juice!
Gin and Sparkling Wine with Cilantro | Yes, cilantro. This unique cocktail has a bit of fizz and lots of intense flavor.
Ginger Peach Sparkling Wine Cocktail | Peach and ginger are a great flavor combination to pair with sparkling wine. This is a great spring wine cocktail idea!
Recipe Hack | For any of the recipes that require only a small amount of champagne or sparkling wine, pick up the mini bottles or canned wine from the store!
Of course, if you are making more than one, by all means, open a whole bottle. But if you are just making one or two for yourself, there won't be waste!
Cocktails with White Wine
White Wine Spritzer | I love a white wine spritzer when the weather starts to warm up! It's also my hack for when I want to do some day drinking and not become an idiot in front of my children...
Iced Tea Sangria | I'm a huge iced tea fan so this easy Iced Tea Sangria is a pleasant mash up. It's super refreshing and another great poolside drink idea.
Sauvignon Blanc Martini with Strawberries | Sauvignon Blanc is my favorite wine so I love to turn it into a martini recipe! Strawberries add so much flavor to this fun wine cocktail idea.
How cute is my wine sweatshirt?! It was a Christmas present from my mother-n-law. I wear it all the time because it is super cozy. I especially like to wear it in the mornings. I get REALLY funny looks! :)
The White Zinfandel Cocktail That Will Totally Surprise You!
Spiced Rum and White Zinfandel Cocktail | When I saw the list of ingredients for this cocktail I was like, nah. But I decided to try it anyway and it was the best decision I've ever made! It's not too sweet, it's got a spiced kick and it's super easy drinking. This is the perfect pool-side wine cocktail that you should drink all summer long!
Seriously, you HAVE to try the cocktail above. It sounds crazy, but it all works together in pure cocktail magic. Even with the white zinfandel.
Red Wine Cocktails
Cocktail Ideas with Rosé
Sparkling Black Raspberry Fizz | This one is by April Golightly and it sounds so refreshing!
Rosé Lemonade | This refreshing cocktail is perfect for summer. A little rosé, and a little lemonade makes the perfect cocktail idea!
Related Recipes
Not into wine? Browse my cocktail collections: Moscow Mule Variations, Fireball Cocktails, Cocktails with Bitters, Cocktails Made with Coke, Drinks with Apple Juice, 2-Ingredient Cocktails, and Vodka Recipes.
Also check out:
Shop for your home bar!
Use the arrows to scroll through these gorgeous wine and cocktail picks!

Pin These Wine Mixed Drinks for Later
Do you make wine cocktails? What's your favorite? Leave me a comment and let me know! Of all of these, I think I drink the spritzer the most. Followed by the Spiced Rum and White Zinfandel cocktail. And sangria.