Wine Cocktails you guys! Fun, right?! Of course, a glass of wine is super easy to pour and even easier to drink. But cocktails can be so flavorful and fun to sip on!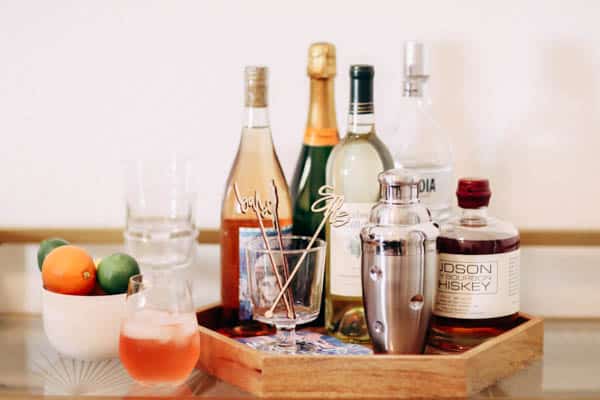 Jump to:
Wine Cocktails are my Favorite!
I love to make wine cocktails. They are the best of both worlds and let me be creative and experiment with all the flavors. All of these easy mixed drinks include wine so you can choose your favorite varietal and start mixing!
I'm a total spritzer gal. And I LOVE white wine sangria. But using wine as just one ingredient in a cocktail recipe is so much fun. Wine has such a unique flavor and it marries perfectly with so many other flavors!
But they aren't really that common. I always get so excited when I see a wine cocktail on a menu.
Related Post: Easy Wine Jello Shots
Cocktails with wine are easy to make at home. Most start with a bottle of chilled wine plus simple ingredients you probably already have at home.
I've broken up the recipes by type of wine. Champagne cocktails are generally super easy and most often is paired with just another ingredient or two.
Most are single-serve but there are a few wine drinks that make enough for a crowd (trust me, it will still go quickly!).
The Best Wine Cocktails to Make Now!
These wine cocktails are made with your favorite sparkling, red, white or rosé wines are perfect cocktails for sipping for every season. They range from bubbly and refreshing to sweet and fruity. You are sure to find a favorite!
Tips
For any of the recipes that require only a small amount of champagne or sparkling wine, pick up the mini bottles or canned wine from the store! Of course, if you are making more than one, by all means, open a whole bottle. But if you are just making one or two for yourself, there won't be waste!
Sipping in Sweats
How cute is my wine sweatshirt?! It was a Christmas present from my mother-n-law. I wear it all the time because it is super cozy. I especially like to wear it in the mornings. I get REALLY funny looks! :)
Do you make wine cocktails? What's your favorite? Leave me a comment and let me know! Of all of these, I think I drink the spritzer the most. Followed by the Spiced Rum and White Zinfandel cocktail. And sangria.
Save and pin these recipes for later!
Save these recipes for later by pinning them or clicking the teal heart at the bottom right of the page. For more recipes make sure you're following me on Pinterest, Instagram and like my page on Facebook. If you make any of these recipes, be sure to leave a star rating and tag me in your pictures!
More Cocktail Collections
Not into wine? Browse my cocktail collections:
More wine posts