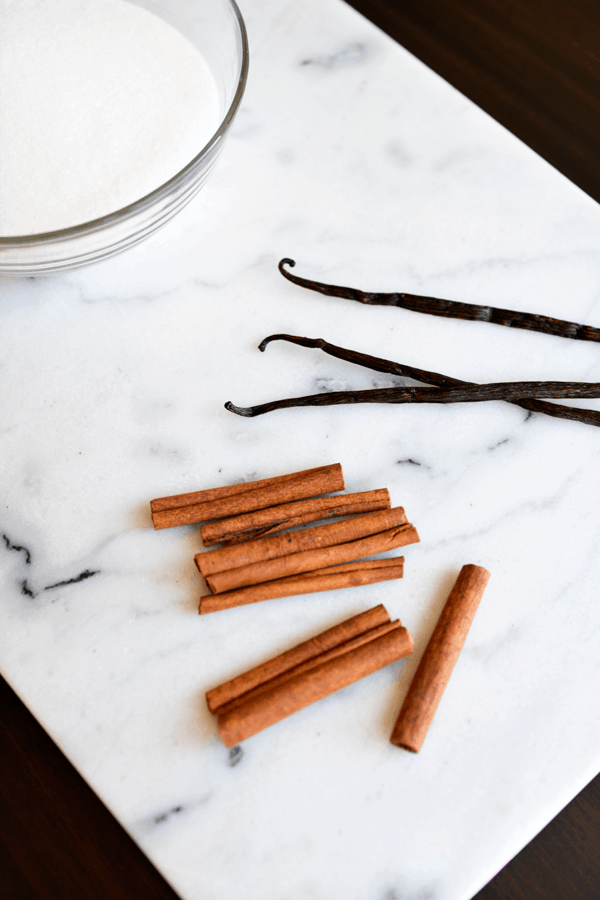 You HAVE to make this! I made it for the punch recipe I'll be sharing with you tomorrow. But you absolutely don't have to use this only in cocktails. I put a little bit in some fresh squeezed grapefruit juice for my son and he totally freaked out. I picked up some really delicious Mexican vanilla beans. Really, any kind would work but the flavor profile of these beans really fit what I was looking for to pair with some other flavors I had in my mind for the punch (you don't want to miss the punch. SO GOOD!) Then I picked up some Cassia cinnamon sticks. Store-bought is totally fine but I assure you the flavor from this syrup has a little bit to do with the quality of ingredients. So if you can, spend the time and track down these products!
First I added the cinnamon sticks to a saucepan and smashed them up with a muddler. I've also done this before lying them flat on a cutting board, laying a chef's knife on top of them and smashing the knife with the heel of my hand. Either way works. You just want to open them up so the flavors can really come out. Next I split 2 vanilla beans and scraped out the seeds. Then put the rest of the vanilla bean in the pan too. I added 2 cups of sugar and 2 cups of water and brought it to a slight boil, stirring occasionally to make sure the sugar dissolved. I let it simmer for about 5 minutes then removed it from the heat. I covered the pan and let it sit for about 5 hours. Some recipes will tell you to let it sit overnight but I wanted to make sure that the flavors were not so intense that they would over power the other flavors of the punch. And believe me, this was SUPER flavorful after 5 hours. I strained it through a sieve into a jar and popped it in the fridge.
It's a warm, golden color and it's perfect for all kinds of beverages. I can't wait to show you how I used it in my punch recipe!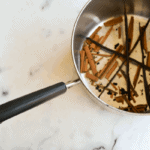 Cinnamon Vanilla Simple Syrup
This crazy tasty simple syrup recipe is perfect for all kinds of cocktail recipes!
Ingredients
2

Mexican vanilla beans

split and seeds scraped out

1

oz

Cassia cinnamon sticks

cracked

2

cups

sugar

2

cups

water
Instructions
Split vanilla beans and add seed and bean to a saucepan.

Add cinnamon sticks to a saucepan and muddle them to crack them open.

Add sugar and water and bring to a slight boil.

Let boil approximately 5 minutes then remove from heat and cover.

Let sit for at least 5 hours, up to overnight.

Strain through a fine-mesh sieve into an airtight container.

Use in cocktail and beverage recipes.