This fruity Strawberry Basil Margarita is sweet and tangy and has a delicious herbal kick. Make one next time you want a refreshing tequila cocktail or summer margarita!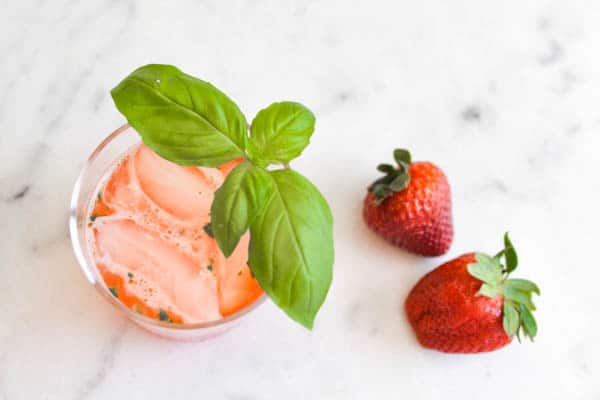 This fruity margarita recipe is a delicious twist on a classic margarita. The strawberry simple syrup adds so much sweetness and flavor while the basil gives it the most glorious fragrance! It's a refreshing cocktail that moves seamlessly from spring to summer.
A summer margarita recipe you'll love
This strawberry basil margarita is an all-time favorite!
From the moment strawberries come into season, I think about how often I can make this delicious strawberry margarita with basil.
It's one of my favorite tequila cocktails and is great for Cinco de Mayo or any other party you throw. It's also fantastic to sip during the warm summer months but I make this as long as I can find fresh strawberries (which in California is all year!).
Related: Basil Margarita
I love herbs in my cocktails. So this Strawberry Basil Margarita Recipe, that I got from Camarena Tequila, sounded like the perfect tequila basil cocktail recipe for me to try.
There's never a bad day for margaritas, right? And when you put tequila with strawberries and basil you get the best possible fruity cocktail option.
Making a batch of strawberry syrup means it's easy to mix up one or a bunch.
If you're looking for cocktails to make at home add this one to your list!
Ingredients
I was originally sent a bottle of Camarena Tequila to make this recipe with. But it's long gone so I'm using Casamigos which I already had at home.
Scroll down to the end of the post for a printable recipe card with full measurements and instructions.
What tequila should I use
Because of the strong strawberry flavor, you can get away with using any tequila you want. But I prefer to use one that I know I love when the flavor shines through.
My two favorite brands are Casamigos and DeLeon (*update I now prefer El Tesoro, Cazadores or Herradura). I always use the blanco but you will get a little bit of a different flavor with something more aged.
The Camarena was delightful. It is easy to find in the grocery store and is a great price point. I would have used it when I updated these photos but I ran out!
How to Make a Strawberry Basil Margarita
Make the Simple Syrup
First, make this Strawberry Simple Syrup.
I made the strawberry simple syrup the day before I wanted to make these Strawberry Basil Margaritas so I knew it would be nice and cold.
I'm not a fan of sweet drinks. I always cut the amount of sugar I use for a simple syrup. I used about ¾ cups of sugar on this last batch and next time I would use ¼ - ½ cup of sugar.
The strawberry flavor is right on though! It tastes just like fresh strawberries.
Make the Fruity Margarita
Place the basil in the bottom of a cocktail shaker and add tequila.
Use the back of a spoon (or muddler - or end of a metal ice cream scooper like I used to use) to mash the basil leaves into the tequila.
Add ice to the shaker, then add the strawberry simple syrup and lime juice.
Shake well.
Strain into a low ball glass over ice. Or check out my glassware favorites (including the cutest margarita glasses!)
Garnish the basil strawberry cocktail with sliced strawberries and/or basil.
The basil flavor is subtle and is a wonderful partner for the sweet strawberry flavor.
Top tips
If you are short on time or extra lazy, you can skip making the simple syrup. Just muddle fresh strawberries with basil and tequila in the cocktail shaker.
Or better yet, you can toss the strawberries into a blender and liquefy them first, then add them to the shaker. Both options will change the texture of the drink.
To get a stronger basil flavor, try adding more basil leaves when you muddle them or make a basil simple syrup instead or a strawberry basil simple syrup. A syrup is usually the best way to get that concentrated flavor.
How to make it your own
You can take this recipe and modify to suit your flavor preferences!
Try using lemon instead of lime.
Switch out the strawberries for raspberries.
Make it spicy with some jalapeno or serrano.
Try using gin instead of tequila.
I don't love a salted rim, but if you do, add one!
Frequently Asked Questions
What is a strawberry margarita made of?
You can make a strawberry margarita a few different ways. I prefer to make it with a flavored simple syrup as I have here but if you don't have the time, you can just blend up or muddle fresh strawberries in a cocktail tin. See more under top tips, above.

I didn't use Triple Sec, but you absolutely can. It will add another layer of flavor and it's something I always use in a classic margarita on the rocks.
Can you blend this drink?
You can make this drink blended by adding the ingredients to a pitcher with 1 cup of ice and blend well. If it is too watery, add more ice and blend again. You may want to go a little bit heavier with the tequila since as the ice melts it will cause some dilution.
Can you make a strawberry basil simple syrup?
Yes! To make this drink even easier, you can create a combination of strawberry and basil simple syrup. Follow the directions in the basil simple syrup post and add the strawberries (no extra sugar or water).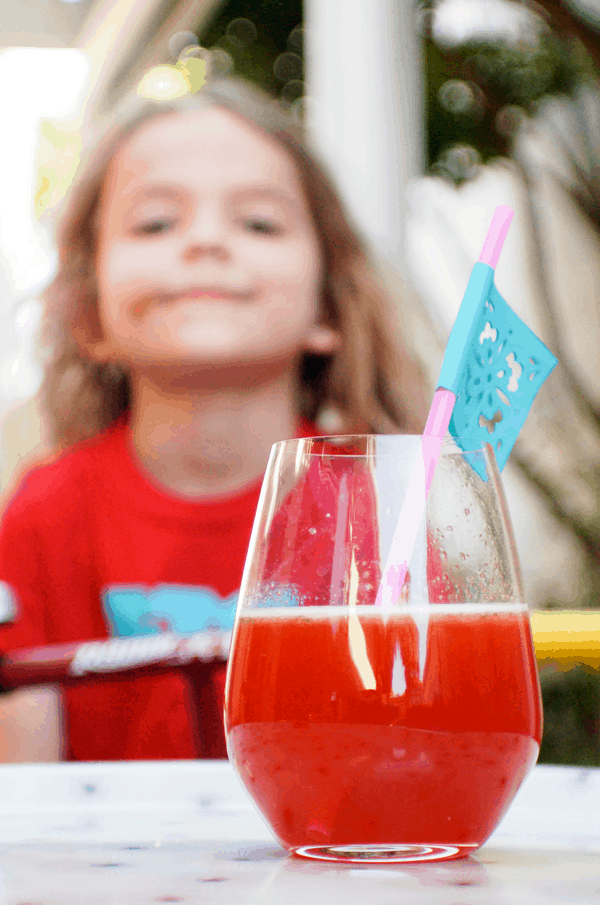 This recipe for a strawberry basil margarita is one of my oldest cocktail posts on the blog! Here is what it originally looked like. That little guy in the photo just got his driver's license...
More easy strawberry recipes
Strawberry Basil Margarita
If you are looking for a delicious tequila cocktail to make for summer, you HAVE to make this Strawberry Basil Margarita! With a sweet strawberry simple syrup and fresh muddled basil, this refreshing summer margarita is full of fruity flavor you'll crave!
Print
Pin
Rate
Save
Saved!
Ingredients
Strawberry Simple Syrup Ingredients
1

cup

water

1

cup

sugar

5

sliced strawberries
Instructions
Strawberry Simple Syrup
Combine 1 cup sugar, 1 cup water and 5 sliced strawberries in a saucepan.

Bring to a boil, then let simmer for 10-15 minutes.

Cool the syrup, then strain the liquid through a sieve or cheesecloth, pressing the strawberries to extract all liquid.

Let cool completely before using in the Strawberry Basil Margarita
Strawberry Basil Margarita
To a cocktail shaker, add the basil and tequila.

Muddle basil leaves to release their oils.

Fill the shaker with ice and add strawberry simple syrup and fresh lime juice

Shake well and strain into a low ball glass over ice.

Garnish with sliced strawberries or basil.
Notes
Nutrition values are off due to the software not understanding how to sort out the recipe of the full simple syrup along with one cocktail recipe.
Want to skip the simple syrup? Try muddling the strawberries with the basil. Or blend the berries in a blender before adding to the drink.
Want more basil flavor? Add more basil leaves or create a strawberry basil simple syrup.
Nutrition
Serving:
1
drink
|
Calories:
1264
kcal
|
Carbohydrates:
325
g
|
Protein:
0.2
g
|
Fat:
1
g
|
Polyunsaturated Fat:
0.02
g
|
Sodium:
112
mg
|
Potassium:
150
mg
|
Fiber:
0.1
g
|
Sugar:
323
g
|
Vitamin A:
120
IU
|
Vitamin C:
9
mg
|
Calcium:
39
mg
|
Iron:
6
mg
This post was originally published in October 2015 and has since been updated with better images and recipe tips.