I love a good margarita, don't you? This is a twist on the classic and is perfect for those wanting to try something a little more adventurous without straying too far from the original. 
Just a few good quality, fresh ingredients make this Spicy Serrano Margarita recipe a quick and easy drink to make when happy hour rolls around. 
Using a good tequila (this one sent to me by Deleon) is key. You know it's good when you take it with you to share with your friends while watching fireworks on the Fourth of July, without all the accessories like lime juice and salt, and all of you drink way too much of it. Because it's so good! Let's just not talk about the next morning…
And while I call this a spicy margarita, it is actually quite mild. I love the tiniest hint of spice, but not blow-your-head-off spicy. The serrano pepper has nice flavor and mild heat (make sure to not get too many of the seeds in the cocktail shaker as that is where the heat hides!) You could also consider making this in to a simple syrup, minus the seeds, to get a more pronounced flavor.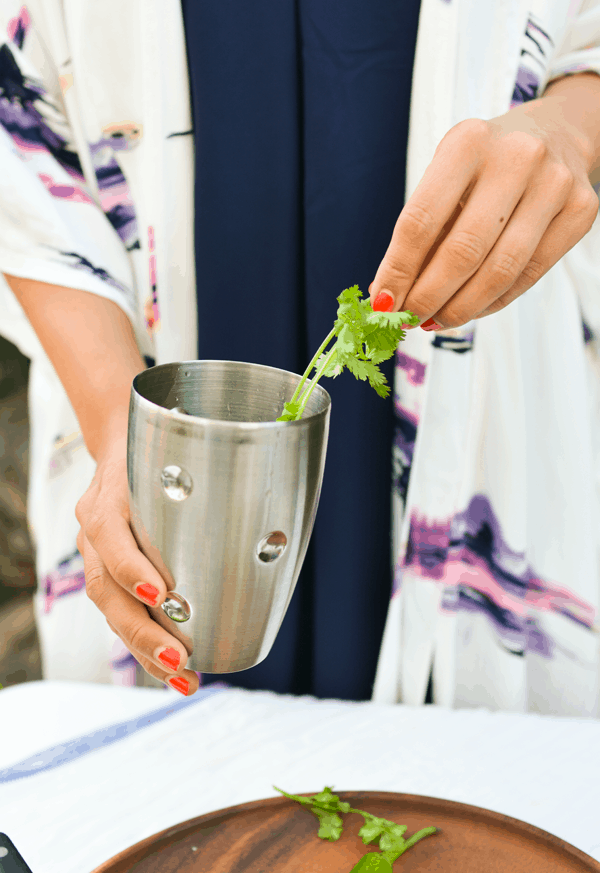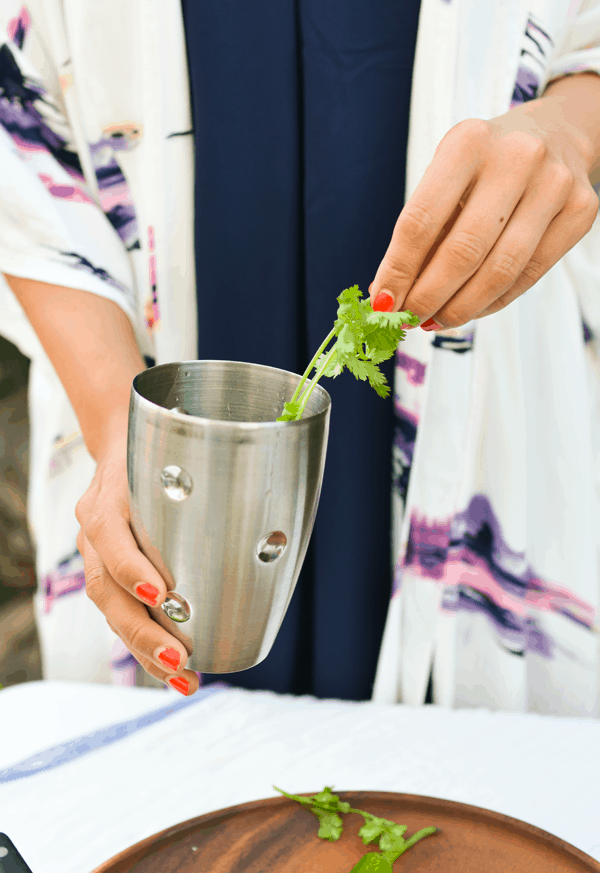 I'm a cilantro lover, but I know there are folks out there that don't enjoy it, at all. If that's you, you are crazy, but just leave it out of the drink. I think it adds a really nice refreshing, herbal touch when used in cocktails but I understand your disdain. And I'm judging you only mildly for it.

Give your drink a good shake. Muddling the serrano and cilantro allow for the flavors to open up and fragrance to escape and work through the drink. Shaking it up with ice cools it down and helps to marry all the flavors together. And it's always fun to be in charge of the cocktail shaker. 
If you are a margarita fan, try this recipe. Drink responsibly. And do not drink on an empty stomach. And take whatever hangover precautions you can because you are going to like these. A lot. I don't love salt or sugar rims on my cocktails but this one would be fantastic with a Tajin rim!
*Tequila and recipe provided by Deleon Tequila.

Spicy Serrano Margarita Recipe
This mildly spicy margarita is delicious with a little something special.
Ingredients
2 oz. DeLeón Platinum Tequila
.75 oz. agave
1 oz. lime juice
Serrano pepper
Cilantro
Tajin or Ghost Pepper Salt for rimming the glass
Instructions
Muddle two pieces of serrano pepper and clap 5 pieces of cilantro in a tin.
Rim a highball with Tajin or Ghost pepper salt, shake all ingredients together and strain into a the highball glass.
Garnish with a serrano pepper and sprig of cilantro.
Looking for more tequila fun? Don't forget to pin these other yummy recipes!