I love my vodka recipes but sometimes I don't want to have to make anything. I just want to sip on something delicious and not put any work in. At all.
So this 2 ingredient Pellegrino Drink with vodka is THE BEST! Although you can drink it any time of the year, I love this one in spring. And of course, it's amazing in summer! 
Some links in this post may be affiliate links. As an Amazon Associate in the Amazon Services LLC Associates Program, I earn from qualifying purchases by linking to Amazon.com and affiliated sites. I also participate in affiliate programs for other retailers.
2 Ingredient Lemon San Pellegrino Drink with Vodka!
It's super easy to keep all of the ingredients to make this yummy lemon cockail on hand! This beverage is VERY easy drinking.
So check yourself before you wreck yourself…
I can't take credit for this cocktail recipe. A friend made it for me as we lounged in her pool one hot, hot, summer day.
But it is ridiculously delicious, super refreshing and painfully easy so I knew I had to share. If it ain't easy, I'm not doing it. 
This one is easy to take along when you are on a mom getaway and want some easy drinks for the room. There have been so many times when I've taken the items to make a Corpse Reviver 2 but it's a lot to bring.
I mean, absinthe? Really?! I know I am an over-packer but even I roll my eyes at this. 
Ingredients for this Lemon San Pellegrino Drink
Vodka (you can see my quick review for Beluga vodka in my Long Vodka post!)
Pellegrino Limonata (not found at every grocery store, so keep your eyes out so you know where to find them when you need them). You can buy them on Amazon but unless you buy them through Amazon Fresh – which wouldn't let me link directly to it – it's more expensive.
Steps to make a Pellegrino Drink:
Pour.
It's roughly one part vodka to 3 parts lemon San Pellegrino.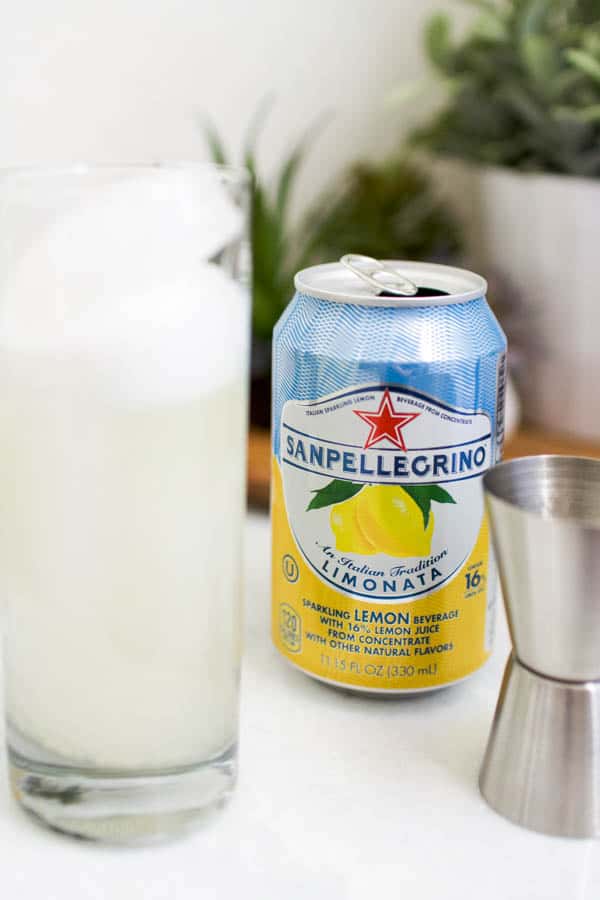 Yup. That's it. I'm not a heavy drinker (even though I feel like this blog and my Instagram would suggest otherwise. :) If you don't like a strong drink, start with 1 oz. of vodka.
If you want to get turnt, add more. Sorry, I was watching Real Housewives of Atlanta last night and Eva wanted to turn up for her bachelorette party in Tokyo…
San Pellegrino Limonata is my favorite flavor! But what I love about this recipe is that you can use any Pellegrino flavor you want!
And they have delicious options like grapefruit and blood orange.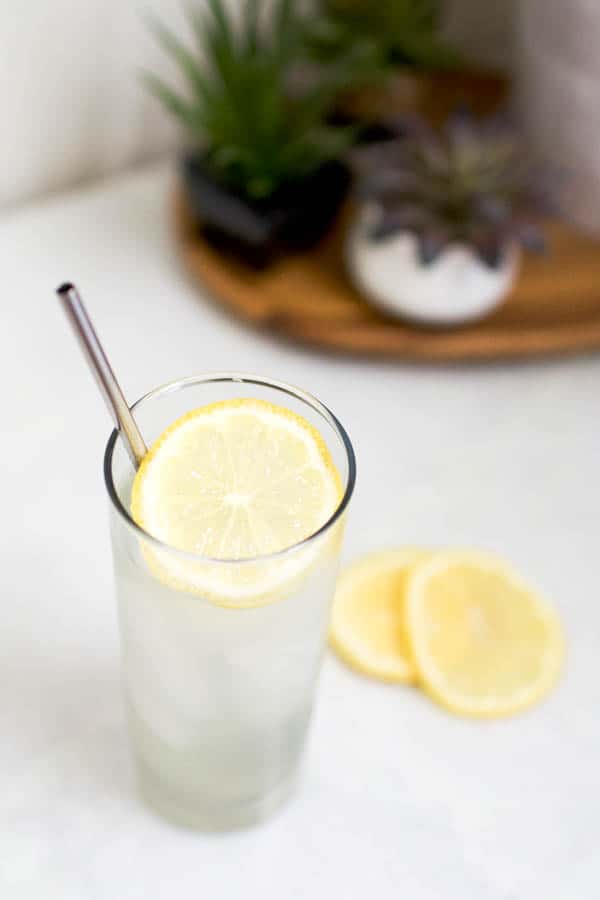 If you are having a pool party, you could easily grab some of the flavors and set up a little do it yourself bar for people to put together their own drinks. That's the kind of hostess I am… :)
This drink idea is so great because you can add vodka and make a little cocktail but you can also serve the Pellegrino to non-drinking guests. It's a double threat.
A simple lemon garnish is all you need. Or not. Whatever I'm not the garnish police.
So refreshing.
I love this recipe because it is easy to make just one or a bunch of them. One can of lemon Pellegrino made about 3 cocktails when served in lowball glasses.
The glass I used in the above image is really skinny so you could probably get about 3 cocktails out of a can this way too.
So, to recap, you can either have a lovely evening with a few gal pals or a rip-roaring night by yourself. I'm not here to judge. Do what you need to do.
And if you want to get all gourmet on this beeyotch think about muddling some fresh herbs in the glass first. Mmmmmmmm.
I first shared this easy Pellegrino drink on the blog in 2012. Can you believe it?! My photography and style have changed so much back then. But I still support the use of the plastic monkey.
Printable San Pellegrino Limonata Vodak Cocktail Recipe
Yield: 1
Easy Pellegrino Drink with Vodka and Limonata
It's just 2 ingredients so you can barely even call this a recipe, but it's so refreshing and perfect for warm weather!
Ingredients
1 part vodka
3 parts San Pellegrino Limonata
Instructions
Add ice to a glass.
Add your vodka and top off with Lemon San Pellegrino.
Give a little stir.
Sip away! 
Nutrition Information
Yield
1
Serving Size
1 Servings
Amount Per Serving
Calories

248
Total Fat

0g
Saturated Fat

0g
Trans Fat

0g
Unsaturated Fat

0g
Cholesterol

0mg
Sodium

67mg
Carbohydrates

38g
Net Carbohydrates

0g
Fiber

0g
Sugar

38g
Sugar Alcohols

0g
Protein

0g
Nutrition information isn't always accurate.
What flavor would you choose for your Pellegrino drink??
More Vodka Cocktails to Try:
More Lemon Cocktails:
Or see my collections of : Easy Cocktails, Moscow Mule Variations, Vodka Cocktails, and Wine Cocktails.
Pin this easy San Pellegrino Cocktail for later!
The Limonata is so fizzy and has the perfect amount of bitter lemon flavor and sweetness. It's the perfect base for an easy drink with vodka.
Make this yummy Lemon San Pellegrino Drink with Vodka this weekend!