This list of 20 fun New Year's cocktails has you covered whether you are hosting a bunch of people or just enjoying the night at home with your family. Mix up one of these festive drink recipes to ring in the new year.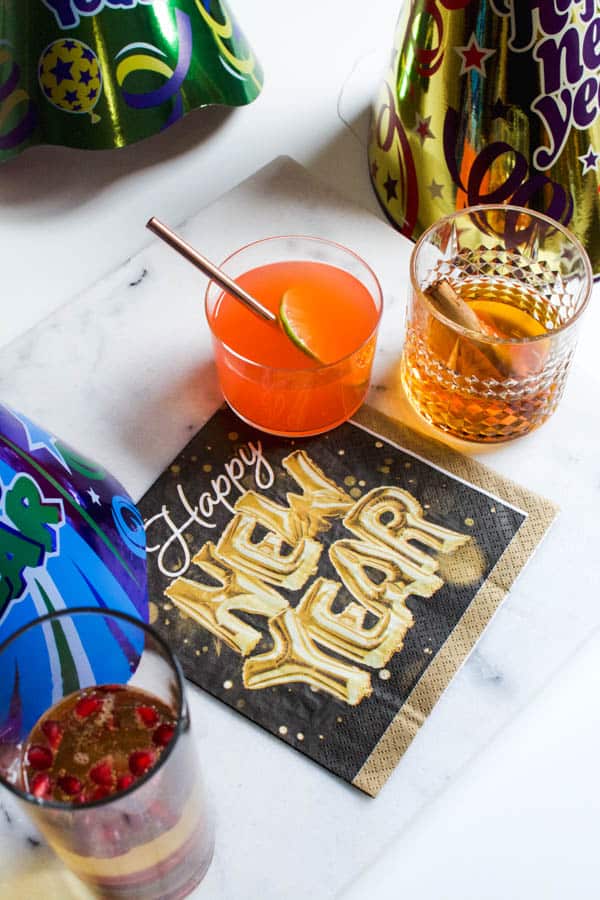 These NYE cocktails have some unique flavor combinations and are sure to please you and your guests!
Why These Cocktails
Throwing an easy New Year's Eve party can still be a lot of work. If you just want to have friends over to celebrate, pretty much all you need is cocktails, some party hats and maybe some photo booth props.
Alcoholic New Year's drinks are a fun way to ring in the new year. These aren't just straight-up, basic cocktails. These are fun recipes that have interesting flavors and would be a fun treat to serve to anyone you are celebrating with.
While I generally stick to a Bourbon Mule when I make cocktails at home, on New Year's Eve I step outside the box and do something a little more fun and exciting.
Related post: Alcoholic Punch Recipes for the Holidays
These New Year's drinks, aren't all that difficult but are memorable and perfect for sharing with friends and family! New Year's Eve is the perfect time to try something new.
With these cocktail ideas for you and easy non-alcoholic New Year's drinks for the kids, your night is sure to be delicious!
All of these New Year's Eve cocktail recipes would be great to serve on December 31! And, of course, beyond!
NYE Cocktails and Drink Ideas
Celebrate deliciously with one of these festive New Years Eve drink ideas. Browse this list to find a fun cocktail recipe to share with friends and family.
Wishing you a safe and happy New Year's Eve! Remember, if you have kids around and are serving something colorful, make sure they know if it's safe for them to drink or not!
Serve your drinks with some tasty treats. Prosecco Cupcakes would be a really fun idea for New Year's Eve. And you can't go wrong with Dried Beef Roll-Ups, Old Bay Chex Mix or a Chocolate Chip Cream Cheese Ball.
More New Year's Eve posts
More easy cocktail recipes