You really don't need to throw a party to try out some new cocktails on New Year's Eve. This list of 20 fun New Year's drinks has you covered whether you are hosting a bunch of people or just enjoying the night with your family.

With these cocktail ideas for you and easy non-alcoholic New Year's drinks for the kids, your night is sure to be delicious!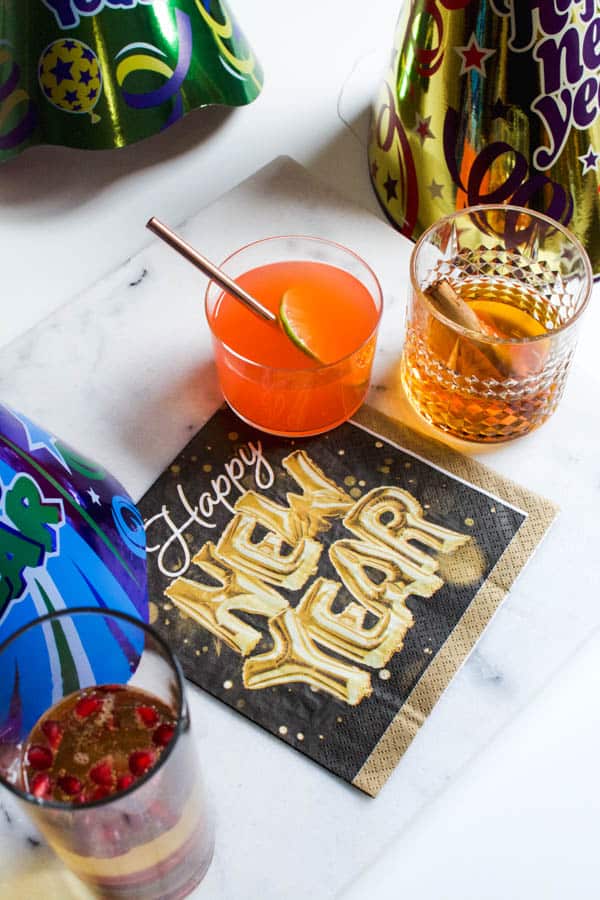 This post was originally published on December 27, 2018, and has now been updated with new images, and formatting.
Throwing an easy New Year's Eve party can still be a lot of work. If you just want to have friends over to celebrate the New Year, pretty much all you need is cocktails, some party hats and maybe some photo booth props.

These New Years' drink ideas have some unique flavor combinations and are sure to please you and your guests! Or you can really amp up the fun with some Wine Jello Shots!
New Year's drinks (alcoholic) are a fun way to ring in the new year. I usually skip the wine since it tends to make me sleepy.
We plan a low-key fancy night in with things like lobster nachos that we eat in pajamas.

If there is any hope of staying up until midnight, I usually sip a cocktail, later in the evening. I'm not a night person so New Year's Eve is so hard for me!

My kids, on the other hand, "rage" and have no problem staying up! But I didn't realize that wine did that to me and other types of cocktails wouldn't.

If you find that wine makes you sleepy, skip it and try one of these New Year's cocktails instead!
These aren't just straight-up, basic cocktails. These are fun recipes that have interesting flavors and would be a fun treat to serve to anyone you are celebrating with. New Year's Eve is the perfect time to try something new.

While I generally stick to a Bourbon Mule when I make cocktails at home, on New Year's Eve I step outside the box and do something a little more fun and exciting.
These good New Year's drinks with alcohol, aren't all that difficult but are memorable and perfect for celebrating!
These first 5 fun New Year's drinks recipes are from my site that would be great to serve on December 31!
Fun New Year's Drinks
Holiday Moscow Mule Moscow Mules are a favorite but this Holiday Mule has seasonal flavors packed in and is a great winter cocktail idea!
Easy Kombucha Mimosa Kombucha is an easy way to jazz up cocktails. Because of the fermented nature of it, it kind of gives it the tang of vinegar (kind of like shrubs) which pairs perfectly with the fizzy bubbles of sparkling wine in this mimosa. Plus champagne is always celebratory!
The Perfect Spiced Daiquiri I LOVE this recipe! It's the right amount of spice (think cinnamon and nutmeg), sweetness (from the vanilla simple syrup), and brightness from the fresh lime juice. I've literally been dreaming of this cocktail since the weather started cooling down!
Champagne Punch This is an all-time favorite for our family parties! It's easy to drink, appeals to non-wine lovers, and serves a bunch of people at once. Like I mentioned above, I probably wouldn't drink this on New Year's Eve (because of the wine sleepies) but I would totally serve this for New Year's Day brunch.
Spiced Pear Bellini Before I got all old, this Spiced Pear Bellini was one of my favorite fun New Year's drinks. There aren't a ton of pear cocktails around so it's an unexpected treat full of delicious flavor!
Orange Julius Cocktail – Strength and Sunshine Orange Julius was always something I looked forward to when shopping at the mall with my mom so an Orange Julius cocktail would be nostalgic and fun to serve on this special night.
New Year's Eve Champagne Punch – Sugar and Soul Champagne punch is always a great idea for when you have a bunch of people together!
Bungled Negroni – Renana's Kitchen Negronis are a great cocktail idea for people who like things super refreshing and not overly sweet. The gin gives it an herbal quality and the sparkling red wine adds a really lovely fizz.
Champagne Margaritas – The Kitchen is my Playground This sparkling upgrade to the margarita is the perfect way to ring in the New Year with class!
Misty's Maui Maitais – Supermom No Cape I've never met a Mai Tai I didn't like! So why not sip one while you're waiting for the ball to drop?
Aperol Gin and Tonic – Boozy Oyster Another great non-sweet drink idea that has a fun, bright color!
The White Rosemary Rosé Cocktail – She Keeps a Lovely Home I love fresh herbs in my drinks! But rosé is something that people either love or hate. If you are having people over, make sure to find out if they'd be open to this recipe before you make it!
Sparkling Mulled Wine Cocktail – Veggie Desserts Winter is the perfect time for mulled wine and adding a little sparkle makes it a good New Year's drink idea!
Lavender French Gimlet – She Keeps a Lovely Home Lavender is so underrated in cocktails! I always have lavender in my kitchen to infuse in things, like lavender lemonade or lavender sugar for baking, so this lavender gimlet is right up my alley!
Ginger Apple Champagne – A Clean Bake You can't go wrong with ginger! It's one of my favorite flavors. And pairing it with apple makes this a great drink idea for the evening.
Raspberry Gin Fizz – Mighty Mrs Yum! Raspberry is a great flavor that you don't see a lot of in cocktails. A gin fizz is a great New Year's Eve sipper.
Pomegranate New Years Punch – Easy Cooking With Molly Don't you just get excited when you hear "punch"?! I do! This recipe uses vodka and rum and sounds fruity and delicious! This is sure to be a crowd-pleaser!
Peach Bellini – Recipes From a Pantry You just can't go wrong with a standard peach bellini!
Donner and Blitzen Ginger Brandy Cocktail – Beyond Mere Sustenance My mom and I were just having a conversation about brandy and now I think I need to get some to keep on hand for delicious sounding winter cocktails like this one.
Sparkling Gold Champagne Cocktails – Delicious Table A classic champagne cocktail is a great drink to have ready to cheers with as the ball drops and wish your friends and family another exciting new year!
Wishing you a safe and happy New Year's Eve! Remember, if you have kids around and are serving something colorful, make sure they know if it's safe for them to drink or not!
Serve your drinks with some tasty treats. Prosecco Cupcakes would be a really fun idea for New Year's Eve. And you can't go wrong with Dried Beef Roll-Ups, Old Bay Chex Mix or a Chocolate Chip Cream Cheese Ball.
Related Recipes