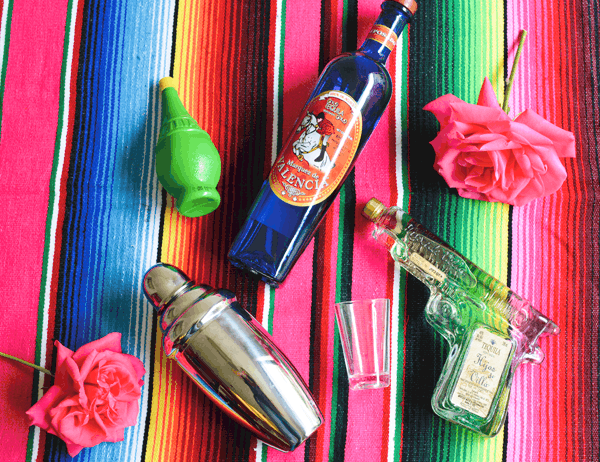 So last summer I discovered that I really enjoy tequila. Or rather tequila based cocktails. I've never been a shots kind of a girl and I don't think my late 30's, with two small children, is the time to start.  And since I like the flavor of limes so much it makes sense that I would love a good margarita. About 6 months ago I asked my Facebook followers for their favorite margarita recipes. They were varied to say the least. So I decided I would try several of them and see which ones I like the best. It was hard work, you guys. But these are the kinds of things I do for you. Turns out I found the best frozen margarita recipe. Ever.
I know that the flavor of a margarita depends on the taste of the tequila you are using. I'm not a tequila expert at all. I just used what we had in the cupboard. I see the guys on Real Housewives drinking a lot of Don Julio so I'm guessing that is a good brand to use. And let's talk for a second about the lime shortage we are currently facing. Are you all as broken up about it as I am? And I'm not even exaggerating about that. I went to my grocery store the other day to get limes for the margaritas, some salsas and guacamole I was going to make. And my store was completely out of limes. Like, there were no limes in the entire store. I asked. Luckily my mom was able to grab a few from her store for me but that is why you see the bottled lime juice in some of the photos. I've had to supplement with it. It is not ideal. I'm thinking about starting a fundraising campaign for the lime plight. My summer relies heavily on limes. But back to the margaritas.
I made a traditional margarita with triple sec, lime juice, tequila and agave. It was just ok. And you will notice there is no salt in these photos because I don't like it anywhere near my margaritas. You do what you need to do. Several of the recipes that I had called for beer. It didn't really do anything for them. And one called for Trader Joe's margarita mix. I was disappointed.
I decided since it would be really lush-y to make all these margaritas for myself, I would do it during a family barbecue. My mom and my sister and I tried all of these and there was no clear winner. Then my sister says, oh hey, let me make you the kind I drink. And it was this frozen margarita recipe. And oh my gosh. It was, by far, the best one. And it was frozen! I don't usually enjoy frozen cocktails but for this I will make an exception.
SO good! And since you make them by the pitcher, this frozen margarita recipe is great for parties or if you just don't want to have to make your cocktails one at a time. So thank you, sister, for sharing this with me. She says she didn't make it up and that it is all over the online recipe world. So we do not take credit with creating this recipe. Just drinking it and letting you know that it is so very tasty.
Best Frozen Margarita Recipe
Ingredients
1 can Frozen Limeade, not thawed (not frozen margarita mix) Add the frozen limeade and keep the can for measuring.
3/4 can of tequila
1/4 can Triple Sec
1 can of ice
Splash of agave, optional
Instructions
To a blender add one can of frozen limeade, not thawed.
Use the empty limeade can to help measure the next ingredients.
Add 3/4 can of tequila, 1/4 can of Triple Sec and 1 can of ice to the blender.
Blend on high until smooth.
You can add a splash of agave if you think it needs to be sweeter but the drink is pretty sweet on its own because of the limeade.
Serve immediately and enjoy.
https://www.cupcakesandcutlery.com/best-frozen-margarita-recipe/
Do you love  cocktails? You might also like these delicious drink posts:
Champagne Float with Strawberry Lemonade
Try this Mexican Mule recipe. Like spicy? Try this Mexican Mule with Jalapeno!