Of course, I always think of the Big Lebowski when I drink a White Russian. Which is crazy since I haven't seen that movie in about 100 years. White Russians are a great early winter cocktail idea. But I wanted to make one that would be perfect for brunch. I had some coconut rum hanging around so I thought I'd make a White Russian with rum instead. The coconut milk makes this perfect as a morning drink. Because when you call it brunch, drinking in the morning is totally acceptable.
This post is written in partnership with Netflix because I'm a #StreamTeam member, yo! That means that every month I watch a lot o TV and then talk to you about it. 
My kids are totally at that stage where they notice, and comment, on everything. Including but not limited to: morning breath, extra arm flab, and adult beverages. My husband and I enjoy the occasional cocktail, wine or beer. If you are a regular reader of the blog, you know this. I post cocktail recipes often. And I love my wine. Our consumption is average. But if you were to hear my kids tell it, it would sound like we are ready for a 12 step program. They comment consistently when we have a drink. As my goal in life is to be the best parent I can be, it makes me question myself. Am I doing something wrong? AM I drinking too much. The answer, of course is no, but kids really do have a way of getting you to see something from a different perspective.
So I came up with this cocktail that I call, "The Little White Lie" because it looks like iced coffee. But it's not. It's more awesome. It's a White Russian with rum. Because why use vodka when you could use coconut rum? Plus, instead of milk I'm using coconut milk. And it's so tasty! And perfect for brunch. To be clear, I would not drink this and tell my kids it was iced coffee. If I am responsible enough to drink a cocktail I am responsible enough to have those conversations with my kids. And quite frankly, I don't drink a lot of brunch cocktails because when you get old like me, they just make you sleepy. 
It is SO simple. And only needs these three ingredients: coconut milk, Kahlua and coconut rum.
How to make a White Russian with Rum
It couldn't be easier to make a White Russian. Just grab a glass and a spoon. And some ice. You don't even have to exert yourself with shaking anything.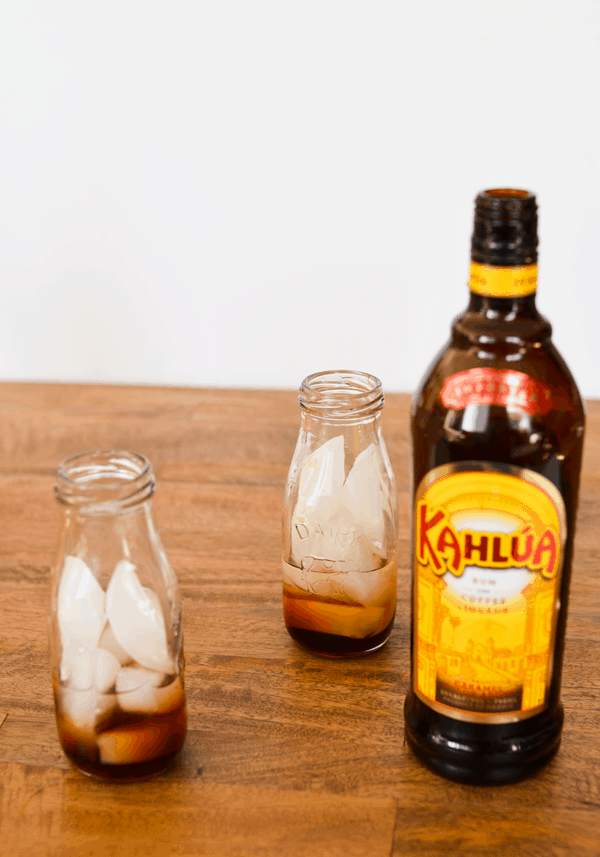 It totally doesn't matter what order you add it all in. But dang it, how had I forgotten how yummy Kahlua was? 
I love the way the coconut milk begins to mix with the Kahlua. I wish you didn't have to stir it and could leave it all marbley and gorgeous.
The coconut rum gives it a slight sweetness. I see it being a big player in my summer cocktails. When I'm drinking them responsibly. From time to time.
Do you like a traditional White Russian? You are going to LOVE this!
Coconut rum provided by Captain Morgan. 
Coconut White Russian with Rum
The Little White Lie
This is basically a White Russian, but with coconut rum and coconut milk.
Ingredients
1½ oz Coconut Rum
1 oz Kahlua
1 oz coconut milk
Instructions
Pour all ingredients over ice.
Stir and serve.
This coconut rum cocktail recipe was inspired by the Netflix series called "
Bloodline.
" YOU GUYS. I'm hooked! I just read that it is coming back for a second season and I'm so excited. I haven't fully finished the first season yet but it is SO GOOD! It is about a family that has tons of dark secrets. It's much darker than the shows I usually watch but by the end of the first episode I was sold and promptly watched the next three.
The Rayburn family is stuck between a terrible truth and the lies they tell to keep it from being uncovered. It's set in the Florida keys and the moody location is almost like another cast member. The cinematography is stunning and absolutely draws you in. There are twists and turns all over the place and the people you think are good, aren't as good as they should be. When I started telling my husband about it he was like, "that's not a show you would usually watch." And I agree! Can't stop, won't stop.
Sometimes it's good to gently introduce an idea in a non-threatening way. Netflix has a lot of shows that make teaching moments easier with the kids. For example, we can talk about lying, by seeing someone do it in a show, rather than having to deal with it when our kid tells a lie. We look for teaching moments everywhere!
Here are some great Netflix shows that can prompt discussions on lying with your kids:
Care Bears Season 1, Episode 8 Untruths and Consequences
A.N.T. Farm, Season 3, Episode 9 Pants on Fire
Jessie, Season 1, Episode 14 Worldwide Web of Lies
And for older kids:
Revenge (my fave!!!)
More Netflix posts for you to peruse.
Like this White Russian recipe? Try these other cocktails!