When you call it brunch, drinking in the morning is totally acceptable. And there are certain cocktail recipes that just feel like they should be served in the A.M.
Anything coffee-flavored is essential. And I noticed I also had some Coconut Rum.
So I decided a White Russian with Coconut Rum needed to be made. And you're going to love it.
Coconut rum provided by Captain Morgan.
This post was originally published on April 20, 2015 and has now been updated with better directions to make this tasty cocktail perfect every time.
White Russian with Coconut Rum
Of course, I always think of the Big Lebowski when I drink a White Russian. Which is crazy since I haven't seen that movie in about 100 years.
Kahlua and rum make great easy mixed drinks. But I really didn't love the idea of milk in my morning cocktail for a brunch.
So I decided since I was using coconut rum in my cocktail, that I would turn it into a Vegan White Russian and use coconut milk too.
Now the recipe is non-dairy and has this lovely touch of coconut flavor but has that great coffee flavor from the Kahlua.
It is really SO simple. And only needs these three ingredients!
Over the years I've made lots of variations of White Russians. Be sure to try them all!
Of course, you can just call this a Coconut Rum White Russian. But sometimes I like to give my drink recipes a name.
I call this one, "The Little White Lie." Because it looks just like a regular old iced coffee. But it's not. It's more awesome.
And it's perfect for brunch.
To be clear, I would not drink this and tell my kids it was iced coffee.
If I am responsible enough to drink a cocktail I am responsible enough to have those conversations with my kids.
And quite frankly, I don't drink a lot of brunch cocktails because when you get old like me, they just make you sleepy.
Can you Make a White Russian with Rum?
Of course you can! I know that a lot of cocktail recipes typically call for a specific liquor. But truly most can be interchangeable.
You can make a White Russian without vodka. Just use white rum, or you can take it up a notch like I did and use coconut rum. Spiced rum would even work.
Plus, instead of milk I'm using coconut milk. And it's so tasty and dairy-free! Kahlua and coconut milk together is a match made in heaven.
How to make a White Russian without Vodka
Ingredients:
1 1/2 oz Coconut Rum
1 oz Kahlua
1 oz coconut milk
You know I have a lot of vodka recipes and could have used it here, the coconut rum just felt right. I trust my gut when it comes to cocktails.
Kahlua is one of those things that you buy for like, one recipe. If you don't have it, you can pretty much can swap it out for any coffee-flavored liquor.
I'm terrible about making sure that I have the ingredients on hand before I start a recipe. I fell in love with Drizly for this reason!
You can buy almost everything you need to make cocktails and have it delivered to your home in about an hour! It's genius.
You can also sub out the coconut milk for other non-dairy alternatives. This would be super tasty with almond milk too.
All you really need to know is Kahlua, coconut rum and coconut milk is super tasty.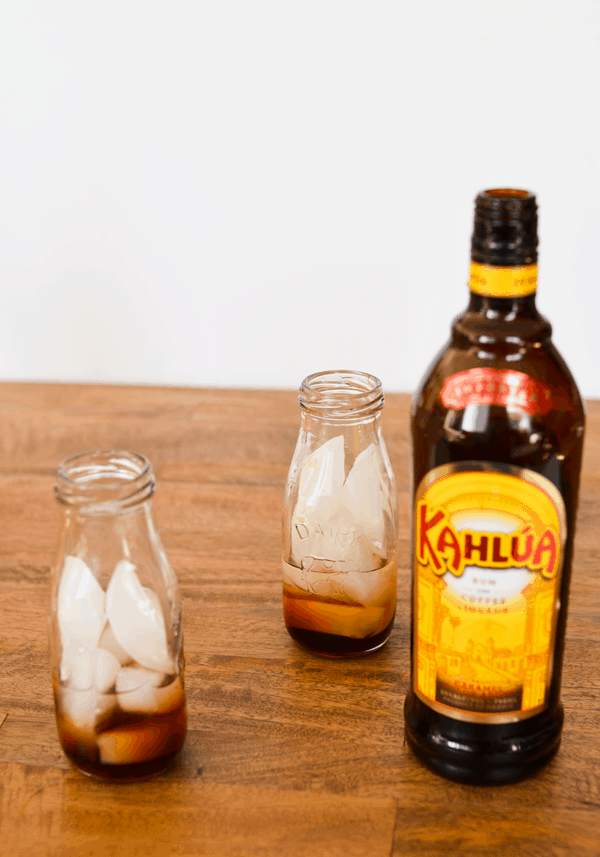 Steps:
To a glass filled with ice (or cute bottles like I have here) add Kahlua.
Add the coconut rum. (So good, you guys).
Add in your coconut milk and then stir!
It couldn't be easier to make this White Russian with coconut milk.
You don't even have to exert yourself with shaking anything. And it totally doesn't even matter what order you add it all in.
I love the way the coconut milk begins to mix with the Kahlua. I wish you didn't have to stir it and could leave it all marbley and gorgeous.
The coconut rum gives it a slight sweetness. I see it being a big player in my summer cocktails.
Do you like a traditional White Russian or does this coconut milk cocktail sound better??
Related brunch cocktails
Printable Coconut White Russian with Rum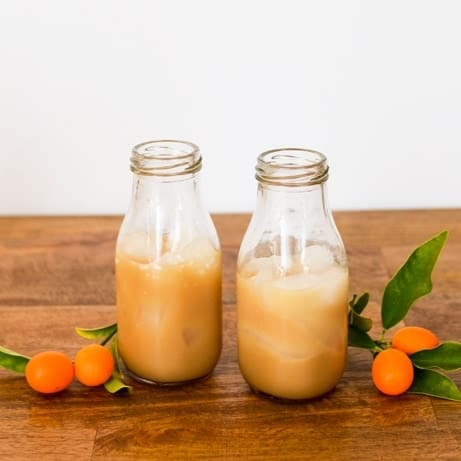 Coconut White Russian
This easy White Russian with Coconut Rum recipe makes a great brunch cocktail!
Print
Pin
Rate
Ingredients
1 1/2

oz

Coconut Rum

1

oz

Kahlua

1

oz

coconut milk
Instructions
Pour all ingredients over ice.

Stir and serve.
Nutrition
Serving:
2
Servings
|
Calories:
119
kcal
|
Carbohydrates:
10
g
|
Fat:
3
g
|
Saturated Fat:
3
g
|
Sodium:
4
mg
|
Sugar:
10
g
Kahlua and coconut rum are a match made in heaven in this non-dairy, vegan White Russian with Coconut rum!