If you haven't tried an Aperol Spritz recipe yet, you need to! With just 3 ingredients, this classic summer Italian spritz drink is quick and easy to make and will make you think you are on vacation. Plus its bright orange and totally refreshing!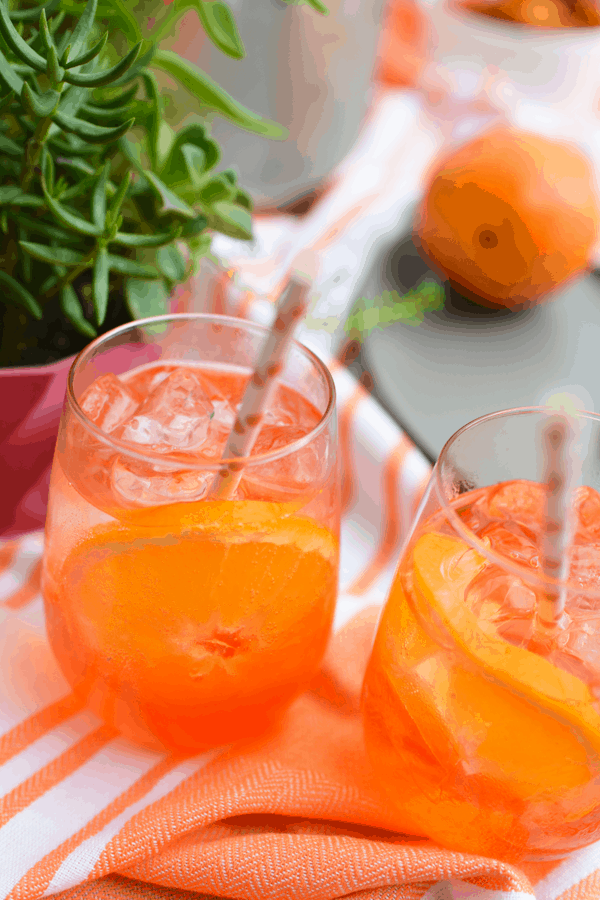 This Aperol Spritz cocktail recipe post is sponsored by Aperol.
Jump to:
The best summer spritz recipe
With its bright orange color and refreshing bubbles, you're going to love this Aperol Spritz recipe. It's super simple summer spritz that doesn't require any special equipment.
Wine cocktails, like this Aperol Spritz Cocktail, are perfect for warm weather and fun to serve on a patio. There are certain cocktail recipes that just feel like summer. And a spritz is one of those!
While I like to keep my home bar free of those odd or one-off flavored liquors, Aperol is something that can be used in a variety of cocktails. It's refreshing and has a unique, bitter orange flavor that can be used in all kinds of drinks.
Related: Aperol and Soda Cocktail
Whether you are making the perfect Aperol Spritz for yourself to enjoy or making them for friends, this recipe is so easy, basically, a formula, that you'll be able to memorize it and make it at home, on vacation or anywhere you want to enjoy this yummy cocktail.
Doesn't the word "spritz" sound so girly and sophisticated at the same time? They're a great day-drinking cocktail since they tend to have less alcohol than regular cocktails.
Ingredients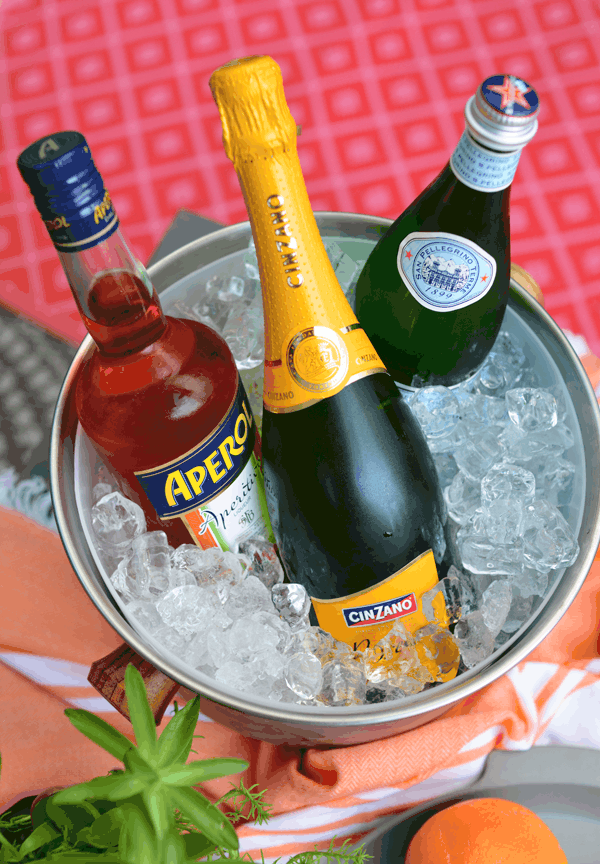 Prosecco is just Italian sparkling wine which means if you have any kind of sparkling wine, it will work! Champagne, Cava, whatever you have is fine.
Aperol is pretty easy to find. You can find it at your local grocery store, Target and any specialty liquor store.
This refreshing drink also needs a little water. I use sparkling mineral water, but you can use club soda if you want a little more fizz. This is a personal preference.
Why do orange slices smell so good?! Oranges are like an instant vacation so they are a must to garnish this drink. The smell is invigorating and comforting. It also enhances the orange flavor of the Aperol.
Aperol Substitute
There are several aperitif options that have a bitter flavor that could take the place of Aperol. Look for things that are similar in color and have notes of citrus and herbs. I suggest heading to a store like Total Wine and browsing the shelves.
Vincenzi Americano Orange Aperitif would work as would Campari.
If you didn't want to buy another liquor, you could maybe do a mix of fresh orange and grapefruit juice plus a splash of gin. I have not tried this but it may give you the vibe. Gin would have the herbal elements (add a few dashes of bitters too!) and the orange and grapefruit would give you the bitter citrus.
How to Make the Perfect Italian Spritz
Any glass will work but a stemless wine glass is always a great choice. I will be making this spritz in my spritz glasses for summer. Because they're cute!
We used a jigger for the first one to make sure we got the measurements right. But you really don't need to use it. It's perfectly okay to eyeball it.
Aperol Spritz Recipe 3-2-1
To the wine glass with ice add
So easy. Once you know the Aperol Spritz drink measurements, you can easily make one drink or many!
(Update 2021) Aperol has updated its recipe to be equal parts Aperol and Prosecco topped with a splash of sparkling water. Try them both ways and let me know which way you like better!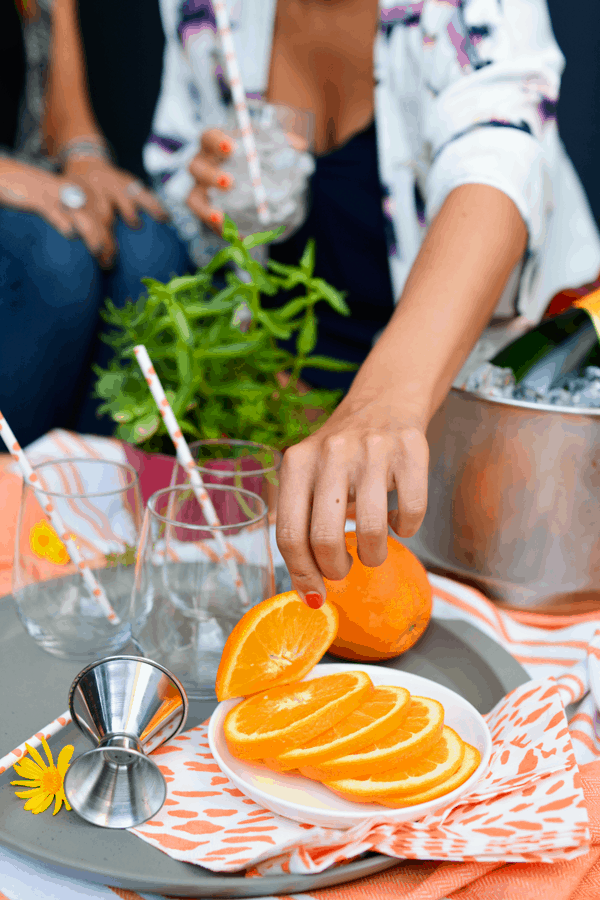 Add a slice of orange to the glass. And you're ready to sip!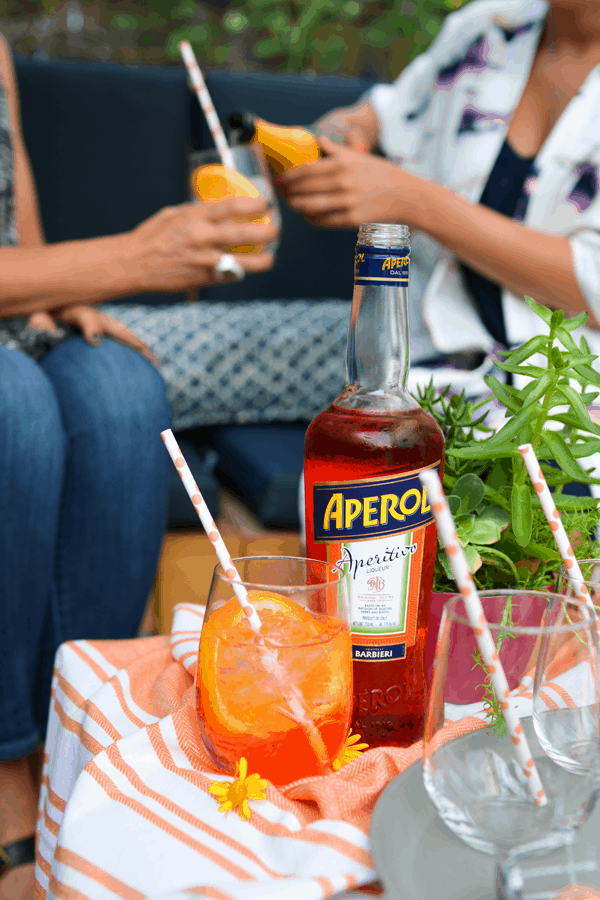 A classic Italian Aperol Spritz is SO easy to make and I love how vibrant the color is. And when you bring the glass to your lips and get that gorgeous orange scent...so good!
As usual, I created a summer playlist to set the tone.
The Spritz is a great cocktail to serve at a girl's night in. You can have all the ingredients, kept chilled in an ice bucket, and enjoy a lovely evening on the patio.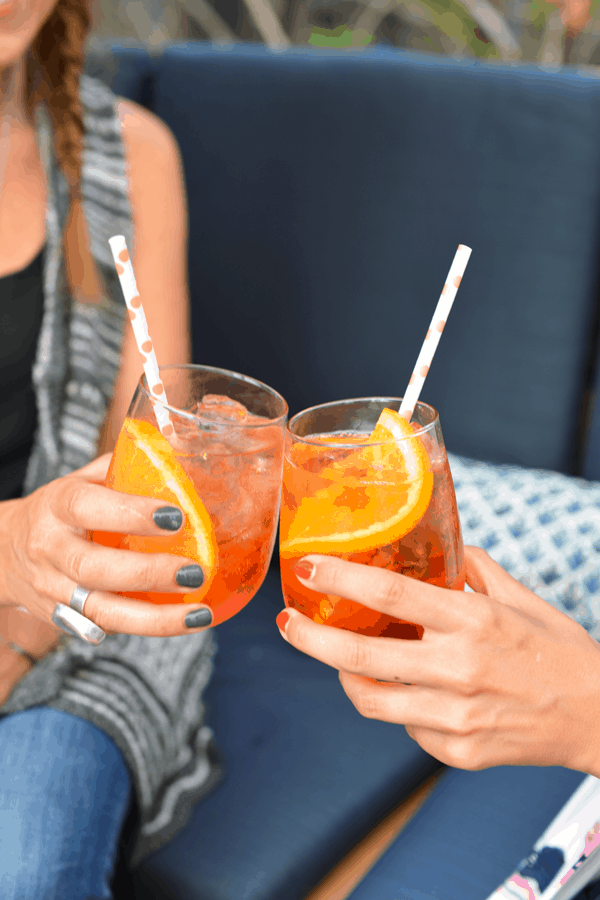 You'll totally crave the satisfying citrus herbal flavor.
This is totally a drink for those hot summer days when you need something to cool you down. And who doesn't love a little bubble from the Prosecco and soda water?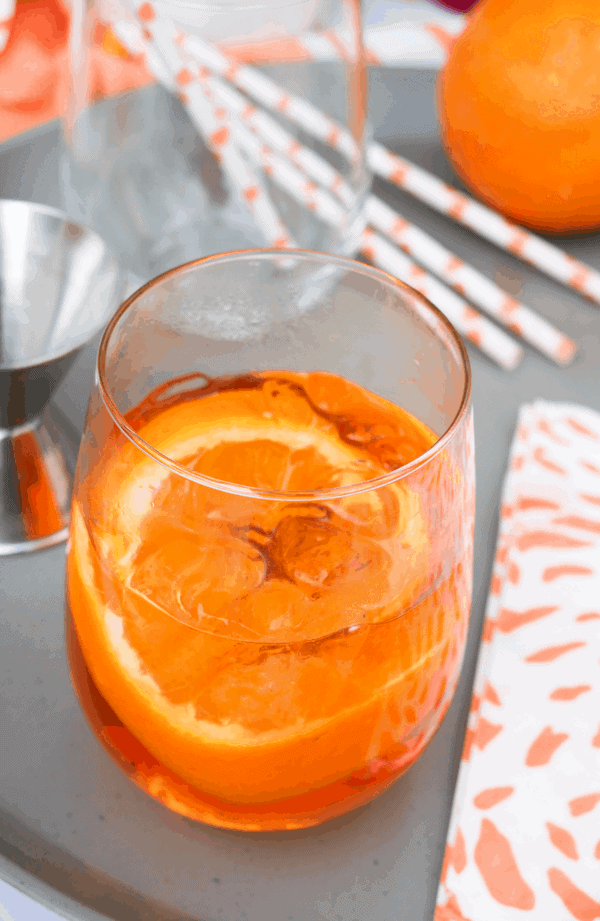 The Aperol Spritz cocktail is a total show-stopper. The color alone will stop people in their tracks. I love things that look impressive but are ridiculously easy.
Top tips
This is a great drink for a crowd! Just prep the bar area before your guests arrive: slice your oranges, set out some wine glasses and fun paper straws. The only tool you need is for measuring. Everyone can make their own.
If you just one to make one for yourself, you can use individual-sized champagne so you don't waste a whole bottle.
To make an even lower alcohol drink, you can add more club soda and less of Aperol and champagne.
Increase the serving size in the recipe card to figure out how to make them by the pitcher.
Frequently asked questions
What kind of alcohol is Aperol?
Aperol is an aperitif. It's lower in alcohol and typically enjoyed before dinner. They are said to prepare the palette for food. You can read more about aperitifs in my review of Haus!
What does an Aperol Spritz Cocktail taste like?
Orange is the dominant flavor in an Aperol Spritz. It's on the bitter side, with herbal notes and really refreshing. A little bit of sweetness and effervescence comes from the Prosecco. Sparkling water smooths everything out.
Is Aperol high in sugar?
Though the taste is not sweet, Aperol has a fair amount of sugar in it. It's not a low-calorie option but is a great way to add flavor even if you don't use very much.
Should Aperol be refrigerated?
Because it is lower in alcohol content, it won't stay fresh at room temperature for long. To make it last longer, you can store it in the refrigerator. If you are planning to sip these regularly through summer, you shouldn't need to bother. I've read instances of people keeping the bottle for 12 months at room temperature and not noticing any loss of quality.
Can you drink Aperol on its own?
Aperol is best known for the Italian Spritz, but you can certainly sip it on its own! Over ice, this bitter orange aperitif would be a yummy way to enjoy an afternoon by the pool. Or try an Aperol Soda.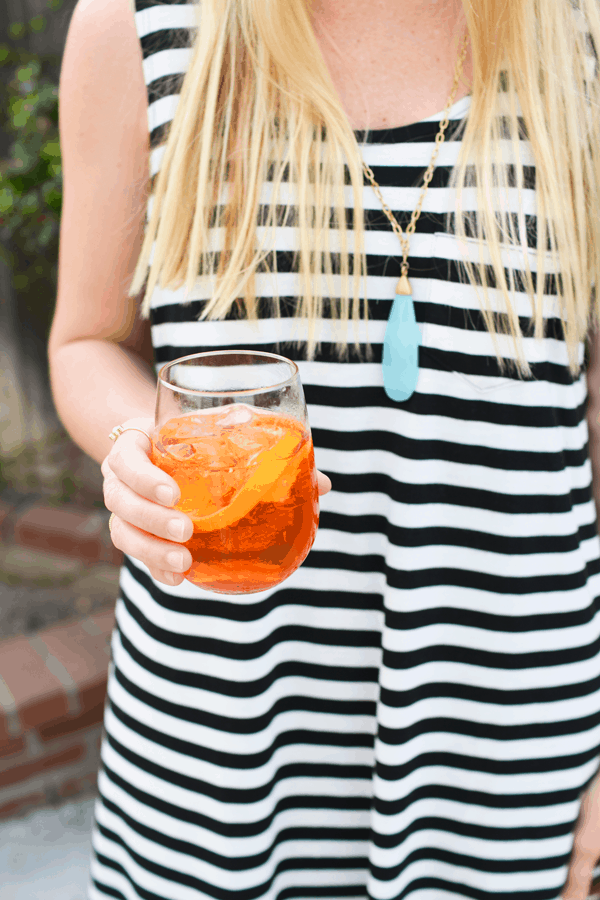 The Spritz Cocktail feels like the perfect summer cocktail to make at home! Make this summer an Aperol Spritz summer!
More Aperol cocktail recipes
More spritz recipes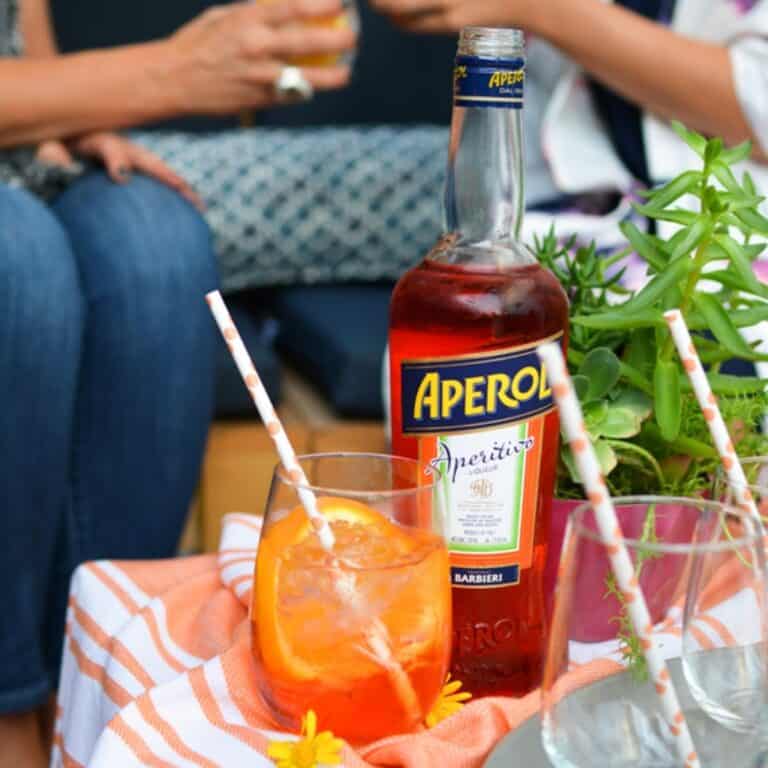 Italian Spritz
This refreshing Italian Spritz recipe has just 3 ingredients but is full of flavor. The herbal Aperol, with notes of orange, pairs perfectly with the bubbles from the sparkling wine and soda water. This easy summer cocktail is made to sip on a warm evening or any time you want a delighful treat.
Print
Pin
Rate
Save
Saved!
Instructions
Add ice to a stemless wine glass or spritz glass.

Add 3 parts (sticking with ounces keeps things super easy) prosecco to the glass.

Add 2 parts Aperol.

Top with 1 part soda water.

Enjoy!
Notes
Use an individual bottle or can of sparkling wine if you just want to make one. (But trust me, you'll want another!).
Use club soda or sparkling water depending on how fizzy you like your cocktails.
Prosecco is what they call Italian sparkling wine so you can substitute it with any type of sparkling wine like champagne or Cava.
This is a great drink for a crowd! Just prep the bar area before your guests arrive: slice your oranges, set out some wine glasses and fun paper straws. The only tool you need is for measuring. Everyone can make their own.
To make an even lower in alcohol drink, you can add more club soda and less of Aperol and champagne.
The calories on this recipe card are not correct as the program doesn't have Aperol in its database. Women's Health says there is 125 calories in an Aperol Spritz Cocktail but their recipe is slightly different than mine.
Nutrition
Serving:
1
Servings
|
Calories:
216
kcal
|
Carbohydrates:
19
g
|
Protein:
1
g
|
Fat:
1
g
|
Saturated Fat:
1
g
|
Sodium:
16
mg
|
Potassium:
92
mg
|
Sugar:
19
g
|
Calcium:
10
mg
|
Iron:
1
mg
This post was originally posted, July 20, 2015 and has been updated to include better instructions and more information on Aperol.