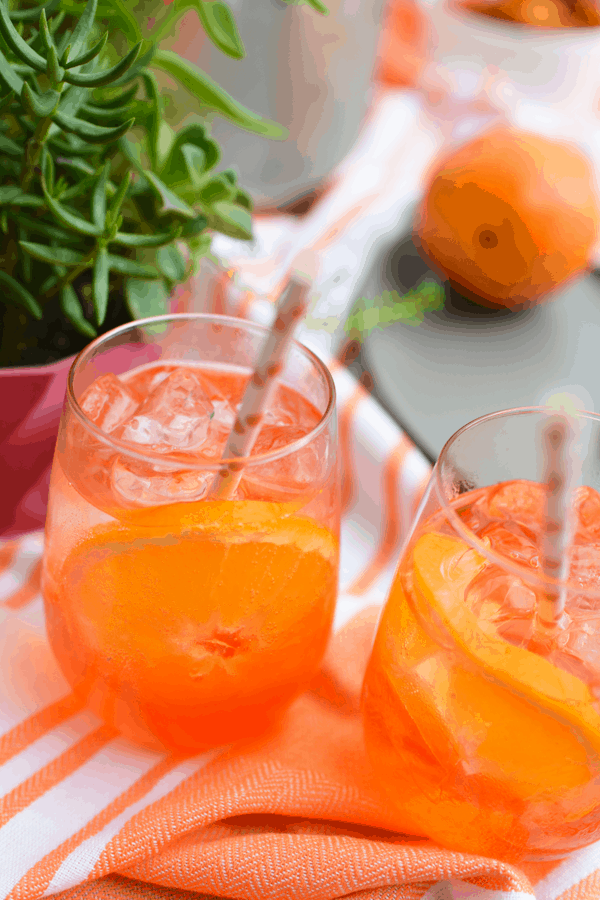 This delicious cocktail is called an Aperol Spritz and it is super refreshing and perfect for summer! I invited a few girlfriends over a few weeks ago for a Spritz Break. We had a blast! I'm sharing the details and recipe below!
*This #SpritzBreak post is sponsored by Aperol.
Summer is going by really fast and it's been hard for me to get in to any kind of schedule. That means spending time with my girlfriends has taken a back seat to being mom. But a few weeks ago, I decided to have some friends over for happy hour. I hired a baby sitter to watch my kids so that I could enjoy my backyard "mom oasis" area with my friends. And instead of going with an old favorite, I decided to try a recipe for an Aperol Spritz. Doesn't the word "spritz" sound so girly and sophisticated at the same time?
Aperol is an Italian apertif with a slight bitter orange flavor mixed with herbal undertones. Although it looks like it might be sweet, it isn't. The Aperol Spritz recipe is super simple. It's 3 parts Prosecco, 2 parts Aperol and 1 part soda water. It is served over ice, with a slice of orange. And oh my gosh! It's so refreshing!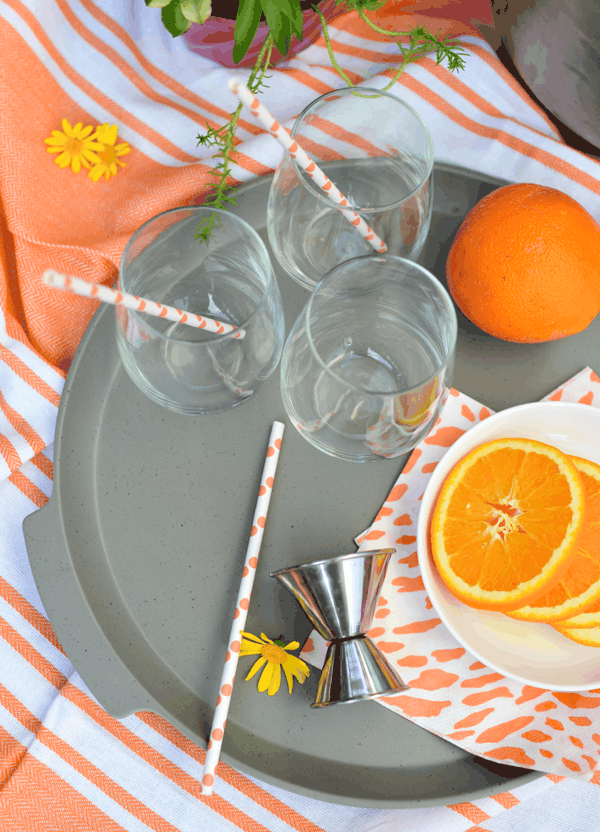 I prepped our bar area before the girls arrived and got my orange slices ready and set out some fun paper straws. None of us had tried an Aperol Spritz before so I was excited to experience something new with them. And getting everything together ahead of time meant that I could enjoy the night right along with them.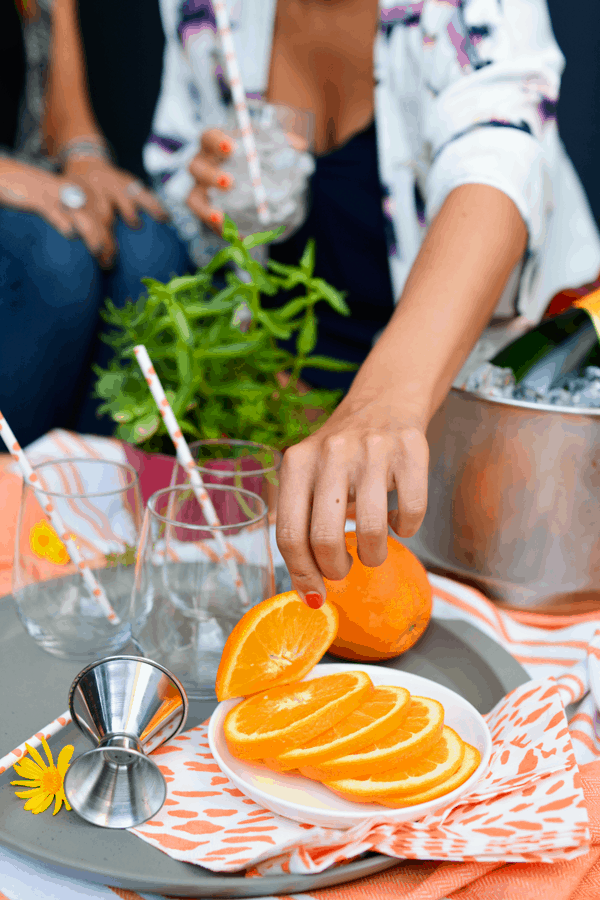 We started by adding ice to a stemless wine glass and added an orange slice. Why do orange slices smell so good?! Oranges are like an instant vacation. The smell is invigorating and comforting. The perfect combo for a fun girl's night. 
Next we started pouring the cocktails. To make sure we were making it correctly, we used a jigger for the first one to make sure we got the measurements right. But you really don't need to use it. It's perfectly okay to eyeball it. Check out this video to see how the people at Aperol make one!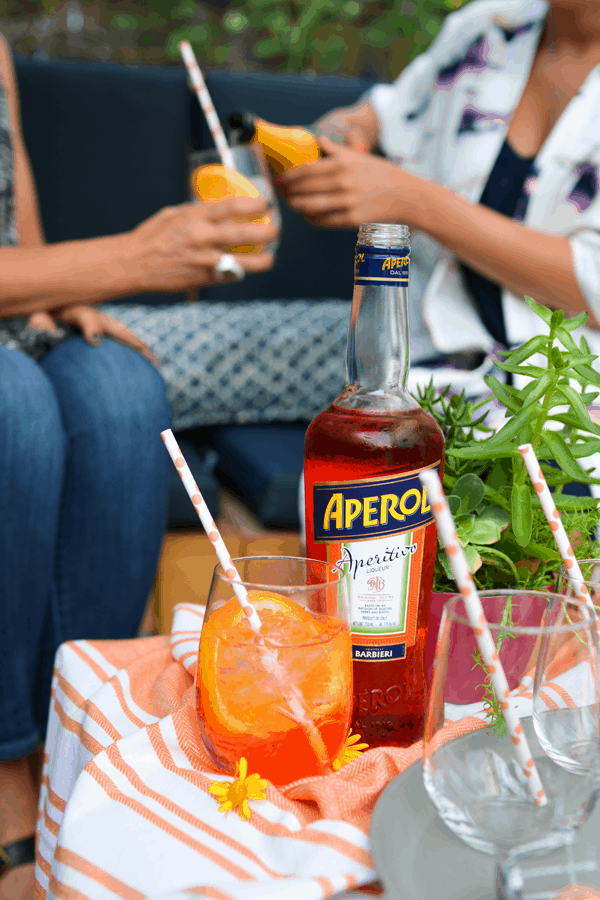 Our Aperol Spritz Break was SO much fun! As usual, I created a playlist to set the tone. I also brought out all my colorful outdoor sofa pillows to make the space really colorful. I love how vibrant the color of Aperol is so I wanted the the area to match. I also set out some snacks to munch on before we ate a delicious salad I had picked up from a local restaurant earlier in the evening.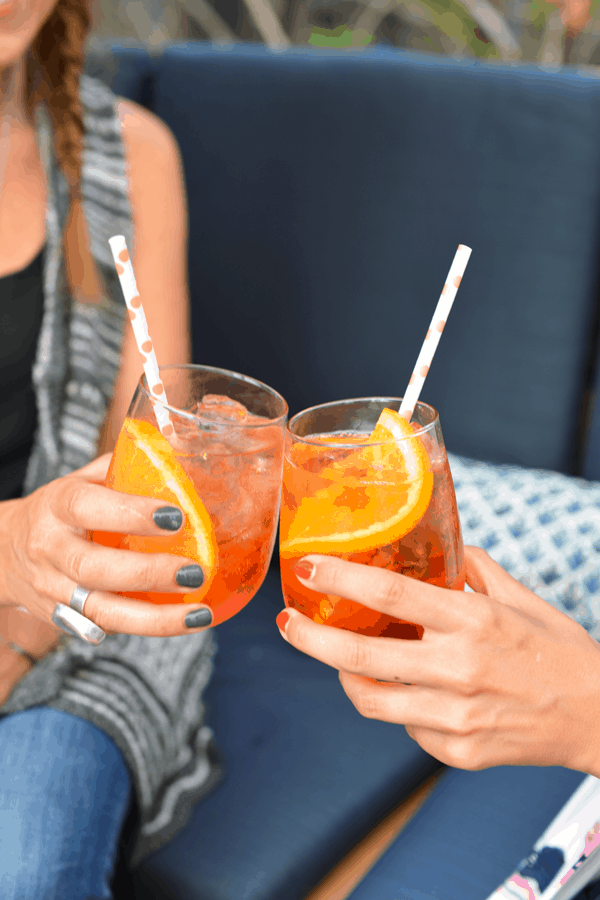 We all really enjoyed getting some time to hang out together in the middle of a really busy week. This is definitely something I'd like to do more often! And I've totally been craving an Aperol Spritz!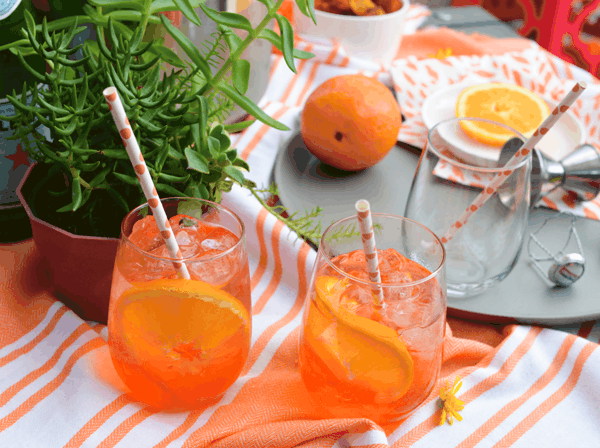 I fell in love with the herbal flavor of the Aperol. This is totally a drink for those hot summer days where you need something to cool you down. And who doesn't love a little bubble from the Prosecco and soda water?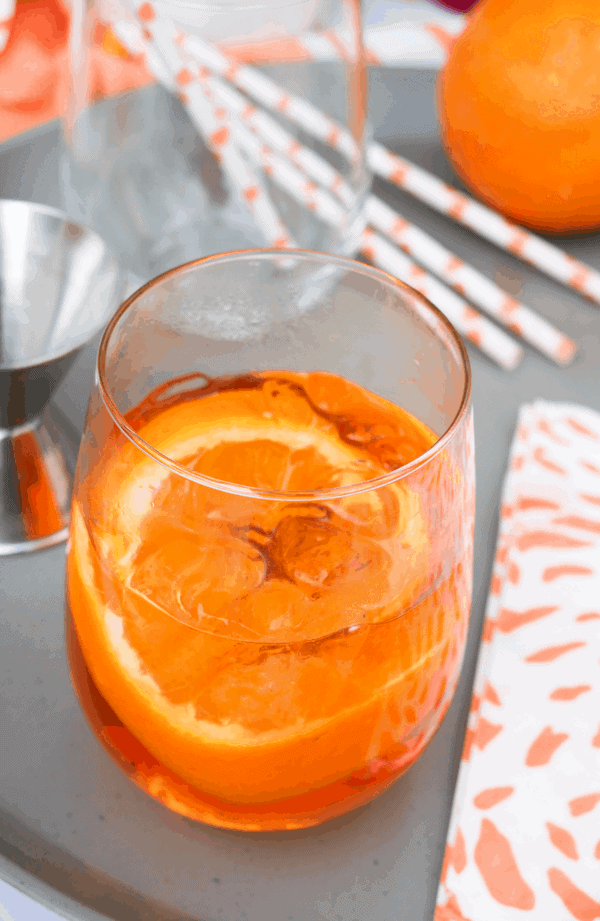 The Aperol Spritz is a total show stopper. The color alone will stop your party guests in their tracks. And it is so amazingly simple to make!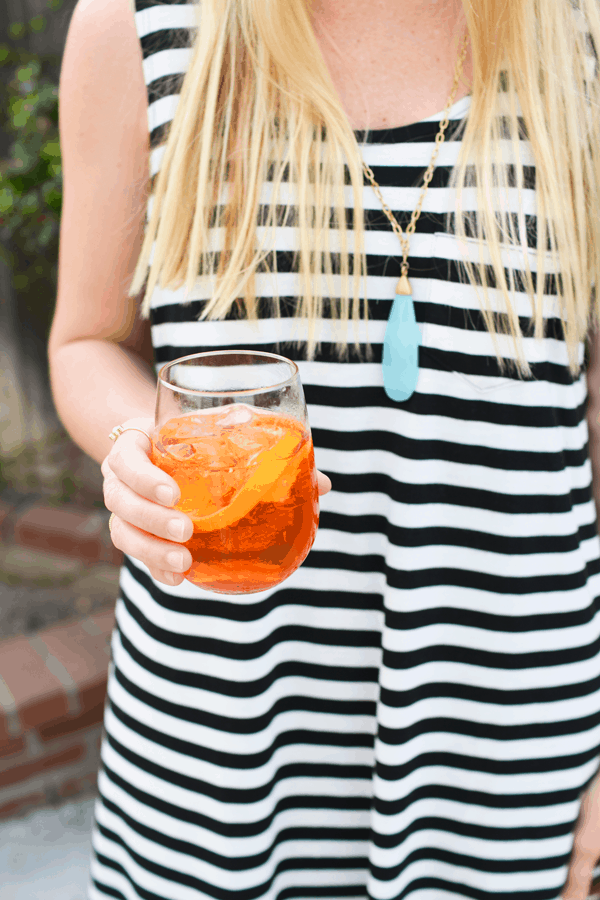 I encourage all of you to host your own Spritz Break this summer! It's as simple as 3-2-1! If you do, share it on instagram using the hashtag #SpritzBreak!!
Thanks for supporting the rad companies, like Aperol, that let me have happy hour with my girlfriends!

Aperol Spritz Recipe
An Aperol Spritz is the perfect happy hour cocktail to share with your friends! It's super refreshing and the perfect summer sipper!
Ingredients
3 parts Prosecco
2 parts Aperol
1 part soda water
ice
slice of orange to garnish
Instructions
Add ice to a stemless wine glass.
Add a slice of orange.
Add 3 parts prosecco to the glass.
Add 2 parts Aperol.
Top with 1 part soda water.
Enjoy!