It's bright orange and totally refreshing! If you haven't tried an Aperol Spritz yet, you are totally missing out!
This classic summer cocktail, made with bubbly prosecco and Aperol, is quick and easy to make and will make you think you are one an Italian beach vacation.
Wine cocktails, like this Aperol Spritz Recipe are perfect for warm weather and fun to serve on a patio.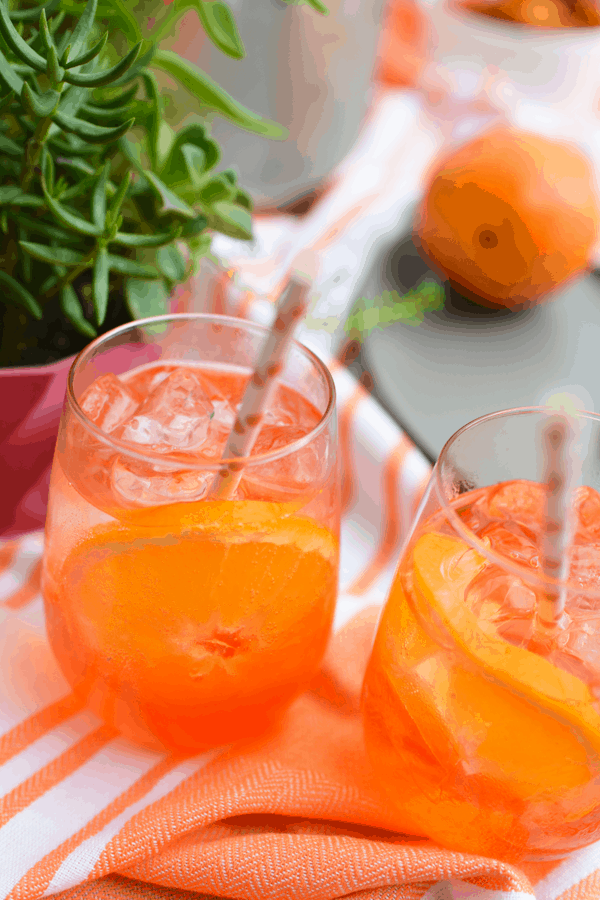 Some links in this post may be affiliate links. As an Amazon Associate in the Amazon Services LLC Associates Program, I earn from qualifying purchases by linking to Amazon.com and affiliated sites.
I also participate in affiliate programs for other retailers. This #SpritzBreak post is sponsored by Aperol.
Originally posted, July 20, 2015 and updated to include better instructions and more information on Aperol.
The Aperol Spritz Recipe for a perfect summer cocktail
There are certain cocktail recipes that just feel like summer. An Aperol Spritz is one of those.
With its bright orange color and refreshing bubbles, you're going to love it. With just 3 ingredients, it's super simple and doesn't require any special equipment.
While I like to keep my home bar free of those odd or one-off flavored liquors, Aperol is something that can be used in a variety of cocktails.
It's worth the buy!
Don't want to make a spritz? Here are two other easy, refreshing drinks you can make with Aperol.
Whether you are making an Aperol Spritz for yourself to enjoy or making them for friends, this recipe is so easy you'll be able to memorize it and make it at home, on vacation or anywhere you want to enjoy this yummy cocktail.
Doesn't the word "spritz" sound so girly and sophisticated at the same time?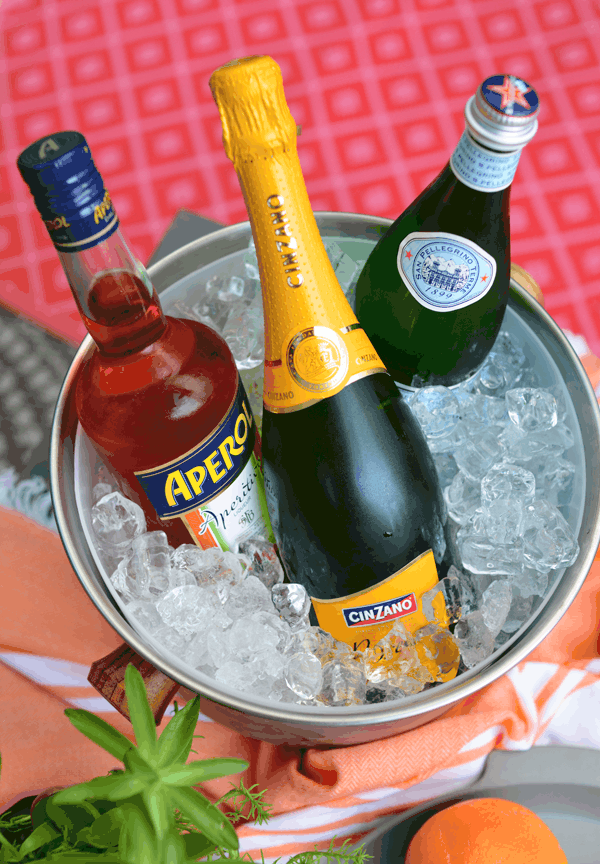 What is Aperol?
Aperol is an Italian aperitif. Aperitifs are sort of an old-fashioned idea that is reserved for legit bartender types.
They are said to aid in digestion and are typically served before or after a meal.
Aperol has a slightly bitter orange flavor mixed with herbal undertones which makes is very refreshing. It's more dry than sweet and I LOVE it.
How to Make the perfect Aperol Spritz
Here's what you need to make this delicious summer cocktail.
Scroll down to find the printable recipe card.
Ingredients
Prosecco

Aperol

soda water

orange, sliced for garnish (optional)
Prosecco is just Italian sparkling wine which means if you have any kind of sparkling wine, it will work!
Aperol is pretty easy to find. You can find it at your local grocery store, Target and any specialty liquor store.
Or you can use Drizly to have Aperol delivered right to your door! I love to do this when I'm thinking ahead to my weekend cocktails.
This refreshing drink also needs soda water. I use sparkling mineral water, but you can use club soda if you want a little more fizz. This is a personal preference.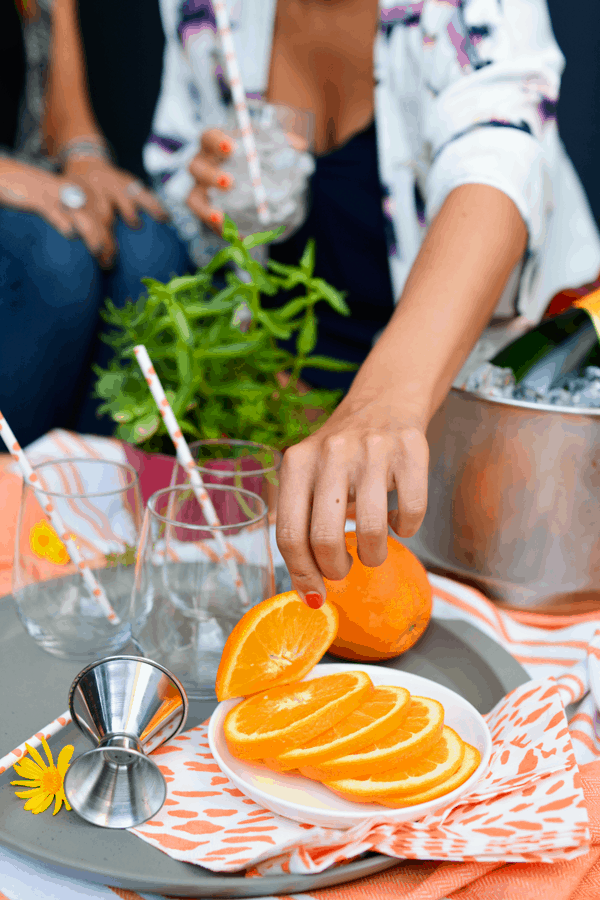 Instructions
Any glass will work but a stemless wine glass is always a great choice.
Add a slice of orange to a wine glass full of ice.
Why do orange slices smell so good?! Oranges are like an instant vacation. The smell is invigorating and comforting. It's a great garnish for this citrusy drink.
Aperol Spritz Measurements
We used a jigger for the first one to make sure we got the measurements right. But you really don't need to use it. It's perfectly okay to eyeball it.
Add to the glass as follows:
3 parts Prosecco
2 parts Aperol
1 part soda water
So easy.
Aperol Spritz 3 2 1
Once you know that, you can easily make one drink or many!
Check out this video to see how the people at Aperol make one!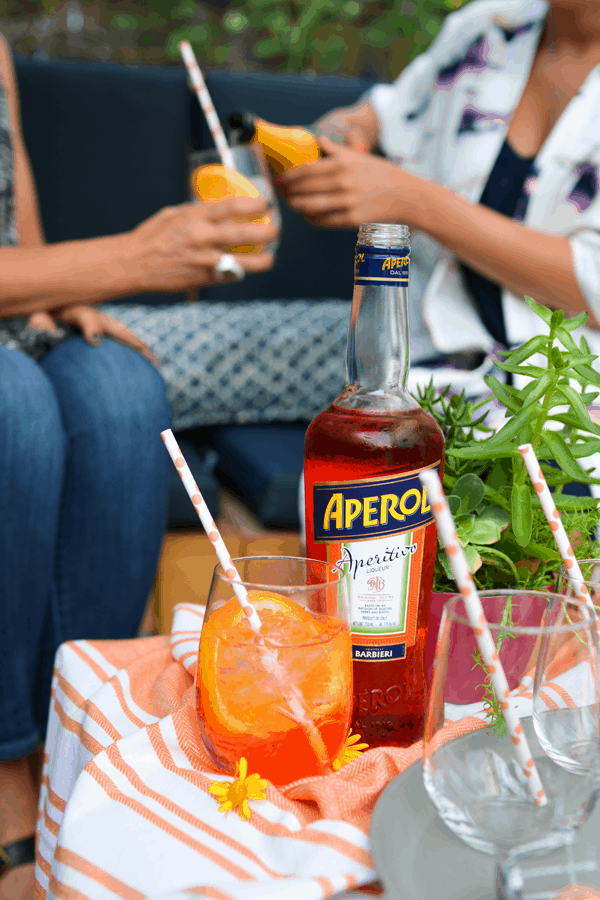 The classic Aperol Spritz was SO easy to make and I love how vibrant the color is. And when you bring the glass to your lips and get that gorgeous orange scent…so good!
As usual, I created a summer playlist to set the tone.
The Spritz is a great cocktail to serve at a girl's night in. You can have all the ingredients, kept chilled in an ice bucket, and enjoy a lovely evening on the patio.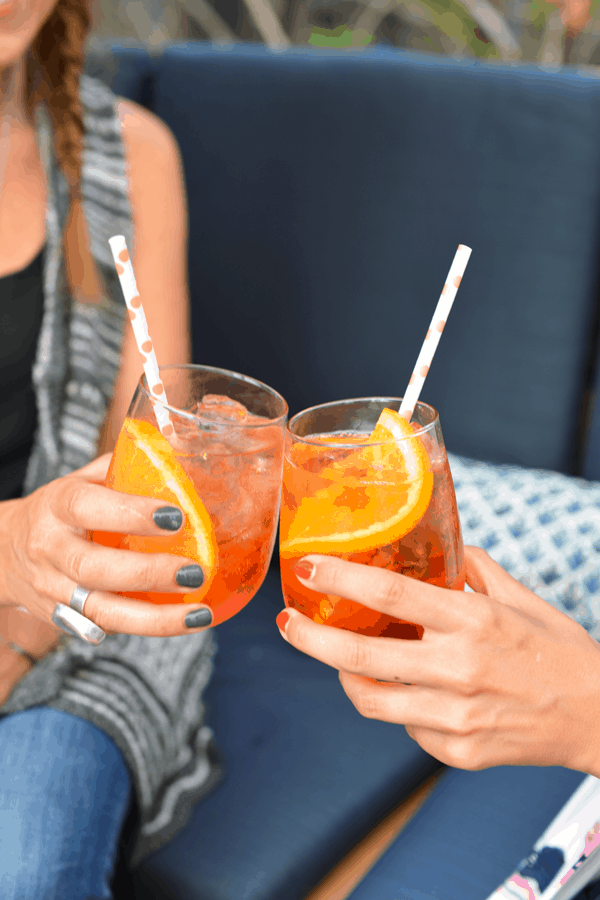 Once you sip an Aperol Spritz, you'll totally crave the satisfying citrus herbal flavor.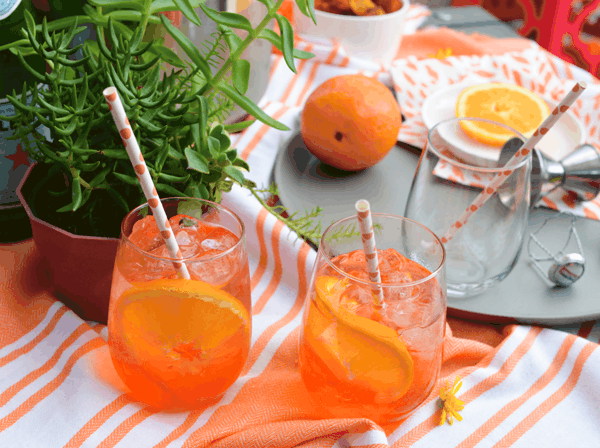 This is totally a drink for those hot summer days where you need something to cool you down. And who doesn't love a little bubble from the Prosecco and soda water?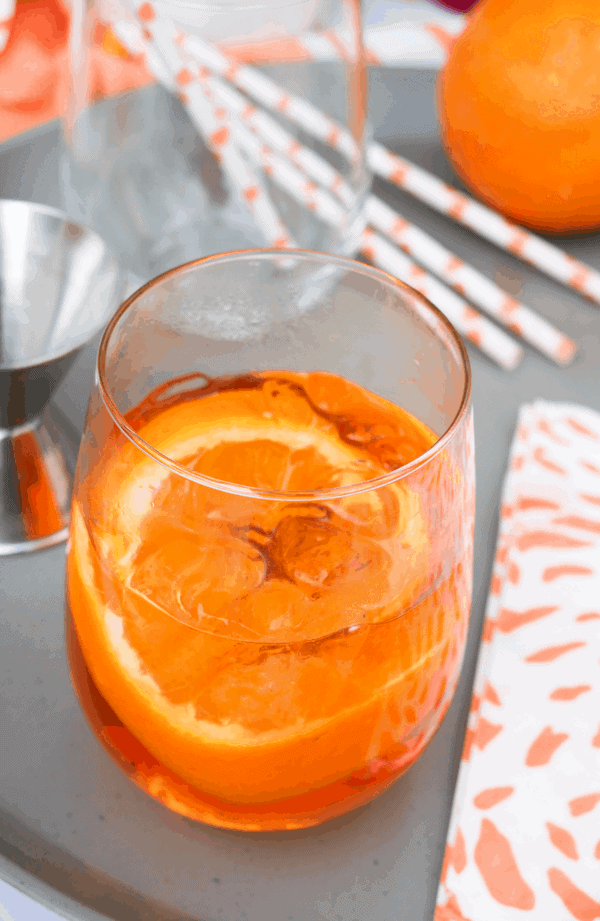 The Aperol Spritz is a total show stopper. The color alone will stop people in their tracks. I love things that look impressive but are ridiculously easy.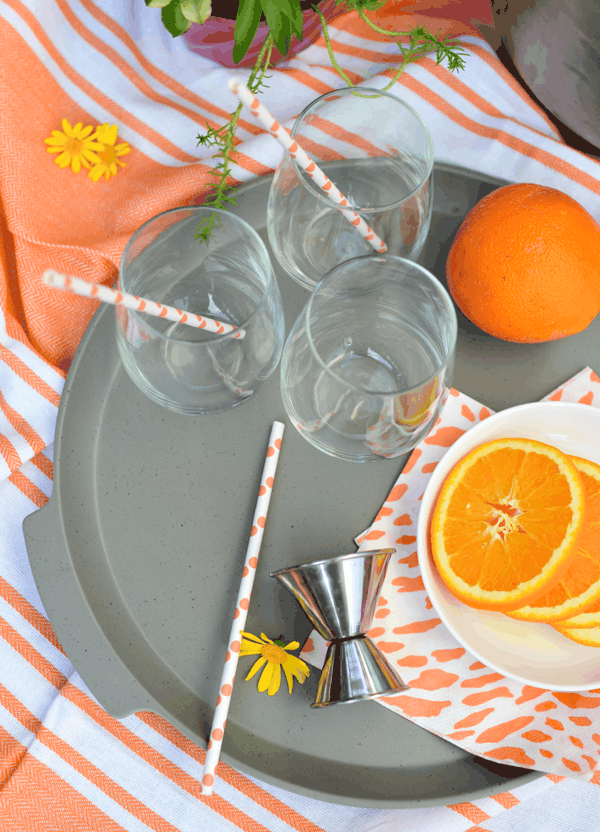 Top tips
If you are making these for a crowd, just prep the bar area before your guests arrive. Slice your oranges slices, set out some wine glasses and fun paper straws. The only tool you need is for measuring. Or just wing it!
Getting everything together ahead of time means I can enjoy the night too. This is not one of those cocktails that will have you stuck in the kitchen making them over and over again.
Or, if you just one to make one for yourself, you can use an individual-sized champagne so you don't waste a whole bottle.
Don't have or want to get Aperol? There are substitutes for Aperol but if you're an at-home drinker with an OK bar set up (like me) you probably don't have them on hand.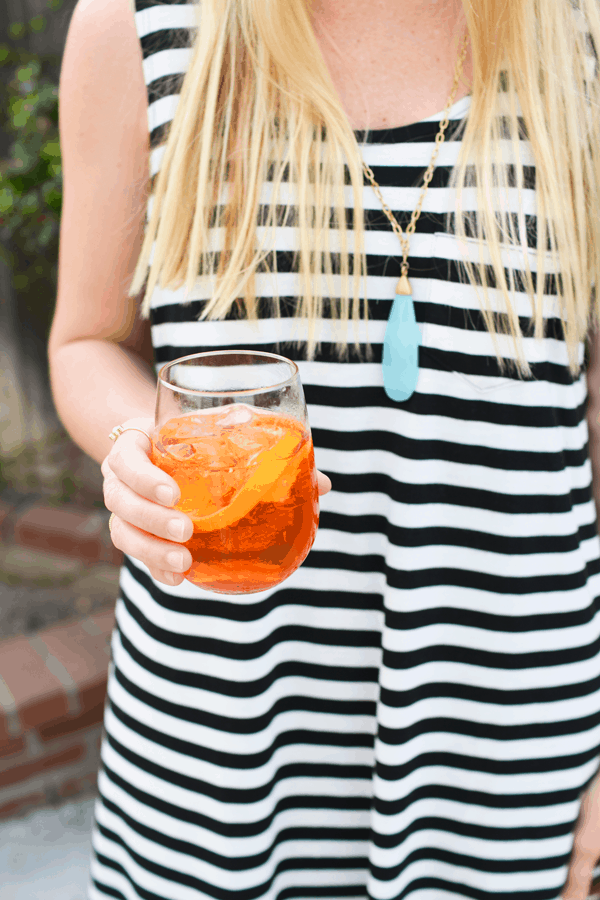 More Refreshing Drink Recipes
Here are some more of my favorite cocktails to make at home!
White Wine Spritzer: A classic white wine spritzer is a great cocktail recipe for moms. Not only is it delicious, but it's a great way to stretch out a glass of wine so you're not turnt in front of your kids…
Blood Orange Sorbet Gin Float: If you like the citrus and herbal notes of the spritz, you'll love this Blood Orange Sorbet Gin Float! It's like dessert and a cocktail combined!
Corpse Reviver No. 2: This crazy sounding drink, the Corpse Reviver No. 2, is really simple to make, has a gorgeous lemon flavor and is one of my favorite summer cocktails.
Or see my collections of: Easy Cocktails, Moscow Mule Variations, Vodka Cocktails, and Wine Cocktails.
Printable recipe
Yield: 1 serving
Aperol Spritz Recipe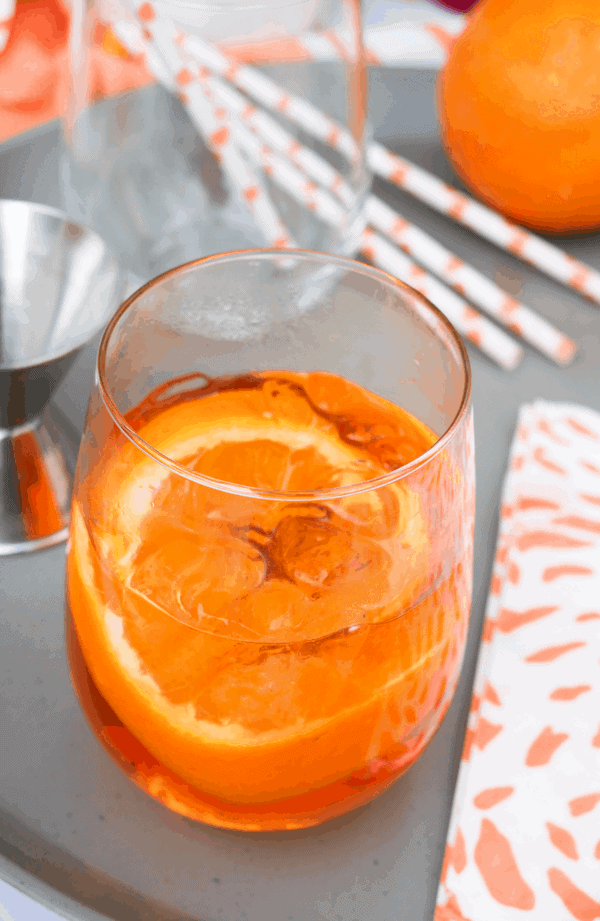 This refreshing Aperol Spritz Recipe has just 3 ingredients but is full of flavor. The herbal Aperol with notes of orange pairs perfectly with the bubbles from the sparkling wine and soda water. This easy summer cocktail is made to sip on a warm evening or any time you want a delighful treat.
Ingredients
3 parts Prosecco
2 parts Aperol
1 part soda water
ice
slice of orange to garnish
Instructions
Add ice to a stemless wine glass.
Add a slice of orange.
Add 3 parts prosecco to the glass.
Add 2 parts Aperol.
Top with 1 part soda water.
Enjoy!
Notes
Use an individual bottle of sparkling wine to make just one. (But trust me, you'll want another!).
Use club soda or sparkling water depending on how fizzy you like your cocktails.
Prosecco is what they call Italian sparkling wine so you can substitute with any type of sparkling wine.
Nutrition Information
Yield
1
Serving Size
1 Servings
Amount Per Serving
Calories

576
Total Fat

0g
Saturated Fat

0g
Trans Fat

0g
Unsaturated Fat

0g
Cholesterol

0mg
Sodium

55mg
Carbohydrates

44g
Fiber

0g
Sugar

36g
Protein

0g
Nutrition information isn't always accurate.
Pin to save this spritz recipe for later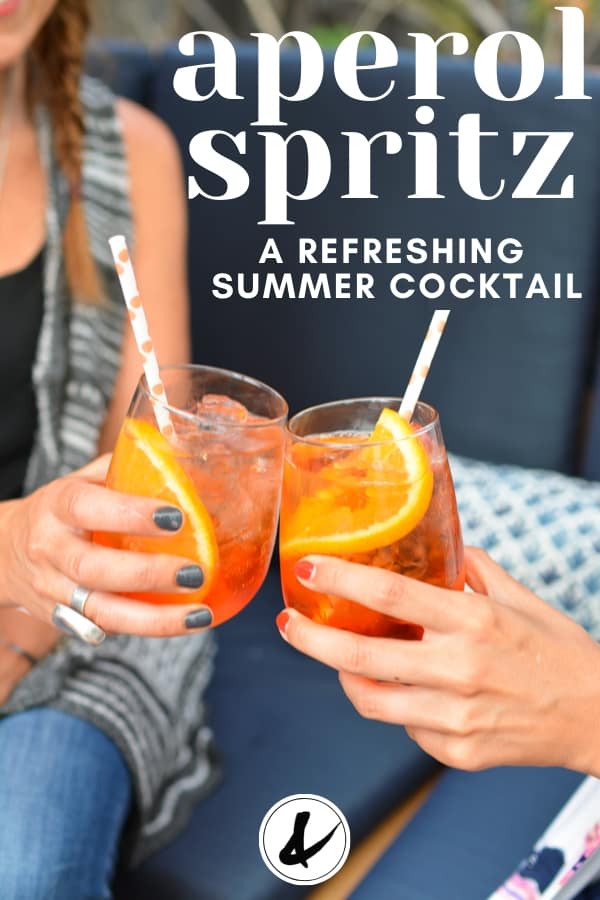 The Aperol Spritz recipe feels like the perfect summer cocktail to make at home! Make this summer an Aperol Spritz summer!