You've just found your new favorite summer cocktail! This refreshing cucumber margarita recipe is perfect for pool parties or happy hours at home.
With tequila, fresh cucumbers and lime juice blended to tasty perfection and finished with a Tajin rim, this pitcher cocktail is one of my favorite drinks to sip when the weather is warm.
I learned how to make this tequila cocktail while on vacation in Mexico and I freaking love it! It's super simple and full of fresh flavors. If you love to make easy cocktails at home as I do, this is a must-try!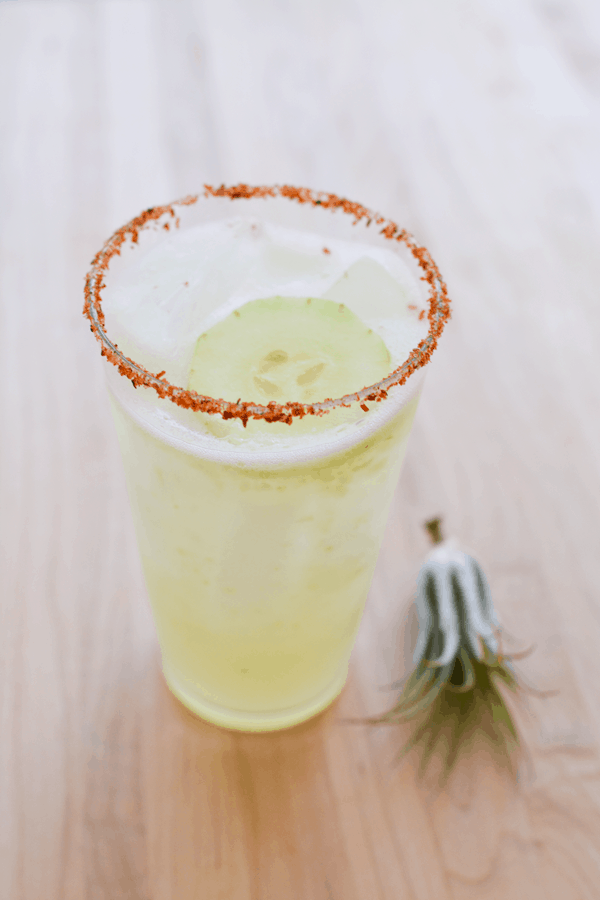 Casa Noble sent me the tequila. I am very grateful for liquor companies that send me product so that I can share the cocktail posts that I would share with you anyway. Do you know how much it costs to buy a bottle of liquor just for one post?
Originally posted in July 2014. Updated to include better instructions to make this perfect every time!
Easy Cucumber Margarita Recipe!
You HAVE to make this drink!
Aside from being crazy delicious, it is also a drink that was made for us on my trip to Villa del Palmar in Loreto, Mexico. I love to create cocktails inspired by trips. It's such a fun way to relive trip memories!
This Cucumber Margarita Recipe is perfect for National Tequila Day. That "holiday" falls on July 24, but I think any day can be tequila day if you really want it to be.
I was really inspired by a lot of different things on our trip to Mexico. And when I got home I found that I was missing the food and drinks and have been trying to recreate them.
We had something similar to these yummy Mexican Tostadas and I can't stop making them for my family.
I whipped up a Cucumber Margarita with Tajin rim as soon as I got home to make sure I wouldn't forget how to make them. A life without this tequila cucumber cocktail is a less fun and delicious life.
And I have to say, I'm not a fan of traditional blended margaritas usually (except this frozen margarita). But this isn't a truly blended margarita. The blender is just the best way to get that fresh cucumber flavor throughout the drink.
How to make Cucumber Margarita
To make your own cucumber margarita, you will need:
Ingredients
A gorgeous tequila, like this one from Casa Noble
Triple Sec
A fresh cucumber
Fresh squeezed lime juice
A lime wedge
A blender, I use this one and love it!
If you aren't familiar with Triple Sec, it's an orange liqueur. You can leave it out and it won't change the flavor too much. If you have orange extract you could use that instead. Or add a touch of fresh orange juice.
Directions
To a pitcher or single serving size blender cup, add fresh lime juice, cucumber slices, tequila and Triple Sec.
If rimming your glass with Tajin, do that now (mini-tutorial below!)
Add ice to your cocktail glass, then top with blended cucumber mixture.
Which type of blender is best for making cocktails
Hands-down, my favorite blender for making drinks like this one is the Ninja. It comes with the pitcher so you can make enough for a few batches at once, or you can make one at a time with the individual cups.
The blades are also super sharp which helps to puree the cucumbers and get everything blended together.
If you don't have a Ninja yet, just get up, get your keys and purse and go get one. Best thing to ever happen to me. It's seriously a life changer and I use it for EVERYTHING.
What is Tajin?
What is Tajin, you ask? It's a chile-lime seasoning. I am not a salt on my margarita glass type of gal but this easy cucumber margarita is even more delicious with a savory rim!
It is easy to find in most grocery stores. Or you can buy it online. They also sell this super handy container of Tajin that is perfect for cocktails!
How to rim a glass with Tajin
To rim a glass just take a wedge of lime and rub it on the rim of the glass.
Then pour out some Tajin on a plate (like you see two images above) and run the lime-soaked rim of the glass in it. The lime helps the seasoning adhere to the glass.
Check out three more ways to rim a glass. Don't be afraid to get creative. Although Tajin is perfection with this margarita.
Oh hey. There's my son. Like a moth to a flame, when I'm shooting cocktail posts this one shows up. He demands I take a photo and he'll finally move on. He was 5 1/2 here. But he's 11 now.
I should probably remove his photo from the post but I just can't! Look at that sweet face.
What is the best tequila for margaritas?
I have to say, the Casa Noble tequila was clean and smooth with a silky quality. I don't know much about the different types of tequila but I can tell you that I am a BIG fan of the crystal or silver variety.
I like them clear. Aged tequilas (the ones with more color) tend to have more flavor and I like the rest of my fresh ingredients to really shine.
Float a cucumber right on top for an added dose of cucumber and an easy garnish. And then drink it up. Responsibly, of course.
Do you celebrate National Tequila Day? I never have before but I think I will be adding it to my calendar for the future.
I don't drink a lot in the week, but it just feels wrong not to when it is a National "day". And I'm certainly not only going to keep this yummy margarita recipe for one day only.
I'm going to drink this margarita with cucumber all summer long.
Printable recipe
Cucumber Margarita
This refreshing Cucumber Margarita is one of my favorite tequila cocktails of all time! It's so refreshing and makes the perfect summer drink idea! The blended cucumber and fresh lime juice make this extra tasty especially when rimmed with Tajin. Plus it's easy to make it by the pitcher.
Print
Pin
Rate
Instructions
Add cucumber slices, lime juice, Triple Sec and Tequila to a blender and blend well.

Rim cocktail glass with Tajin by rubbing first with lime.

Add ice to the glass.

Pour mixture from blender over ice.

Top with cucumber slice.
Notes
This recipe is easy to make into a large batch cocktail! And trust me, you'll want more than one. Just multiply the recipe based on how many servings you want. You can make a large batch of the cucumber puree ahead of time and serve as needed.
Nutrition
Serving:
1
Servings
|
Calories:
560
kcal
|
Carbohydrates:
98
g
|
Protein:
15
g
|
Fat:
11
g
|
Saturated Fat:
4
g
|
Polyunsaturated Fat:
5
g
|
Sodium:
35778
mg
|
Fiber:
49
g
|
Sugar:
17
g
Top tips
This recipe is easy to multiply and make by the pitcher!! Just multiply the recipe for as many servings as you want and then blend it all up and keep it in the fridge.
Since you don't blend in the ice, it won't get diluted as it sits.
There are other ways to make cucumber margaritas but I find this one to be super quick and easy. You can try to get a similar flavor by muddling cucumbers or infusing your tequila with them.
But muddling won't pulverize the cucumbers and will leave you with big chunks. And making infused tequila (similar to making flavored vodka), would take days of preparation.
Related Cocktail Recipes
Mexican Mule – Tequila fans will love this Mexican Mule cocktail recipe. It's a fun twist on the classic Moscow Mule cocktail.
Serrano Margarita – Do you like spice? Try this Serrano Margarita. It takes a basic margarita recipe up a notch with a little bit of my favorite spicy pepper.
Strawberry Basil Margarita – This yummy Strawberry Basil Margarita recipe is perfect for sharing with friends! The fruity simple syrup gets infused with fresh basil flavor to make this margarita extra special. Plus it's easy to make for a crowd.
Or see my full collections of : Easy Cocktails, Moscow Mule Variations, Vodka Cocktails, and Wine Cocktails.
Pin to save this cucumber cocktail for later
Have you ever tried a cucumber margarita? It's sure to be your new favorite refreshing summer cocktail!