I'm a BIG fan of Moscow Mule cocktails (and ALL the easy cocktails, really). And while I like the classic version, there are literally an unlimited amount of variations that can be made. Which I love! It's like you can make your drink based on your mood as long as you know the basic structure of the drink. Here are the best Moscow Mule recipes to try for your next happy hour.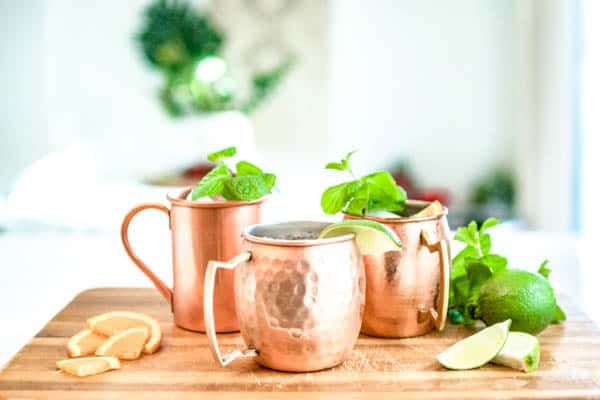 I only share things I love and think you'll like too. This post contains affiliate links, which means if you purchase through one of these links, I am compensated.
I've never met a Mule I didn't like. It's the drink that introduced me to ginger beer which now I always have on hand at home. With it's pungent kick and touch of sweetness it works with pretty much any type of alcohol. Moscow Mule variations are almost as easy to make as the original with just the swap of a few ingredients.
In its original form, the drink uses just 5 ingredients: vodka, ginger beer, fresh lime juice, bitters and mint. It doesn't require a cocktail shaker (although you certainly can use the shaker to chill the vodka and lime juice – just don't shake up the ginger beer… hello, ginger volcano!) and while I think they are best when served in a copper mug, you really can serve them in any type of glass.


Using the original, Best Moscow Mule Recipe, you can start to get really creative. You can use ingredients you have on hand (like bottled juice if you don't have any lies laying around) and any fresh herb, but you can also add unique flavors and other liquor. These Moscow Mule recipes are perfect for any time of year and are a fun way to use seasonal ingredients and flavors.
And if you're a fan of Moscow Mule cocktails, you definitely need to check out my Moscow Mule Cupcakes infused with vodka!
Moscow Mule Recipes and Variations
While the original recipe uses vodka, you can easily swap it out for your favorite alcohol to get a new flavor combination. The possibilities are virtually endless!
Different types of Moscow Mules
There are so many different types of Moscow Mules drinks to make! Here are some delicious ides to try for your next happy hour.
Once you get your liquor sorted out, you can explore all the Moscow Mule flavors. Different fruit combinations and other ingredients, like sodas and flavored liquor, give this cocktail recipe so many possibilities.
More Moscow Mule Variations
Find even more flavored Mule ideas on my Moscow Mule Variations Pinterest board!
You may also like my other favorite cocktails:
Moscow Mules are one of those recipes that has raving fans. And if you're into them, you're really into them. If that's you, you may also like these other Moscow Mule posts I've done.
Mules and Jewels Stella and Dot Party – Chances are, you've been asked to host a Stella & Dot party at some point. This Mules and Jewels party idea is so fun! Create a Mule station for your guests to make their own drinks while they shop for pretty jewelry.
Gift Ideas for the Moscow Mule Lover – If you have a friend that can't get enough of these delicious cocktails, you'll love these fun gift ideas that you can buy right on Amazon! They're perfect for gifting any time of the year!
Moscow Mules are a great signature drink idea for your parties since they can be tailor-made to fit any theme. You can make them for your guests or set out a bar to let them make their own. It's such a versatile drink idea and one that I will continue to play with and create new yummy flavor combinations! What types of Moscow Mule recipes do you love?
Shop the post!


Pin these yummy Moscow Mule variations for later:
The best Moscow Mule recipes are always simple, always delicious and totally perfect for sipping any time.