From classic to seasonal, these quick and easy Moscow Mule variations will have you sipping a refreshing cocktail in no time! Most of these Moscow Mule recipes can be made in under 5 minutes making them a great idea for mixing up at home!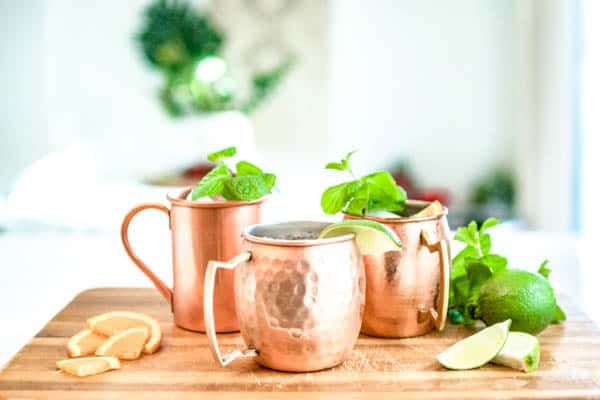 I'm a BIG fan of Moscow Mules. (and ALL easy cocktails, really). And while I like the classic version, there are literally an unlimited amount of variations that can be made. Which I love!
Grab those copper mugs and make one of these types of flavored Mule recipes for your next happy hour.
Jump to:
Why These Recipes Work
As long as you know the basic structure of the drink, you can make seasonal variations and try unique flavor combinations.
Moscow Mules don't usually require a ton of ingredients and you can easily make a recipe to suit your cocktail taste preferences.
An Original Moscow Mule has just 5 ingredients: vodka, ginger beer, fresh lime juice, bitters, and mint.
With its pungent kick (thanks to the ginger beer) and a touch of sweetness, you can make one with pretty much any type of alcohol.
Related: Vodka Cocktail Recipes
Making fun Moscow Mule recipes doesn't require a cocktail shaker (although you certainly can use the shaker to chill the vodka and lime juice - just don't shake up the ginger beer... hello, ginger volcano!).
And while I think they are best when served in a copper mug, you really can serve them in any type of glass.
These different Mule drinks are easy to make at home and are especially great for beginning drink makers.
And if you're a fan of Moscow Mule cocktails, you definitely need to check out my Moscow Mule Cupcakes infused with vodka!
These Moscow Mule recipes are a great signature drink idea for your parties since they can be tailor-made to fit any theme. You can make them for your guests or set out a bar to let them make their own.
Here are the best Moscow Mule recipes to try for your next happy hour.
Moscow Mule Variations
There are so many different types of Moscow Mules recipes to make! Here are some delicious ideas to try for your next happy hour. With holiday-inspired and unique flavor combinations, these Moscow Mule variations are recipes you need to try!
Find even more flavored Moscow Mules on my Moscow Mule Variations Pinterest board!
There are an endless amoung of Moscow Mule flavors but they are always simple, always delicious and totally perfect for sipping any time.
Tips
Use fresh citrus if at all possible. Bottled lime juice would work in a pinch, but for the best flavor, you'll want to use fresh citrus.
This is my favorite citrus squeezer. I use it ALL the time and it's lasting really well. It's also great if you will be making a bunch of Moscow Mules so you can batch the juice ahead of time. You can see all my favorite bar tools here.
Fresh herbs are a great way to garnish and add subtle flavor to Mule cocktails. You can simply garnish, muddle or create a flavored simple syrup (like my Basil Simple Syrup) to add more layers of flavor.
While you can switch up the kind of alcohol you use in your recipes. You can add even more flavor variations by adding flavored spirits (like a DIY Orange Flavored Vodka).
There are several brands of Ginger Beer on the market but Reed's is usually my go-to! It's not overly sweet and has a lovely ginger flavor!
Frequently Asked Questions
Do you have to use a copper mug?
You can make Moscow Mules and not serve them in a copper mug. But I prefer mine in a copper mug. The technology of the mugs is designed to keep your drink nice and frosty making it oh so refreshing. Plus they really add to the overall experience. They aren't expensive and I think it's great to have a few on hand.
What are the different types of Mules?
Depending on which type of alcohol you use, the name of the Mule changes. Usually, they are a play on the country or state where the alcohol originated (for example, with Vodka it's known as a Moscow Mule, with Tequila, it's called a Mexican Mule). There are tons of types of mules. The name doesn't matter so much as knowing you can make a Mule with just about anything!
What can I substitute for Ginger Beer in a Moscow Mule?
You could substitute Ginger Beer with Ginger Ale, but I hope you won't. Unless it's a cocktail emergency. Ginger Ale is so much sweeter and lacks that bite from the ginger, like ginger beer does. It will work in a pinch but, in my opinion, won't be quite as refreshing.
Supplies to Make Flavored Mules
More Moscow Mule Inspired Posts
Moscow Mules are one of those recipes that have raving fans. And if you're into them, you're really into them. If that's you, you may also like these other Moscow Mule posts I've done.
Mules and Jewels Stella and Dot Party - Chances are, you've been asked to host a Stella & Dot party at some point. This Mules and Jewels party idea is so fun! Create a Mule station for your guests to make their own drinks while they shop for pretty jewelry.
Gift Ideas for the Moscow Mule Lover - If you have a friend that can't get enough of these delicious cocktails, you'll love these fun gift ideas that you can buy right on Amazon! They're perfect for gifting any time of the year!
A Coke Moscow Mule cocktail is a fun cola twist on a classic vodka drink recipe.
More Easy Cocktail Recipes
This post was originally published on January 22, 2019 and has now been updated with more recipes and tips and tricks to make perfect Moscow Mules every single time.