I can't quit dump cakes! This Strawberry Pineapple Dump Cake is so easy to make and is a great summer dessert idea! With strawberry pie filling and canned pineapple, it has barely any prep time making this perfect for a last-minute party or unexpected company.
Dump Cakes are an easy dessert to serve and they are always a crowd-pleaser! If you are looking for a simple strawberry dessert to make right now, this recipe is for you!
Jump to:
Strawberry Pineapple Dump Cake is delish
It's the strawberry season which means my family is eating a lot of strawberries at the moment.
Right now we're eating them at every meal because we know that they will be gone soon and we want to enjoy them as much as possible. And we've been craving strawberry desserts.
We love them in this Fruit Bruschetta but we also at them as a delicious strawberry snack and quite often with this Strawberries Romanoff dip.
But when we want dump cake this time of year, we opt for strawberry pie filling. Because it's SO yummy! (Don't forget to also check out my Strawberry Shortcake Dump Cake with angel food cake).
I just haven't figured out how to make baked fresh strawberries taste as delicious when baked in a dump cake.
While this Cherry Pineapple Dump Cake is my all-time fave (and also one of my most popular posts!) I love trying out new recipes with other flavor combinations.
Still have more questions about these easy desserts? Here's everything you need to know about Dump Cakes.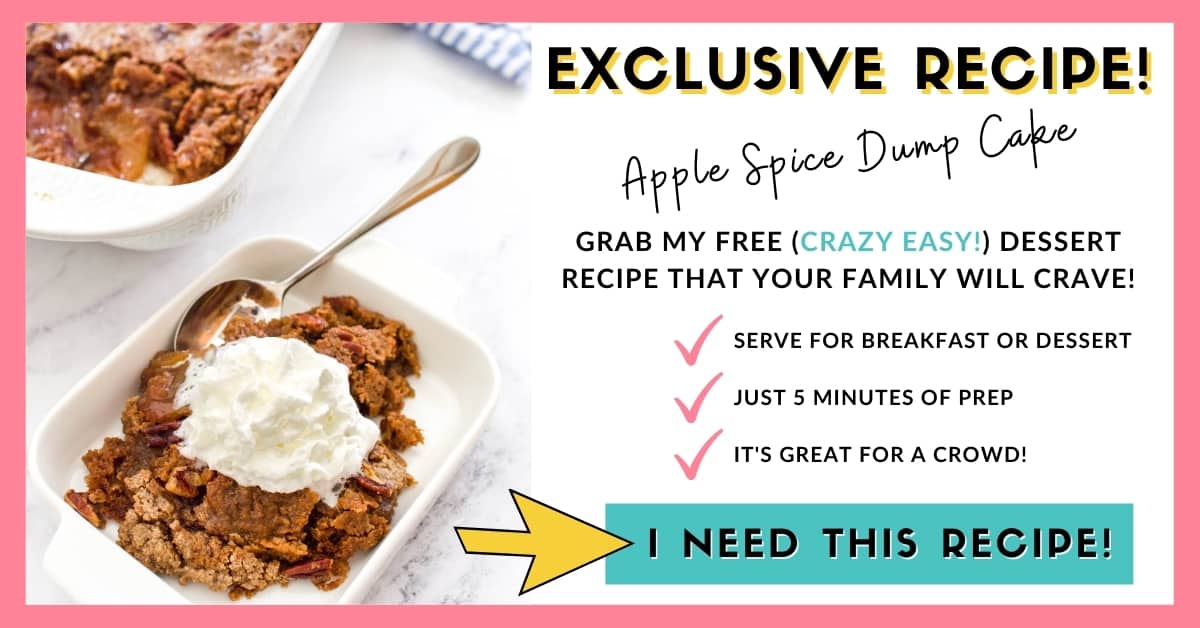 Ingredient Notes
First off, this photo is incorrect. It happens. Bloggers make mistakes.
You need (2) cans of strawberry pie filling for this Pineapple Strawberry Dump Cake.
I'm not sure how many people shop for the recipe based on the photo, but wanted to note it just in case!
Scroll to the end for a printable recipe card with full measurements and instructions.
Trust me, you need 2 cans of strawberry pie filling.
Because most of the other dump cake recipes I've made have just used one can of pie filling to one can of pineapple, I thought 2 cans would be overkill.
BUT, strawberry pie filling has very few pieces of actual strawberries and is mostly fruit jelly.
It's not bad, but for a strawberry dump cake you want the maximum strawberry taste, so use 2 cans.
Also, I prefer yellow cake mix over white cake mix. You can use either, but I think yellow cake mix really enhances the buttery vanilla flavor on top of this dessert.
And some recipes call for less butter. Let me just tell you right now, they are wrong.
1 cup of butter is really what makes this extra special. Maybe don't make this all the time if you are worried about your waistline.
Or maybe don't eat the whole pan by yourself...not that I've done that. Lately.
How to Make Strawberry Pineapple Dump Cake
Instructions
Preheat the oven to 350 degrees.
To a 9 x 13 cake pan, add the strawberry pie fillings and use a spatula to spread somewhat evenly in the pan.

I like a 9 x 13 cake pan that comes with a cover so you can just store and serve right from the same dish.
Or if I'm taking to a party or potluck, I make it using a disposable pan so I don't need to worry about bringing the dish home.
Add the pineapple and juice and use the spatula to try to make it even, but no need to mix.

I mean, it just doesn't get any easier! I used to say that my favorite type of recipe to make was open and stir, meaning you open a can and stir something together.
I know, lazy.
But this strawberry dump cake with pineapple recipe even removes one of those steps! It's genius.
Pour the dry cake mix evenly over the top of the fruit, taking care to get the corners.
Whoever figured out the magic of a dry cake mix mixed with butter should run for president. I'd totally vote for them.
Melt the butter and pour over the top of the cake mix.
Bake for about 1 hour.
You will know this Pineapple Strawberry Dump Cake is "done" when it turns golden brown on top.
I like a nice crunchy golden brown top on my dump cakes. It's probably "done" sooner, but in my oven, it takes about an hour.
Top tips
I've tried various methods for adding butter to dump cakes. I much prefer using melted butter. I think it spreads most evenly and it's really the O.G. way to do it. But it's your dump cake. Do the butter how you want.
There may be some dry cake mix left that didn't end up mixing with fruit juice or butter and that is ok. If you don't like how it looks, you can spritz it with some water so it's moistened. It won't change the flavor at all.
You can personalize dump cakes and add extra crunch to the fruit or crust. Toasted nuts or coconut are always a good addition.
A dump cake is straight-up comfort food. It's full of buttery, fruity goodness and makes your heart happy. I promise.
It's a lowkey dessert that can be served straight from the pan. And it's super versatile in that it can be served hot or cold.
In fact, I really love dump cake when they have cooled to room temperature.
It's a perfect dessert idea that can be made ahead and feeds a crowd really well!
How to serve this dump cake
This strawberry pie filling dump cake was pretty sweet so I added some fresh thyme to the bowl for serving.
It was such a nice touch! Next time I make this I will definitely be sprinkling thyme right over the top. Maybe even before baking.
It helped to cut the sweetness and add a really nice pop of flavor.
I love using herbs in cocktails and desserts. If you don't, just skip it. But it really was wonderful!
While you may have the ingredients to make this dump cake in your pantry, you might not have extra toppings.
You can serve a dump cake on it's own and it's totally delicious.
But if you happen to have some whipped cream, or vanilla ice cream, those add a delicious creamy touch.
If you have been craving a strawberry dessert, you need to make this super easy and totally delicious Strawberry Pineapple Dump Cake!
It's perfect for this time of year and all you have to do is open a few ingredients and put them in a pan! Boom.
More Easy Dessert Recipes
Strawberry Pineapple Dump Cake
This quick and easy Strawberry Pineapple Dump Cake is a delicious dessert to make with things you have in your pantry! With just 4 ingredients, you can make this yummy treat for your family with little effort and lots of flavor!
Print
Pin
Rate
Save
Saved!
Instructions
Preheat the oven to 350 degrees.

In a 9 x 13 baking dish, add both cans of Strawberry pie filling and spread out.

Top with crushed pineapple as evenly as possible.

Sprinkle dry cake mix evenly over the top, no mixing needed.

Melt butter and pour over the cake mix and fruit.

Bake for approximately 60 minutes or until golden brown.
Notes
The cake does not rise like a traditional cake but creates a crust when mixed with the melted butter and pineapple juice.
This easy dessert idea is great warm with a little ice cream, at room temperature or even cold!
This dessert is great for parties, potlucks and is easily transported to where you need a delicious dish.
Nutrition
Serving:
1
cup
|
Calories:
421
kcal
|
Carbohydrates:
57
g
|
Protein:
2
g
|
Fat:
20
g
|
Saturated Fat:
11
g
|
Trans Fat:
1
g
|
Cholesterol:
41
mg
|
Sodium:
277
mg
|
Potassium:
97
mg
|
Fiber:
2
g
|
Sugar:
41
g
|
Vitamin A:
515
IU
|
Vitamin C:
26
mg
|
Calcium:
82
mg
|
Iron:
1
mg
This post was originally published on May 31, 2019 and has now been updated with better directions to make this recipe perfectly every time.