This is a sponsored post written by me on behalf of Don Q rum. All opinions are 100% mine.
Does anyone else hear the word "daiquiri" and instantly think of a cheesy tropical vacation set in the 1980's? Well, I'm about to blow your mind! To qualify as a daiquiri, a cocktail needs rum, citrus and some sort of sweetener. So really, you can take that basic idea and make it in to anything you want it to be. This Spiced Daiquiri Recipe is perfect for all your winter and holiday parties!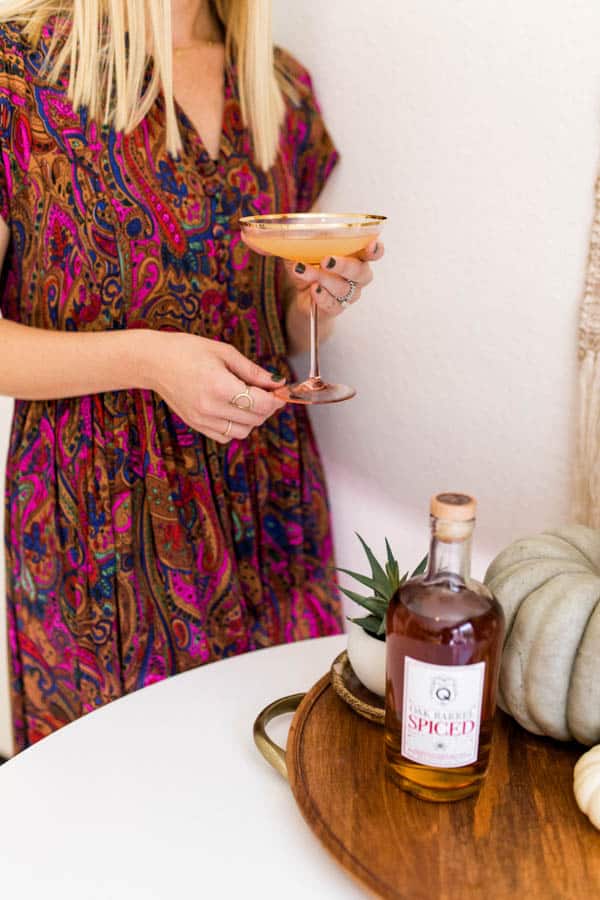 I'm not super familiar with rum as a whole. But I DO know that spiced rum is where it's at for me. Spiced rums add a real depth of flavor to a cocktail. I can talk like that. I watch a lot of the Cooking Channel. And this Don Q Oak Barrel Spiced Rum is OUTSTANDING!
Don Q is the #1 selling rum on Puerto Rico where it is produced. They make exceptional aged rums that are environmentally responsible. Puerto Rico is known for their delicious rums. And this premium Spiced Rum is full of warm, rich, golden hues and a medium to heavy body.
Make this easy Spiced Daiquiri Recipe
Starting with a delicious rum, like this Don Q Spiced rum, provides the perfect, flavorful base for your winter daiquiri.
I wondered how the lime would play off the caramel notes of the rum. But I'm a lime lover and know how important they are to most cocktails.
Next I added vanilla simple syrup to the cocktail shaker. Here's a lazy person hack for you. I didn't want to take the time to go to another grocery store to pick up vanilla beans and then make my own vanilla simple syrup. So I picked up some pre-made simple syrup (although I think a nice golden agave would also be quite nice) and added about 1/2 tsp of vanilla extract to it! So easy.
Then, just a few drops of Angostura bitters to finish it off! Such an easy cocktail to make!
Shake her up.
And strain your Spiced Daiquiri recipe in to a coupe glass.
OH MY GOSH YOU GUYS! I had no expectations of this cocktail before making it. But after tasting it, I was floored! This is legit one of my new favorite cocktails. I can't wait to make these at a holiday party for all my friends. The vanilla and spices from the rum make this the perfect fall or winter cocktail. The lime juice adds a brightness but not necessarily a citrus flavor. SO GOOD! I think people will be surprised when you tell them their drinking a daiquiri.
Grab a bottle of Don Q Spiced Rum so you can be ready to bust out this cocktail when friends drop by. 'Tis the season for unannounced visits…
Don Q has invested time, knowledge and resources in to making their distillery, Destilería Serrallés, one of the most environmentally responsible and greenest in the spirits industry. Plus it is one of the few distilleries in the world that doesn't dump waste water in the ocean! Pretty rad. And I was curious how they fared in the recent storms. I looked in to it and as of 3 days ago, they are back up and running! If you want to support a Puerto Rican business this holiday season, consider gifting Don Q to your friends and family!
Spiced Daiquiri Recipe
Yield: 1
The Perfect Spiced Daiquiri Recipe for Winter
This delicious Spiced Daiquiri cocktail recipe with spiced rum is a perfect drink idea for winter and is the happy hour beverage you didn't know you were missing!
Ingredients
1 1/2 oz. Don Q Spiced Rum
1 1/2 oz. lime juice
3/4 oz. vanilla simple syrup, make your own or add vanilla extract to pre-made simple syrup
2 drops Angostura bitters
Instructions
Shake rum, juice, syrup, bitters and ice.
Strain into a coupe glass.
Nutrition Information
Yield
1
Serving Size
1 Servings
Amount Per Serving
Calories

1499
Total Fat

0g
Saturated Fat

0g
Trans Fat

0g
Unsaturated Fat

0g
Cholesterol

0mg
Sodium

11mg
Carbohydrates

311g
Fiber

0g
Sugar

308g
Protein

0g
Nutrition information isn't always accurate.
Check out where Don Q is sold near you. All images by Dez and Tam Photography