I have been wanting to do this post for a while now. Whiskey in teacups. It is the perfect mix of really feminine and totally masculine. And I kind of love it. There are whiskey cocktails that are perfect for men and women. And they're delicious.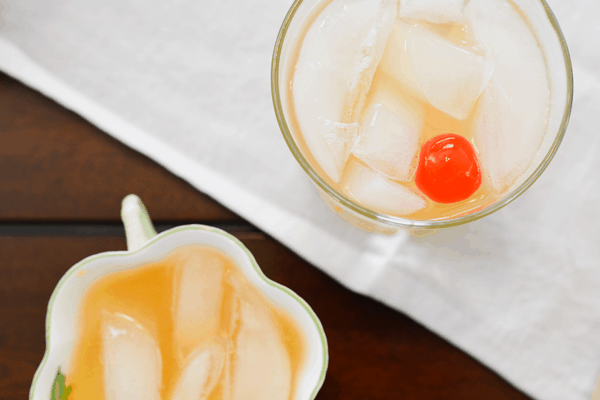 I originally put this table together as a part of a game day celebration. My family doesn't really entertain for sports events. Our house is pretty small, and well, I don't really like watching sports.
So with that in mind, I decided to create a set up that would appeal, to both men and women. Rough woods are right at home with delicate china and delicate treats pair just fine with packaged snacks.
It's not that men wouldn't want to use a little china saucer for their food.
I don't want them to use the little china saucers for their food. The china that I used belonged to my husband's grandmother and it is something that I take very good care of and would love to be able to share with my niece or son's wives (remember I have two sons - I am not implying a sister-wife situation which is how that sentence kind of reads) some day.
I would die if a china plate was used in a mimicked touchdown celebration. So a nice sturdy wood plate it is! And it just holds more snacks.
The perfect way to elevate salty snacks is to serve them in fine tableware. A man is not going to pass up on this peppered beef jerky just because it is in a pink floral footed bowl. Trust.
The gals will drink their whiskey cocktails from mismatched tea cups. I know that some women love to watch sports but I don't think they would hate cocktailing from a lovely little vessel.
Ain't no party like a cheese plate party.
Delicate creme puffs set on a wood block will satisfy any sweet tooth. And OH MY GOSH I made itty bitty salted chocolate sandwiches! I'll be sharing the VERY simple recipe on Friday! Delicious!
The ladies could sit around and chit chat about clothes and tight ends with delightful plates of delicious food.
Who doesn't love flowers? I made sure to keep it to mainly greens to not totally alienate the mens. There Funyuns were served to them in a pretty dainty way...
The whiskey sour is a drink that my husband enjoys so I thought we could serve those to the men in a simple short glass. For the women, I changed up Mrs. Lilien's Whiskey Smash recipe from her cookbook. You guys! It is SO good. Muddled peaches, lemon juice and a good bourbon.
I think this party would work really awesome for a shower involving both sexes, a guy's birthday, an anniversary party or well, for anything.
While you might want to do a larger spread with more options I think you get a good sense of the feeling I was going for. And oh yeah, I ate all of those little chocolate sandwiches after I took all of these pictures. And I'd do it again. Don't forget to check back on Friday for the recipe!