Haus Aperitif is the perfect pre-dinner cocktail to sip when you're ready to start off a fun night with friends and/or family. Refreshing and full of flavor, this unique brand offers several varieties meant to enhance connections with those you are sharing a drink with.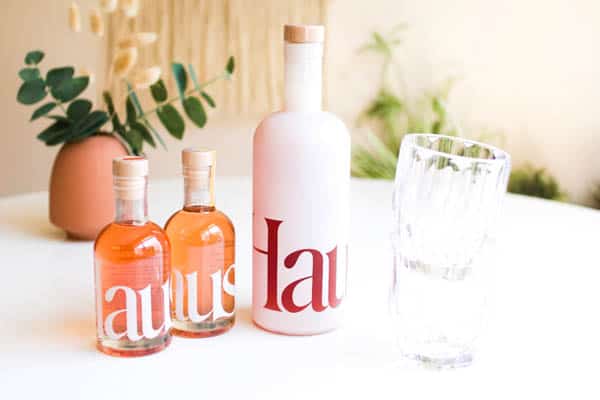 Haus sometimes changes up what they offer or how they offer it. Please check their site for the best information on flavors, etc. *In fact, they may be shutting down. If you have trouble shopping, you can scroll to the bottom of this post for Haus alternatives.
I wrote this Haus Aperitif review to let you know why I love this product!
Jump to:
What is Haus
Haus is a line of wine-based aperitifs that you can have shipped right to your door through a subscription.
With natural ingredients and less sugar, this delicious wine-based aperitif is something you need to explore!
When I first came across this Haus drink, I was totally drawn to their marketing photos. The images are vibrant, super stylish and make you want to invite your friends over and enjoy some beverages together.
When I found out they were aperitifs, I had to learn more!
Fortified, aromatized and aperitif wines have been popping up on more beverage menus and I'm into it.
Aperitifs are more about the flavor and spending time with friends, not the buzz you get.
I love that philosophy! Also, I'm old and drinking makes me tired so if I start too early, I have to tuck myself in by 9 pm.
Haus is all about. Flavor, friends, fun. It's about relaxing with a delicious glass in your hand. It's not about rushing on to dinner. It's about being in the moment and taking it all in.
And you can also make delicious Haus Cocktails with them! Like this Lemon Lavender Mule, for example! Or a Strawberry Basil Vodka Cocktail.
What is an aperitif
Aperitifs are a pre-dinner drink. It's a popular European tradition that is a way to start off an evening, usually with friends.
Aperitifs are usually lower in alcohol which means that you can sip on something delicious and not end up with a lampshade on your head before making it to the dinner table.
Traditional aperitifs are said to help stimulate the appetite and are typically lower in sugars. (Have you ever had an Aperol Spritz?)
The flavors are derived from botanicals and aromatics (similar to drink bitters) and tend to be on the bitter side which I think makes them super refreshing.
When to Drink Aperitifs
While aperitifs are something to sip before dinner, it also can be the actual experience of sipping with friends.
It's kind of like happy hour. But it's more of a drinking culture that is based on the connections shared over the effects that a drink can cause.
Haus aims to be the modern, American interpretation of this vibe.
This is not the drink until you puke, spring break style of hanging out with friends.
This is a let's spend as much quality time together as possible and make sweet memories together with a yummy drink kind of situation.
How to order Haus
To order your Haus beverages, go to their website and shop away.
You can buy bottles one at a time, or set up a membership to have them shipped at regular intervals.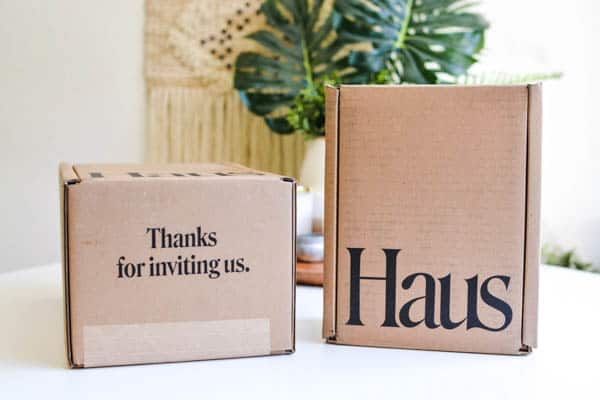 The Haus Membership
A Haus Membership is free to join and gives you free shipping. You can decide if you want 1, 2 or 6 bottles sent to your home each month.
And you can also set intervals between shipments. I had mine set to one bottle every 3 months, but I recently updated that because I really wanted to try their newest flavor!
You can pause or cancel the membership at any time (with no fee!) which takes a lot of the pressure off.
As a member, you get access to special blends not available to the public.
You get a discounted price when you order 2 or more bottles and your shipment should be delivered to your home within 3-5 days.
(May vary based on, you know, what's going on in the world...)
The bottles are shipped in boxes that are not only well designed but keep the bottles safe in transit.
And as the world gets back to normal and the Haus business continues to develop, there will be more member perks like events and other exclusives.
What is Haus made from
Haus products have a wine base and are flavored with a variety of herbs, aromatics and real fruits.
The ingredients are natural and these aperitif wines are made without preservatives or additives. This means you are getting a quality, farm-to-table product.
I've made my own infused wine before, but these are next level.
Plus they use raw cane sugar. You get the sweetness without any weird chemicals. And raw sugar has warm notes that pair perfectly with all the other spices and flavors.
Store your Haus in the fridge (once opened) to keep the natural ingredients as fresh as possible.
Note: I didn't store mine in the fridge and just had some while writing this post. The flavor was still delicious. But I did move them in the fridge to ensure they last as long as possible.
But now, as new flavors arrive, they go right into the fridge!
Haus aperitif flavors
There are several Haus aperitif flavors available on their site. And they are continually creating new flavor profiles.
The Haus Essentials, which provide the perfect introduction to Haus, are Bitter Clove and Citrus Flower.
Citrus Flower
Citrus Flower has a base of Chardonnay grapes and is infused with orange peel, elderflower, lemon, cinnamon and hibiscus.
It's the perfect amount of sweetness with a touch of citrus and just the right floral note.
There's a caramel-y like undertone that adds to the complexity but this feels very much like a summer drink.
Citrus Flower has 27.5 calories and 1.36 grams of sugar per ounce.
Bitter Clove
Bitter Clove also has a base of Chardonnay grapes. But also has notes of star anise, bay leaf, clove, cinnamon, ginger, orange peel and more.
Although it's close, I think Bitter Clove is my favorite. It's just so unique and it's crave-worthy. It reminds me of bitters that you add to cocktails and I really love that flavor.
I find this bottle super refreshing, especially which may be because it has just a touch less sugar than Citrus Flower.
Bitter Clove has 27.5 calories and 1.27 grams of sugar per ounce.
You can order both of these essentials together or try one bottle at a time.
These are the perfect starter bottles to let you see if you want to dive deeper into aperitifs. I think it's the grape Brandy, found in both of these bottles that really give them their unique flavor.
These are the two flavors I started with.
Rose Rosé
Rose Rosé starts with a blend of Chardonnay and rosé grapes and is infused with raspberry, rose petals, strawberry, vanilla and sweet cherry.
This one gives off a more fruit-forward rosé vibe but you also pick up on the rose flower notes in a nice, subtle way.
If you're a red wine lover, you'll love this. I think this is a perfect summer wine for a red wine drinker.
This one was my least favorite since I'm not a huge fan of red wine. I also like a drier rose, and this one was fruitier. It was still tasty and I will finish that bottle.
Rose Rosé has 36 calories and 1.4 grams of sugar per ounce.
Other Haus flavors
Try the Starter Kit! It contains 4 (200 mL) bottles of whatever flavors you want to try.
A great way to try the flavors to see if you want to buy a larger bottle is to start with the Starter Kit!
You can see an example of the smaller size in the first image in the post. They are shown in comparison to the standard-size Rose Rosé bottle.)
I think that while I love Bitter Clove, Peach Passionfruit is the one I seem to grab most often! And the Spiced Cheery is my go-to for colder weather.
How to drink Haus
Except for the Starter Kit bottles, each bottle of Haus is 750 mL which is the standard size of a normal bottle of wine.
The 200 mL Starter Kit bottles have about 6.5 ounces (enough for 2-3 drinks) in each bottle so that is a great way to get a feel for those flavors.
Sip Over Ice
An ounce or two poured over ice is the easiest way to sip Haus. It's also a great way to really get a feel for the flavors.
Haus and Soda
Haus can be mixed with club soda or tonic water to create a super refreshing beverage. Simply use 2 parts Haus to 1 part of your favorite water.
Haus Spritz
Haus can easily be made into a spritz with 2 parts Haus to 1 part soda water and 1 part Prosecco. A little fresh lemon is a perfect way to finish it off.
Check out my Lavender Lemon Haus Spritz.
Haus Cocktail
Or use Haus in a cocktail recipe to add another layer of flavor to your favorite liquor.
Check out these delicious Haus Cocktail Recipes.
I'm going to be exploring more cocktail recipes since I'm obsessed with the flavor and think it will be such a neat ingredient to work with.
While these are typically reserved for before dinner, I think these are great for day drinking with their lower alcohol.
Plus it's easy to still feel like you're enjoying a cocktail without adding extra alcohol, etc.
I'm a big fan of wine cocktails.
Be sure to follow Haus on their Instagram account and sign up for their newsletter so you always get their latest information.
You can also follow them on Spotify so you can listen to their playlists created as the soundtrack to the perfect evening.
Alternatives to Haus
There were some rumors that Haus didn't get funding they were waiting on and might be shutting its doors. If that happens there are a few alternatives. None of them are them are quite as good all around (with marketing, etc), at least in my opinion.
Also, a lot of these Haus alternatives are non-alcoholic. You can use these in drink recipes as I've noted above, but they may be less potent. These are also botanical in nature but I'm not sure just how flavorful they are since I haven't tasted them.
Some of these options are very similar to Haus, while others are more of a non-alcoholic spirit. But all of them will have herbal flavors and be great for mixing lower alcohol drinks.
Related post: Non-Alcoholic Gin and Tonic with Ritual Gin
Related post: Dry January Tips
Related posts
This was originally posted August 6, 2020 and I continue to update as new products are released.