This delicious Moscow Mule with Rum is a Caribbean twist on the classic Moscow Mule recipe. And once you try it, you may never go back to a traditional Mule again!
With ginger beer and fresh lime, this citrusy Rum Mule gets a kick from spiced rum. It's one of my favorite Moscow Mule recipes to make all year long!
Served in a copper mug, this quick and easy cocktail is full of flavors that will remind you of your last beach vacation.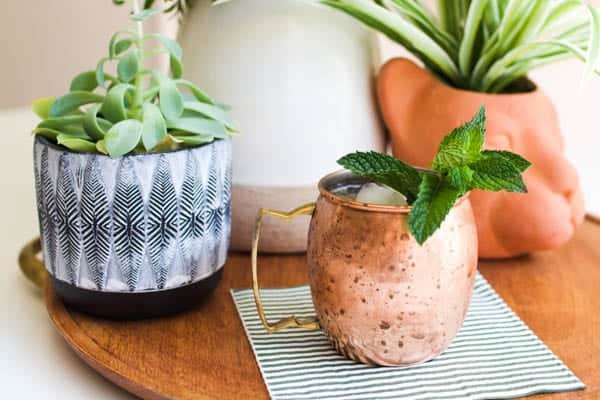 Some links in this post may be affiliate links. As an Amazon Associate in the Amazon Services LLC Associates Program, I earn from qualifying purchases by linking to Amazon.com and affiliated sites. I also participate in affiliate programs for other retailers.
Can you make a Moscow Mule with Rum
You know just how much I love Moscow Mules. On top of being an easy cocktail, that you can enjoy any time of year, it's one of the most versatile drinks you can make.
It's easy to change up the flavors and create delicious cocktails that match seasonal ingredients or even just a vibe.
You can absolutely make a Moscow Mule with rum! While a traditional Mule uses vodka, you can easily swap it out and use regular or spiced rum in its place.
I get straight-up vacation vibes from this recipe. The spiced rum gives me tropical vibes and I'm here for it. Grab your copper mug and fill it up with this rum mule recipe this weekend!
Why do you serve Moscow Mules in copper mugs
Copper mugs look super cool, amIright? I am in love with the color and love how they come in all kinds of shapes and sizes. But they also do more than just look pretty.
When you add cold liquids to your copper mug, the metal itself gets chilled and helps to insulate the temperature of the contents inside. A rum mule is best served cold so a copper mug helps to keep it extra refreshing!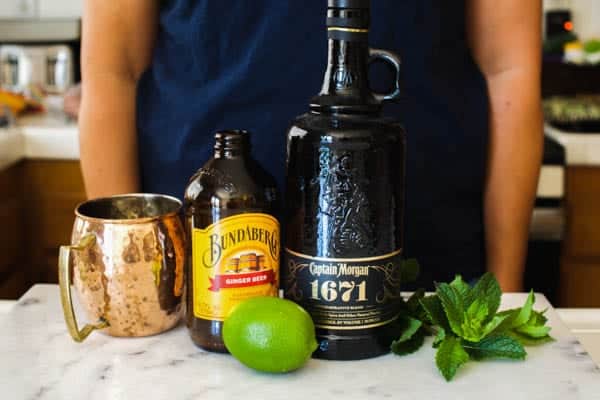 How to make a Rum Moscow Mule
The ginger beer, lime and mint of a basic Mule takes on a new flavor profile when spiced rum is added.
Spiced rum tastes different depending on what brand you buy but typically have notes of cinnamon, nutmeg, vanilla and even sometimes orange.
Ingredients:
Spiced rum is my favorite type of rum to use in cocktails. I love the extra flavor you get from the added spices. But if you don't have any, you can substitute any kind of rum.
I love this Captain Morgan 1671 but you can also check out this article on the top 10 spiced rums.
Or just use vodka and make a classic Moscow Mule.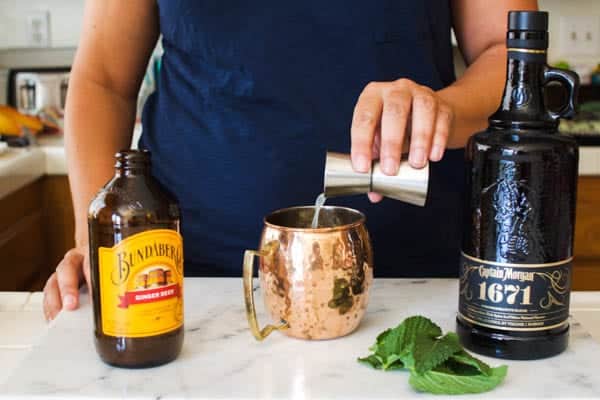 Directions:
To a copper Moscow Mule mug, add fresh lime juice and spiced rum.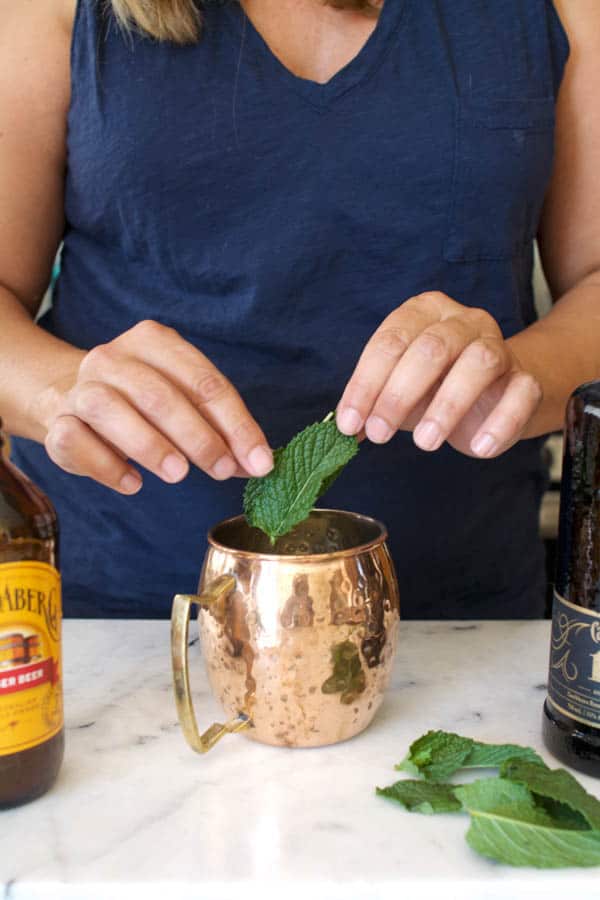 If you will be using the mint add a few leaves to the mug and muddle.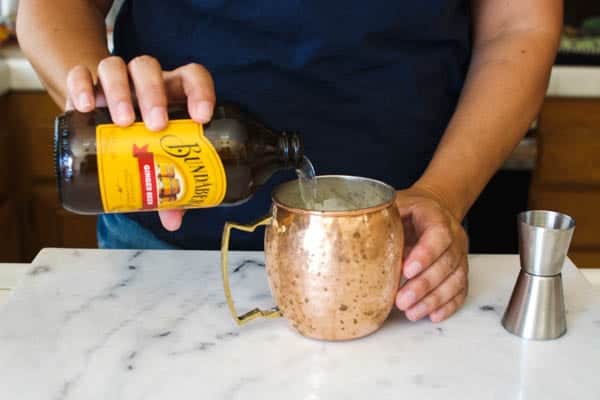 Top with your favorite ginger beer.
Use a bar spoon to mix all the ingredients together.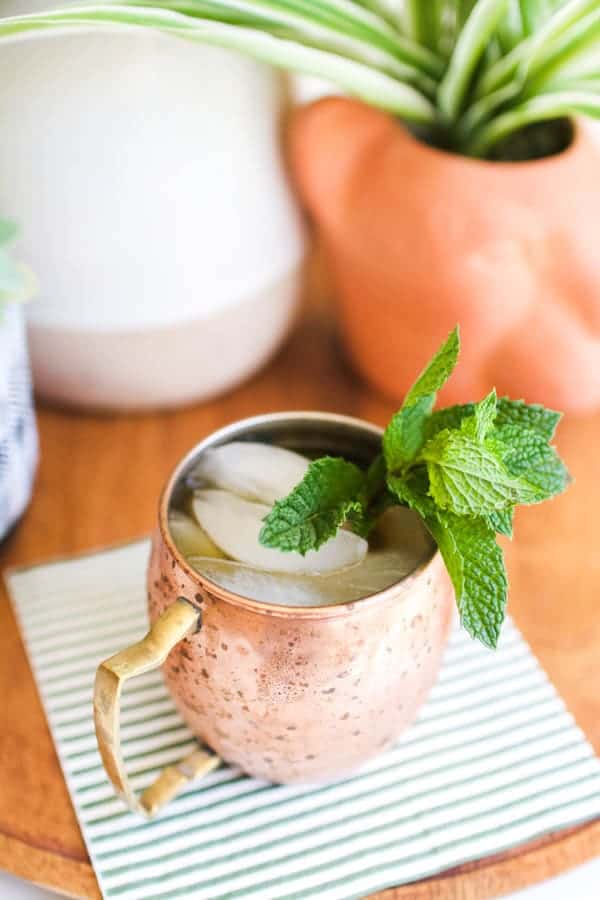 Is there anything better than the smell of fresh mint?! Not in my opinion. When muddled in the drink you get a subtle flavor that helps to add another layer of flavor.
The garnish greets your nose with a little high five as you bring the mug to your lips. And I love it. But if you don't like mint, just leave it out.
Whether you're enjoying this Moscow Mule with Rum after a hard day or mixing up a batch of easy cocktails to drink with your friends, you're going to love this citrusy Mule.
Top tips
There are tons of types of ginger beer on the market. They each taste a bit different. My preferred, and the one that seems to be most readily available at my grocery store, is Reed's.
It's not too sweet and has a crisp ginger flavor that works really well in cocktail recipes.
This was my first time using Bundaberg ginger beer and it was good. I thought the bottle was cute and know this is a popular brand. But I still think my go-to will be Reed's
If you don't have fresh lime hanging around, you can use bottled lime juice or Rose's lime juice. But fresh lime is really what sets a great cocktail apart from just a good cocktail.
If you need to sweeten your cocktail, you can easily add simple syrup or agave. I don't like sweet drinks so I tend to leave it out.
Printable Recipe: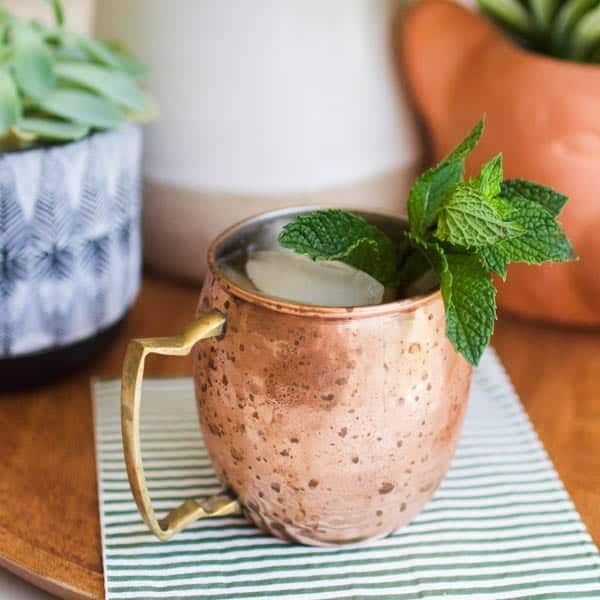 Citrusy Caribbean Rum Mule
This delicious Moscow Mule with Rum is a citrusy twist on the classic cocktail. Get straight Caribbean vibes from the spiced rum and ginger beer.
With notes of cinnamon and nutmeg, the spiced rum gives your Rum Mule a kick of flavor. You'll want to keep your copper mug full at all times!
Print
Pin
Rate
Instructions
To a copper Moscow Mule mug, add fresh lime juice and spiced rum.

Add three leaves of fresh mint and muddle.

Add ice.

Top with your favorite ginger beer.

Use a bar spoon to mix the Rum Mule ingredients together.

Garnish with a few sprigs of fresh mint.
Notes
While mint is a common ingredient in most mules, if you don't like the taste, you can just leave it out of this Rum Moscow Mule.
Use a copper mug to keep your drink cold and refreshing.
You can use white or dark rum if spiced rum isn't your favorite. While there are added spices in spiced rum, it won't ruin anything to use a different liquor.
Nutrition
Serving:
1
g
|
Calories:
171
kcal
|
Carbohydrates:
20
g
|
Protein:
1
g
|
Sodium:
13
mg
|
Fiber:
1
g
|
Sugar:
16
g
The key to making this Rum Mule extra delicious is to make it as cold as possible. One way to do this is with a copper mug. It ensures a nice, cold sip each time you drink.
Rum cocktails can sometimes be overlooked but I have several recipes that are absolutely delicious!
Or see my collections of : Easy Cocktails, Moscow Mule Variations, Vodka Cocktails, and Wine Cocktails.
Pin to save this Rum Moscow Mule for later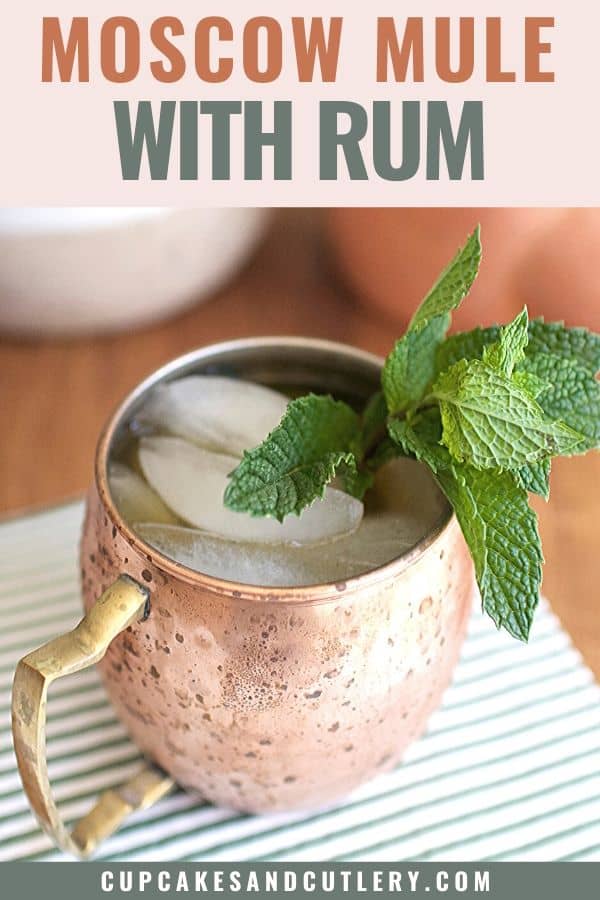 This delicious Moscow Mule with Rum is so refreshing! You'll be making this tropical twist anytime you want to feel transported to the Caribbean!