It just took one sip and I was hooked on this refreshing cocktail. This is the original, the Best Moscow Mule Recipe for you to make at home.
With fresh lime juice, spicy ginger beer and your favorite vodka, you can make a tasty cocktail that is perfect for sipping any time of year. Served over ice, this classic recipe is one that everyone should know! It's one of the best vodka recipes you can make!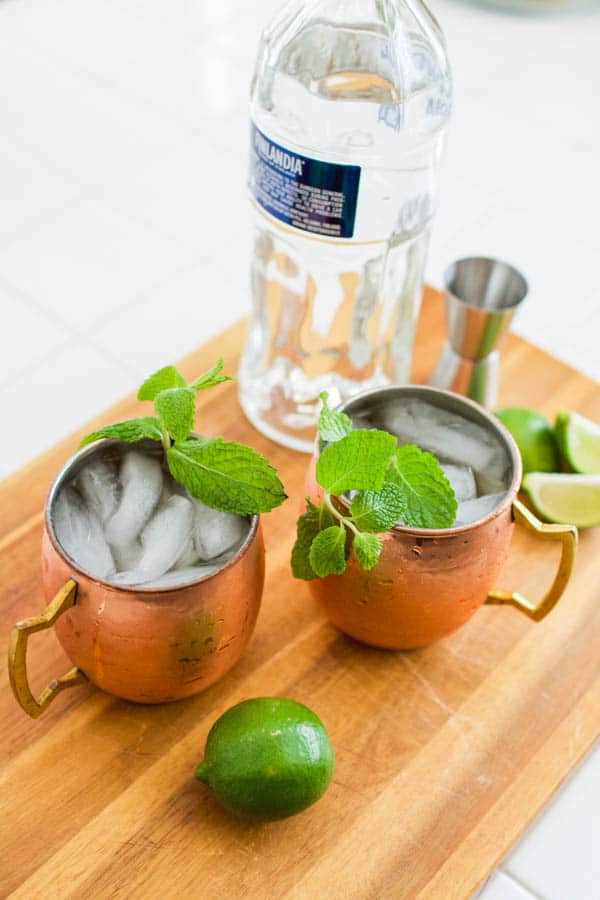 Once you get this recipe down you can make all different kinds of Moscow Mule recipes with different flavors. It's an easy recipe that you'll love and a great one for encouraging creativity when trying your hand at creating your own cocktail recipes.
Make an Original Moscow Mule
This super simple Mule recipe needs only a few ingredients. And it's one of those cocktails that non-cocktail people even enjoy. This is my go-to drink on the Fourth of July (traditions are weird) and my mom drinks them with me.
She's a White Zin kind of gal but this is great for her because of the fresh lime and mint. The ginger beer is the most prominent flavor (unless you go hard with the vodka) and it's super refreshing.
Do you remember mojitos?? How when you would go to a bar and order one the bartender would give you the stink face because of all the muddling involved? It was enough to make me find a new drink.
A friend of mine made me a Moscow Mule and I was sold. And you're going to love it too!
How to Make the Best Moscow Mule Recipe
A Moscow Mule doesn't need obscure ingredients. All of these things can be found at your local grocery store. Because I love this easy vodka cocktail so much, I keep ginger beer on hand at all times. It's a great mixer for drinks!
Moscow Mule Ingredients
vodka
ginger beer
fresh lime
mint
bitters
You don't need bitters for this recipe to be drinkable, but the bitters really do help round out the flavors. It isn't shown in the photo but you should definitely have some on your home bar!
Bitters are totally underrated. Have you ever had Bitters and soda??
What kind of ginger beer for a Moscow Mule
There are tons of varieties of ginger beer on the market although I think Reed's is my fave. Ginger beer tastes very different depending on the brand that you buy. I'm slowly working my way through all of them to see what I like best.
Ginger beer is non-alcoholic and not the same as ginger ale. Ginger ale is WAY sweeter and has less ginger flavor.
Reed's is my favorite because it has a nice, crisp ginger flavor (it has a little bite to it) and isn't too sweet. My local grocery store carries it so I don't have to go to a specialty store for it and you shouldn't have to either.
Once you buy ginger beer you can use it to make tons of Mules, a Dark and Stormy, Lavender Lemon Haus Moscow Mule and so much more.
Are you ready? This original Moscow Mule recipe is SO easy. I know that sometimes making cocktails at home can be overwhelming. But this drink is great because, while you can make them exactly how you like them.
As with all my cocktails, I always suggest following the recipe the first time you make it. Then change it up however you want to, to suit your taste.
This drink is also great because you really don't need any special tools.
Instructions
Add ice to your copper Moscow Mule mug.
Add the vodka.
Add fresh lime juice.
(You could even use lemon if you had to. Just don't make a habit of it.)
Fresh citrus is key to making delicious cocktails!
Add the ginger beer.
You can give it a gentle stir. Or not. It's a forgiving recipe that you can't get wrong.
To make the best Moscow Mule recipe you would finish with a few dashes of bitters.
Bitters add a depth of flavor to cocktails that make them taste finished. I ignored bitters for a really long time because I thought they were just something legit bartenders used to seem fancy.
But bitters really are essential to your home bar. And each drink only needs a few drops. That small bottle of bitters will last you for years.
And don't forget to garnish with fresh mint.
Unlike a mojito, the mint doesn't do much to flavor the Moscow Mule. But the smell is intoxicating as you bring that chilled copper mug to your mouth.
Before adding the mint to the drink (and I like to go heavy with the mint because I love the smell so much!) clap the sprig between your hands twice. This helps to release the oils and make it smell even more!
And it makes you look like you know about things. Or crazy. It's a fine line.
Why does a Moscow Mule have to be in a copper cup
Of course, you can serve a mule in any type of cup. But I do suggest picking up several of these copper mugs.
They are SO much fun to drink out of. The copper mugs get super cold and may freeze your hands off if you hold them like my friend in the photo – but it's totally worth it! They help to keep your drink chilled as you sip it.
Plus these mugs make people happy. They literally light up when you offer them a cocktail in a copper mug.


Are you a fan of the original, classic Moscow Mule? They really do make the perfect cocktail. Men and women enjoy them equally, they are easy to make and they look super cute in a copper mug. What more could you want!?
There are tons of variations you can make on this classic cocktail. Once you know how to make this recipe, the possibilities are endless!
Mules are really great for get-togethers (I mean, it even makes a great party theme – check out this fun Mules and Jewels party!).
You can just set out the ingredients, the basic recipe and let people make them to their liking.
I tend to go a little heavier on the ginger beer on the Fourth of July. I do not need to get hammered and have my kids see me end up with a lampshade on my head.
It's not a good look (anymore).
Top tips
Try to use fresh lime juice if at all possible. The flavor is so bright and fresh and it's my favorite cocktail ingredient. If you don't have any fresh on hand, you can absolutely use Rose's lime juice which is easy to keep on hand in your home bar.
I like to pre-squeeze my lime juice and have it ready to go so I can make a few of these easily.
Try to have all the ingredients chilled ahead of time. That will ensure a super refreshing cocktail.
Related Recipes
Printable Moscow Mule recipe
The Best Moscow Mule Recipe
With fresh lime, spicy ginger beer and your favorite vodka, this is the BEST Moscow Mule recipe for you to make! Garnished with fresh mint, this refreshing vodka cocktail is a great classic recipe to make at home.
Print
Pin
Rate
Ingredients
2

oz.

Vodka

4

oz.

ginger beer

I love Reed's!

Juice of 1 lime

Few dashes of Bitters

Few sprigs of fresh mint for garnish
Instructions
Fill a copper mug with ice.

Squeeze the juice of a whole lime into the cup.

Add the vodka.

Top with ginger beer.

Add a few dashes of Bitters.

Give it a gentle stir.

Slap a sprig of mint in your palm (to release some of the oils) and garnish your drink.

Drink up.
Notes
Once you learn this classic recipe you can create all kinds of delicious variations!
Nutrition
Serving:
1
Servings
|
Calories:
282
kcal
|
Carbohydrates:
22
g
|
Protein:
1
g
|
Sodium:
13
mg
|
Fiber:
1
g
|
Sugar:
19
g
This classic, original Moscow Mule is such a great base recipe! You'll love every sip!