A Spiced Pear Moscow Mule might not be on your radar but it totally should be!
With its lightly fruity flavor and hint of cardamom, it's the perfect fall cocktail to make for a night in with friends.
Swap out your usual Moscow Mule recipes and try this one at your next happy hour.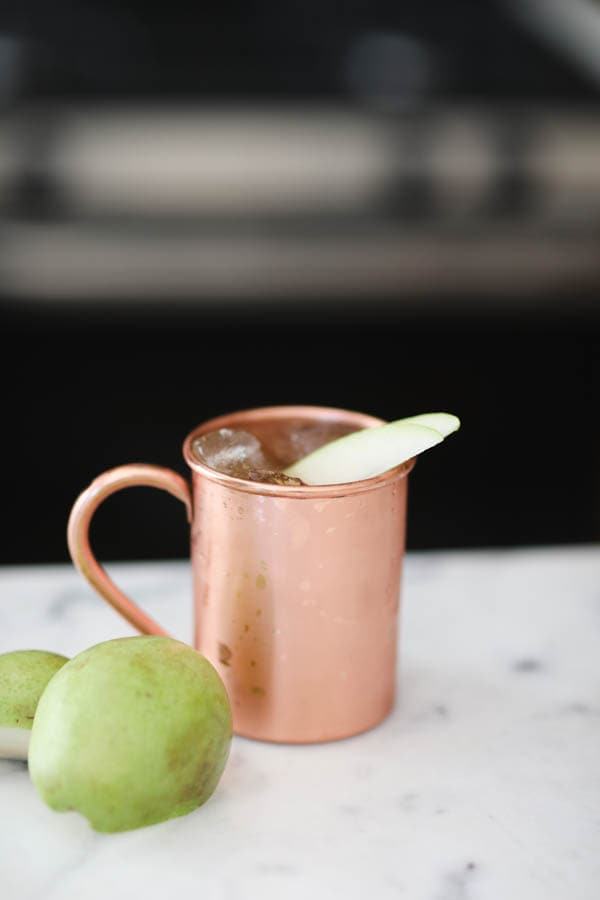 Some links in this post may be affiliate links. As an Amazon Associate in the Amazon Services LLC Associates Program, I earn from qualifying purchases by linking to Amazon.com and affiliated sites. I also participate in other affiliate programs for other retailers.
Spiced Pear Moscow Mules are the Best!
I usually make a delicious Spiced Pear Bellini for New Year's Eve. And you know I love to make a Moscow Mule from time to time.
So I decided to combine both of those and see how tasty it would be.
Spoiler alert. It's SUPER tasty!
This easy cocktail is a great one to make for people who aren't big drinkers. It's also not super sweet.
A Pear Mule is the best cocktail to serve for all your fall entertaining occasions.
Why Pear Nectar?
I like using pear nectar in cocktails because it has so much great flavor.
They've already sweetened the fruit juice so you typically don't need to add any more when making a cocktail.
You can use it as is, or add spices like I'm doing here.
And I love that you can find it in a can for making just a few cocktails.
But it also comes in a larger shelf-stable container for larger batches.
How to Make a Pear Moscow Mule
While I love to make flavored simple syrups to give cocktails that extra burst of flavor it is often another step that I just don't have time for.
So for this recipe, I decided to make a Pear Moscow Mule with pear nectar and add in the spices after.
I like to keep everything I do as easy as possible. I know, as a mom, cutting out steps is a sanity saver.
And may even give me a few extra minutes to do something for myself.
Like, drink a cocktail. Or go to the bathroom with no children following me.
Ingredients:
I wanted to make sure to really taste the pear so I used just cardamom and some ginger bits.
If you don't have cardamom just mix equal parts of cinnamon and nutmeg.
But I LOVE cardamom (see my Orange Cardamom Hot Chocolate recipe) and you should have some in your pantry.
Candied ginger bits are a fun garnish but you could also just use powdered ginger for that little bit of a kick it gives. I would add no more than 1/8 tsp and taste.
You can absolutely make this your own and add whatever spices you want! I even love adding a little cayenne for a bit of heat on the back of the throat.
To make this even more flavorful, make the spiced pear juice from the Spiced Bellini recipe.
Or use this Cinnamon Vanilla Simple Syrup.
It would also turn this into a larger batch cocktail making this perfect for a holiday party.
How to Make Pear Nectar
While I like to use store-bought, you can also make your own.
EHow has a great article on how to make your own pear nectar. But I am far too lazy to do this.
I have no time and energy for cooking, blending and straining. That's a lot of steps between me enjoying my vodka.
If you don't have any vodka on hand to make this Pear Mule with, use Drizly!
Drizly is a wine, beer and liquor delivery service and the perfect way to shop for cocktail ingredients.
Directions:
To a copper mug, add pear nectar.
Add vodka and lime juice.
Top with ginger beer.
Sprinkle with cardamom and ginger bits for garnish.
This Pear Mule recipe is refreshing and flavorful without being too in your face. It's the perfect recipe to share with your besties.
It's also so easy to make so if you feel like you are a cocktail novice, you can totally make this!
And the only special items you need are copper mugs! And a spoon wouldn't hurt either (to mix in the spices if you want to do that).
I actually love to leave the spices on top since as you bring the mug to your lips you get a nose full of gorgeous spices.
Sharing a fun, easy cocktail with friends is a great way to bond and relax together.
Or make one to sip on while you make dinner for the family. Or because it's the holidays. And the holidays are stressful.
Printable Pear Mule Recipe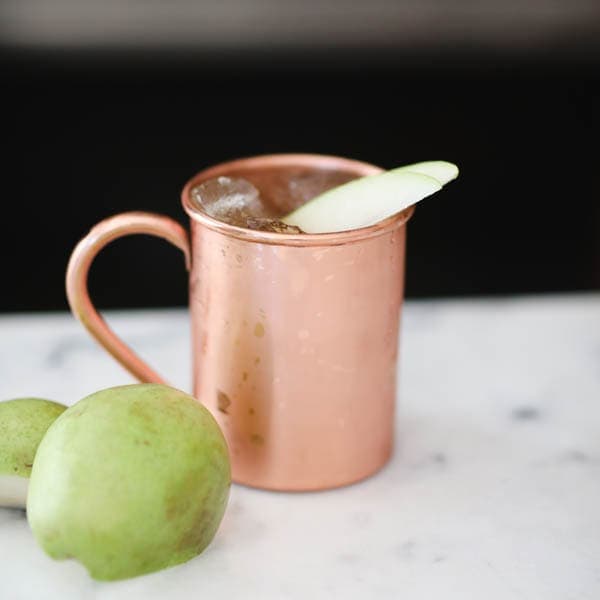 Spiced Pear Moscow Mule
This easy Pear Mule is full of flavor and a fantastic cocktail idea for all your fall entertaining.
Print
Pin
Rate
Instructions
To a copper mug, add pear nectar.

Add vodka and lime juice.

Top with ginger beer.

Sprinkle with cardamom and ginger bits for garnish.
Nutrition
Serving:
1
g
|
Calories:
166
kcal
|
Carbohydrates:
26.5
g
|
Protein:
0.2
g
|
Fat:
4
g
|
Sodium:
11
mg
|
Fiber:
16.7
g
|
Sugar:
24.8
g
More Cocktails
Pin This Pear Mule for Later
This Spiced Pear Moscow Mule is quick and easy and totally delicious!