I didn't realize that I loved tequila until well into my 30's. The college years really do everyone a disservice by making you think all tequila is gross and will wreck you. Once I figured out that there are different brands, some that actually taste really good, it opened up a whole new world of cocktails for me. And since I love Moscow Mule recipes,  I decided to swap out the vodka and make a Mexican Mule, the tequila version. 
I'm a huge fan of the Moscow Mule which is made with Vodka. But lately I've been on a total margarita kick and I'm finding that I really enjoy tequila. Not like I'm out doing shots or anything (Tammy, please hide those photos). So I decided to try out a Tequila Mule. I quite like it and I think you will too. Add this to your list of favorite warm weather cocktails!
How to Make a Mexican Mule
To make Mexican Mules, you will need a lime, Tequila and Ginger Beer. Now I know there are different types of tequila but I don't know enough about them to pinpoint a specific one to use. This is what we had in our cupboard. But Reed's is my favorite brand of ginger beer and is available just about everywhere. Reed's is strong. It's like ginger ale, but not as sweet and with more bite. Think of ginger ale like that singing group Nelson from the early 90's. Whereas Reed's Ginger Beer is like Def Leppard.
The ginger beer adds such a nice heat to the Tequila Moscow Mule. If you would like it sweeter you can certainly add in a little simple syrup or agave. I like to use copper mugs to serve these, but they also work fine in a pint glass or low ball. It's a really unfussy cocktail I promise.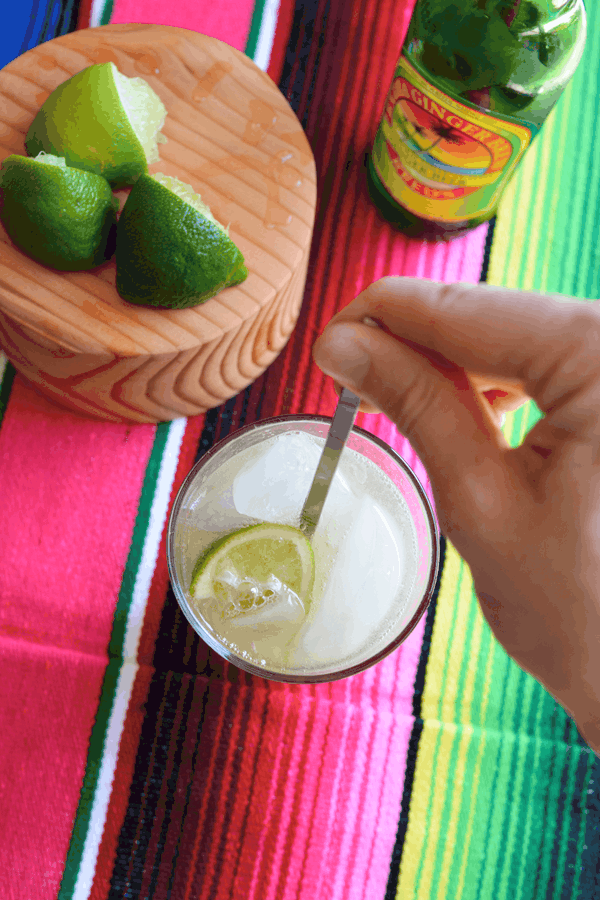 It's nice and refreshing. The way a cocktail should be.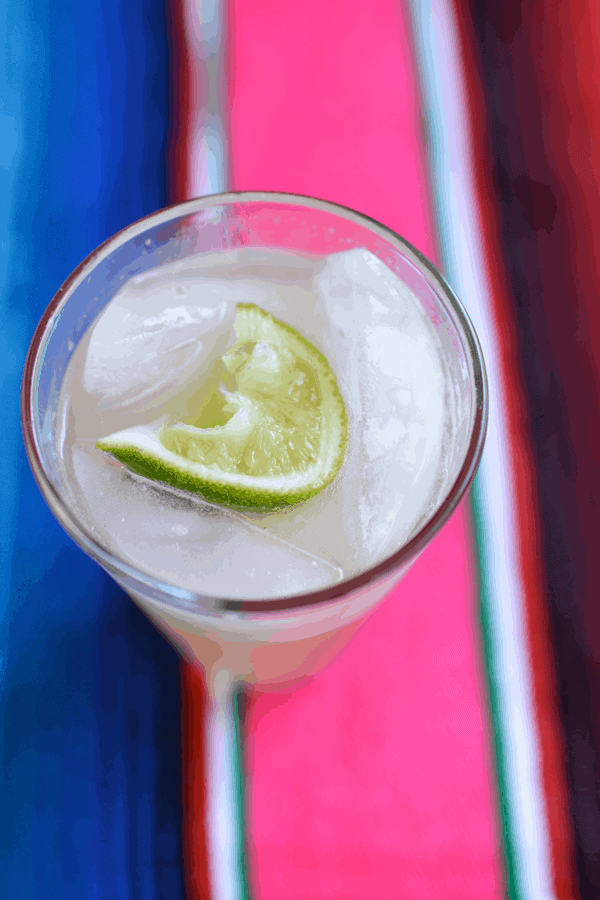 Drink up amigo! These drinks were made to go along with my menu for a Mexican themed girl's night party I called  Chicks and Salsa. Don't forget to check out my recipe for Chicken Enchilada casserole and Churro Cream Cheese Fruit Dip which go really great with a Mexican Mule!
Printable Recipe For a Moscow Mule with Tequila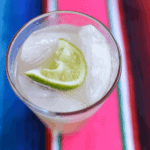 Mexican Mule
If you love tequila, you'll love this Mexican Mule.
Ingredients
1 1/2

ounces

Tequila

Juice from 1 lime

Reed's Ginger Beer

about 3 ounces

Mint
Instructions
Over a glass of ice, squeeze the fresh lime juice.

Add tequila and top with ginger beer.

Garnish with a lime and a sprig of fresh mint.

Clap the fresh mint between your palms to release the fragrant oils.
Need a little more help? Check out this video for creating a Mexican Mule Cocktail.

Pssst. If you liked this post, you won't want to miss my other Mule recipes on the blog:
Don't miss this Strawberry Mint Moscow Mule
Make this Bourbon Moscow Mule right now
Keep it classic with the perfect Moscow Mule Recipe
Or check out all my cocktail and drink recipes!