This Hibiscus Martini Recipe is the perfect blend of tart and sweet to serve your guests at happy hour.
I decided to change up my standard vodka martini by adding one of my favorite cocktail flavors – HIBISCUS!
With hibiscus liqueur and hibiscus juice, this fruity, floral easy cocktail idea is great for spring!
Vodka recipes are so versatile and can be served for any kind of occasion.
This one is no different! So make up an excuse to invite your friends over and make them one of these easy cocktails!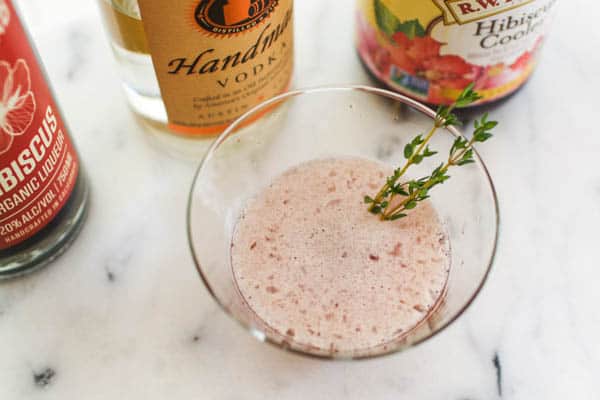 Some links in this post may be affiliate links. As an Amazon Associate in the Amazon Services LLC Associates Program, I earn from qualifying purchases by linking to Amazon.com and affiliated sites. I also participate in affiliate programs for other retailers.
You'll Love This Hibiscus Martini Recipe
This vodka martini recipe skips the more savory Vermouth in favor of a little hibiscus liqueur.
Paired with vodka and Hibiscus Cooler juice, the flavor is fruity, a little bit herbal and totally delicious.
I feel in love with hibiscus cocktails when I made a Grapefruit Hibiscus Cocktail a few years ago.
It's an unusual flavor that is totally addicting and one that I crave!
What does Hibiscus Taste Like?
Hibiscus has a tart flavor with a subtle hint of flowers. You may also notice that hibiscus has a cranberry-esque flavor.
Fruitlab Hibiscus Liqueur is delicious and is a great way to get that tasty flavor to cocktails. The consistency is thicker than juice and has a more concentrated flavor.
I also used Hibiscus Cooler juice which has a thinner consistency and a more juice-like flavor.
Both of these together make a truly delightful base flavor for this hibiscus vodka cocktail.
How to Add Hibiscus to Your Cocktails
There are a variety of ways to add hibiscus flavor to your cocktails! I've mentioned two above, but there are a few more:
Hibiscus Vodka
Hibiscus Water
If you love this flavor, try all of the varieties above. They are all a great way to get a flavorful cocktail!
How to Make Hibiscus Vodka Martini
Ingredients:
1 ½ oz vodka
1 oz Hibiscus liqueur
½ oz fresh lemon juice
I got this Fruitlab Hibiscus Liqueur at my local Bev Mo and while I typically don't buy things that not everyone would have, this was worth the trip!
You can use this to add a fun twist to just about any type of cocktail!
I'm terrible about making sure that I have the ingredients on hand before I start a recipe. I fell in love with Drizly for this reason!
You can buy almost everything you need to make cocktails and have it delivered to your home in about an hour! It's genius.
Unfortunately, they don't have this hibiscus liqueur but they do have lots of other hibiscus products! And vodka.
Get $5 off your first Drizly order! (Min. cart of $20)
Directions:
To a cocktail shaker, add vodka, hibiscus juice, hibiscus liqueur, and fresh lemon juice.
Add ice and shake well.
Strain into a martini glass.
I love this hibiscus vodka martini because it gives me something unique to make with my favorite vodka.
Printable Recipe
Hibiscus Martini Recipe
Let go of what you're used to when it comes to martinis, this hibiscus martini recipe will delight your senses and give you a whole new way to whip up a martini for happy hour.
Print
Pin
Rate
Save
Saved!
Instructions
To a cocktail shaker, add vodka, hibiscus juice, hibiscus liquor, and fresh lemon juice.

Add ice and shake well.

Strain into a martini glass.
Nutrition
Serving:
1
drink
|
Calories:
210
kcal
|
Carbohydrates:
14
g
|
Protein:
1
g
|
Fat:
1
g
|
Saturated Fat:
1
g
|
Sodium:
5
mg
|
Potassium:
29
mg
|
Fiber:
1
g
|
Sugar:
13
g
|
Vitamin A:
169
IU
|
Vitamin C:
16
mg
|
Calcium:
2
mg
|
Iron:
5
mg
More Martini Recipes
Or see my collections of : Easy Cocktails, Moscow Mule Variations, Vodka Cocktails, and Wine Cocktails.
Pin this Hibiscus Martini Recipe for Later
This delicious Hibiscus Martini is refreshing and sweet with a hint of floral notes. It's a great spring into summer cocktail idea with vodka that I know you're going to love!