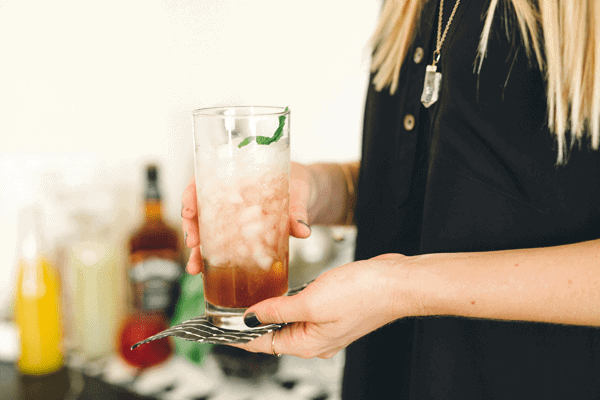 Just a few years ago most of my girl friends wouldn't even consider drinking bourbon cocktails. I'm so glad it became hip and there are all kinds of fun cocktail recipes popping up at bars across America that include bourbon. My husband loves a good whiskey sour or a Manhattan. But those are still a little too manly for some ladies. I found this cocktail which includes bourbon AND champagne (or sparkling wine…semantics) which I think all my lady friends will love! 

Who doesn't love a little bit of sparkle, right? And fresh fruit and herbs are pretty appealing to everyone. So this drink is the perfect thing to have on hand at parties. Men can drink the bourbon straight up or use it in a classic mixed drink. Girls, on the other hand, can mix up this delicious cocktail. But don't get me wrong. Men will love this too! 
First you grab blueberries and mint and add them to your glass. I used frozen blueberries that I let thaw for a few minutes. You can easily use fresh blueberries but my store didn't have them. Which is weird. But I'm not going to dwell on it. 
Muddle the heck out of them. In college when I needed to work out some aggression I used to drive around playing any song by Hole really loud and yell/sing along. Now, muddling kind of helps me in that department. Or tenderizing meat…
Add your bourbon. There are tons of great options out there. I'd stay in the top two shelf range if you are buying from the grocery store. Otherwise, we've found really great luck trying out different, smaller batch bourbons from a beverage mart. Although you are mixing it with other things in this cocktail, I'm a firm believer that you should buy a liquor that you can potentially drink on its own. Bottom shelf bourbon will strip the inside of your throat going down and make fire shoot out your eye holes. A nicer bottle can be a bit startling at well, but you also can start to taste flavors and see that there is, in fact, an artful quality in to how they are made. 
Add ice and top with sparkling wine or champagne, or cava or prosecco.
Clap a leaf of fresh mint between your palms then garnish your drink with it. 
I love all the fresh flavors mixed with the full-bodied bourbon and the slight effervescence of the sparkling wine. I originally used this recipe for a masculine birthday party I imagined for my husband. Guys don't want too much frill but I knew this drink would be great to have on hand! Especially since the cava comes in such a cool black bottle. Totally mans it up don't you think?
Bourbon Cocktail with Champagne
You'll love this easy cocktail that pairs fruit, Bourbon and a little bubbly champagne.
Ingredients
4

oz.

Freixenet Cordon Negro Brut Cava

2

oz.

bourbon whiskey

1

tsp

superfine sugar

6

mint leaves

blueberries
Instructions
Combine 4 mint leaves with sugar, blueberries and a few drops of water, and muddle well.

Add the bourbon, and stir well.

Strain into a Collins glass; add ice cubes, and the cava.

Garnish with two mint leaves and serve.
Images by Dez and Tam Photography
*Cava and recipe courtesy of Freixenet.