There's never a bad time for a watermelon mimosa recipe! With just 2 ingredients, this is one of the easiest champagne cocktails you can make in just minutes. It's a perfectly refreshing drink to serve for brunch or anytime!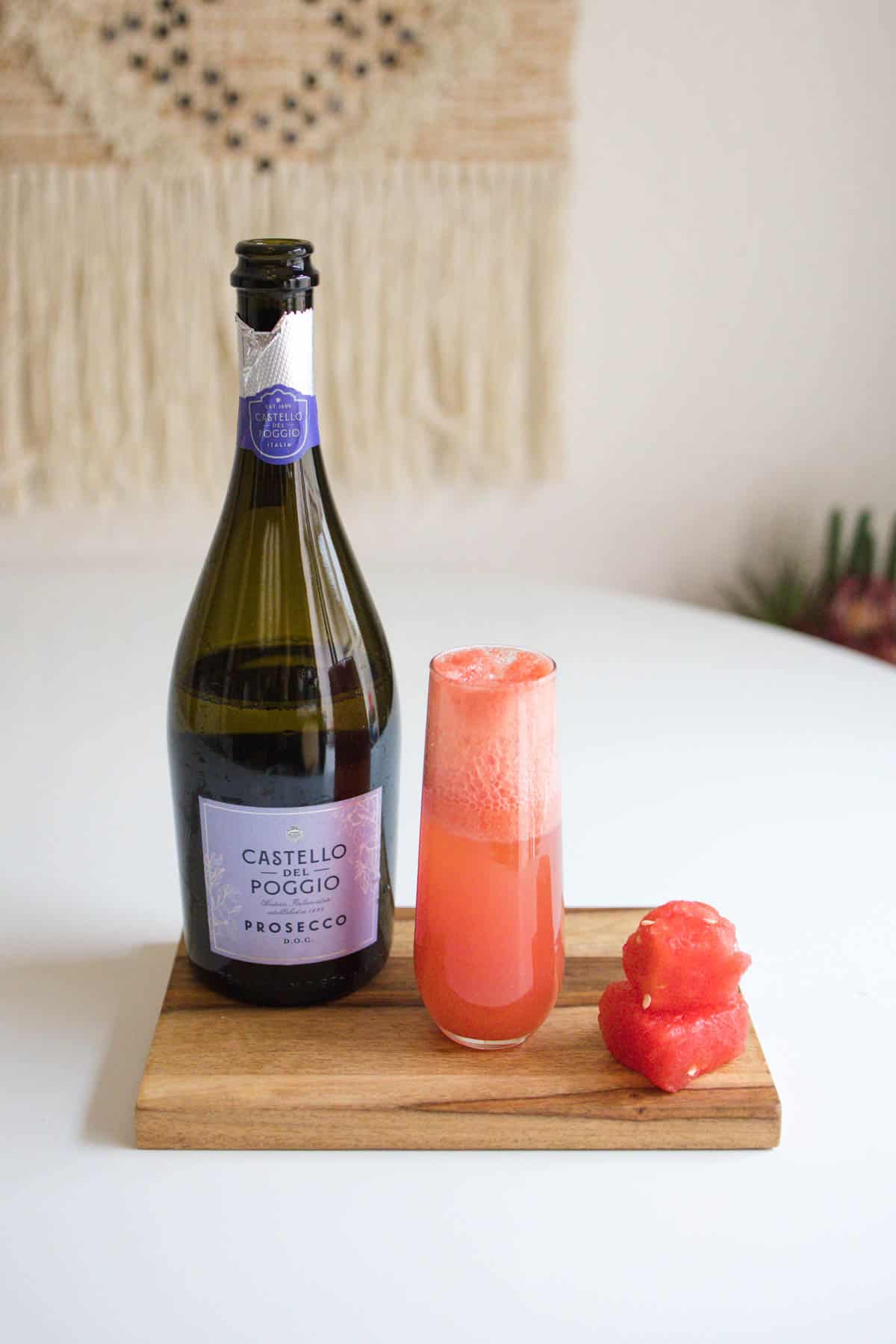 Castello del Poggio sent me a bottle of Prosecco which I used to make this recipe and a few others.
Jump to:
A melon twist to the classic mimosa recipe
A watermelon mimosa is an absolutely delightful cocktail idea for warm, sunny days. It combines the refreshing flavors of juicy watermelon with the fizziness of champagne (or sparkling wine). It's a perfect choice to quench your thirst and add a touch of elegance to any occasion.
Whether you're enjoying some relaxing time by yourself or hosting a gathering with friends, watermelon mimosas are incredibly easy to make, requiring only a few simple ingredients.
Related: 16 Mimosa Recipes to Try
The pretty pink color of this wine cocktail adds an additional touch of pizzaz, making it visually appealing. This drink really does hit all the senses.
The light and fruity nature of this watermelon mimosa recipe make them a refreshing cocktail idea for daytime gatherings and they pair well with brunch foods and simple appetizers.
Whether you're looking to enjoy a relaxing moment alone or celebrate a special occasion with friends, this watermelon cocktail provides a delightful blend of flavors that will make any warm day feel even more enjoyable.
Ingredients
There are several ways to make a mimosa with watermelon. Both only require 2 ingredients!
My preferred method:
Sparkling Wine or Champagne
Alternate method (slightly easier):
Buy store-bought watermelon juice. This will, most likely, be sweeter than fresh watermelon.
Look for a high-quality, natural juice option without added sugars.
For this mimosa recipe, you can use any type of sparkling wine. Champagne is the traditional ingredient but truly you can use any type: Prosecco, Cava, Cremant, or sparkling wine from anywhere else.
I used Castello del Poggio Prosecco. It's an Italian wine that is reasonably priced and the company is about encouraging people to enjoy the sweeter things in life and look for joy. I LOVE that!
Another option is to use alcohol-free sparkling wine. I just tried one from Prima Pave and it was delish!
How to make a watermelon mimosa
Put about a cup of fresh watermelon in a small blender and blend until smooth.
Watermelon has a lot of texture. I like to strain it before adding to drinks. I don't worry too much about making it 100% smooth. But I do like to strain it.
I put my small colander over a bowl and then added the blended watermelon juice a little at a time.
I used the back of my spoon to press on the solids to squeeze out the juice. It worked well.
If you want it even smoother, you can line your colander with cheesecloth and run the blended watermelon through that.
All it takes is a little bit of watermelon juice, add as much or as little as you want. To guide, use about ¼ to ½ cup of watermelon juice per mimosa.
And the sparkling wine.
It will foam up. Let the foam subside then top off with a little more champagne.
Tips
The foam from the champagne can make the top of the glass look a little messy. There's not too much you can do about it. If you want to clean them up a little before serving, you can use a new paintbrush to clean up the inside of the glass. I didn't do that because, lazy.
A ripe watermelon will give you the best flavor. Look for one that feels heavy for its size and has a deep, hollow sound when you knock on it.
To ensure the sparkling wine cocktail is as refreshing as possible, prepare the watermelon juice ahead of time and then chill it in the fridge for a while. It should last for 2-3 days with optimal freshness and flavor. When the champagne or sparkling wine and juice are thoroughly chilled before mixing you get a refreshing and crisp mimosa.
If you feel the flavor is a little too flat for your liking, add a squeeze of fresh lemon to brighten it up. Fresh citrus makes almost all cocktails even better!
Make them look prettier and add extra freshness to your watermelon mimosas by garnishing them with a sprig of mint, basil, or rosemary. It not only looks cute but also adds an aromatic touch to the cocktail.
If making them for a crowd, prepare the watermelon juice in advance since it takes a minute to do. I think I could make about 3 mimosas from 1 cup of fresh watermelon. So you'll need to blend more depending on the total amount you want to make.
How to make them your own
For a little bit of a floral note, add a little St. Germain!
Muddle some fresh herbs in the glass before you add the watermelon and champagne.
Make it spicy with some muddle jalapeno! YUM.
A squeeze of citrus always adds some brightness to a mimosa.
Frequently Asked Questions
What type of sparkling wine should I use?
The sweetness of the watermelon juice balances well with a dry sparkling wine or champagne. Look for one that says "Brut" or "Extra Brut". You don't need to break the bank, but you should choose a bottle that is enjoyable to drink on its own. La Marca is always a great option, especially when sharing with friends. Or look for Castello del Poggio like I used here.
Can I make non-alcoholic watermelon mimosas?
Absolutely! If you prefer a non-alcoholic version, you can replace the champagne or sparkling wine with sparkling water or a non-alcoholic sparkling beverage. The watermelon juice will still provide a refreshing and flavorful base for your mocktail.

See more non-alcoholic mimosa ideas.
Can I add other fruits to the watermelon mimosa?
Yes, you can add other fruits to the watermelon mimosa for added flavor and texture and creativity. Strawberries, raspberries, or even citrus fruits like oranges or grapefruits can be delicious additions.

Do you have to serve it in a champagne flute?
No! The look of a champagne flute is elegant but if you don't have any, don't worry! You can serve these in any kind of wine glass. And in a pinch, you can sip one straight from a red plastic cup. Browse my favorite glassware.
Save and pin this recipe for later!
Save this recipe for later by pinning it or clicking the teal heart at the bottom right of the page. For more recipes make sure you're following me on Pinterest, Instagram and like my page on Facebook. If you make this recipe, be sure to leave a star rating and tag me in your pictures!
More easy champagne cocktails
Watermelon Mimosas
With just two ingredients, these refreshing Watermelon Mimosas are so easy to make and delicious to drink.
Print
Pin
Rate
Save
Saved!
Ingredients
1

cup

watermelon

4

oz

sparkling wine or prosecco
Instructions
Watemelon Juice
To a small blender, add 1 cup of roughly chopped watemelon.

Pour the juice into a small colander placed over a bowl. Use the back of a spoon to press the liquid through.
To Make a Watermelon Mimosa
Add about ¼ cup of watermelon juice to a glass.

Top with equal parts sparkling wine.
Notes
If you need to jazz up the flavor a bit try

a squeeze of lemon.
You can use any type of sparkling wine including champagne, prosecco, cava, etc.
The typical ratio for watermelon mimosas is equal parts juice and wine. But you can modify it to suit your own flavor preferences.
Nutrition
Serving:
1
Servings
|
Calories:
101
kcal
|
Carbohydrates:
13
g
|
Protein:
1
g
|
Fat:
0.2
g
|
Saturated Fat:
0.02
g
|
Polyunsaturated Fat:
0.1
g
|
Monounsaturated Fat:
0.1
g
|
Sodium:
9
mg
|
Potassium:
270
mg
|
Fiber:
1
g
|
Sugar:
11
g
|
Vitamin A:
865
IU
|
Vitamin C:
12
mg
|
Calcium:
21
mg
|
Iron:
1
mg