Sauvignon Blanc is my fave! And sometimes, when I'm feeling a little fruity, I'll add some sliced strawberries to it. It's a great pairing! And since I love to make cocktails, a Sauvignon Blanc Martini just made sense!
It's full of strawberry flavor, it's tart from the wine and packs an extra kick with the vodka. Whether you're looking for vodka recipes or wine cocktails, this drink will have you smacking your lips with glee!
One Hope Wine sent me wine to use in this post. Which is super awesome. When a brand sends me a sample of their product it means that I don't have to buy it myself. And then I can spend money on taking my kids somewhere fun instead. That's rad.
Sauvignon Blanc Cocktails are Awesome!
It's so hard to decide if I like cocktails or wine better. Wine is so easy. You just pop off the top and pour into a glass. But any cocktail I would make (I'm a little bit lazy) is super easy too. I decided to experiment and combine the two.
It had to be done. I couldn't cram all these delicious cocktail recipes, featuring wine, into one post. I made red wine based cocktail recipes. I made a few with white wine and even one with White Zinfandel!
But, since I love Sauvignon Blanc, I knew that I needed to make a cocktail with it also. I used this recipe as a guideline but swapped the watermelon juice (too much work, I'm lazy, and I'm not a huge fan of watermelon) for muddled strawberries. YUM!
This drink could be considered a martini due to the vodka. (I know that doesn't MAKE a martini but in my head it pretty much does). The vodka, wine and club soda are tasty. But the lemon juice and strawberries…WOW! It really makes some cocktail magic!
How to Make a Strawberry Sauvignon Blanc Martini
Ingredients:
1 oz. Sauvignon Blanc
1 oz. vodka
3 fresh strawberries, hulled
1 oz. simple syrup
1/2 oz. lemon juice
1 1/2 oz. club soda
For this Strawberry Basil Margarita recipe, I made a strawberry simple syrup. But that was a long time ago. Before I got lazy. But also before I realized that muddling fresh fruit gives a drink a ton of flavor. It's a little bit of a different flavor than simple syrup – it can be more concentrated, but it loses that freshness that I love.
Also, feel free to play around with the amount of the simple syrup. I don't love overly sweet drinks so I would usually do less than this. But I tend to like things more on the bitter side so I kept it in the recipe for the "average" person.
Smirnoff Vodka Review
I'm sure you've seen his red packaging and, of course, you've heard of Smirnoff. I did a tasting recently of 5 vodkas hanging around my house (I have a bunch of vodka recipes on the blog and I like to change things up). Unlike with wine, vodka should be pretty unassuming meaning not a huge burning sensation on the swallow and overall non-offensive.
The Smirnoff vodka didn't have a strong smell like some of the others but it did have a bit more of a burn on the throat. Not in an off-putting way, but when comparing to other brands, you knew you were drinking vodka. And since the smell was minimal, I was expecting not a lot of flavor.
It had more flavor than I expected. It was certainly not unpleasant to drink and I know it mixes really well in cocktail recipes. I also didn't try the vodka chilled which would probably really help things in the flavor department. But listen, I'm not an expert in anything other than knowing what cocktails I like to drink. So take this review for what it's worth. Which is not much.
I absolutely loved that there was an inspiring quote on the side of the One Hope Wine cork. A pretty cool touch if you ask me. I love when companies make the decision to add little details intended for the consumer. It makes my heart happy.
Steps:
In a cocktail shaker, add lemon juice and fresh strawberries.

With a muddler, muddle the heck out it.

Add vodka, Sauvignon Blanc and simple syrup.

Add ice and shake well.

Strain into a cocktail glass and top with soda water, to taste.
This Sauvignon Blanc Cocktail recipe is super easy and totally different. Make these for your friends. You will totally impress them. And that is what friendship is all about, right? One-upping them? No? Oops.
Strain into a martini glass and you've got yourself a delicious Strawberry Sauvignon Blanc Martini.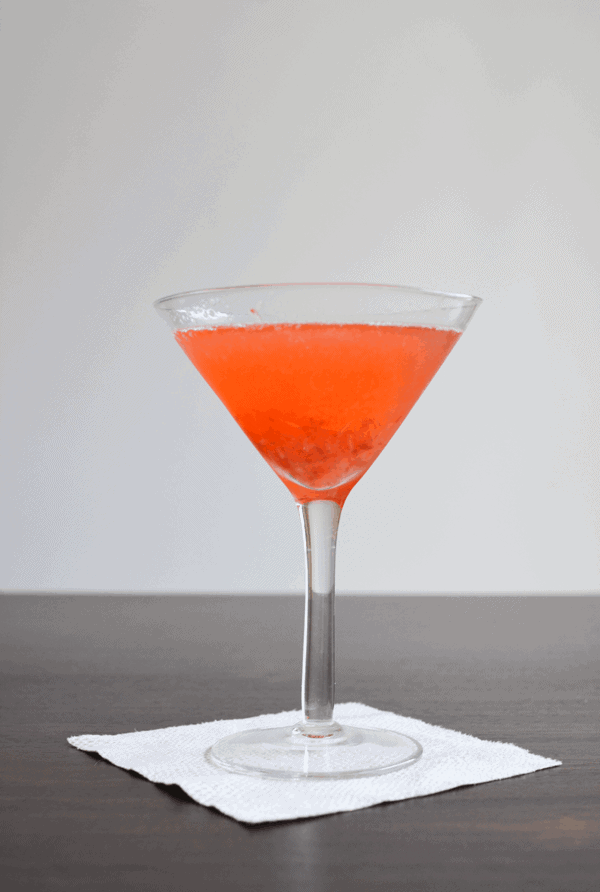 This cocktail was super tasty. The strawberries added a nice sweetness and the lemon juice really brightened it up. I'll admit to being a total nerd about these wine cocktails. I had a blast trying them all out!
(A note: my neighbor got super lucky because I would make a drink, taste it, shoot the photos and then take it to her house and keep working on the other ones. I'll let you know if anyone ever moves out of my neighborhood so you can move in…)
More Wine Cocktails to Try
Printable Sauvignon Blanc Cocktail Recipe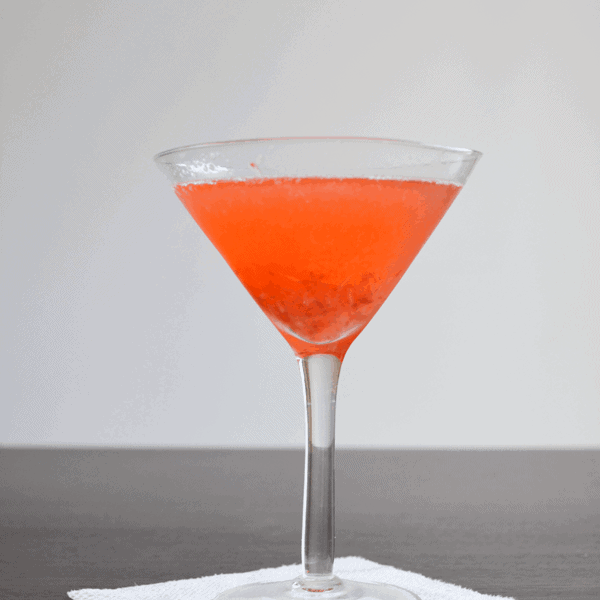 Strawberry Sauvignon Blanc Martini
If you're a Sauvignon Blanc lover, you have to try this fun and fruity wine cocktail recipe with strawberries!
Print
Pin
Rate
Instructions
In a cocktail shaker, add lemon juice and fresh strawberries.

With a muddler, muddle the berries.

Add vodka, Sauvignon Blanc and simple syrup.

Add ice and shake well.

Strain into a chilled martini glass.

Top with a splash of soda water.
Notes
Recipe adapted from here: http://www.cosmopolitan.com/food-cocktails/g2121/cocktails-made-with-wine/?slide=13
Nutrition
Serving:
1
Servings
|
Calories:
360
kcal
|
Carbohydrates:
44
g
|
Protein:
2
g
|
Sodium:
19
mg
|
Fiber:
4
g
|
Sugar:
28
g
Pin This Recipe for Later!
This delicious Sauvignon Blanc cocktail recipe is full of fresh fruit flavor and mixes my favorite with wine with vodka for a fun wine cocktail idea!