This is the best champagne punch recipe. The only one you'll ever need. It is my family's go-to celebratory recipe and we've been serving it for years. But if you get the chance you really should serve it to your friends out in the middle of the desert. All wine cocktails taste better when the skies look like cotton candy and the winter weather is warm!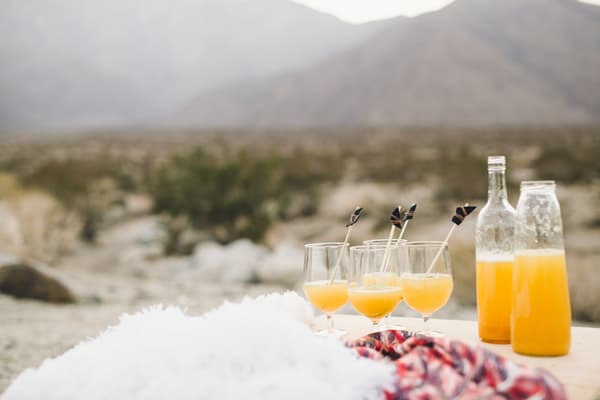 Serving champagne instantly has a way to make everything feel a little bit more festive. But tell a gal you're serving champagne punch and she'll have a huge grin on her face. This citrus-based recipe is full of bright flavors and is really easy to drink. I love that even non-wine lovers (I can't believe there are people that don't like wine…) really enjoy this cocktail idea! That's why it's perfect for parties!
How to Make My Fave Champagne Punch Recipe
Since I was headed out to Palm Springs anyway, I thought it would be fun if I shot a recipe post while I was there. This is the type of stuff that is so fun for a creative person. So often I have these big ideas in my head but the logistics to pull them off are a little bit too much for one person, or on account of family time constraints. I was SO excited to be able to sneak away with Tammy and get to do something totally different.
And this really is the best champagne punch recipe and I've been dying to share it with you!
We found this gorgeous little spot to set up in and got the bottles popping.
And then started assembling the ingredients. This punch is pretty and refreshing.
What I love about champagne punch is that they work well for a crowd and because of all the other ingredients, you don't need to splurge on the good bubbly. A super cheap bottle is perfect. And since this is SO yummy, you will need to make several batches. Know that going in and have several batches prepped ahead of time. Save the expensive bottles for sipping for a special occasion.
Usually, the garnish is some citrus slices. If you want to get crazy, you can add fresh raspberries. The pop of pink is a really fun touch. And edible flowers would be even more lovely.
Although this is a punch and your natural instinct might be to run towards your standard punch bowl, you should change things up a bit. Here I decided to use a vase to serve the punch in. The shape was fun, it was plastic and perfect for serving outdoors.
One of my favorite things about entertaining is using things in new ways or doing things a little bit differently. Sometimes these little touches are enough to create a lasting memory for your guest. And as a host, that's truly what we're after.
If your drink container doesn't have a pour spout, just use a ladle to serve. It is punch after all! Punch bowls are gorgeous but not needed.
This Champagne Punch Is Perfect For a Crowd!
You can also just make several batches and serve them in mismatched glass jars. Empty wine bottles are perfect for this. And this is a great way to make sure that all your guests can get their beverage quickly without having to wait for the ladle. By making extra batches ahead of time you can keep a few bottles in the fridge, ready to go, making your hosting duties a breeze.
How gorgeous is this?! It really makes me want to throw a whole desert party. To dress up the champagne punch recipe, even more, I created these simple leather and wire stir sticks. I think they came out really nice and added the perfect amount of flair to the drink.
My mother-in-law and I have been making this easy punch recipe for family parties for years. And I know we aren't the only ones who love it!
More Punch Recipes to try:
Printable Recipe for Champagne Punch
Yield: 12
Best Ever Champagne Punch Recipe
This citrus-based champagne punch is full of bright flavors and a great drink for a crowd!
Ingredients
1 can, 46 oz. Pineapple Juice (cold)
1 bottle, 28 oz.0 Club Soda (cold
1 can, 6 oz. Frozen OJ Concentrate (thawed)
1 bottle Champagne or Sparkling Wine, chilled
1 lemon or lime, finely sliced for garnish
1 cup fresh or frozen raspberries for garnish, optional
Instructions
Combine all ingredients, stir and serve.
Garnish with a slice of fresh lemon or lime.
Can be made the night before but wait to add the club soda and champagne until ready to serve.
Should at least plan to double or triple the recipe. It is a crowd pleaser.
Nutrition Information
Yield
12
Serving Size
12 Servings
Amount Per Serving
Calories

144
Total Fat

0g
Saturated Fat

0g
Trans Fat

0g
Unsaturated Fat

0g
Cholesterol

0mg
Sodium

12mg
Carbohydrates

22g
Net Carbohydrates

0g
Fiber

2g
Sugar

15g
Sugar Alcohols

0g
Protein

1g
Nutrition information isn't always accurate.
All images by Tammy Mendoza of
Dez and Tam Photography
*I did not create this recipe. Years ago, before blogs and Pinterest, when you found a recipe you liked, you wrote it down and emailed it to all your friends and family. The source for this recipe is long gone. If you know the source, please share! I like to credit when credit is due!
Pin this Punch for Later
If you are having a party soon, you definitely need to try this!! This delicious Champagne Punch Recipe is sure to be your new go-to party drink to serve!