You know what you need right now? The best champagne punch recipe.
Once you taste it, you'll dream about this celebratory punch. This recipe is my go-to when I want an easy, sparkling drink that feels extra festive.
This refreshing citrus champagne punch is perfect for a crowd, or just enjoying on a Sunday morning at home. Wine cocktails are my favorite! And this 4-ingredient drink couldn't be easier!
With no other liquor besides the sparkling wine and just a few shelf-stable ingredients, you can make this yummy carbonated punch whenever you want.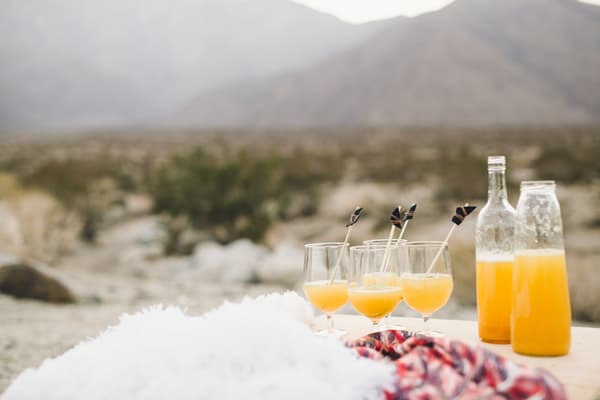 Some links in this post may be affiliate links. As an Amazon Associate in the Amazon Services LLC Associates Program, I earn from qualifying purchases by linking to Amazon.com and affiliated sites. I also participate in affiliate programs for other retailers.
Originally posted December 24, 2017. This post has been updated to include better instructions.
Best Ever Citrus Champagne Punch
Serving champagne instantly makes everything feel a little bit fancier.
But tell a gal you're serving champagne punch and she'll get a huge grin on her face. It feels decadent. But it's actually ridiculously easy.
This Citrus Champagne Punch is full of bright flavors and is really easy to drink. Even non-wine lovers (I can't believe there are people that don't like wine…) really enjoy this cocktail idea! That's why it's perfect for parties!
It has 4 ingredients plus some garnishes if you want to add them. It serves several people easily. But trust me, you'll want to double this.
How to Make Champagne Punch
Since I was headed out to Palm Springs anyway, I thought it would be fun if I shot a recipe post while I was there.
This is the type of stuff that is so fun for a creative person. So often I have these big ideas in my head but the logistics to pull them off are a little bit too much for one person, or on account of family time constraints.
I was SO excited to be able to sneak away with Tammy and get to do something totally different.
And this really is the best champagne punch recipe and I've been dying to share it with you!
I wasn't able to get my standard ingredients shot. So the shot above will have to do. You may be able to see Triple Sec in the photo. But that's for a different recipe.
Ingredients
1 can, 46 oz. Pineapple Juice (cold) (the size linked is larger than you need – so measure!)
1 bottle, 28 oz. Club Soda (cold)
1 can, 6 oz. Frozen OJ Concentrate (thawed)
1 bottle Champagne or Sparkling Wine, chilled
1 lemon or lime, finely sliced for garnish
1 cup fresh or frozen raspberries for garnish, optional
I'm terrible about making sure that I have the ingredients on hand before I start a recipe. I fell in love with Drizly for this reason! With delivery to your home in about an hour, this is also great for during a party when supplies are running low!
You can buy almost everything you need to make cocktails and have it delivered to your home. It's genius.
What type of champagne should I use
Because the flavors of the pineapple juice and orange juice are so bold, you don't need to splurge on the good bubbly.
A super cheap bottle is perfect. And since this is SO yummy, you will most likely be making several batches.
Know that going in and have a few extra bottles of inexpensive sparkling wine or champagne (or cava or prosecco – it's all sparkling, the name changes depending on what region it comes from) on hand.
Save the expensive bottles for sipping for a special occasion.
I promise you. This simple champagne punch is so tasty it will be gone, fast. Especially if you are serving it at a party.
So either start with a double batch or have the next one ready to go. Just have all the ingredients in the fridge just in case. This mixes up fast!
And if you don't get to that second batch now, these items last for a long time if they haven't been opened.
Instructions
Combine the pineapple juice and thawed OJ concentrate in a large pitcher and mix well.
Add club soda and champagne.
Stir gently.
Transfer to serving pitcher or bowl
Add thinly sliced fresh lemon, lime and/or oranges.
Serve immediately.
You can absolutely make this easy champagne punch right in your serving bowl or pitcher if you think you can keep things clean and pretty.
Can you make champagne punch ahead of time
You can only make part of this champagne punch recipe ahead of time.
You can mix the pineapple juice and thawed orange juice, but you'll want to wait to add the club soda and sparkling wine until just before serving.
This punch is best when it's bubbly and effervescent from the wine and soda.
The great thing is that the best punch ever only needs a few ingredients and is super quick to make so making it ahead of time doesn't save you that much time.
If you're worried about making this in the middle of a party, just enlist a helper. There are always people willing to lend a hand during a party. Especially if champagne punch is involved.
How to serve champagne punch
Although this is a punch and your natural instinct might be to run towards your standard punch bowl, you can also change things up a bit.
Here I decided to use a vase to serve the punch in. The shape was fun, it was plastic and perfect for serving outdoors.
You could also put it in a serve-yourself drink dispenser. Or, OMG!, a punch fountain! Or use a pitcher so it's easy to walk around and refill glasses.
If your drink container doesn't have a pour spout, just use a ladle to serve. It is punch after all! Punch bowls are gorgeous but not needed.
One of my favorite things about entertaining is using things in new ways or doing things a little bit differently. Sometimes these little touches are enough to create a lasting memory for your guest. And as a host, that's truly what we're after.
If serving in a clear container, I usually float citrus slices in the punch. If you want to get crazy, you can add fresh raspberries. The pop of pink is a really fun touch. And edible flowers would be even more lovely.
For a party, I typically don't garnish the punch. Sometimes I feel like I'm fighting the garnish just to get a sip. But that's just me. I'm lazy.
This Champagne Punch Is Perfect For a Crowd!
Top tips
Empty wine bottles are perfect for serving punch at parties. It's a great way to make sure that all your guests can get their beverage quickly without having to wait for the ladle.
By making extra batches ahead of time you can keep a few bottles in the fridge, ready to go, making your hosting duties a breeze.
How gorgeous is this?! It really makes me want to throw a whole desert party.
To dress up the champagne punch recipe, even more, I created these simple leather and wire stir sticks. I think they came out really nice and added the perfect amount of flair to the drink.
My mother-in-law and I have been making this easy punch recipe for family parties for years. And I know we aren't the only ones who love it!
We serve this for holiday parties. And I'm definitely making this on Easter this year. Especially because my birthday happens to fall on that day. Boom. Day drinking.
Although this champagne punch is extra delicious, here are a few more punch recipes to check out! Whether you're hosting a party, spending a lazy day at home or looking for something to serve for brunch, you'll love these easy drink ideas.
We Rum This Punch – I created this Rum Punch for a cocktail contest and fell in love with it. It does have a few steps (like making a cinnamon vanilla simple syrup) but the end product is outstanding!
Non Alcoholic Pina Colada Punch – This mocktail punch is perfect for kids! Mix up a batch of this Non-Alcoholic Pina Colada Punch for your next kid's party or when you want to "happy hour" at home with the kids.
Iced Tea Sangria – I love sangria and iced tea so I thought, why not put them together! This Iced Tea Sangria is easy and refreshing and a great twist on a classic wine cocktail idea.
Printable Recipe
Best Ever Champagne Punch Recipe
This is the Best Ever Champagne Punch recipe that gives any party feel festive with a little extra flair. The sparkling citrus flavor of this easy punch is refreshing and not too sweet. With just 4 ingredients (and no extra liquor) this easy drink is perfect for a crowd!
Print
Pin
Rate
Ingredients
1

can

46 oz. Pineapple Juice (cold)

1

bottle

28 oz. Club Soda (cold)

1

can

6 oz. Frozen OJ Concentrate (thawed)

1

bottle Champagne or Sparkling Wine

chilled

1

lemon or lime

finely sliced for garnish
Instructions
Combine all pineapple juice and orange juice in a large pitcher.

Add club soda and champagne to the juices and stir gently.

Pour into a punch bowl or other serving pitcher.

Garnish with slices of fresh lemon, lime or oranges.
Notes
It can be made the night before but wait to add the club soda and champagne until just before serving.
If you want a pop of color in the punch you can add frozen raspberries along with the citrus slices for garnish.
The bold flavors of the fruit juices mean that you can use inexpensive champagne to make this recipe!
This punch is super delicious and refreshing. If serving it at a party, be prepared to make more batches and have the recipe ready to pass out to guests. They will ask for it.
Nutrition
Serving:
12
Servings
|
Calories:
135
kcal
|
Carbohydrates:
20
g
|
Protein:
1
g
|
Sodium:
7
mg
|
Fiber:
1
g
|
Sugar:
14
g
All images by Tammy Mendoza of Dez and Tam Photography
*I did not create this recipe. Years ago, before blogs and Pinterest, when you found a recipe you liked, you wrote it down and emailed it to all your friends and family. The source for this recipe is long gone. If you know the source, please share! I like to credit when credit is due!
Pin to save this punch recipe for later
If you are having a party, brunch or just want to enjoy a delicious wine cocktail at home, you definitely need to try this!! This delicious Champagne Punch Recipe is sure to be your new go-to party drink to serve!