It's spritzer season!
This Blood Orange Spritzer with Thyme is super refreshing and a great recipe to sip on a hot summer's day.
With fresh blood orange and thyme, this simple drink uses my favorite white wine and club soda to create a delicious beverage to help cool you down.
If you're a fan of wine cocktails, you'll love these seasonal flavors that pair so perfectly with the tart wine.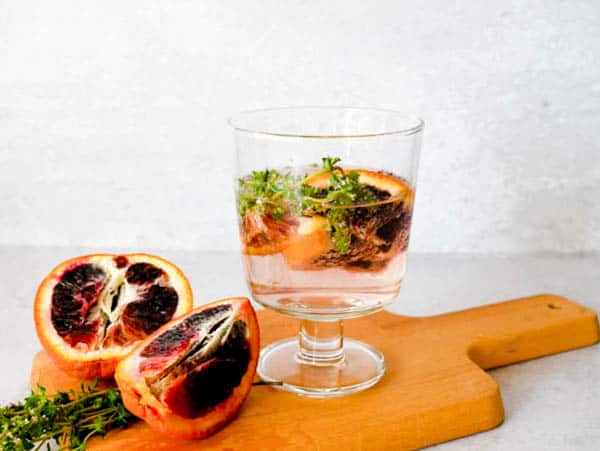 Some links in this post may be affiliate links. As an Amazon Associate in the Amazon Services LLC Associates Program, I earn from qualifying purchases by linking to Amazon.com and affiliated sites. I also participate in affiliate programs for other retailers.
Make a Blood Orange Spritzer
I'm a mom. And sometimes, on a hot afternoon, I want an adult beverage.
But I'm also old. And I usually feel like I need to take a nap after one glass of wine.
A Blood Orange Spritzer is a great way to sip on something refreshing without making a full-on cocktail.
A wine spritzer is awesome because you are using less than a standard pour of wine and mixing it with club soda making it perfect for day drinking.
I've shared a basic White Wine Spritzer before but I love that they are such a versatile drink and you can change up the flavors to just about anything that you can find in season.
What is a wine spritzer made of
A wine spritzer is usually made with wine and sparkling water. Then you add in flavor in the form of fruit and/or herbs.
The word is sometimes used interchangeably with "spritz" which is made with sparkling wine instead of a flat wine. An Aperol Spritz is the best example.
What is the best wine for a spritzer
In my opinion the best wine is a tart, white wine that is on the drier side, like Sauvignon Blanc.
That is my wine of choice for sipping straight, so it makes sense that I would prefer it in a spritz.
You can also use a Pinot Grigio or Reisling. Reisling is on the sweeter side so if you like sweet cocktails, that is probably the right choice for you.
I would skip Chardonnay because it takes on a lot of flavor from the oak and may fight with the fruit flavors.
And you could even try using an infused wine or aperitif wine to make one and it would be even more flavorful!
If you're more of a red wine fan you could try Pinot Noir or a Grenache. I've never made a red wine spritzer though so you'd have to just give it a try.
I have made a Red Wine Smoothie though and that was delicious so...
How to make a Blood Orange Wine Spritzer
This Blood Orange Spritzer is such a simple drink to make. And once you know the ratios, you can change up the flavors and make them a ton of different ways!
Ingredients
White wine (I prefer Sauvignon Blanc)
Club soda
Fresh blood orange
Fresh thyme
Did you know you can order wine on Amazon Fresh now?! Game changer!
I'm not sure if you can see them, but my thyme has the cutest flowers on it! That just it was harvested when it was mature.
You can eat the thyme once it has flowered. I had to look that up to be sure.
Whenever I see blood oranges in the store I always grab a bunch. They have such a lovely flavor and they are excellent in cocktails.
Instructions
Grab a stemmed wine glass (I can't find any similar to the one I show here but THESE wine glasses are so pretty) and add your white wine.
The amount can absolutely vary depending on a number of things. If you want to really taste the wine flavor, you can use more.
If you want to be able to enjoy a few drinks all day long, start small.
A typical ratio to make a wine spritzer is 2 parts of wine to 1 part of club soda.
But you can really make it however you want. I am not the boss of you.
Next I add in the fresh blood orange pieces. Typically you don't muddle fruit in a wine glass.
And I like the fruit in my spritzers to be on the subtle side.
So you can give it a quick poke with a muddler or spoon to help release a little juice but it's not the same aggressive muddle you would use as when making a mojito.
I think fresh thyme is such a great addition to any wine spritzer with citrus.
Clap the thyme between your palms before adding to the glass.
What that does is bruise the herb and allow the oils to start to be released.
Again, these flavors are pretty subtle. If you wanted to get a more concentrated flavor (as with any cocktail) you could make a flavored simple syrup.
Only, I wouldn't want to sweeten this drink so I would probably create more of a "tea" and steep the fruit and herbs in just water to infuse with flavor.
Finish off this Blood Orange Wine Spritzer with some club soda. The bubbles help to make this extra refreshing on a warm day.
Give the glass a few swirls and you're all set.
Because you already have all that pretty fruit and the sprigs of herbs in the glass, you don't need any extra garnish.
If you need a little bit more flavor in your glass, you can add a drop or two of bitters.
That is one of my favorite things to add when something needs a little bit more depth.
Or if you want a little bit more blood orange flavor you could used Blood Orange San Pellegrino in place of the club soda. This way you'll get the fizz and flavor in one.
Top Tips
If the club soda is too fizzy for you, you can use a sparkling mineral water instead. Those are a little bit smoother usually.
Want a little more fruit flavor? Try adding a splash of fruit juice.
Or skip the bubbles altogether and make my Iced Tea Sangria!
And if you have trouble with wine headaches, as I do, you can try these wine drops that help neutralize the sulfites!
Supplies to make this recipe
More cocktails to try:
Or see all of my collections of easy drinks: Easy Cocktails, Moscow Mule Variations, and Vodka Cocktails.
Printable Blood Orange Wine Spritzer recipe
Blood Orange Spritzer with Thyme
This super refreshing Blood Orange Spritzer has fresh thyme and club soda to make it bubbly and delicious! With Sauvignon Blanc this wine spritzer is great for day drinking and looks pretty too.
Print
Pin
Rate
Save
Saved!
Instructions
Add 2 parts Sauvignon Blanc to a wine glass.

Add fresh blood orange pieces cut into small wedges and add to glass.

Gently press the fruit with a muddler or spoon to release juice.

Clap 5 sprigs of fresh thyme between your palms then add to glass.

Top with 1 part club soda.

Give the glass a gentle swirl and enjoy.
Notes
You can change the ratio of wine to club soda however you'd like to suite your taste preferences.
Nutrition
Serving:
1
g
|
Calories:
166
kcal
|
Carbohydrates:
10
g
|
Protein:
1
g
|
Fat:
1
g
|
Saturated Fat:
1
g
|
Sodium:
19
mg
|
Potassium:
143
mg
|
Fiber:
3
g
|
Sugar:
3
g
|
Vitamin A:
766
IU
|
Vitamin C:
39
mg
|
Calcium:
75
mg
|
Iron:
3
mg
Pin to save this wine spritzer for later
You're going to love this Blood Orange Spritzer with fresh thyme!