This Spiced Pear Bellini recipe is a totally fun take on the traditional Bellini or mimosa.
While a traditional Bellini recipe is made with peach nectar, this pear based cocktail is perfect for all your winter celebrating needs. These are my favorite things to drink on New Year's Eve! And I know you will love them too. 
Grab a bottle of pear nectar (or two, you may want to double the batch if you are having lots of guests over). A few cinnamon sticks and some ground cardamom are all you need to give the pear juice a touch of holiday love. While I love this recipe, I'm sure you wouldn't ruin it if you added in some of your other favorite spices. 
Crack open the cinnamon sticks and add them to your pan. The easiest way to do this is to lay the stick on a cutting board, with the slit side down. Lay your chef's knife flat on top of the cinnamon and give it a whack with the heel of your hand, much the way you would to get garlic out of its skin. Be careful of the blade, don't be a dummy. I am not responsible for any cuts you get. Blame your parents for not teaching you proper knife safety. 
Add the cardamom and the pear nectar to the saucepan. Of course these would still be tasty using the plain pear juice, but don't be lazy. The spices make it AMAZING!
Let the mixture simmer away on the stove. Because of the sugars in the juice, it will simmer down and concentrate a little bit. But I promise it won't get too sweet. I hate sweet drinks and this is not gross. I don't drink gross things. 
Strain out the spices and put the finished spiced pear juice in to a pitcher to cool. It has to cool completely before making the cocktails. The idea of warm champagne seems really disgusting to me. 
When you're ready to party, add the spiced pear juice to your cocktail glass.

What's great about serving a Bellini or mimosa at a party is that it helps you to stretch the champagne a little further. You also don't have to buy top of the line brands since the pear juice will give whatever sparkling wine you are pairing with it a little help in the quality department. 
Top it with your sparkling wine and let the fun begin. 
This peach Bellini recipe is the perfect party drink. It's unexpected and delicious and who doesn't love when you bring out the bubbly?

You are going to LOVE this Spiced Pear Bellini Recipe!
Want more cocktail recipes?
This cocktail recipe is from one of my fave artists/chefs/entertainers ever, Jennifer Rubell. If you don't have it, go buy her Real Life Entertaining
.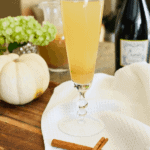 Spiced Pear Bellini
This is my favorite bellini recipes! If you love champagne, you HAVE to try this pear version!
Ingredients
5

cinnamon sticks

2

33.8 oz bottles of pear nectar (about 9 1/2 cups)

2

tsp

ground cardamom

1/3

cup

sugar

or less - I cut this down to make sure it doesn't get too sweet for me

6

bottles of Prosecco or other sparkling wine

chilled
Instructions
Place the cinnamon on a cutting board.

With the flat side of a Chef's knife, press down to break the sticks or give it a whack with the heel of your hand like you do with garlic you are trying to take out of the skin.

To a saucepan, add the broken cinnamon, cardamom, sugar and pear nectar.

Cook on high heat until boiling.

Turn off heat and cover.

Let sit for at least an hour.

Strain out the large pieces of cinnamon as you pour in to a pitcher or other large container to cool.

Refrigerate for at least 3 hours.

Pour about an ounce of spiced pear juice in to a glass and top with sparkling wine.