Looking for unique and fun drink ideas for parties? Browse this list of ideas that are great for a crowd and easy to set up for any type of party. Whether you're looking for cocktails or non-alcoholic drink ideas, this list has you covered.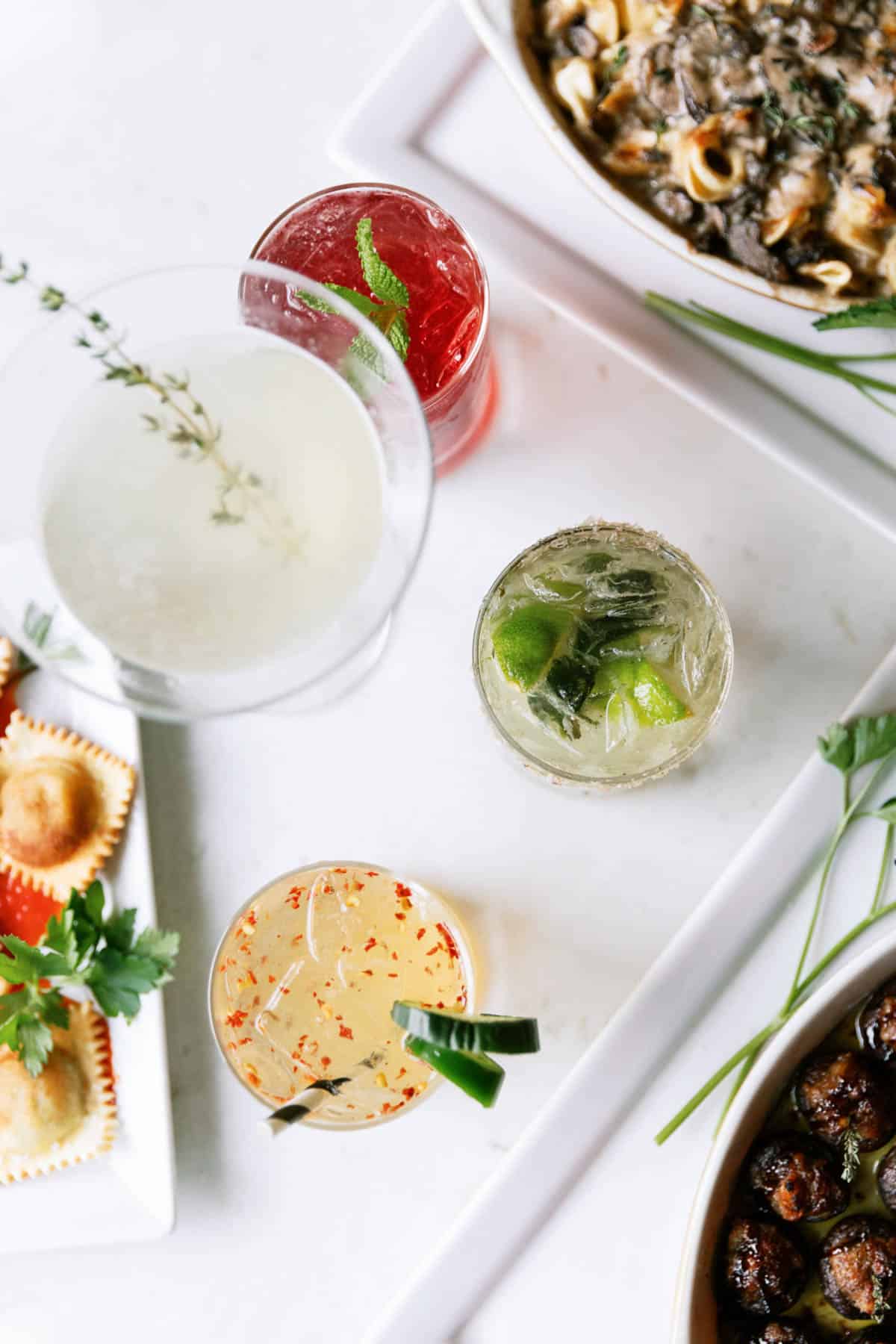 Jump to:
Drink Ideas for Your Next Party
Drinks are an essential part of any get-together. It can be overwhelming trying to figure out how many bottles of wine you need or how to set up a full bar.
When I'm hosting at home, I like to make it easier on myself (and my guests) by narrowing down the choices.
I like to make a big-batch of a cocktail or punch that people can grab on their own and sip throughout the party. But I also make sure I have non-alcoholic options, especially since there are often lots of kids.
The best part about these ideas is that you can use them as inspiration and then truly make them your own.
Here are some ideas on how to make sure your drinks are the talk of the town at your next soirée.
Non-Alcoholic Ideas
Whether you're looking to serve only mocktails or need some fun drink ideas for the kids, these ideas are easy to set up and serve and are a little more memorable than an ice chest full of juice boxes (that sounds judge-y - no judgment whatsoever!).
1. Make Your Own Soda Station
A fun way to add some creativity and uniqueness to your parties is by setting up a "make-your-own beverage soda station."
Provide a variety of different juices and some fizzy bases and let your guests customize their own drinks. You can also include slices of cucumbers, cut up citrus fruit and anything else you can think of to make a tasty drink.
Related: Make Your Own Cucumber Basil Soda
This allows people to get creative and also lets them tailor their drink choice around their own individual tastes. I like to use store-bought juices to keep the costs and time involved down (Once I tried juicing all my own fruits and that was a huge pain!)
This is an especially fun non-alcoholic party drink idea for kids' parties where they can add tons of flavors and feel like they are creating something original.
2. Muddle Your Own Lemonade
Who doesn't love lemonade? It's a summer party classic but that doesn't mean you can't have a little fun with it.
A muddle-your-own lemonade bar is a great idea that doesn't require a lot of work. And you can keep it as easy or go a little further with it depending on your energy levels.
I served store-bought lemonades (both original and flavored) and set out some fresh herbs to muddle with them. It's a great way to add another layer of flavor and people love to customize things!
If I did this idea again I would also set out some fresh fruit. Muddling fresh raspberries and mint in the raspberry lemonade would have been amazing!
You can also set out some club soda to add a little fizz.
You can also make your own lemonades, like Lavender Lemonade or Blueberry Lemonade, but buying store-bought keeps it so easy!
3. Non-Alcoholic Mimosas
Mimosas are always a good idea. But I like to set out a non-alcoholic mimosa bar.
I used a variety of flavored drinks and different flavor enhancers to let people mix up their own versions.
There is even non-alcoholic sparkling wine on the market now which would make them even closer to the real thing.
4. Get Punchy
Punch is ideal for larger crowds since it makes many servings at once. A punch bowl keeps things easy in terms of serving and you can replenish the supply as needed with extra batches of punch you've made ahead and keep in the fridge.
There are tons of types of punches that are perfect for serving a mixed crowd of kids and adults. You can keep things easy with a simple fruit punch or make something more dessert-like with sherbet.
Pina Colada Slush is a great one to serve but would probably work best for smaller crowds.
And if it's chilly out you can serve something like Warm Apple Cider!
Cocktail Ideas for Parties
You can take your favorite cocktail recipe and make a large batch of it but why would you when serving punch or a DIY cocktail station is so much for fun!?
5. Alcoholic Punch
Much like the non-alcoholic punch above, you can also serve a more adult-friendly recipe.
People LOVE punch. I think it's because it's nostalgic. And a punch bowl just SCREAMS party!
Punch Recipes You May Like
6. Sangria Station
I set up a Sangria Station at my son's Lego Dance Party and it was a huge hit. I made about 3 batches of a few different recipes and because you have to make it ahead, all I had to do was set it out for the party.
I made sure to set up an ice chest with ice and people could serve themselves as they wanted.
Seriously. You have to do this for your next party.
Sangria Recipes to Serve
You can also serve a non-alcoholic sangria for the kids! Or Sangria Cupcakes.
7. Moscow Mule Station
Moscow Mules are a great drink because you can modify them in tons of ways. Set up a Moscow Mule station with a variety of types of liquor, a bunch of ginger beer and fresh limes.
Then everyone can make them as they like them! Browse this list of 27 Moscow Mule Variations to get ideas!
While the copper mugs look amazing it might be too costly to purchase enough for everyone at a party. Feel free to serve the drinks in any kind of cup you want.
Aside from the drink ingredients you would only need to set out a jigger and some bar spoons (browse my favorite bar tools). There is no other equipment needed!
You can also do this with other types of cocktails like margaritas, gimlets etc. but you may also need to set out a cocktail shaker and more ingredients. Take a look at the Gin and Tonic bar I set up for this adult birthday party idea.
8. Spirtz Central
A spritz is another simple type of drink that you can turn into many different things.
Since a spritz is usually made up of sparkling wine, club soda and some other flavoring you end up with a variety of drinks as a result.
People could enjoy a glass of straight champagne, or they could turn it into an Aperol Spritz.
The non-drinkers would have club soda plus some of the other flavorings you may have out like fresh citrus, berries and even fresh herbs.
This is a great idea for summer and to help stretch out how much wine you will serve.
When planning out drinks for your next event, don't forget about these fun party drink ideas!
You may also like these party posts