I love to make tasty drinks at home but don't have the space for a huge bar area. These are the essential liquors for a home bar that will allow you to make a ton of delicious cocktails whenever you want.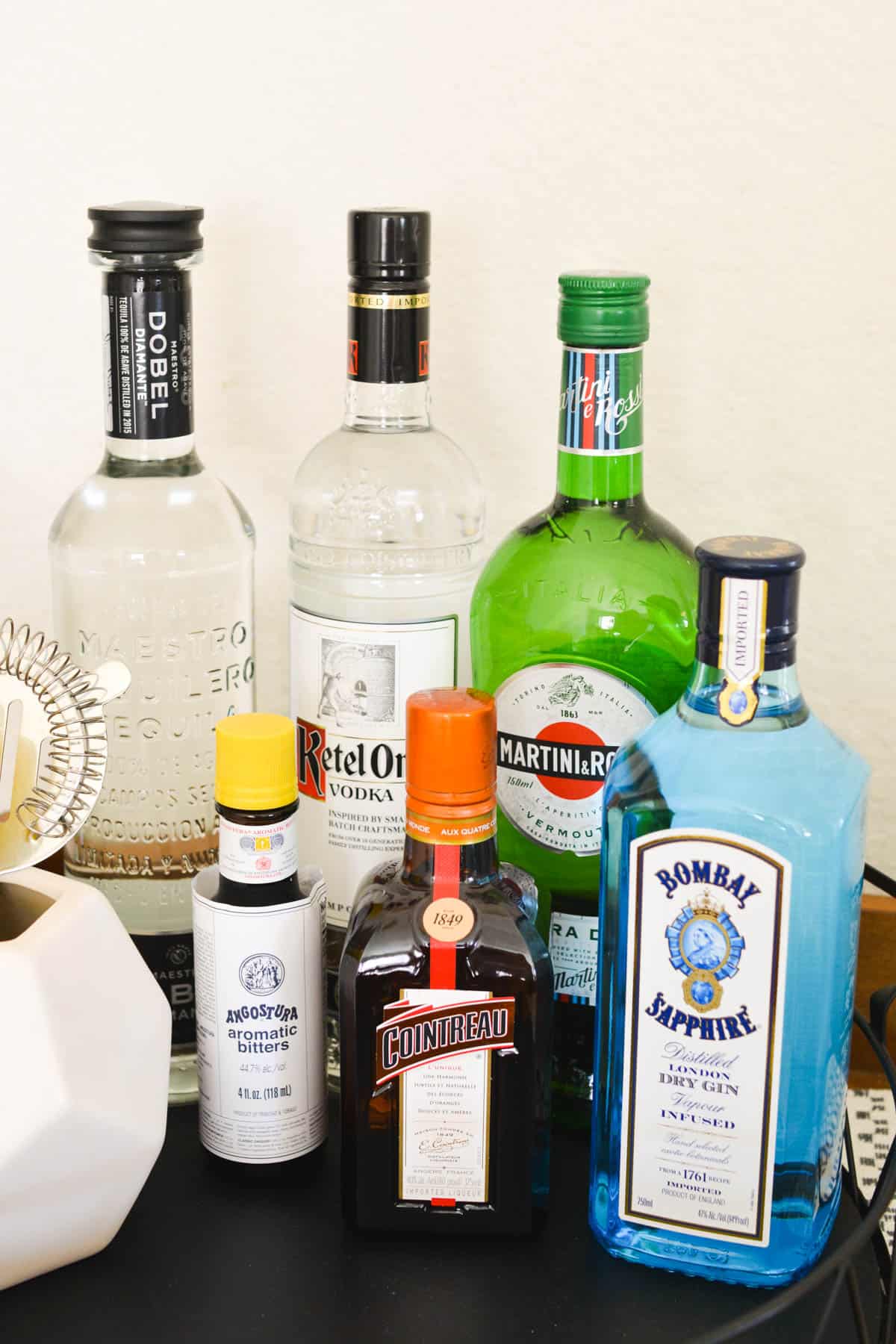 Setting up a bar in your home is a great way to ensure you can make tasty mixed drinks. But there's no reason to let it take over your house – especially if you don't have the space or want to buy a ton of ingredients.
From classic cocktails like a Vodka Gimlet to more creative drinks like a Spiced Rum Wine Cocktail, you'll be able to sip something tasty for every happy hour.
I am not an expert bartender, I just like to have a little fun and experiment with friends. These are what I think are the must-have liquor for an at-home bar.
Jump to:
Why this liquor
Whether you're trying to save space in your home or are just getting started setting up your home bar area, starting out with the essentials is a great idea.
Over the years, I have seen what I reach for most often and added what I felt like I needed and I think that can help you as well.
I think these are the most versatile liquor options, allowing you to create a variety of different cocktails (even just 2-ingredient cocktails!) without the need to run to the liquor store every time you entertain.
Liquor can be expensive so I think it's a great idea to figure out all the things you can make with one type of spirit so you'll actually get your money's worth!
With the help of these home bar liquor essentials, you'll be able to prepare tons of different cocktail recipes at home.
And since you only need a handful of bottles, your DIY home bar won't take up a ton of space in your house. These are the bottles that I think every basic home bar should have.
What Liquor to Start With
If you are building your bar from scratch or trying to help someone else start one, these 3 bottles are the ones you should buy first.
Vodka
Thanks to its neutral flavor, vodka is a popular liquor to have in your home bar. In fact, this liquor is used in more cocktail recipes than any other spirit. I have more vodka recipes than any other drinks on this site.
You can get away with using a mid-priced vodka especially when it's combined with mixers. It's also a go-to for making basic drinks like a Screwdriver or Bloody Mary.
But if you plan to make cocktails that showcase the flavor of the vodka itself, like Vodka Gimlet for example, it's a good idea to invest a little more money into your bottle.
What's great is that you can start basic and if you find that you really enjoy vodka, you can buy better bottles to replace your empties. Tito's is a great, reasonably priced bottle that is great to get you started.
Vodka Cocktail Recipes
Tequila
Making margaritas in your home bar is a must, which means you'll need to have some tequila on hand! Having one good quality tequila will ensure you have tasty liquor in your bar for easy cocktails or for quick shots with your friends (or a Tequila and Soda if you're not a shots kind of gal).
Just like with vodka, if you find that you really enjoy tequila cocktails, you can explore pricier bottles. But in this case, I don't suggest starting with lower-end tequilas due to additives and added flavors and terrible hangovers (you remember those from college right?).
Casamigos is a go-to brand that has a decent flavor. It isn't exactly considered traditionally made. If you are looking for a more authentic experience with agave spirits, follow Miss Agave on Instagram. She knows her stuff.
Tequila Cocktail Recipes
Bourbon
Having a good bourbon on hand is a good idea – especially if you're a fan of classic cocktails like a Manhattan or a Mint Julep.
A good bourbon will give your drinks a robust flavor, depending on the style and brand you choose. It's also a liquor that people tend to drink straight or over ice which means the flavor is important.
Bourbon and whiskey are a bit different but very similar. I prefer to keep a bottle of bourbon on hand, over whiskey.
There are strict standards for creating bourbon and I think they have a bit more flavor than a straight whiskey (a little bit sweeter maybe?). I think you can pretty much interchange either when making cocktails.
Legit bartenders and whiskey lovers may fight me for that last statement. And while there are "rules" when making cocktails I think it's okay to stray from them or make them work for you.
In terms of a good brand to buy, I think Bulleit is fine. It's reasonably priced and great in mixed drinks. Bourbon can get VERY expensive so I think while you are learning about liquor, you don't need to buy the "best."
Unlike some of the other liquor, you typically don't use the "good stuff" in a mixed drink. You would save that for sipping. So you may end up with 2 bottles of bourbon on your bar. But only if you are a connoissuer.
Bourbon Cocktail Recipes
Add These Liquors as Needed
Gin
Since gin has a very distinct flavor, it's not everyone's favorite liquor option. But that doesn't mean you shouldn't stock at least one bottle of gin in your home bar.
If you only plan to have one bottle, a dry gin is a good option because it's an essential ingredient in classic cocktails, like a dry martini or a Gin and Tonic.
Gin has a really lovely herbal flavor that makes it super refreshing. It has more flavor than vodka so it's not quite as versatile. But if you aren't sure about how much use you'll get out of a bottle, you can usually also use gin in place of vodka in recipes.
My favorite gin recipe is a Corpse Reviver No. 2. It's super easy to make and has this gorgeous flavor. It's perfect for warm days!
I don't know a ton about gin but I usually reach for Hendrick's. You can read this article on Delish about even more bottles and types.
Gin Cocktail Recipes
Rum
Since rum comes in a variety of styles and flavors. A clear or light rum is good for a variety of cocktails, like daiquiris and mojitos. But dark rum is great for making drinks with big tropical vibes.
That being said, I pretty much always reach for spiced rum. It is sweet and has spices like cinnamon and nutmeg. And I think it adds so much interesting flavor to cocktails. This Spiced Rum Cocktail with White Zinfandel is a must-try!
In my happy hour club, we enjoy Mai Tais from time to time. Those use both light and dark rum and are delicious. But we don't use my bar to make those. My neighbor is a big Mai Tai fan so it makes sense for him to house both bottles.
You know what you want to make better than anyone so it's your call as to which rum is the best for your needs.
Rum Cocktail Recipes
Specialty Liquor
On top of having classic liquor bottles in your home bar, it's also important to have a few specialty liquors on hand to make more unique drinks.
These bottles each have a very unique flavor and bring a totally interesting element to whatever you are making. These are bottles you won't use all the time (except if it's a key ingredient in your favorite cocktail). But they are also great for cooking or baking!
I like to stock bottles that I can use in different ways to make them earn their real estate.
Fireball
Thanks to its signature cinnamon flavor, Fireball is a stand-out. And while there are other cinnamon-flavored liquors on the market, this one is easy to find, reasonably priced and can be used for more than just shots.
It's super sweet and full of flavor and works with just soda (or even ginger ale) or in a variety of Fireball cocktails. And you can make my very favorite Fireball Cupcakes with it!
Fireball Cocktail Recipes
Kahlua
From a classic White Russian to decadent dessert drinks, Kahlua is a must-have ingredient. The unique coffee-inspired flavor makes the perfect addition to a variety of delicious drinks.
Kahlua cocktails tend to be richer in flavor and pair well with chocolate, vanilla and cream flavors. Plus we used to make Kahlua Fudge every Christmas when I was little with it. So yum!
Kahlua Cocktails
Cointreau
This orange liqueur is an essential ingredient in a variety of delicious cocktails like margaritas. It's a great way to add extra citrus flavor to a cocktail if it needs a little punch.
Cointreau is a brand name of orange liqueur but you can use Triple Sec if you prefer which is usually a little bit cheaper. I prefer the taste of Cointreau so I always have it on hand (I buy a mid-sized bottle). And while I typically only use it for margaritas, you can really use it in a bunch of recipes.
From Cosmopolitans to fruity martinis like a Lemon Drop cocktail, a small bottle will work unless you are planning to make drinks for a crowd.
You can use it in place of orange juice in a mimosa and you can also use it in desserts! Drizzle some on top of angel food cake for an adult version of strawberry shortcake.
Cocktail Recipes with Cointreau
St-Germain Elderflower Liqueur
A liqueur made of elderflowers, this flavorful liqueur is pretty special. The sweet floral taste adds magic to many classic drinks, like a French Gimlet (gin, St-Germain and fresh lime!).
Elderflower liqueur is great when splashed in a glass of sparkling wine. And it's tasty in boozy Elderflower Cupcakes as well!
St-Germain Cocktail Recipes
Tips for Stocking Your Bar with Liquor
1. Sample First
Many flavored liqueurs and specialty liquors can be found in the mini-bar sized bottles. This is a great way to try it out in a recipe or two to see if you want to purchase a full sized bottle.
These are also smaller so you can have a few of these on hand without taking up valuable space.
2. Share with Friends and Neighbors
Mi bar es su bar. Be willing to share what you have with others and they may do the same for you! Since making drinks can get pricey, we take turns hosting happy hour.
But if I am missing an ingredient for a cocktail recipe, I'll always reach out to the other participants first before heading to the liquor store.
3. Look for Sales
I try not to make snap decisions about buying liquor for my home bar. Instead, I decide on what I want to add and then start to look around.
I'll check Costco, Target, wine stores and even grocery stores before I decide where to buy it. If the price difference doesn't appear to be that great, you can buy it whenever.
Also look for unexpected places to buy liquor on sale. Sometimes the liquor discount you get in the grocery store works on wine and liquor. So when you're stocking up on your favorite wine, you can toss in a bottle of liquor then.
Also, when a local grocery store went out of business, they had their liquor department on sale. They didn't have everything but I did find Bailey's at a great price to make my White Russian Cupcakes.
4. Ask Around
If you have friends who also like cocktail culture, see if they have recommendations. This may lead to tasting things they have on their bar which not only lets you figure out what you might really enjoy, it can open the door for #2 above!
Be sure to talk about price points so they don't suggest a bottle that you weren't expecting.
Be sure to check out this post about stocking your bar with real-life tips from some home and beverage experts. (I share my tips for essential cocktail bitters.)
5. Make Your Own Flavored Liqueurs
As long as you have vodka, you can make a bunch of different types of flavored liqueur! From orange flavored vodka to amaretto, you can make a small batch of whatever you need as you need it. And with a little whiskey, you can even make some homemade Fireball.
Stocking your home bar doesn't have to be difficult! In fact, you only need a handful of essential liquors to get started. With these five liquors and four specialty ingredients, you'll be well on your way to creating an amazing bar for you to enjoy at home.
New to Making Drinks at Home?
Mixing drinks doesn't need to be overwhelming! Check out these posts that will help you get started making delicious cocktail and mocktail recipes without needing tons of ingredients or expert-level bartending skills.