With a few basic mixers for a bar at home, you can create a large amount of classic and craft cocktails with ease. And the best part? It won't take up tons of space. Read on to see what bar mixers I always have on hand and tips for corraling your bar in a small space.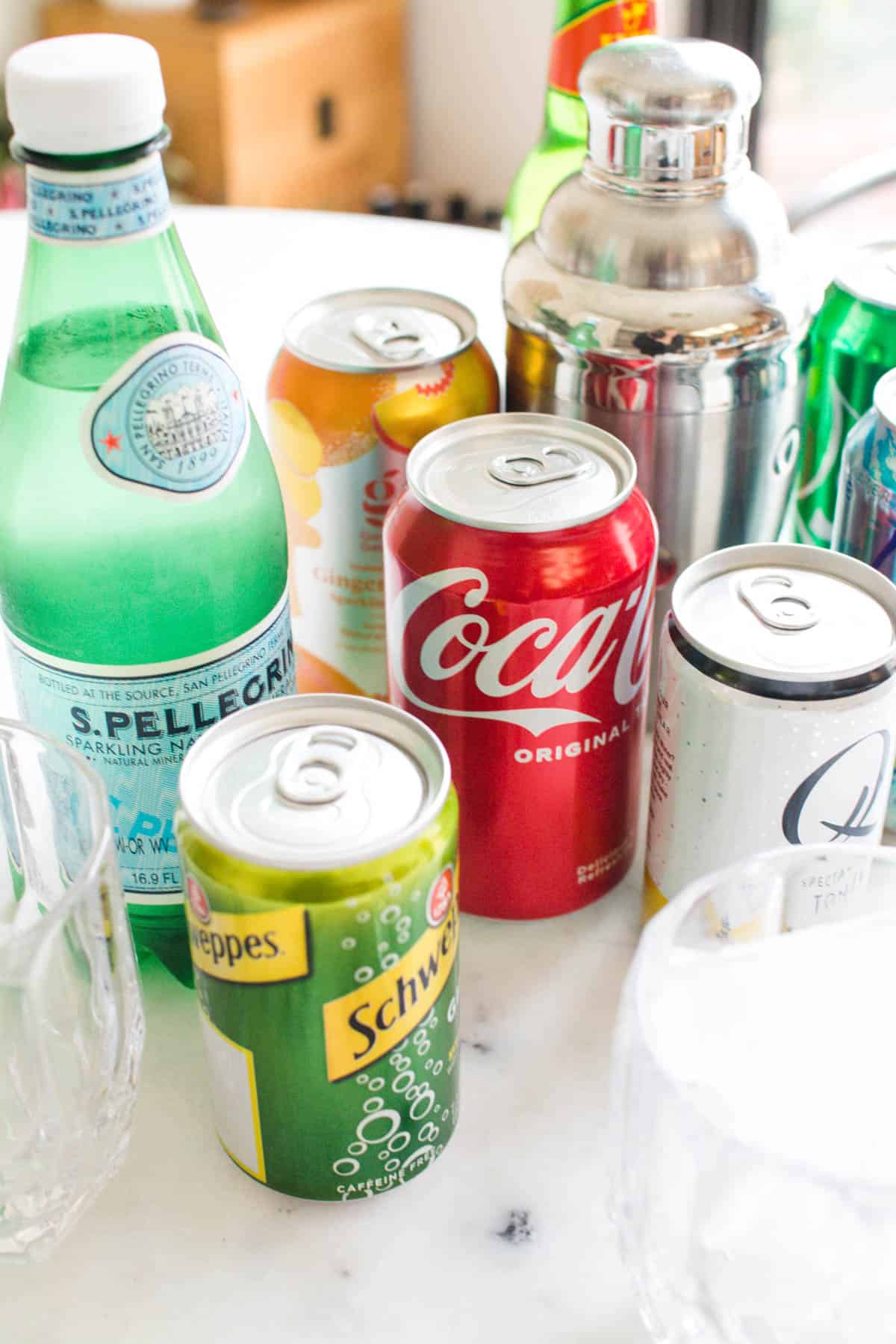 Jump to:
Why these are essential cocktail Mixers
The best cocktail mixers to have on hand will vary for everyone. Not everyone has the same space for a bar area in their home. Nor do they like the same cocktail flavors.
But if you like to share cocktails with your friends and family, having a stocked bar means you are always ready for guests.
Related: Spiced Cranberry Juice to use in cocktails and mocktails
Setting up a bar at home doesn't have to rival your favorite local watering hole (OMG, does that age me?).
With a little bit of guidance (from me) plus an understanding of your drink goals and what you like the taste of best, you can make tons of drinks by mixing and matching a few ingredients.
And that is how you figure out the best mixers to have on hand.
What are mixers?
Mixers are anything that you can pair with a liquor to create a mixed drink. And when stocked on your home bar, they allow you to make delicious cocktails without having to make a store run.
They can be fruit juices, sodas, just about anything that you can use in a drink to make a liquor go down a little smoother.
Why you don't need a zillion mixers
Since I don't have a ton of extra space in my house, I like to keep my home bar as small as possible. Not only is it a great way to conserve space, but it also encourages you to get creative when mixing drinks.
When it comes to stocking your home bar with mixers, there are a ton of different options to choose from. So, I'm not suggesting you need ALL of these mixers on your bar at all times.
These are the basic flavors that will help you make the most cocktails while still keeping your bar size pretty concise. What you keep on hand will be based on your flavor preferences and if you like to be able to offer a wide variety to any guests you host.
If you're having a party, you may add things. And obviously, if you are wanting to try out a new drink with an ingredient you don't have, you'll have to buy it. But with these basic flavors on hand, you can more than get started.
Basic Bar Mixers
The mixers below can pretty much be mixed with any liquor to create an easy 2-ingredient drink.
And once you figure out what flavors you like, you can tailor them even more to your needs.
To pick which mixers are right for your space so you don't have to buy all of these, decide what drinks you like most and start from there.
These basic mixers are a great place to start but change them up as needed or as you find new favorites.
Sparkling Waters
Using sparkling water is a great way to add some bubble and fizz to a cocktail without taking away from the other flavors in the drink.
You can pretty much mix any liquor with some club soda (for example, Tequila and Club Soda) and a squeeze of fresh lime for a super simple drink idea.
You can also use it to make a drink go a little further. The bubbles sort of counteract any dilution of flavor so it's great for topping off drinks (like a Vodka Mojito). That is not a legit bartender idea. That's a me idea.
Consider adding one or more of these sparkling waters to your home bar:
Club Soda – Club soda is water that is carbonated by injecting it with carbon dioxide gas and infused with added minerals. It's flavorless but super fizzy.
Sparkling Water – Sparkling water is naturally carbonated and often comes from a spring or well. It can sometimes be less fizzy than club soda.
Flavored Sparkling Water – Flavored sparkling water is naturally carbonated water with added flavoring. These are a great way to add extra layers of flavor to a simple drink.
Tonic Water - Tonic Water is carbonated water flavored with quinine to give it a bitter taste. I'm not a fan but it is a classic cocktail ingredient. If you love to drink a Blackberry Gin and Tonic, you may want to always have this on hand.
Ginger Beer
If you're a fan of Moscow Mules, having a ginger beer in your home bar is a must. But that's not the only cocktail you can make with this handy mixer!
Combine a good ginger beer with rum or Fireball for a quick and easy two-ingredient drink.
This is not the same as ginger ale. Ginger beer is non-alcoholic and has a bold ginger flavor and just a touch of sweetness.
It's also a great ingredient to use in mocktails because it has so much flavor! Try it in my Moscow Mule Mocktail recipe.
Ginger Ale
Ginger ale is another flavorful mixer to keep in your bar at home. Thanks to its distinct flavor, ginger ale is a simple way to add bubbles and a little spice to any cocktail recipe.
Ginger Ale is much sweeter than ginger beer and while I enjoy sipping this on an airplane, I don't keep this one in my back stock. I pick this up as needed.
While I love using club soda because it doesn't really add any extra flavor, ginger ale does. It's sweet and makes a simple 2-ingredient drink, like Tequila and Ginger Ale, delicious to sip on.
Coke
Since soda comes in a variety of flavors, the type and brand of sodas you add to your home bar will depend on the cocktails you enjoy drinking.
With its sweet cola flavor, you can use Coke to make a variety of quick and easy drinks. It's actually one of my favorite mixers!
You can swap out for another kind of cola if you're a psychopath. Pepsi is gross (my husband's choice). And a slightly different flavor option is Dr. Pepper (for a Dr. Pepper and Fireball drink).
Cocktails to Make with Coke
Lemon-Lime Soda
In addition to having cola on hand, it's also a good idea to include a lemon-lime soda in your home bar. Lemon-lime sodas, like Sprite or 7-Up, are perfect for quickly adding some carbonation, refreshing citrus flavor and sweetness to your cocktails and mocktails.
It's the perfect mixer for this Spiced Rum Float!
Mixers that add more flavor
The flavorings below can be used on their own with some liquor or added to liquor and mixer for more complex drink recipes.
Fruit Juice
Since fruit juice is sweet, you can often mix it with liquor for a simple drink. Orange Juice and Vodka, for example, is delish!
Having a variety of different fruit juices in your home bar means you can make a lot of different types of drinks.
These are probably the five most popular fruit juice mixers to have on hand. Pick and choose the ones you think you will need most often.
Plus, with all of the juices above, you can infuse them with spices to make them even more creative and delicious.
*Lime Juice! Fresh lime juice is essential but it's not really something that you can easily keep around. Do not use bottled lime juice. It's just not good. You should always squeeze the lime fresh in your drinks if at all possible.
I typically always have a few limes in my kitchen for simple vinaigrettes or cocktails. But I'll make sure I buy more if I know I'll be making a bunch of cocktails. (This citrus squeezer is THE BEST!)
Note: If you're a Bloody Mary fan, you may also want to keep tomato juice on hand. No matter how much I try to like them, I just don't. So it's a no for me on stocking tomato juice. If you like them, you may want to keep cans on hand.
Mixers that act as seasoning
Yup. Cocktails have ingredients that act as seasoning. Think of these like salt and pepper which makes a great finishing touch and brings out the layers of flavor in the drink.
I'm not sure that I would consider these mixers since I think a liquor and mixer could stand alone as a simple drink, but these really can take your cocktail from basic to magical.
Bitters
Bitters are essential and you just need a drop or two to finish off a number of classic cocktail recipes. Herbs and botanicals are added to a base spirit to add flavor and depth.
I love to drink Bitters and Soda when I want something super refreshing (with almost no alcohol). But it's also great in a classic Moscow Mule.
Vanilla Extract
It's not found in many cocktail recipes but I love to use vanilla extract! It's something most people have in their cupboard and it quickly adds a comforting flavor to any cocktail.
It's a great ingredient to add to tropical drinks or anything using spiced rum! Or you can use a Vanilla Simple Syrup instead.
Grenadine
I don't use grenadine all that often but I always have it on hand. It's super sweet and bright red so it creates gorgeous drinks like a Vodka Sunrise. While it's usually made from pomegranate juice, I think people associate the flavor more with cherry.
It's also great in kid's drinks. You can make a simple Shirley Temple or Cherry Fun Dip Mocktail. with just a little bit of grenadine and some lemon-lime soda (which can quickly become a Dirty Shirley with a little vodka).
Rose's Lime Juice
As I mentioned above, I prefer fresh lime juice for most of my cocktails. But the one exception is a Vodka Gimlet (or a tasty Cucumber Vodka Gimlet). Rose's lime juice is lime cordial which means it's sweetened. It makes sipping on chilled vodka quite delicious.
You can also use it in a Moscow Mule if you had to. This is an ingredient that can be found in lots of classic cocktail recipes, but I only use it from time to time.
Sweeteners
Simple Syrup
Simple syrup, whether you use store-bought or homemade, is the quickest way to add extra sweetness to a drink. Adding sweetness can help to balance a drink when it tastes a bit off.
It's also a great way to add additional flavors by using flavored simple syrups. I love to use Basil Simple Syrup for margaritas and Strawberry Simple Syrup for Strawberry Moscow Mules.
And if you need to make just one quick portion for one drink recipe, you can use my sugar cube simple syrup hack.
Maple Syrup
Maple Syrup is another great way to sweeten drinks with something you already probably have on hand. It has to be pure maple syrup (I wouldn't use the pancake syrup with all the additives).
I like to use maple syrup with whiskey or bourbon drinks because of the flavor.
Agave Syrup
Agave syrup is my favorite cocktail sweetener for tequila cocktails because tequila is also made from agave. I don't find that agave syrup has a super strong taste so it really does work in any drink recipe.
Honey
I like to use honey since it's a natural sweetener but it does have a distinct flavor that I don't think works for every drink. But if you have it, you can absolutely use it. It also may get firm when mixed with cold ingredients so it's not the best for mixed drinks.
I would say simple syrup and agave are the two I always reach for when making drinks.
Optional Mixers
Sour Mix
Sour mix can be store-bought and it is great for quickly making a Whiskey Sour or even a Margarita. However, I prefer a homemade sour (a mix of water, sugar, and fresh lemon and lime juice) because the flavor is so much better.
The sour mix also usually comes in a larger-sized bottle and must be refrigerated once open. Thanks to preservatives, it does last for a while but it takes up too much room in my fridge for a sub-par drink experience.
Vermouth
I am not a martini fan, but if you are, Vermouth will probably be much higher on this list! While you can find it in a variety of cocktail recipes, it's not a flavor that I seek out. So for me, I skip it.
Tips
For the most part, I say skip big bottles of mixers. When purchased in smaller bottles, you will waste less when making only one drink and the unopened bottles will stay fresh and ready to grab in your storage area.
You can find larger bottles (like a 2-liter or a quart) of some of these mixers and they are a great idea when making drinks for a party or crowd. They are also less expensive.
If you like a more fresh cocktail, you can use fresh pressed juices. You can find tons of variety in most local grocery stores now or pick some up from your local juice store. (My Green Moscow Mule uses a green juice blend and it's SO good!)
Let me know if I missed your favorite bar mixer! Leave a comment and let me know how you use it to make several drinks.
As a home-taught drink maker, I love to learn new things. I'm no expert but I do know how to make a bunch of easy drinks and store my ingredients in a small space. Wishing you a lot of yummy cocktails. Cheers!
New to Making Drinks at Home?
Mixing drinks doesn't need to be overwhelming! Check out these posts that will help you get started making delicious cocktail and mocktail recipes without needing tons of ingredients or expert-level bartending skills.
More easy cocktails