Sometimes when you try a new cocktail it leaves a big impression. That's what happened when I had a Cucumber Gimlet in a restaurant a few years ago. It was refreshing, simple and full of cucumber flavor. I'd think about its clean and slightly sweet taste and wish I was sipping one on a breezy patio. Then I'd get lazy and go pour a glass of wine.
But when I had to make my own cucumber vodka for another cocktail idea, I knew it was a perfect time! If you love easy vodka recipes, you'll love this simple drink.

Easy mixed drinks are my jam. And this one is SO easy. It does take a few days to make the vodka at first but even that is crazy easy. Cucumber is one of my favorite cocktail ingredients. It pairs well with lots of other flavors and is refreshing and easy to work with.
I pretty much always have cucumbers in my fridge because it's one of the only veggies I can get my kids to eat regularly. And me too. I mean, it can't only be cocktails and desserts all the time, you know?
What's a Gimlet?
A Gimlet is a cocktail made with gin and lime juice. But it can also be made with vodka which is how I like them. It's typically 2 parts alcohol of choice to one part fresh lime juice but it can sometimes also have a splash of soda. And sometimes simple syrup.
How to Make A Cucumber Gimlet
Ingredients:
2 oz. cucumber vodka (homemade is so easy – just follow this DIY Flavored Vodka tutorial and swap the oranges for cucumber)
1 TBSP Rose's Lime Juice
Lime Wedge
2 slices cucumber
Although a traditional gimlet has 2 parts alcohol to 1 part lime, I switched it up a little because of using Rose's lime juice. The Rose's is a little bit sweeter than fresh lime juice. And since this recipe is mostly alcohol, I wanted just a touch of sweetness. I didn't do a full ounce of Rose's lime because I don't like things overly sweet. This added the perfect touch.
I still added a little bit of fresh lime, since fresh lime juice makes EVERYTHING better. And the fresh cucumber helps round everything out even a little bit more.
I don't love flavored vodka unless it's homemade. The only flavored vodka that I've ever liked is the Cucumber Vodka from Skinny Girl. So if you don't have a few days to make your own, just pick up a bottle of that!
You can also use plain vodka, with a few extra slices of cucumber, but you might not get enough flavor to be able to call this a cucumber gimlet. It just won't have the same flavor profile that I love about this drink. But I get it. Sometimes a girl has to do what a girl has to do to avoid making a trip for the store.
Steps:
Add the 2 slices of cucumber and lime juice wedge to the cocktail shaker.
Muddle them to break up the fruit and release their juices.
Add ice to the cocktail shaker.
Add vodka and Rose's lime juice.
Shake well and strain into a glass.
If you murdered the cucumber with the muddler, you might end up with some bits and pieces floating around in your cocktail. I don't mind that. If you do, you can use one of those extra cocktail strainer things. You know, the cocktail tool that everyone has in their drawer but never uses??
Top it with a simple garnish of a slice of cucumber. And you're all set.
M0re Cucumber Drinks to Try:
Printable Cucumber Gimlet Recipe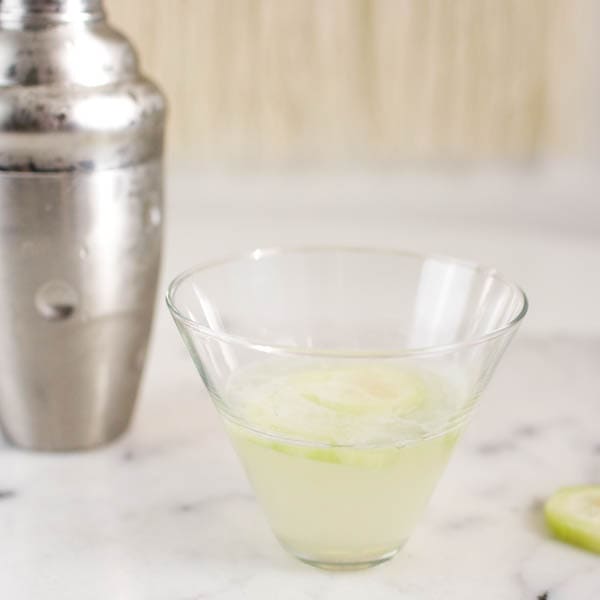 Cucumber Gimlet Recipe
This easy vodka cocktail is refreshing and full of yummy cucumber flavor!
Print
Pin
Rate
Ingredients
2

oz.

Cucumber Vodka

(DIY or Skinny Girl Cucumber Vodka)

1

TBSP

Rose's Lime Juice

1

wedge fresh lime

2

slices

cucumber
Instructions
In a shaker, add the cucumber slices and a wedge of fresh lime.

Muddle the cucumber and lime juice.

Add ice.

Add vodka and Rose's lime juice and shake well.

Strain into a glass.

Garnish with cucumber.
Nutrition
Serving:
1
Servings
|
Calories:
164
kcal
|
Carbohydrates:
17
g
|
Protein:
2
g
|
Sodium:
7
mg
|
Fiber:
3
g
|
Sugar:
5
g
Pin This Gimlet Recipe for Later
Do you love a gimlet or do you find them to much liquor? The Rose's lime juice really helps to make them more drinkable in my opinion. This Cucumber Gimlet is simple to make and smells amazing.