With just 4 ingredients, this easy Lemon Drop Cocktail is simple and delicious! With vodka and a sugared rim, this citrusy drink is perfect any time of year. Shake one up in just minutes!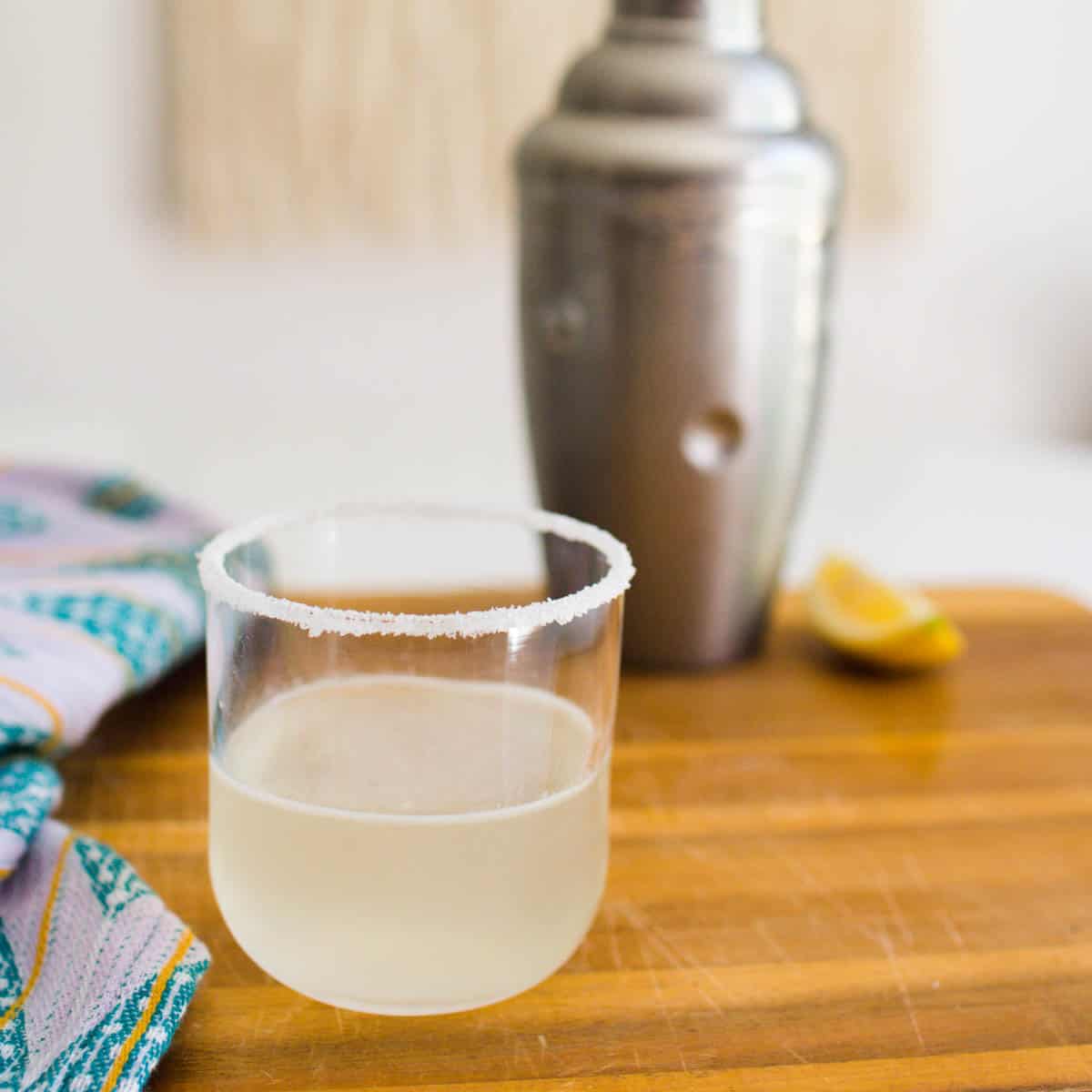 It has taken me YEARS to figure out what type of cocktails I really enjoy. But a Lemon Drop Cocktail was something I always ordered when we went out dancing. Like, 200 years ago.
At the time I had no idea just how easy they were to make, but I knew I loved the bright flavors and it was very easy to drink. Plus I am sure it made me a better dancer at da' club.
Why this recipe works
Lemon is a classic flavor that works really well with vodka. And orange liqueur is an easy way to add another layer of flavor to this Lemon Drop Cocktail. (You may also like this Vodka Gimlet!)
A sugared cocktail rim is a fun way to jazz it up and add another touch of sweetness.
Using just a cocktail shaker, there are no other specialty tools required making this Lemon Drop a great vodka recipe to make at home.
This lemon vodka cocktail is a great one to serve to guests when you don't know their cocktail preferences. Just don't get caught drinking these too fast. You'll end up dancing on the tables for sure.
Looking for more lemon-forward cocktail recipes? Try these! Lemonade Moscow Mule, Corpse Reviver No. 2, Lemon Pellegrino Vodka Soda, and Rosé Lemonade.
Ingredient Notes
Any type of vodka will work in this lemon cocktail recipe. No need to buy something fancy. Just use what you already have at home.
If you need to buy a bottle, don't break the bank, but don't buy from the bottle shelf either. Finlandia is a fine choice as is Tito's! Or use a flavored variety like my DIY Orange Vodka.
Store-bought simple syrup keeps everything super easy when making a Lemon Drop Cocktail. But you can also try making your own simple syrup (if making a bunch of cocktails) or this Cheater Simple Syrup for One Cocktail. To add even more flavor you could use a flavored sweetener like my Basil Simple Syrup.
I used Cointreau orange-flavored liqueur because it is what I had at home, but you can substitute another brand or use Triple Sec (which is much more affordable!). The flavor will vary slightly but won't be a huge difference.
Fresh lemon juice is a MUST! Bottled just doesn't have that same zing and is really what gives this lemon vodka cocktail its flavor. In a cocktail emergency, you could use sweet and sour mix. But only do this as an absolute last resort!
How to Make a Lemon Drop Cocktail
You can skip the sugar rim on the cocktail glass if you prefer but it really does add a nice sweetness with each sip. Plus it's really easy to do.
Use a quarter of a lemon to rub on the rim of a short cocktail glass. Then dip the wet rim in a small pile of superfine sugar on a plate. Set aside until the cocktail is finished.
To a cocktail shaker add vodka, Cointreau, simple syrup and lemon juice.
Add ice and shake hard for 7-10 seconds. This should ensure that the drinks chills quickly and ice crystals form. This makes it extra refreshing.
Strain into the prepared cocktail glass and serve. Cheers!
This cocktail is great for the summer months and super fun to sip with family and friends that comes together quickly!
Tips and Tricks
Want to make this drink a little more dramatic? Muddle some fresh fruit or herbs into the cocktail shaker before adding the rest of the ingredients.
Love the flavor of lime even more? Swap out the fresh lemon juice for lime juice!
To make this Lemon Vodka Cocktail even more refreshing, make sure all your ingredients are chilled prior to mixing and strain into a chilled cocktail glass.
If you don't like your cocktails too sweet, cut back on the simple syrup and taste. Add more as needed to get that perfectly balanced sweet and tart flavor that you love best.
Don't want a full cocktail, you can turn this into a Lemon Drop Shot! (3/4 ounces of vodka, 1/2 ounces fresh lemon juice, 1/4 ounce of simple syrup. Mix over ice in a cocktail shaker and strain into a shot glass with a sugared rim.)
Frequently Asked Questions
How many calories are in this lemon cocktail?
Per the nutrition information in my recipe card, there are about 257 calories in this lemon vodka cocktail.
How many carbs are in a Lemon Vodka Cocktail?
Per the nutrition information of my recipe card there are 27 grams of carbs per serving size.
Can you use bottled lemon lemon juice for this recipe?
You can but fresh lemon juice will always taste better. There's nothing like that citrus flavor fresh from the lemon in this Lemon Vodka Cocktail.
What does a Lemon Drop Cocktail taste like?
It's a cross between a citrus martini and lemonade! There is sweetness from the simple syrup, but you'll absolutely notice the vodka. It's refreshing, sweet, tart and refreshing!
Can you batch this recipe?
For best flavor, I would mix up the fresh lemon and simple syrup in a larger batch and chill until needed. Then I would mix that with vodka, orange liqueur and ice when it's time to serve.
This Lemon Drop Cocktail is a fast mixed drink recipe that is loaded with Lemon flavor. Make, pour, and enjoy!
Related Recipes
Or browse my cocktail collections: Easy Cocktails to Make at Home, Moscow Mule Variations, and Wine Cocktails, Fireball Cocktails, Cocktails with Bitters, Cocktails Made with Coke.
Lemon Drop Cocktail
With just 4 ingredients, this Lemon Drop Cocktail is quick and easy and totally refreshing. Fresh lemon juice and vodka get a boost of flavor from Cointreau for a sweet and tart cocktail that pairs perfectly with a sugared rim.
Print
Pin
Rate
Instructions
Use a quarter of a lemon to rub on the rim of a short cocktail glass. Then dip the wet rim in a small pile of super fine sugar on a plate. Set aside until the cocktail is finished.

To a cocktail shaker add vodka, Cointreau, simple syrup and lemon juice.

Add ice and shake hard for 7-10 seconds.

Strain the cocktail into a prepared glass and serve immediately.
Notes
Want to make this drink a little more dramatic? Muddle some fresh fruit or herbs into the cocktail shaker before adding the rest of the ingredients.
Love the flavor of lime even more than lemon? Swap out the fresh lemon juice for lime juice!
To make this Lemon Vodka Cocktail even more refreshing, make sure all your ingredients are chilled prior to mixing and strain into a chilled cocktail glass.
If you don't like your cocktails too sweet, cut back on the simple syrup and taste. Add more as needed to get that perfectly balanced sweet and tart flavor that you love best.
Don't want a full cocktail, you can turn this into a Lemon Drop Shot! (3/4 ounces of vodka, 1/2 ounces fresh lemon juice, 1/4 ounce of simple syrup. Mix over ice in a cocktail shaker and strain into a shot glass with a sugared rim.)
Nutrition
Serving:
1
cocktail
|
Calories:
257
kcal
|
Carbohydrates:
27
g
|
Protein:
1
g
|
Fat:
1
g
|
Saturated Fat:
1
g
|
Sodium:
18
mg
|
Potassium:
52
mg
|
Fiber:
1
g
|
Sugar:
26
g
|
Vitamin A:
2
IU
|
Vitamin C:
11
mg
|
Calcium:
6
mg
|
Iron:
1
mg