This list of my favorite alcohol-infused cupcakes will help you find the perfect easy dessert recipe to make next time you want to serve a unique treat to the adults in your life. If you're a cocktail lover who also loves cupcakes, you need one of these in your mouth ASAP.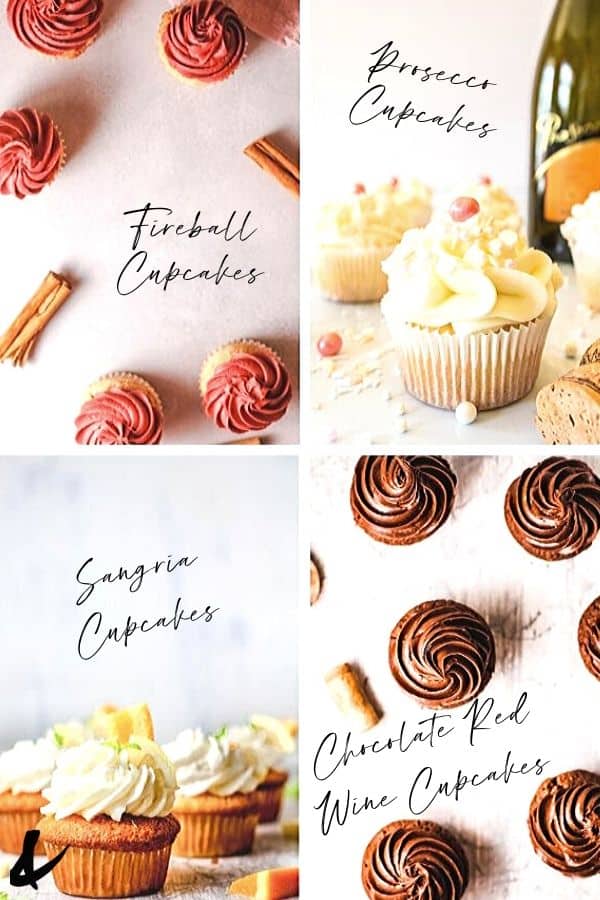 Jump to:
Alcohol-infused cupcakes to make now
I fell in love with Wine Cake many years ago and it opened my eyes to a whole new delicious world of baking. Desserts with alcohol have a unique flavor and really do make people's eyes light up!
So it was only natural that I would combine the two and come up with cocktail cupcakes! Adding liquor to cake isn't hard after all. And the flavor is YUM!
These boozy cupcakes contain alcohol in the cake and frosting. Adding liquor to cupcakes is a fun way to make an easy dessert that is happy hour friendly and perfect for any adult party.
Related: Chile and Chocolate Beer Ice Cream
99% of these tipsy recipes start from boxed cake mix and include additional flavors to make them alcohol-infused treats.
Spiked cupcakes can be infused with all kinds of liquors, like vodka and tequila, as well as liqueurs like Kahlua.
I think cupcakes have the best ratio of cake to frosting so they are my favorite dessert to make when I need a sweet treat. Making them booze-infused takes them from basic to boozy without any extra effort.
Next time you want to whip up a batch of your favorite cocktail, consider making one of these alcoholic cupcakes instead!
Boozy Drunken Cupcakes to Try now
This collection of Alcoholic Cupcakes are cocktail-inspired and (most) are made with a box cake mix. These easy spiked treats are a fun dessert to toast with at your next happy hour!
Which alcohol infused treats will you make?
Frequently Asked Questions
What do boozy cupcakes taste like?
To guess what these might taste like, just imagine your favorite cocktail recipe. While the cocktail-inspired cupcakes don't taste exactly like your favorite drink, all the flavors are there.

By adding the liquor and base cocktail flavors, you can enjoy a baked version of your go-to alcoholic beverage.
When would these cupcakes be appropriate to serve?
These easy liquor-infused cupcakes would be super appropriate for a 21st birthday party or any adult-focused party. And they couldn't be easier to make!
How do you add alcohol to cake mix?
There are a few ways to add alcohol to cake mix or cupcakes: Add the liquor to the cake mix batter before baking.

Soak the baked cake in the alcohol of your choice after baking. Include a little pipette of liquor for the person enjoying the cupcake to add on their own. You can also include your favorite liquor in the frosting.
Does alcohol bake out of the cupcakes?
Although there is a little bit of conflicting information, baking alcohol for at least 15 minutes will burn off some of the alcohol. Plus, the amount of alcohol you are adding to the rest of the cupcake ingredients will be spread out over the number of cupcakes you are making.
How much alcohol is in the frosting?
While there is liquor in the buttercream that isn't baked, the amount, mixed with the other ingredients and divided by the number of cupcakes you are making, isn't going to be too powerful.

In other words, it is unlikely that you would get drunk by eating an alcohol-infused cupcake. If you add the alcohol after they are baked or with a pipette, you would have more of a chance of feeling the effects of the booze. But you'd likely have to eat A LOT.
Can you make alcohol cakes?
Yes! Instead of using a cupcake tin, you could bake up alcohol-infused cake in a regular cake pan. I am not an expert baker but I am pretty sure the same recipe can be used. You can see more alcohol cake ideas at the bottom of this post!
Make some of these and you'll start to be known as the fun lady with the cocktail cupcakes.
As you can see, the sky is the limit when you want to spike your cupcakes with alcohol! Boozy cupcakes are a great way to turn your favorite cocktail into a boozy baked good!
Need an easier frosting idea? Try topping the cupcakes infused with alcohol with Cool Whip Frosting or Russian Buttercream instead.
More Liquor Infused Desserts
Alcohol desserts and alcohol cakes are right up there with the adult cupcakes I shared in this post. These recipes are great for parties too!