A cocktail garnish is the perfect finishing touch to any drink! It can make a plain drink look amazing and even enhance the flavor. Read on for easy drink garnish ideas to add a unique flair to every glass.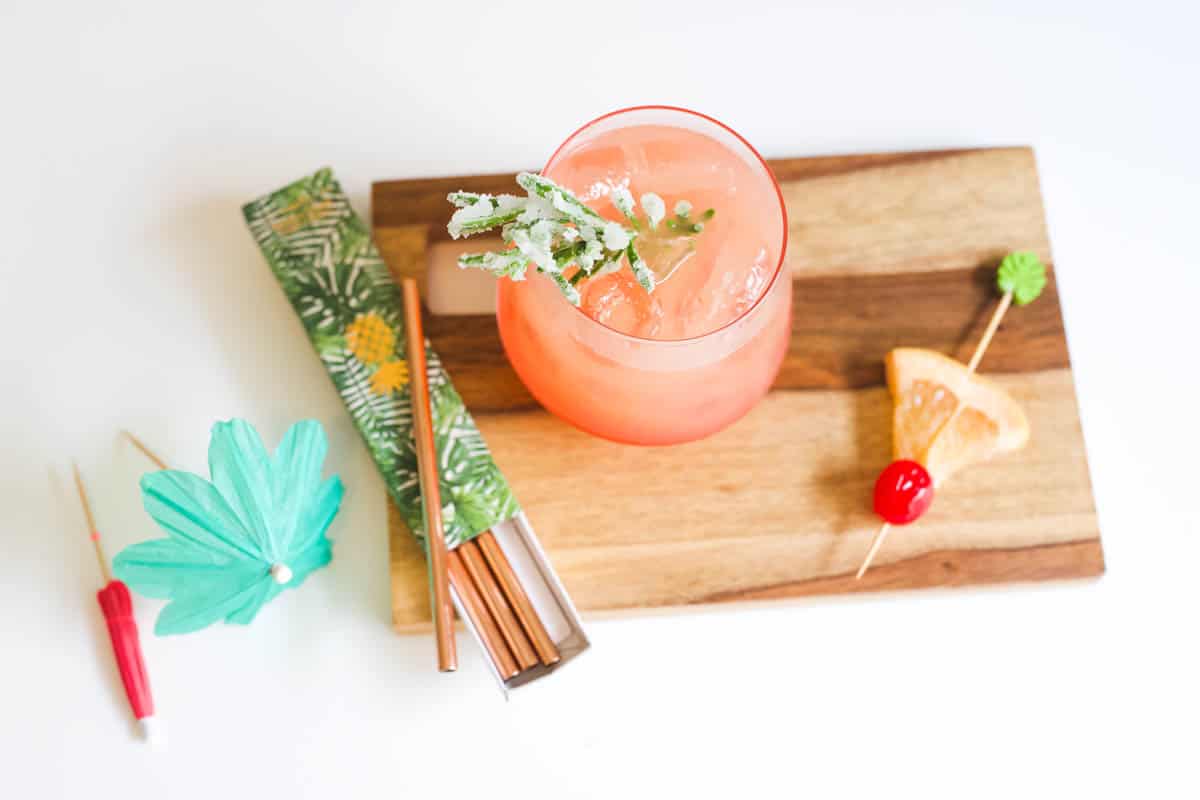 Adding a cocktail garnish might not be your top priority. But especially when entertaining, a fun garnish can add to the overall sipping experience.
And even if you aren't an advanced cocktail maker, you can use one of these garnish ideas to make any cocktail look amazing.
Jump to:
Cocktail Garnish
Garnishing a cocktail adds to the overall presentation of a drink. It gives it some extra pizzazz and makes it feel a little more special.
When possible, the drink garnish should include an ingredient already found in the recipe. For instance, a margarita could have a lime wedge since there is lime juice in the drink. Or a Fireball drink could naturally have a cinnamon stick.
BUT, I like to break cocktail rules. Especially when mixing up drinks at home. I've learned over the years that fresh herbs pair really nicely with citrus flavors. And an edible flower always looks awesome on a cocktail.
So use this post to give you some easy cocktail garnish ideas. Is this list everything you could possibly think of? No. But I'm a fairly lazy cocktail garnisher (as in, I pretty much only garnish if I'm handing the drink to someone else).
These ideas are easy and great for beginners. Legit bartenders and overachieving home drink mixers can do some really elaborate garnishes. These are to get you started. Because really you're probably more interested in the drink anyway...
And keep your eyes out next time you're enjoying happy hour out on the town. You can usually recreate things you see pro bartenders do at home!
Edible Cocktail Garnish Ideas
One of the best ways to garnish a drink is with an edible topper. Cocktail garnishes that can be eaten can provide aromatics, making the drink more enjoyable to the senses, and helping bring out the flavors in the drink.
1. Fresh Herb Garnishes
Top a drink with a leaf from a complementary fresh herb, like mint or basil, to add more flavor and scent.
As seen in my Hibiscus Mule cocktail above and in my Vodka and Apple Juice drink, a fresh herb garnish looks festive but is SO simple.
2. Fruit Garnishes
Any drink featuring fruit juice can easily use a fruit garnish. Or you can take the flavors found in the liqueur your recipe calls for as inspiration for your fruit garnish.
Fresh lime juice is a hugely popular cocktail ingredient so when all else fails, add a lime wheel or wedge!
You can use a small pairing knife to create a slice in the middle of the fruit and hang it on the side of the glass. Or simply float it on top. It couldn't be easier.
For larger fruit like grapefruit or oranges, I like to cut a slice, then cut the slice in half, then cut out a smaller wedge, maybe even a quarter.
3. Citrus Spiral
The peel of any citrus fruit is the perfect way to add an aromatic scent to your cocktail and you can take this garnish idea up a notch by making it into a citrus spiral to dress up a fruity cocktail.
There are several ways to do this but the easiest is to cut a slice of citrus, remove the fruit from the inside, then twist the peel into a spiral.
Related: How to Make a Citrus Twist
4. Candied Fruit Garnish
The orange slice I used for this easy cocktail is a candied orange slice. I always keep my eyes open when I'm shopping to see what unique things I can find that would easily garnish a drink.
Trader Joe's sells these in their nuts and dried fruit area and they look awesome AND taste great!)
5. Dried Fruit Garnish
Another variation of a fruit garnish is using dried or dehydrated fruit. You can either make your own or buy them ready-made. Trader Joe's has freeze-dried strawberries which would be fun to sprinkle on a Strawberry Sauvignon Blanc Martini.
You can also easily find dried fruit on Amazon.
6. Sugared Fruit or Herbs
You can take just about any fruit or herb garnish and make it a sugared garnish. This is an especially awesome idea for holiday cocktails (see my Vodka Cranberry). Sugared Rosemary is easy to make and reminds me of a Christmas Tree.
It's a super festive cocktail garnish idea.
7. Fruit Cut Outs
Use a cookie cutter to cut out shapes from a large piece of fruit (like watermelon or dragon fruit)or simply slice the fruit in a unique way before putting on top of the glass.
Star fruit is a great option because it looks special and you didn't even have to cut it out! It's great for tropical drinks.
8. Vegetable Garnishes
If you've ever had a Bloody Mary, chances are you've had a vegetable garnish in the form of celery. You could also include a cherry tomato, a cucumber slice (is that a fruit??), or even a pepper (like I do in my Serrano Margarita).
9. Edible Glitter
Add some sparkle to your drink by adding edible glitter! You can mix it into the drink while you are making it or dust it over the top before serving.
And while this post is all about cocktail garnish, you could easily add this to a kid's drink too! Tell me they wouldn't LOVE it!
10. Edible Drink Confetti
Add some fun shapes to your sweet drinks with the help of edible confetti. I used to make my own, but I think the sugar sheet formula changed and it melted instantly the last time I tried.
Until I revamp that tutorial, you can buy edible drink confetti. The hearts (here are other options) I used aren't on Amazon, but you can find them at the grocery store or Michael's.
11. Custom Drink Toppers
If you're hosting a party or shower, you can buy custom drink decorations. These edible garnishes sit on top of the drink and are printed on edible sheets.
These are really a show-stopper and make the guest of honor feel super special.
12. Edible Flowers
Use edible flowers to add color and delicate decoration to your drinks. In the photo above I used dried petals which are easier to keep on hand since they aren't living. They come in a variety of colors and you can add them to virtually any kind of drink.
*This is the pack that is pictured above.
Fresh edible flowers really give a wow factor, but they are much harder to find. I usually grab them from my local Gelson's store and I can sometimes find them on Amazon Fresh.
13. Prepared Food Garnish
Add a snack to the top of your drink to make it playful. Cookies on the top of a chocolate-flavored drink or bacon and fried food garnishing a Bloody Mary would really add a smile to someone's face.
14. Pickled Foods
Dress up a salty drink, like a martini, with pickled garnishes like olives, mini pickles, or cocktail onions.
I can even see using pickled green beans or asparagus for an upscale garnish on gimlets, etc.
Use one of these garnish trees to put a bunch of different types of veggies in a drink!
Decorative Drink Garnishes
Not all garnishes need to be edible. You can also upgrade the look of your cocktail with decorative elements. These drink garnish ideas are a great way to add a pop of color or holiday decoration to a plain drink.
15. Decorative Picks
Instead of placing the garnish directly on the rim of a drink, you can use a pick and make it more of a 'skewered' effect.
Toothpicks work, but decorative picks are another way to add flair, especially if you are making a themed cocktail.
Consider using a fresh herb as the skewer (rosemary works great for this because of the thick stem!) for even more flavor!
16. Cinnamon Sticks
Garnish with a cinnamon stick to add some spice and aroma to your cocktail. As I mentioned above, any drink that has cinnamon in it makes sense for a cinnamon stick.
So drinks with Fireball Cinnamon Whiskey or the spice like in my Spiced Clementine Margarita make sense.
But cinnamon sticks make sense in the fall and really could work with anything that pairs with cinnamon like a White Russian, or even this Winter Daiquiri.
17. Paper Umbrellas
Give your drink a tropical flair with the help of a paper umbrella. These toppers are nostalgic and kitschy and just plain fun!
These are great to use for any kid's drink and of course, any drink that has tropical flavors (like this Spiced Rum Float).
You can even add some fruit to it and use it as a skewer. These come in all kinds of styles so you can match it to any party decor.
18. Drink Stirrer
Add a decorative drink stirrer to your cocktail to help your guests mix their drink with a little bit of style.
You can find plastic drink stirrers on Amazon. They often come in themes and you can pretty much find one for any holiday or party idea.
I had these custom made which is a really fun idea for a special event or to just keep on your home bar. The ones shown above are no longer available but Delovely Details has some great options.
19. Glass Decoration
Like the drink stirrers above, you can find lots of glass decorations.
I found these laser-cut hearts on Etsy and think they are so cute! This exact one is no longer available but here are some similar hearts.
Kitschy plastic swords or plastic monkeys are also a fun cocktail garnish idea. They are whimsical toppers that bring a smile to anyone's face.
20. Metal Cocktail Straws
Skip the plastic or paper straws and add a sleek look to your cocktail with the help of a mini metal cocktail straw.
These straws are usually on the shorter side and fit perfectly in a short cocktail glass. These copper straws also add a nice bit of color to the drink and remind me of jewelry for your glass.
21. Mini Clothespins
Give your drinks a more rustic look with the help of mini clothespins as a way to hold your garnish in place. You can use them to clip a fresh flower to a glass.
Or, as you can see on the right, you can use the tiny clothespins to add on a snack (with a mini cone)! This is how my husband's drink was served at a local restaurant. So fun!
22. Holiday Fun
Get creative with your holiday cocktail garnish!
Cut off the ring from a plastic spider and place it on the glass of a Halloween cocktail. Or how about a little white cotton candy to look like spiderwebs?
These spooky vibes discs are a cute and creepy idea. And these Trapped Toppers make it look like someone is stuck in your drink!
These laser-cut garnish picks are perfectly suited for Thanksgiving.
Add a small round ornament to float on the top of a Spiced Cranberry Cocktail. (Don't use anything with glitter, and don't try to drink them, and make sure they aren't super toxic...)
Grab a small gingerbread house for a winter drink. Here's a cookie cutter to make your own. Or you can buy them ready-made at some of the big kitchen retailers.
Anything that you can turn into a "christmas tree" works - like rosemary, or a sour candy ribbon threaded onto a pick in the shape of a tree.
Cocktail Rim Ideas
Garnishes can be placed on top of the drink or on the rim of the glass to add visual appeal to the beverage. But you can also decorate the rim itself to add even more flavor to your cocktail.
23. Salt or Sugar
Salt and sugar are the two most classic cocktail glass rimmers. It's super easy to do and is a great compliment to most drink recipes. As most people know, salt is the go-to for Margaritas on the rocks.
And sugar is a great rim for sweeter martinis like a Lemon Drop.
Browse Amazon for all the different types of sugars and salts you can use.
24. Tajin
Tajin is a flavored salt with lime and chile peppers. A Tajin rim is great for cucumber margaritas and lots of other tequila cocktails.
Related: How to Rim a Glass 3 Ways
25. Chocolate
Rim a sweet drink in chocolate to give it a dessert flavor, especially if there is chocolate or coffee or something creamy like Bailey's in the recipe. A chocolate rim would be yummy on a classic White Russian.
26. Sprinkles
Add a fun look to your cocktail with the help of rainbow sprinkles on the rim. This type of rim is more about the look than the taste but would probably compliment most sweet cocktails.
Anything with vanilla vodka or chocolate would be great with a sweet sprinkle rim. I just used a little bit of vanilla frosting to make it stick.
27. Crushed Cookies
Turn your cocktail into a dessert by dipping the rim of the glass in crushed cookies. Again, this is more for show. But will really add a statement to something like a Black Russian.
These cookie crumbs would be great!
28. Rose Petals
Even if you are just enjoying a simple glass of champagne you can add a fun dried rose petal rim to the glass. Dried rose petals add color and whimsy and would be great on your girl's night.
And once you have the rose petals you can also make this Rose Petal and Sumac Goat Cheese Log.
Related: Rose Petal Rimmer
Tools to Make Garnishes
The above garnish ideas will absolutely get you started. But if you want to dive even deeper, there are a few tools that can help to make even more fun drink decorations.
This bar tool kit from Rabbit has 3 tools in one and you KNOW I love that for not cluttering up your drawers.
This two piece tool set will give you several options for making quick garnishes.
If you're really into this idea, this 8 piece garnishing kit is what you need! This might also be a great gift idea for the cocktail lover who has everything.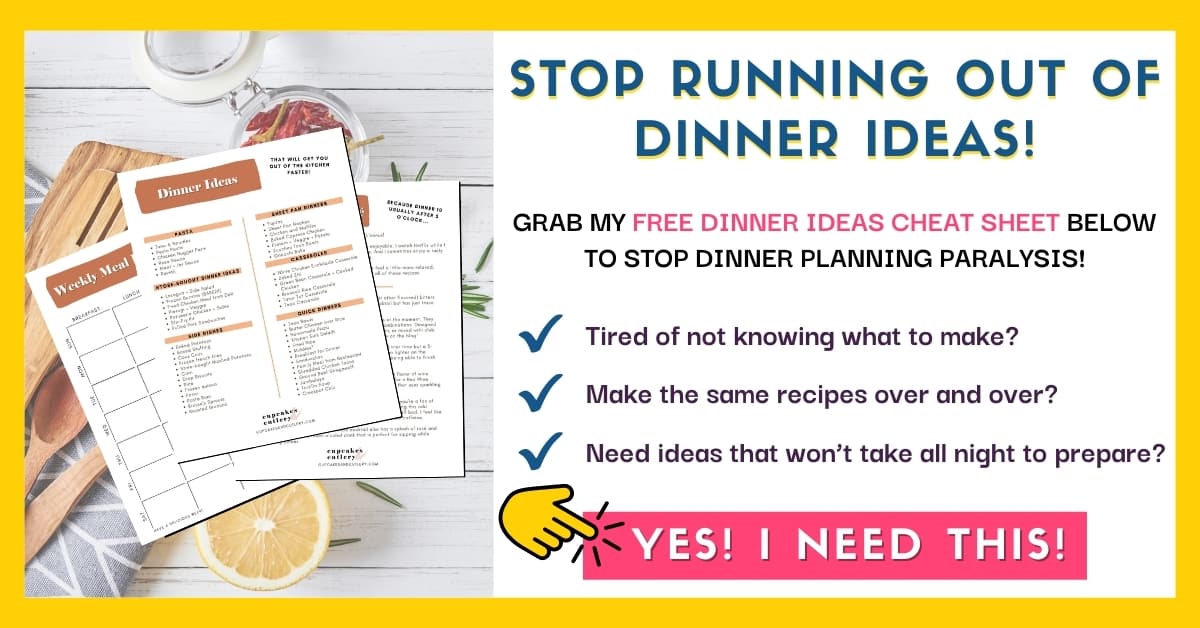 Tips
Size matters! Make sure that you aren't using anything that takes up too much space of the top of the glass. You don't want to feel like you are bobbing for apples when you are just trying to sip your drink.
For me, I love when I bring my drink to my lips and my nose is hit first (with the scent, not like it smacks your nose). Herbs and citrus are a great way to do this!
When using flowers, always be sure they are edible. You don't want to poison your guests, right? Herb blossoms are some of my favorite types of little flower because you get the best of both worlds. You can see an example in my Tequila Gimlet recipe.
Related Posts