Vodka and Orange Juice is easy to make and you probably already have both ingredients in your kitchen. This 2-ingredient Screwdriver drink recipe is perfect for lazy nights at home. It's one of my favorite vodka cocktails to make when I want something sweet and citrusy and super refreshing.
Sometimes the simple, classic cocktails are the best! And this vodka orange juice is delish!
Jump to:
Why you need this recipe
With only 2 ingredients it's hardly even a recipe! It's the perfect cocktail to make at home when you don't want to put in any effort or use any special drink-making tools.
One of my most popular posts is Vodka and Coke. So I figured this simple cocktail idea would be a big hit too.
This classic Vodka with Orange Juice cocktail is refreshing and fruity and also makes a great brunch drink idea!
Related post: 2 Ingredient Cocktail Recipes
This easy vodka orange juice drink is traditionally called a Screwdriver. To me, it has 70's vibes and I picture Jack Tripper sipping one on 3's Company. (Aging myself with TV shows in my favorite).
It's easy to add more flavors and make variations. With just a little grenadine, you can turn it into a Vodka Sunrise. Add a little cranberry juice and it turns into a madras cocktail.
Ingredients
A Screwdriver is just vodka with orange juice.
I am using potato vodka because I like to try all different types of liquor. You can also use a regular vodka, like Tito's if you already have it on hand.
I prefer to grab a store-bought orange juice without pulp for this recipe. But cold-pressed juice (using found in the refrigerated section near the produce) is also a great choice. It has tons of fresh orange flavor. And, of course, you can always use fresh-squeezed!
Step-by-step instructions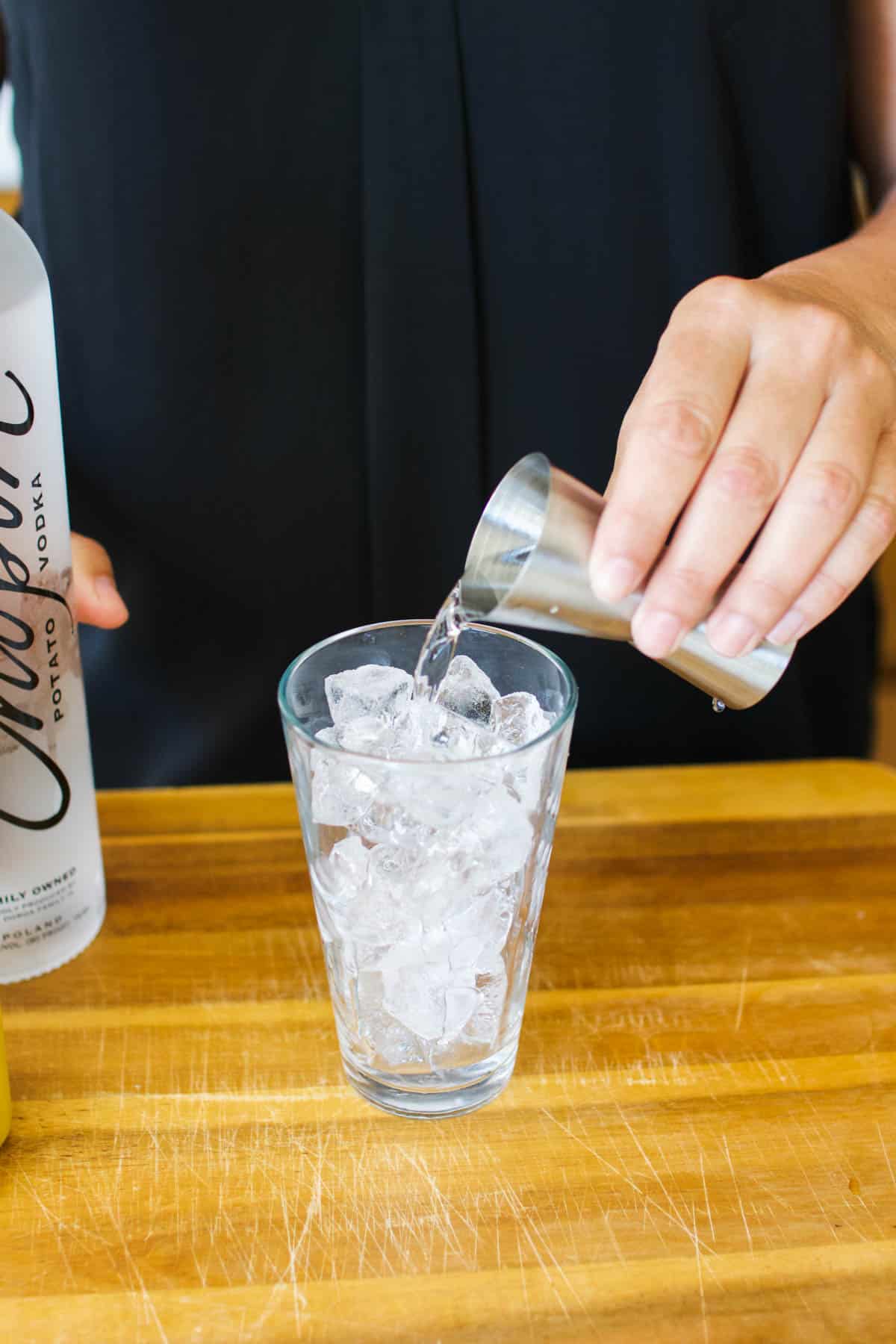 Typically, a Screwdriver is 1 part vodka to 2 parts orange juice. But I'm a little bit of a lightweight. So I use a little more orange juice.
If you like it a little stronger, just cut back on the amount of orange juice.
1. Add ice to a highball glass
2. Add the vodka
3. Top with orange juice
Keep in mind that a jigger is usually about 1 ½ ounces on one side and either ½ or ¾ ounces on the other side. So just make sure you know the measurements of the jigger you will be using.
So if following the "parts" recipe, you could do one jigger full of vodka to 2 jiggers full of orange juice. You could use either side of the jigger, as long as you're using the same side for both ingredients.
4. Stir
Before taking a sip, give the drink a good stir to combine the vodka with orange juice.
Because the drink is so simple, I like to add a few small edible flowers to garnish it. I love how the color pops off the bright orange juice.
Variations
Herbs - Just like I do with my Vodka and Apple Juice cocktail, you could add fresh herbs (muddled or just as garnish) to jazz it up a bit.
Fresh Juice - Serving this to a guest? Try using fresh-squeezed orange juice for a more craft cocktail feel.
OJ Ice Cubes - To keep dilution at bay, freeze orange juice in an ice cube tray and use those instead! You may want to add a little extra vodka if you do this.
Large Batch - It's easy to make large batches of this for a crowd! Just use a larger measuring cup using the one part to 2 parts ratio!
Flavored Vodka - Use vanilla or citrus vodka for another layer of flavor.
Fruit Infused - Muddle some fresh fruit in the bottom of the glass before adding the vodka and juice.
Frequently Asked Questions
What vodka is good with orange juice?
My favorite thing about OJ and Vodka is that you can use any kind of vodka you like! I used potato vodka for this recipe. Flavored or infused vodkas are also a great way to add even more flavor to your drink.

If you don't have Potato Vodka you can try Tito's, which I also really like!
What is potato vodka?
Vodka can be made from a variety of ingredients, including corn and wheat. But potato vodka is made from potatoes. It's just as great to use in cocktails. It is often made in Poland and is usually distilled several times to make the alcohol taste smooth.

Some people think Potato Vodka is better for you because it's gluten-free, has no sugar and low carb counts. But I'm not sure the difference is that major.
Why is vodka and orange juice called a screwdriver?
There's a lot of drink lore out there. One story goes that it was created by construction workers who added vodka to their morning OJ. Not having a spoon to stir with, they used a screwdriver. This seems to make sense, but I'm not sure if this story is 100% true.
More orange juice cocktails
Need even more cocktail ideas? Check out all my collections of Moscow Mules Recipes and Wine Cocktails.
Vodka and Orange Juice
Just 2-ingredients is all you need to create a refreshing and super simple Vodka and Orange Juice cocktail with tons of citrus flavor.
Print
Pin
Rate
Save
Saved!
Instructions
To a highball cocktail glass full of ice, add vodka and orange juice.

Stir.
Notes
If you are a light-weight drinker like me, you can add more orange juice. I typically do 1 ounce of vodka to 3-4 ounces of orange juice.
Add fresh herbs (muddled or just as garnish) to jazz this drink up a bit (You can see this in action in my Vodka and Apple Juice cocktail post).
Use fresh-squeezed orange juice for a more craft cocktail feel.
Freeze orange juice in an ice cube tray and use those in place of regular ice in this cocktail!
When making mixed drinks, you never need to use the best, most-expensive liquor. Choose a bottle that is reasonably priced that you enjoy the flavor of.
It's easy to make large batches of this for a crowd! Just use a larger measuring cup using the one part to 2 parts ratio!
Nutrition
Serving:
3
ounces
|
Calories:
91
kcal
|
Carbohydrates:
6
g
|
Protein:
1
g
|
Fat:
1
g
|
Saturated Fat:
1
g
|
Sodium:
1
mg
|
Potassium:
114
mg
|
Fiber:
1
g
|
Sugar:
5
g
|
Vitamin A:
113
IU
|
Vitamin C:
28
mg
|
Calcium:
6
mg
|
Iron:
1
mg
Whip up this delicious classic cocktail and try vodka with orange juice today!