Sweet, spicy and ridiculously easy, this 2-ingredient cocktail recipe is just right for chilly nights.
Fireball and Ginger Ale is a drink idea that pairs well with holiday cheer. No matter what holiday you're celebrating. If you love Fireball Cocktails, this might be the easiest!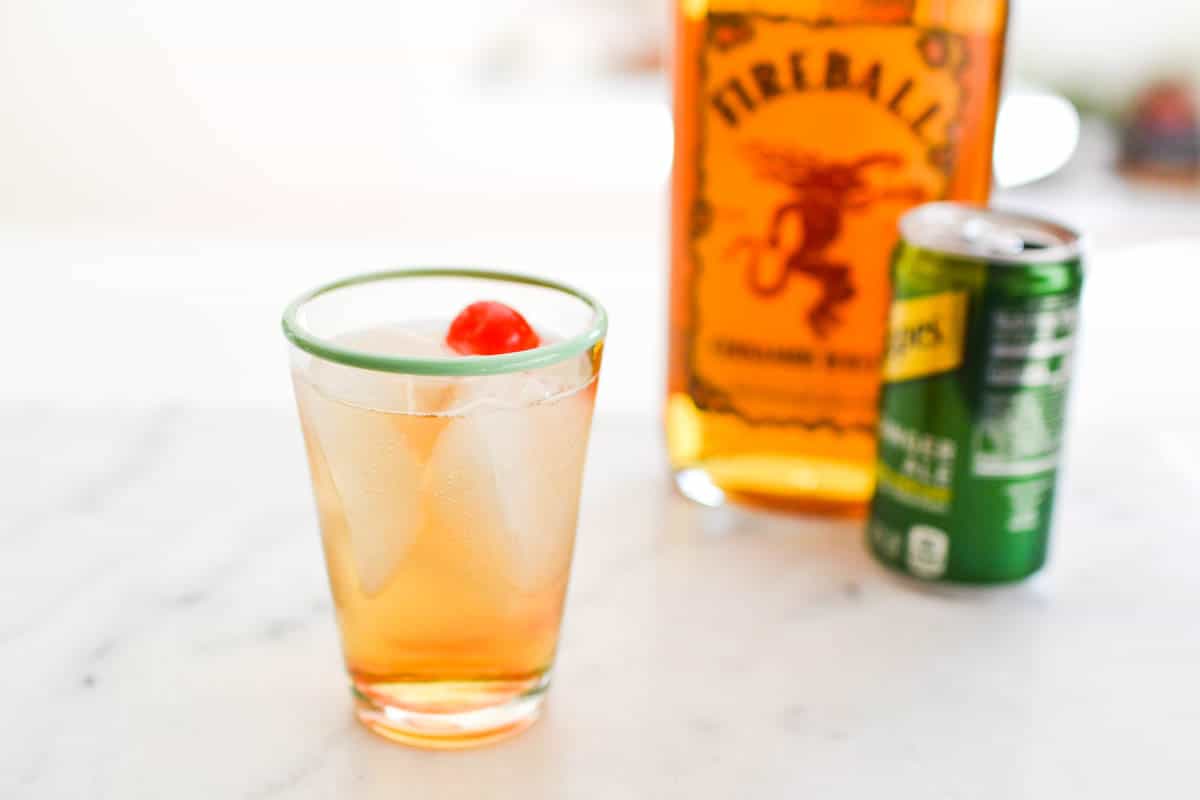 This post was originally published on November 12, 2020 and has now been updated with a few more details so you can make this perfectly every time.
Jump to:
Just 2 Ingredients
I'm not a shots kind of gal. Or at least I wasn't until I tried Fireball. The cinnamon whiskey has a touch of sweetness which makes it go down smooth.
I mean, it's going to burn. But it will be worth it. And it makes a great ingredient for simple cocktails. (Fireball and Dr. Pepper is also a MUST!)
In this Fireball Mule, it sings. And just so you know, it makes for a delicious Pumpkin Pie and can be infused in cupcakes too. That's a hard-working ingredient.
Not into cinnamon? Browse this list of Bourbon Cocktails for Christmas to find something else you might enjoy.
Can you mix Fireball with Ginger Ale
Yes! And you should. I love to look for 2-ingredient drink ideas. And Ginger Ale and Fireball is all you need.
Like Vodka and Coke, there's hardly a recipe. But the finished project is magic.
Does Fireball Ginger Ale Have a Name
I'm not 100% sure. I did a little bit of research and came across the name "Ginger Balls." I don't know who decided that. I don't know if it's accurate. But that is the name I found. I will never ever refer to that name again.
Ingredients
You can find Fireball Cinnamon Whiskey at most local grocery stores. As I noted above, you can make all kinds of cocktails and baked goods with it so the idea of buying a whole bottle is not an outrageous idea.
If you prefer, you can buy a small, air-line sized bottle at a local wine store. That way you can try it before you buy a whole bottle.
While I prefer to keep my home bar very simple but I do get quite a bit of use out of my Fireball.
Ginger Ale is a typical cocktail mixer and they now make it in these small cans which means there is less waste. Or, if you're having a party, you can buy a 2-liter bottle of it.
How to make Ginger Ale and Fireball Whiskey
To a short cocktail glass, add ice.
Top with Fireball whiskey then top with ginger ale.
A basic recipe would be 1 part of Fireball to 4-5 parts of ginger ale.
If you are unsure what a "part" is, it's when you use one measurement for both ingredients but keep a certain ratio. So if a "part" is 1 ounce, you would use 1 ounce of Fireball and 4-5 ounces of ginger ale.
Top it with a maraschino cherry and you're all set. Or even an orange slice would be fine. If you want to get extra fancy you could do a cinnamon stick.
It's spicy, full of cinnamon flavor yet refreshing at the same time. It feels just right for Christmas and holiday parties.
But it also feels right for a camping vacation. It's just that kind of drink.
Variations
You can add a little Cointreau to give it a hint of orange. Or you can add some amaretto for an almond kick. For being so simple it is pretty versatile.
And if this even feels like too much effort, on account of 2020, just do a shot.
What else can you mix with Fireball
Here are a few more mixers to make 2-ingredient Fireball cocktails.
Pepsi or Coke
Coffee
Lemonade
Root Beer
Ginger Beer
Related Recipes
A Corpse Reviver No. 2 is a gin-based cocktail that is super refreshing and one that you may have never heard of before.
A Strawberry Mint Moscow Mule is fruity and easy to make even when you have strawberries that don't look their best.
This Spiced Winter Daiquiri is one you need to try! With a hint of vanilla and some fresh lime, this delicious spiced rum cocktail needs to be tried!
Or see my collections of: Easy Cocktails, Moscow Mule Variations, Vodka Cocktails, and Wine Cocktails.
Fireball and Ginger Ale
Sweet and spicy, this 2-ingredient Fireball and Ginger Ale Cocktail recipe is quick and easy. The Cinnamon Whiskey brings the heat to everyone's favorite cocktail mixer.
Print
Pin
Rate
Instructions
Add ice to short cocktail glass.

Add 1 ounce Fireball Cinnamon Whiskey and 4-5 ounces Ginger Ale.

Give it a quick stir.

Top with a cherry.

Enoy!
Notes
Not sure if you want to buy a whole bottle of Fireball Cinnamon Whiskey? Pick up a few airline-sized bottles from your local wine or grocery store. That way you can try it out before you buy a whole bottle.
I like to buy as small of cans of ginger ale as I can. Since most recipes that use ginger ale just use a portion, I don't want the rest to go to waste.
If you're having a party, you can buy a 2-liter bottle of it which is way less expensive.
Want to get creative? Try one of these variations:
Nutrition
Serving:
1
drink
|
Calories:
109
kcal
|
Carbohydrates:
10
g
|
Sodium:
8
mg
|
Potassium:
1
mg
|
Sugar:
10
g
|
Calcium:
3
mg
|
Iron:
1
mg
Pin to save this Fireball and Ginger Ale cocktail for later.