This refreshing Vodka Mojito is the perfect cocktail to sip on a hot summer day!
With muddled mint and fresh limes, this simple, classic cocktail recipe stands out from the original by using vodka instead of rum.
Served over ice, this easy drink is one of my favorite vodka recipes to make all season long. It's easy to pretend you're on vacation while sipping one of these yummy vodka drinks.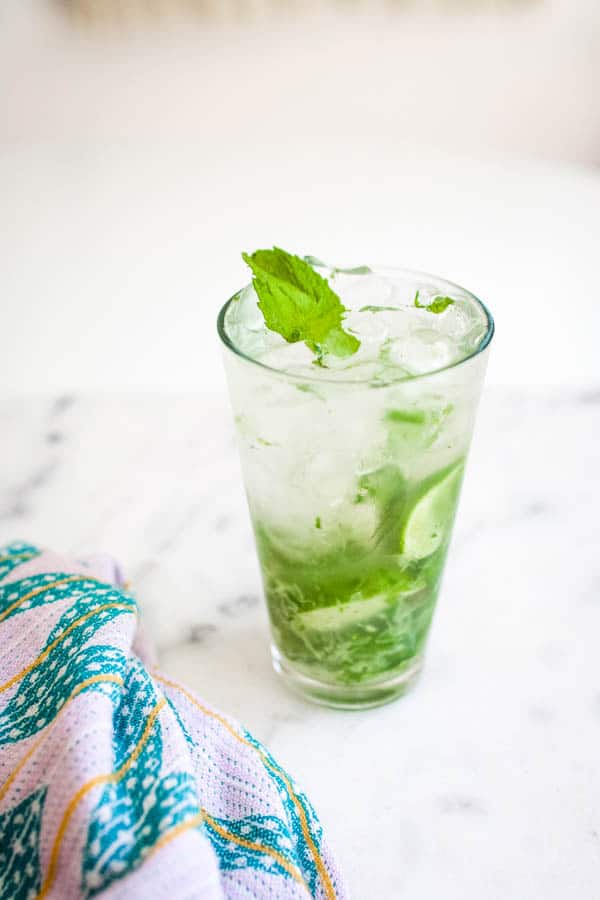 Some links in this post may be affiliate links. As an Amazon Associate in the Amazon Services LLC Associates Program, I earn from qualifying purchases by linking to Amazon.com and affiliated sites.
I also participate in affiliate programs for other retailers.
Can you make a Mojito with vodka?
Yes you can make a mojito with vodka. And you should!
It's amazing to me how a lot of cocktails have similar flavors. But just a few small tweaks, like using vodka instead of rum, can make them taste totally different from one another.
There are so many drinks I love that use lime and mint but his Vodka Mojito tastes nothing like the others.
I remember trying my first mojito at a bar years ago and I instantly fell in love. Over the years, I've played around with a variety of recipes (check out my Passion Fruit Vodka Mojito) but I always come back to this classic.
A Vodka Mojito is super refreshing
If you're looking for a cocktail to help cool you down, this is it!
I love to make a mojito with vodka because the vodka has such a neutral flavor. All the flavor in this drink comes from the fresh ingredients you are using.
The club soda helps to keep this really crisp and I love that you can control how much sugar you are adding so you can tailor-make this to your taste preferences.
Super sweet is not what I'm looking for on a hot day.
But this easy cocktail is one you can sip on and enjoy while life goes on around you.
How to Make a Mojito With Vodka
If you've ever ordered a mojito in a bar, you probably remember getting a little bit of side-eye from the bartender. It's not because these are hard. It's just that they take a minute to put together.
With all the easy drink orders like a glass of wine, an Old Fashioned or a Vodka Gimlet pouring in, the last thing they want to do it muddle your stuff.
Because I am an over-thinker (I know that bartender is going to have to deal with some real jerks over that shift so if I can save them the irritation of making a mojito I can gladly give them that gift) I hardly ever order these out any more.
Instead, I prefer to make this mojito recipe with vodka at home for friends and family.
Scroll down to find a printable Vodka Mojito recipe card with the full measurements and instructions.
Ingredients
vodka
sugar
mint leaves
lime, quartered
club soda
I prefer to use sugar in my mojitos. I think it brings out such a nice sweetness that compliments the tangy lime better than simple syrup. But you can totally use simple syrup if you prefer.
Cutting the limes into smaller pieces just helps you to muddle them better and get all the flavors and oils to be released.
If you don't have fresh limes, you can substitute Rose's Lime Juice. But only if it is a mojito emergency.
You would need to modify the amount of sugar in the recipe also since Rose's has a little bit of sweetness to it already.
The club soda is used to top off this mojito with vodka recipe. This is where you can make it how you like it.
If you want to dilute the vodka and sip on this over a longer period of time, add more club soda. If you don't love the bubbles, just add a splash. Do you!
Also, some people use Sprite instead of club soda. But that's gross. I would never make them that way. (Again, I don't love sweet things).
Instructions
In a tall glass, add fresh mint and quartered limes.

Add sugar.

With a muddler, muddle the crap out of the items in the glass. I like this muddler because it is dark wood which will hide stains from fruits and juices better. This one also has little pokes on the bottom that will make it easier to smoosh up your fruit and herb.s

Add the vodka.

Top with club soda.
Give it a quick stir.
Garnish your mojitos with vodka with fresh mint, a slice of lime or nothing and just drink the darn thing!
It is WAY cheaper to buy a 2-liter bottle of club soda, but if you aren't making a whole bunch of drinks in a relatively short period of time, it makes more sense to buy the smaller bottles so you always have club soda on hand.
But for a party, definitely get the 2-liter!
Are you a mojito fan?
I love easy cocktails to make at home that don't require a ton of special equipment or ingredients. Shoot, before I had a proper muddler I used to use the back of a wooden spoon or an ice cream scooper!
This easy cocktail is refreshing and easy to sip. If you want to enjoy a drink that will help you feel like you are on a tropical vacation, this is it!
More easy cocktails:
Printable Mojito Recipe with Vodka
Vodka Mojito Recipe
This refreshing Vodka Mojito Recipe is full of fresh lime and mint flavor and is the perfect thing to sip on a hot summer day!
Print
Pin
Rate
Instructions
In a tall glass, add fresh mint, quartered limes and sugar.

Muddle the fruit and sugar to release their flavors.

Add the vodka.

Top with Club Soda.

Give it a gentle stir.

Garnish with fresh mint, a slice of lime
Nutrition
Serving:
1
Servings
|
Calories:
153
kcal
|
Carbohydrates:
22
g
|
Protein:
2
g
|
Fat:
1
g
|
Sodium:
33
mg
|
Fiber:
6
g
|
Sugar:
13
g
Pin This Mojito Recipe with Vodka for Later
This Vodka Mojito is one you can make all summer long. But I will warn you, the fresh lime and mint flavor will make you want to book a tropical beach vacation.