This Aged and Charred Cocktail Smoker Kit comes with everything you need to easily smoke cocktails at home. This glass-top smoker gives a delicious and unique, smoky flavor to any cocktail you make in minutes!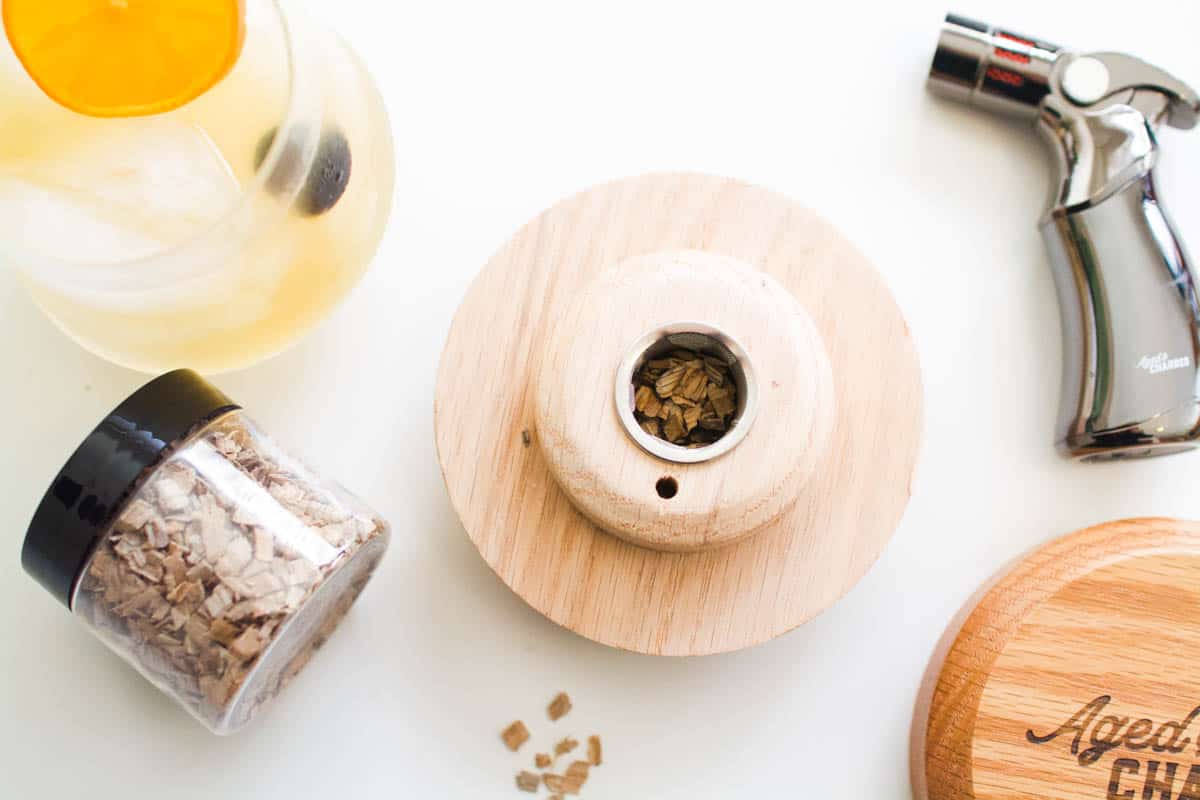 I was gifted a cocktail smoker kit from Aged and Charred. All opinions are my own.
Jump to:
Why this is the best cocktail smoker kit
This smoked cocktail kit from Aged and Charred is possibly the easiest way to smoke a cocktail at home. It's easy to use and small enough to store in your small home bar.
While I don't typically add tools to my small home bar, smoked cocktails are delicious. Other cocktail smoking kits are bulky, use tubes, and seem intimidating. But this one is so easy to use!
Related post: Essential Bar Tools
This is the best cocktail smoker kit to create tasty, smoked cocktails at home and it only takes a few minutes. The kit comes with everything you need and you won't need a science degree to make a delicious drink.
It also makes a great gift idea for friends who love cocktails!
What's in the Aged and Charred Cocktail Smoking Kit
Aged and Charred has made making specialty cocktails at home more accessible with its cocktail smoker top.
The kit has everything you need and it's ready to use almost right out of the box.
Aged & Charred Smoke Lid (two pieces)
Wood chip filter
Oak wood chips
Culinary torch
Butane
The kit fits on a large variety of glassware sizes and styles so it's versatile.
The kit I received came with oak wood chips but Aged and Charred also has a variety of wood chips to experiment with.
How to Smoke a Cocktail
Step 1
Fill the torch with butane.
I admit that I was a little intimidated by the butane at first, but I just followed the directions in the box and it was easier than I thought it would be.
Step 2
Remove the lid of the glass-top cocktail smoker.
Place the bottom piece on top of your cocktail glass. (In the photo above).
Step 3
Add a filter to the center of the smoker.
Step 4
Add the wood chips. In this case, I used oak pieces.
Step 5
Use the torch to burn the oak pieces.
Step 6
When you see the smoke dropping into the glass, put the lid on.
Let it sit for several minutes.
Step 7
Remove the smoker from the glass and enjoy your smoked cocktail, immediately.
It's that easy to add smoke to a cocktail. I don't often recommend cocktail gadgets, but this was a fun and delicious experiment and will impress your guests.
It would definitely make a one-of-a-kind gift for a cocktail lover, or a treat for yourself if you've ever been curious about how to add smoke to a cocktail.
A Video Tutorial
If you'd like to see the Aged & Charred Cocktail Smoker Kit in action, I demonstrated it for my followers over on Instagram.
Where to buy Aged and Charred?
You can find Aged and Charred on Amazon. They offer a few different types of kits at different price points.
When I clicked around, it looks like a kit with the torch was not allowed to be shipped to my area. If that's the case for you too, buy a kit without the torch and use a separate kitchen torch (that you can find at kitchen stores and department stores).
What kind of cocktails can be smoked?
You can smoke any type of cocktail. The results will depend on the type of wood you use and the flavors of the cocktail.
You can't go wrong with bourbon or whiskey cocktails! Here are some you can try with the Aged and Charred kit:
Pin to save this info for later!
Make sure you don't lose this easy way to smoke cocktails at home by saving it for later! Also, for more recipes and home bar tutorials, make sure you're following me on Pinterest, Instagram and like my page on Facebook.
More posts on making cocktails at home