This Microwave Applesauce recipe is full of flavor and ready in no time. homemade applesauce is the best and when I figured out you could make it in the microwave it became a go-to snack and side dish for the family! It's an essential treat for fall!
Why you'll love this apple sauce
Jump to:
I make extra of this easy Microwave Applesauce so that I have tons to stuff in my face. This is one of my favorite recipes. Ever. It is so easy and fresh and have I mentioned easy?
This post gets wordy. You can use the 'jump to recipe' button at the top to bypass all my words and get to the printable recipe card.
I love when fall rolls around! It's my favorite time of year to make this super delicious and easy Microwave Apple Sauce Recipe! But really this recipe works any time of year!
While it does take a few minutes to chop up the apples, once you put them in the microwave, your work is pretty much done. My kids LOVE this simple side dish recipe as a snack too!
I usually make applesauce in the microwave to serve with Christmas dinner. Well, I make it a day or two ahead so that I don't have to do anything on Christmas day. (It stores and reheats really well!)
I came across the recipe in Martha Stewart's Everyday Food magazine, years ago, and have been making it ever since (with some minor alterations). Her Cinnamon Applesauce is also delish.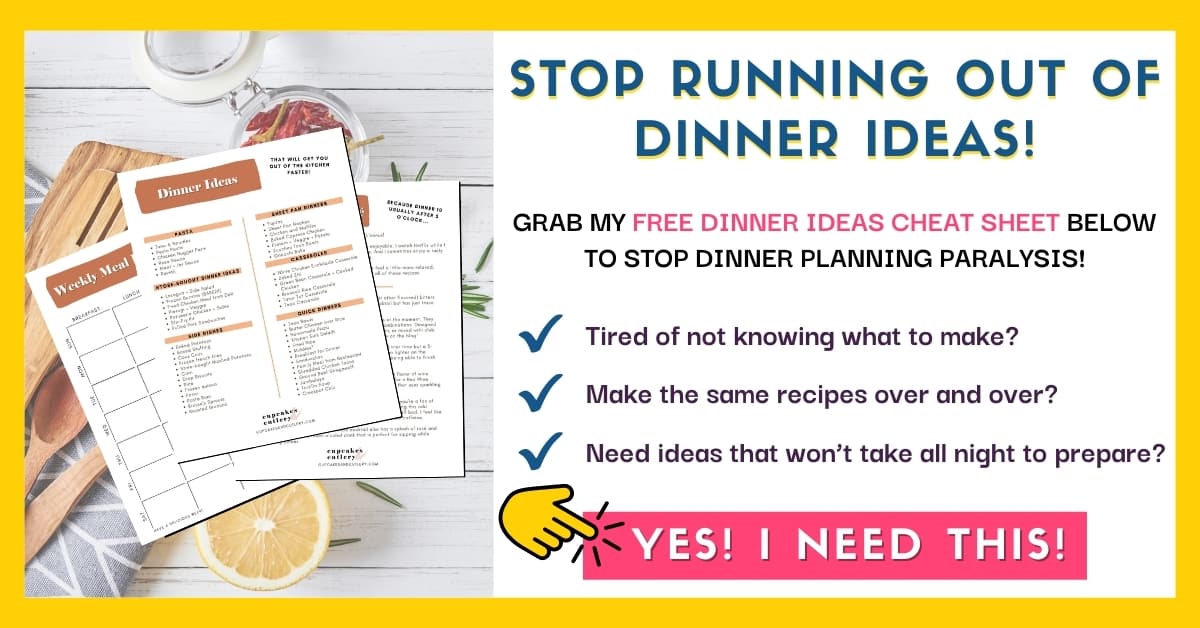 Ingredients
This recipe calls for Granny Smith apples, which give it a nice tart flavor and have a really nice texture when cooked.
A little bit of fresh lemon juice brightens everything up. And spices like cinnamon, nutmeg, cloves and ginger give it tons of flavor!
What I love about making apple sauce at home is that you can control how much sugar you add! I try to get by with the least amount possible.
How to Make Microwave Applesauce
Step 1
Peel and chop the apples. Add them to a 2-quart microwave-safe dish.
Don't forget to cut two extra apples for your kids. If you don't they will take the ones that are meant for your recipe whenever you turn your back.
Step 2
Add the ginger, cinnamon, nutmeg, cloves, lemon juice, sugar and salt.
I adapted this recipe from Martha Stewart. I add a bunch of different spices that I love. Like ginger, and cloves. Not a major change but I'm sure Martha would still clutch her pearls at the mere suggestion. (More on Martha below...).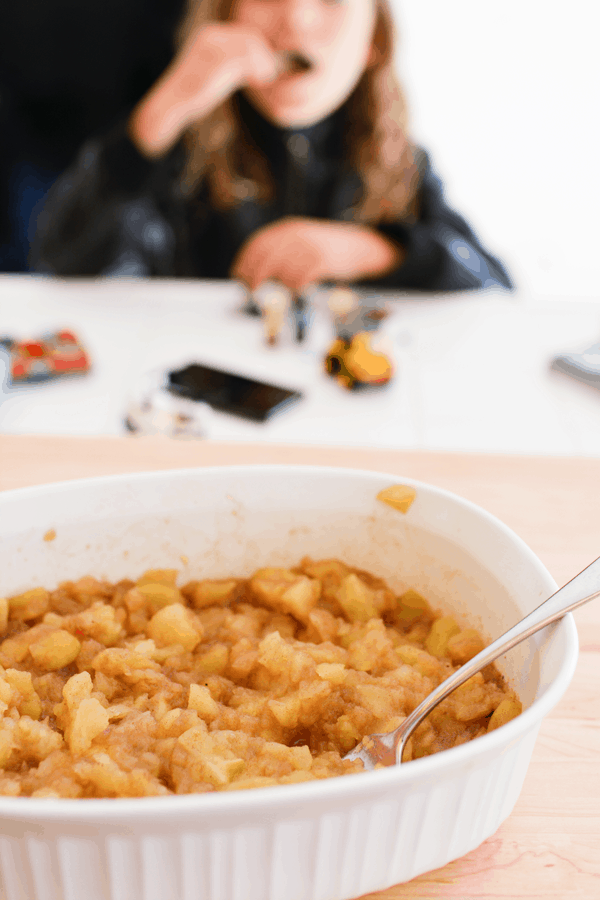 Step 3
Mix everything together then place the covered dish in the microwave. Cook on high for 5 minutes (about halfway).
Step 4
Mash the apples with a fork. I like to leave it really chunky though, but this is totally my personal preference.
Step 5
Cover then cook in the microwave for another 5-10 minutes. You just want to make sure the apples are tender and cooked through.
And then you eat it. It is yummy warm but I think it is even better cold.
This applesauce is super tasty and aside from a little cutting and stirring is pretty hands-off. It's a great side dish for holiday meals or anytime you're serving pork chops.
The flavor is absolutely crave-worthy!
You'll love this easy Applesauce Recipe. It's a great side dish for dinner or a perfect snack!
Frequently Asked Questions
What kind of apples are best for applesauce?
The green apples make it a smidge more tart than normal applesauce which I love. But if you want something sweeter, go with red delicious. The texture of apples can be different between the varieties but for apple sauce, I think you can't go wrong with a Granny Smith!
Is applesauce served hot or cold?
I think this is a personal preference! If I make this before dinner, then I will serve it warm. But it's SO tasty cold too! I wouldn't heat up the leftovers for subsequent meals. But you totally could if you think that would taste better.
Top Tips
If you don't love a certain spice, just leave it out! You can truly make this recipe your own.
If you want this to be silky smooth, you can use an immersion blender to take care of any chunks.
Don't be afraid to use less or more sugar depending on how you like your apple sauce. You could also use a more natural sweetener like honey.
Pin to save this delicious homemade applesauce recipe for later.
Make sure you don't lose this recipe by saving it for later! Also, for more recipes make sure you're following me on Pinterest, Instagram and like my page on Facebook. If you make this recipe, be sure to leave a star rating and tag me in your pictures!
Adapted from
Remember when Martha Stewart went all cray cray on bloggers not being all that and they all got in an uproar? I was not one of them. I didn't totally disagree with some of the things she said.
She was absolutely correct that I don't test my recipes to within an inch of their life. If I had a million dollars, a test kitchen and support staff, then yes, I would test my recipes more.
But she is wrong that I am not an expert. I am an expert in anything I do within the walls of my home. Because that is where I am free to make whatever I do completely my own and put my spin on it.
When I choose to share some of those things with my readers it is mostly to inspire them. If they make one of the recipes that I share and then make their own changes to it, that is what it's all about for me.
In my opinion, there is always room for improvement. This is why I made Martha's Microwave Applesauce Recipe better. OH SNAP! Yeah, I said it.
More easy recipes with apples
Easy Microwave Applesauce
With tart green apples and warm spices, this quick and easy Microwave Applesauce recipe makes a perfect side dish or snack idea. With just a few ingredients and a few minutes, you can make a big batch!
Print
Pin
Rate
Save
Saved!
Ingredients
6

medium Granny Smith apples

peeled, cored and cut into roughly ½" chunks

⅛

cup

sugar

½

lemon

juiced (approximately)

¼

teaspoon

ground cinnamon

⅛

teaspoon

nutmeg

⅛

teaspoon

ginger

1/16

teaspoon

clove

use more if you like it, but it is a really strong flavor

coarse salt
Instructions
In a 2-quart microwave safe dish with a lid, combine apples, sugar, lemon juice, spices and salt.

Cover and microwave on high until very tender, 10-15 minutes, stirring halfway through.

Mash apples with a fork (leave larger chunks for an overall chunkier texture).

Serve warm or cold.

Store covered in refrigerator for up to a week.
Notes
*Adapted from Martha Stewart's Cinnamon Applesauce Recipe*
If you don't love a certain spice, just leave it out! You can truly make this recipe your own.
If you want this to be silky smooth, you can use an immersion blender to take care of any chunks.
Don't be afraid to use less or more sugar depending on how you like your apple sauce. You could also use a more natural sweetener like honey.
Nutrition
Serving:
1
cup
|
Calories:
57
kcal
|
Carbohydrates:
15
g
|
Protein:
0.3
g
|
Fat:
0.2
g
|
Saturated Fat:
0.03
g
|
Polyunsaturated Fat:
0.1
g
|
Monounsaturated Fat:
0.01
g
|
Sodium:
1
mg
|
Potassium:
104
mg
|
Fiber:
2
g
|
Sugar:
12
g
|
Vitamin A:
50
IU
|
Vitamin C:
7
mg
|
Calcium:
7
mg
|
Iron:
0.1
mg