Are you looking for an easy and fun girl's night theme to recreate at home? Look no further than the Chicks and Dip party idea. With a chill vibe and delicious food, this theme is perfect for spoiling your girlfriends with a relaxed evening in and is a stress-free entertaining idea for you.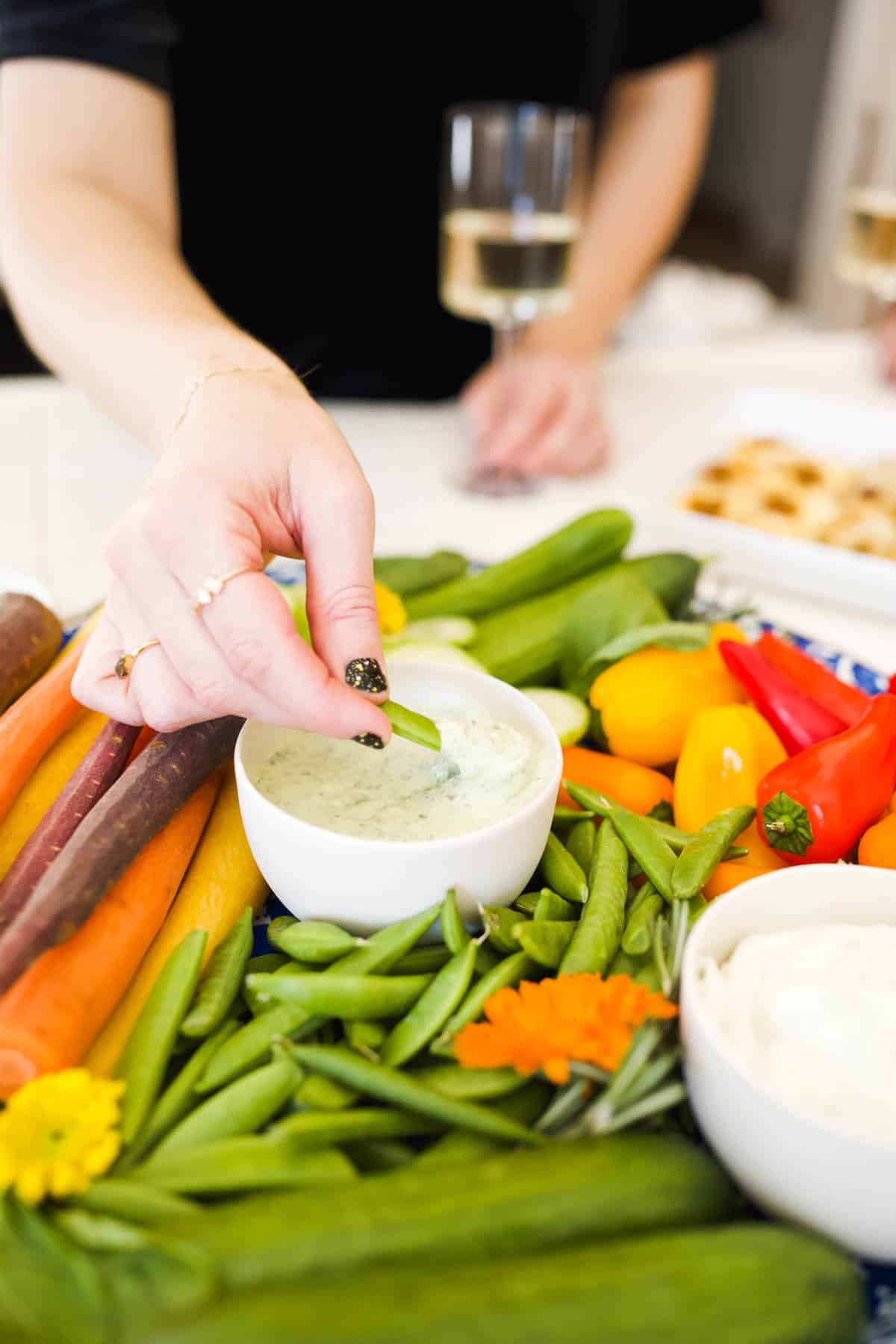 Jump to:
A girl's night in party theme you'll love
The keys to a successful Chicks and Dip party is to choose a variety of dip recipes that are easy to make or buy and pair them with your friends who don't care if your house has just been cleaned.
When I'm hosting a party (even something super casual like this) at home, I always like to have a focus. Whether the name "Chicks and Dip" ever even gets uttered to my friends is irrelevant. But it helps me organize everything in my head.
Related: Chicks and Salsa Girls Night Idea
And you can use this girl's night party idea in a very low-key way, or make your get-together more elaborate. That's always up to you. Having your friends over doesn't have to be stressful!
Overall, a Chicks and Dip party is a great way to bond with your closest friends and have a fun, relaxed night in. And chips and dip is delicious.
So put on a chilled-out playlist and give this theme a try for your next girl's night.
What to serve
When hosting a Chicks and Dip party, it's important to have a variety of delicious and easy-to-eat snacks and several dips, which are always crowd-pleasers.
You can also add pre-chopped fruit and veggie trays to keep it snacky. Or if you want your menu to be a little bit more hearty, you can serve something super easy like meatballs with marinara to dip them in. Or even French Dip sandwiches.
You can make the dips, but I like to pair a few homemade dips with some store-bought ones to make it easier on myself. I don't need to be a party hero. And I like to pick dips that pair with different dippers.
Dip Recipes and Ideas
Don't forget about serving something sweet. Dessert Dips are my favorite!
This Berry Cheesecake Dip, Strawberries Romanoff Dip or Cake Mix and Cream Cheese Dessert Dip would all be the perfect finishing touch to your evening.
Drink Ideas
No party is complete without a few cocktails or mocktails to sip on. Here are some fun drink ideas to serve at your chicks and dip party:
In addition to dips and cocktails, nuts, mini pickles, and olives are also great options for snacking. With these ideas, you'll be sure to throw a chick and dip party that your guests will love.
Create a nice atmosphere
You don't have to get elaborate with decorations for a party like this. The goal should be to create a cozy, inviting atmosphere that allows your friends to relax and have a great time.
Make sure to provide plenty of seating so your guests can sit down, kick back, and enjoy the evening. Whether you're binging a favorite show or just chatting with music on in the background, don't let this part stress you out.
A few candles and fresh flowers go a long way in adding a little pizzazz to the space you are used to seeing every day.
Tips to keep hosting easy
Prep in advance
To make sure hosting a Chicks and Dip Party is easy, try to do as much of the prep work before guests arrive as possible. This could include preparing the dips the day before, pre-squeezing citrus for cocktails, and setting up furniture. Doing this beforehand will help keep things running smoothly while your friends are there.
Ask guests to help
If you want to make it more potluck style, you can ask your friends to bring something (like a dip or an extra bottle of wine) or assign them a task like passing out plates and utensils once they get there. This will help take some of the burdens off you as the hostess and make sure everyone feels involved in the party.
Have fun
Above all, remember to have a good time. Aside from maybe straightening up quickly, just enjoy being with your friends and don't worry about perfection. Letting go of that can make hosting a lot more enjoyable!
How to Make This Party Idea Go from a Few Friends to a Larger Group
One way to make this party idea go from a few friends to a larger group is by adding more food and drink options. If the original plan was to serve just a few dips and dippers, you will need to up the quantities and maybe even add more variety.
Drinks-wise, you will want to look for large-batch cocktail ideas (sangrias are still a great option, or you can make a pitcher of margaritas and this Large-Batch White Russian is always a fun idea) and consider adding in a large dispenser of fruit-infused water.
If you're worried about the cost of liquor, just choose one signature drink, like a classic Moscow Mule and have all the ingredients on hand to make those.
No matter what you decide to serve at your Chicks & Dip party, the most important part is having a good time. So gather up some friends, pour yourself a drink and enjoy the company of great people – that's what this night is all about! Enjoy!
Save and pin this idea for later!
Save this party idea for later by pinning it or clicking the teal heart at the bottom right of the page. For more recipes and entertaining content make sure you're following me on Pinterest, Instagram and like my page on Facebook.
More easy party ideas