Growing up, we always had delicious Christmas sweets around as we got closer to the holiday. They were simple things, mostly candied nuts and easy homemade chocolates, that were easy to grab and great for last-minute entertaining. These absolutely delicious Cinnamon Glazed Walnuts were my favorite snack! 
And now they are one of my favorite holiday treats to make too! I just love to share my family recipes and traditions with you. As you know, my style is not complicated and the recipes I post are tasty but super easy. These Glazed Walnuts couldn't be easier. Anyone who has ever had these Cinnamon Walnuts has raved about the flavor. And when they are given the recipe they are blown away by how easy they are.
How to Make Cinnamon Glazed Walnuts
Aside from the walnuts, you probably have all of the ingredients at your house already. Sugar, cinnamon and vanilla. That's it. And a little bit of water.
Mix it all together on the stove and let it melt together. Stir often so the sugar doesn't burn. I think most things take on more flavor when they are a little overdone. Not sugar though, man. That just gets nasty.
Once the mixture has cooked for a few minutes, add in your walnuts and mix to stir. Then spread them out on a cookie sheet so they can dry. I'm going to be honest, because I'm no expert and I own my mistakes (all of them… you guys, that perm was NOT a good idea), I didn't cook the sugar mixture quite long enough when I made them for this post.
One thing you should know about me is I'm a skimmer. I read recipes through beforehand and then when it counts, when I'm actually making a recipe, I skim and miss valuable information. Like when it said cook until the water dissolves which would have made this mixture a little more caramel-y and harden up nicer.
It didn't ruin them. They still tasted amazing. It just meant that they didn't harden up as nicely as usual and because the mixture didn't cook down enough, there was some extra sauce on my nuts…yeah, I know how that sounds and I hope you got a good chuckle out of it. When I say harden, I don't mean these will be break your teeth hard. I just mean that the sugar mixture won't be tacky, and kind of candied but the walnut won't be any more crunchy than it is on it's own.
These Cinnamon Glazed Walnuts totally remind me of my grandmother. I'm not sure where she got the recipe from but these were always waiting for us at her house when we came to visit around the holidays. And my mom also made them every year.
You could always find these out on her holiday treats table on Christmas day alongside her fudge, the cinnamon candy, the best caramel corn ever and my fave candied orange peels. And now, my mother in law makes them around the holidays. It's so fun to see my families share what they love with each other.
These would make a great gift for the neighbors, teachers or even a hostess gift when you are making the rounds this holiday season. They are also great to keep on hand in case friends and family drop by unannounced (you know how they do) at this time of year.
Store them in an air-tight container, out of sight, or else you will eat them all. I guarantee. I finally had to throw the rest of them away (I gave away a bunch too!) because I think my pants are starting to not fit anymore…Tis the season!
Printable Cinnamon Walnuts Recipe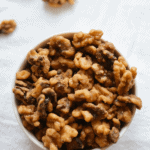 Cinnamon Candied Walnuts
A family tradition that you wait all year for.
Ingredients
3

cups

whole walnuts or walnut halves

1

cup

sugar

1

tsp

cinnamon

5

TBSP

water

1

tsp

vanilla
Instructions
Combine all ingredients except vanilla and walnuts.

Cook on low heat until mixture dissolves and it cooks down a bit (about 7 minutes total).

Remove from heat.

Add vanilla and mix well.

Add walnuts and stir to coat.

Spread out on a greased cookie sheet to dry.

Eat up.
Go ahead and just print out a few copies of this recipe to have on hand for when you serve these Cinnamon Sugar Walnuts to people. They will ask you for it. SO good. I can't wait to make these!
Here are more Christmas Snack Ideas
The BEST EVER Caramel Corn Recipe
Super Easy Sweet and Salty Snack Mix
Cocktail Meatballs with Bourbon and Jelly