Mmmmm. Bacon. This Warm Bacon Cheese Dip is a family favorite. It's ridiculously easy to make and perfect for sharing with friends and family.
With cream cheese and cheddar, this baked dip recipe is something I serve for the holidays, game day and any other time I need a crowd-pleasing appetizer.
This recipe is for people who love to eat more than they love to cook. It's one of my favorite easy appetizer recipes to make at home.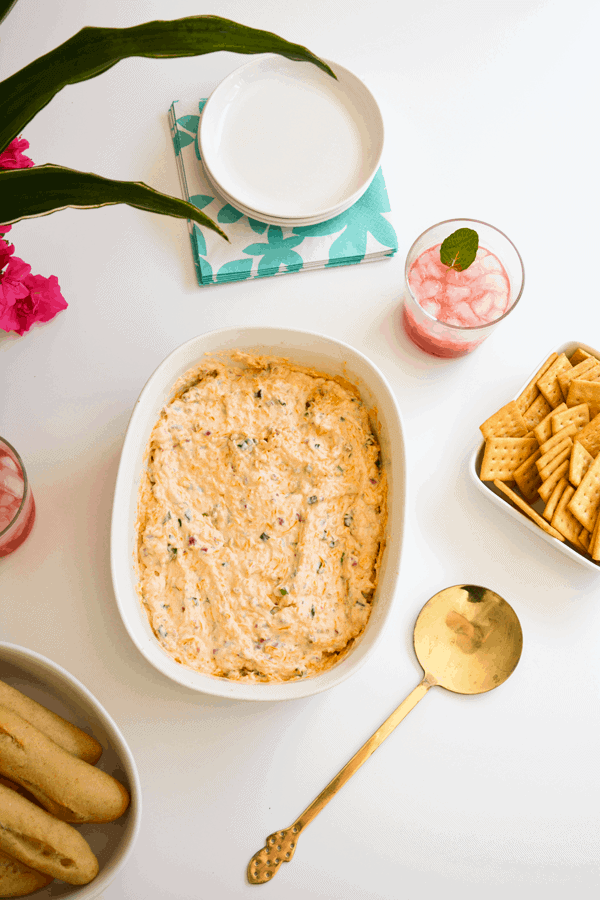 Some links in this post may be affiliate links. As an Amazon Associate in the Amazon Services LLC Associates Program, I earn from qualifying purchases by linking to Amazon.com and affiliated sites. I also participate in affiliate programs for other retailers.
A delicious cheesy appetizer recipe
In summer, I'm a chip and dip girl all the way. But when the weather cools down, I need my dips to warm up.
Baked dips are a great idea when you're having friends and family over. They are comforting and easy to make ahead.
This Bacon Cream Cheese Dip is one of my go-to recipes since everyone I have ever served it to has raved about it.
You really can't go wrong with bacon and cheese.
How to Make Warm Bacon Cheese Dip
The dip is crazy easy and uses cream cheese, sour cream, bacon, cheddar cheese and green onions.
I'm always looking for ways to speed up recipes. The way I do that for this warm dip is to use bacon bits and pre-grated cheddar cheese.
Although I have made this without the onions in the past, they really do add great flavor. If you don't have any and don't want to go to the store, you should still make this recipe.
If you want to make this dip more gourmet, you can cook your own bacon and grate your own cheese. You could even add some blue cheese crumbles.
Or you can keep the recipe as is so you can shovel this dip into your mouth hole faster.
The trickiest part of making this dip is to remember to leave the cream cheese out to soften. For some reason, I can NEVER remember that part!
How to soften cream cheese
So if you forget, you can still soften it easily. Place the unwrapped cream cheese on the microwavable plate.
Microwave the cream cheese for 15 to 20 seconds and then remove it from the microwave.
Use a spoon to mix it as best you can as the center might not be as warm as the outside of the cheese and you want to redistribute the heat.
You want it soft enough to blend easily with the other ingredients but not so hot that it starts to melt everything else together.
Once your cream cheese is ready, put all the ingredients in a large mixing bowl.
You don't even need to get out a mixer. Just use a wooden spoon to mix it well.
Aside from the green onions, which you can totally eyeball if you want, you don't even need to measure anything. You just empty the containers and you're good to go. So easy.
Use your favorite oven to table dish and bake it until warm and bubbly (about half an hour at 400 degrees).
What's awesome is this dip can be made ahead of time and kept cold in the refrigerator! Bake it off before your guests arrive. You may need to add on a little more baking time since your ingredients won't be at room temperature thought.
And if you plan on taking this dip to someone else's house for a game day party, just make it in a disposable pan so you don't worry about bringing it home.
Serve this bacon cream cheese dip with butter crackers or baguette slices or torn mini baguettes. You could also serve it with fresh veggies…but really this is a carb-lovers appetizer.
The dip will cool down, but the flavor is still there. And because you made it in a dish that you could take straight to the table, it's easy to reheat in the microwave if you need to during your get together.
This easy dip is creamy and full of that bacon flavor that we all love.
You may also like these easy dip recipes:
Warm Bacon Cheese Dip
This Warm Bacon Cheese Dip is full of gooey cheesy goodness! It's quick and easy to make and perfect for any kind of party. Or a Tuesday. Or breakfast. It's that good.
Print
Pin
Rate
Instructions
Soften cream cheese to room temperature.

When softened, add all ingredients to a bowl and mix well with a spoon or spatula.

Pour cheese mixture into an oven safe baking dish.

Bake at in a 400 degree oven for 25-30 minutes, uncovered.

Serve with crackers, veggies, bread, or pita chips.
Nutrition
Serving:
8
Servings
|
Calories:
382
kcal
|
Carbohydrates:
9
g
|
Protein:
13
g
|
Fat:
33
g
|
Saturated Fat:
17
g
|
Polyunsaturated Fat:
11
g
|
Trans Fat:
1
g
|
Cholesterol:
91
mg
|
Sodium:
481
mg
|
Fiber:
1
g
|
Sugar:
3
g
Pin to save this delicious Warm Bacon Dip for later!