Here's how to keep appetizers warm for your next party! These tips and tricks will ensure you don't serve soggy, cold food to your guests, safely. Make sure every bite is hot and delicious for surefire party success.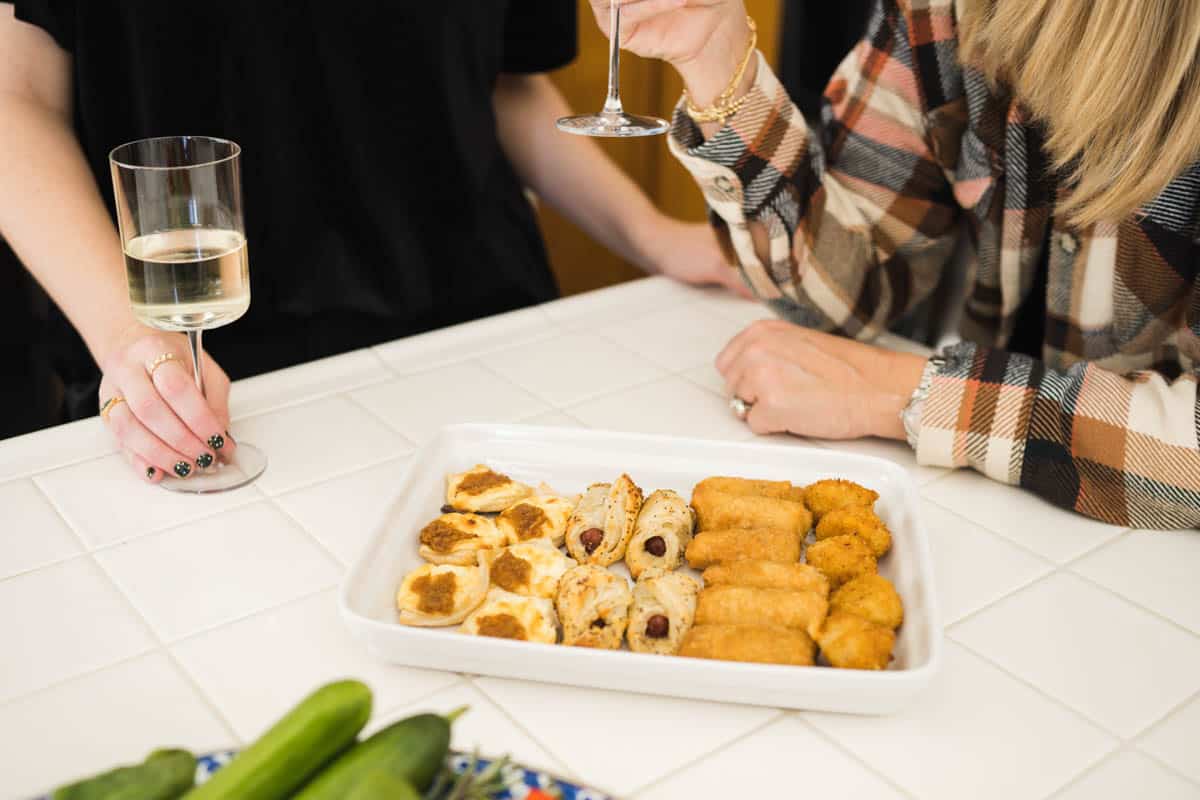 Jump to:
It's Easy to Keep Party Appetizers Warm
Keeping appetizers warm for your party isn't only to make sure you get the best flavor and texture experience, it's also a food safety measure.
The method you choose will depend on a few factors. Whether you're hosting just a small gathering or throwing a party with a large crowd, these ideas will help you strategize how to serve your warm dishes and hot food.
I'll show you ways to keep everything from jalapeno cream cheese dip, to finger foods, like little smokies, at the perfect temperature.
Best Methods For Keeping Your Food Warm
Below are some of the best practices for when you are needing to keep your food warm for a long time while you entertain.
1. Keep It Covered
The best way to keep the food warm once it's been cooked or heated up is to keep it covered. You can do this with aluminum foil or a lid that pairs with the baking dish.
Keeping things covered helps to trap the heat and the little bit of moisture that will naturally occur will make a small amount of steam that helps to keep things from drying out.
2. Slow Cooker or Instant Pot
A slow cooker or crock pot is a great way to keep food warm and ready to serve. Not only can you make and serve warm dips in it, but you can also use it to hold other types of finger foods.
I love the small slow cooker size for serving dips on a buffet table. It helps to ensure that it's just right no matter when a guest wants a serving.
And this Crock Pot is perfect if you aren't hosting at your house and need to take your warm appetizers somewhere else.
Keeping your slow cooker on a warm setting will help keep your appetizers nice and warm for a longer period of time, safely. You can stack eggrolls and other hearty finger foods in layers in the bowl.
I like to separate the layers with a piece of tin foil to keep things a little more organized. This also allows you to keep different types of finger foods in the same appliance.
An even better option is to use the "warm" setting on Instant Pots. So you can use it similar to how you would keep appetizers warm in a crock pot.
Tip: Use a liner for your crockpot which will make for an easy cleanup easier!
If you are worried about aesthetics you need to see these GORGEOUS Crockpot Warming Lunch Boxes that you can totally put on your buffet table. Such an upgrade!
3. Warming Plates
Warming plates or a buffet server that you serve the appetizers in is another way to get a safe temperature for your food. They can easily be placed on your buffet table or an appetizer and snack table.
Electric warming plates allow you to serve things in your own serveware and will keep your party food warm for a couple of hours easily. They don't stand out too much and keep everything tasting delicious and at the right temperature for your party guests.
I love these also for holidays and large dinners when you are trying to get everything ready to serve at once.
A heated buffet server looks great on a food table and comes with covers. For these, you put your finger foods or other warm snacks into their vessels and drop them into the stand that keeps it warm. These are great for smaller parties and hold 3 different things at once.
These appliances allow you to serve up hot appetizers throughout the entire party and are perfect for keeping dips like queso, artichoke dip, and beer cheese dip warm while also providing enough space for other finger foods like mini tacos or taco cups, sliders, and chicken wings.
For larger parties, you can use Chafing Dishes. Those typically use little candles under the tray, to keep the food above it warm. You can serve larger portions of one recipe or make your own dividers with aluminum foil to separate things.
All of these methods for keeping food warm work for not only appetizers but any time of warm party food.
4. Preheated Oven
You can use a preheated oven to keep things on hot and ready to serve. There are two downsides with this method. First, it will heat up the house which is not ideal when there are party guests. And second, it may dry out the food.
5. Heat Packs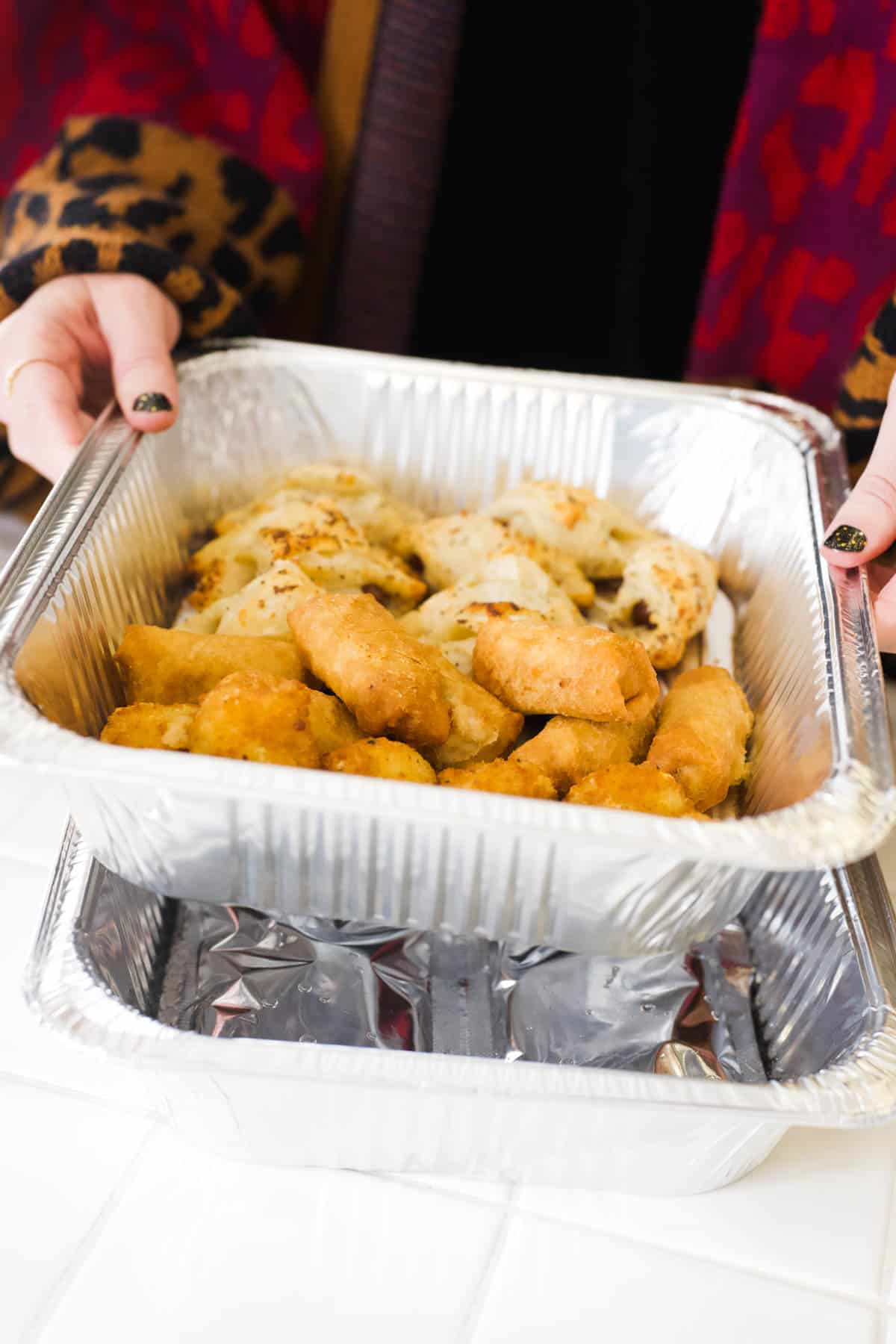 Did you know you can buy heat packs that are meant to keep food warm? They are like a heating pads for the food and they are really easy to use.
They are disposable and work well with disposable pans. But they might not be the look you want for your party table. In that case, these could keep the back stock of warm appetizers ready in the kitchen and you can replenish the food table as needed.
While these are great to keep appetizers warm, they are made from chemicals (albeit a non-toxic gel) so you will want to make sure that you keep them away from direct contact with food.
You place the hot packs in tray on the bottom with the tray with food on top. The heat packs are water activated which I love since that means they are flameless. They will help to keep the food nice and warm, especially if you cover the food tray.
The bottom of the pan will get pretty hot so be sure to set them on a hot plate so you don't ruin your table.
6. Tin Foil and Hot Bricks
Using hot bricks wrapped in foil is a good idea for an outdoor party like a pool party. It's easy to do and can be a clever way to keep appetizers warm.
Heat up bricks in the oven (I bought new ones from Lowes so I wouldn't have to spend time cleaning them)
Wrap them with a few layers of aluminum foil.
Wrap a towel around the warm, tin-wrapped bricks.
Place your food tray on top of the towel
While this does act as a homemade hot plate for your food, be aware that as the bricks cool down so you will the food. You will have to reheat your appetizers if you entertain for a few hours.
This method works best if you place the wrapped bricks into a cooler! With the lid closed, it will help to keep things warm for quite a while. We did this at my son's elementary school when they did a math activity involving finger foods. It worked like a charm!
This method does not look great. So again, you may want to keep things out of view from your party guests. Or don't worry about! It's totally up to you. I guarantee if people see it, they will be inspired to use this same method themselves for their next party.
7. Thermal Bag
A thermal bag is a good way to keep your food warm for a shorter period of time. These are best for transporting food or keepings things warm but not serving them.
These work best for items that have been heated fully in the oven and then use the bag as a food warmer for the dip or say container of meatballs, etc.
Other Methods
8. Hot Water Bottles
You can use hot water bottles or a thermal bottle with hot water. Then you will wrap with towels to help lock in the heat for a DIY food warmer to ensure the food stays in the safe zone.
The water bottles will keep the towels warm and you just put the food on top of the towels.
I am guessing that you probably don't have a hot water bottle because those are a little outdated and old-timey so I would not run out and buy one for your next party. This is will only keep the food warm for a short time anyway. But I still wanted to share it.
You might be able to use a hot water bottle inside a cooler the same way you used wrapped bricks but I've never tried it.
9. Electric Blanket
Another option for keeping snacks, finger food and other party appetizers warm is an electric blanket. For this option you would need to have a outlet near the food area where you are serving your hot meal and appetizers.
I also think this would look terrible. This would be great for entertaining while camping maybe, but this would be my last choice for keeping appetizers warm at a party. Same for a heating pad (which I just don't think would get hot enough).
10. Thermal Cooker
You might not be aware of what a thermal cooker is. It's a large device, that looks a little bit like an Instant Pot, that can not only finish cooking food but keep it warm for hours. I've never used one so I don't have too much information about them.
I do know, however, that they wouldn't be my first choice for keeping appetizers warm.
There are also thermal containers that are like a big insulated Thermos that you can keep food in before the party starts. These are also great for camping or tailgating.
Party Tip
While you may be able to keep the appetizers warm, the texture might not be perfect. You can always pop the finger foods into a broiler or toaster oven to crisp them up just before serving.
Food Safety Tips to Remember
Never leave hot appetizers out at room temperature for longer than 2 hours. Bacteria can begin to grow at the 2 hour mark, the danger zone!
If you leave your appetizers out without a way to warm them, you will need to refrigerate them for at least 30 minutes before you bring it back out to reheat it.
If these safety tips worry you, consider serving your appetizers like I do. I like to serve only ½ to ⅓ of the batch at a time.
Then, instead of worrying about the bacteria or reheating to the correct temperature, I can just remove any that have been sitting and replace them with fresh ones.
Put any leftovers into the fridge (as long as they haven't been out over two hours or its not a crazy hot day) and you can enjoy them the next day once you've reheated them properly.
What Is the Best Temperature to Keep Food Warm?
The best temperature to keep the internal temperature of your party food is 140 degrees. Most store-bought warmers only heat up to 120 or 110 degrees.
Keep in mind that food warmers are meant to heat for just a short time frame, but it isn't going to be like serving fresh out of the oven.
And no matter what method you choose, it will be hard to keep any temperature super consistent since guests will serve themselves and may not replace the lid, etc.
Make sure you read the recommended way to heat your food and the time frame to follow for each type of serve that you buy or use.
Some people like to use a low-temperature setting on the oven to keep things warm but I find this dries out the food too much! I would skip this method.
Best way to keep food warm while you transfer?
Are you going to a party at a friend's house? You can use this type of thermal food bag for transporting. They come in a variety of sizes and are disposable so you don't have to worry about bringing it home with you.
And as I mentioned above, some crockpots, especially ones with lid locks, are a great way to transport party food with ease.
Both of these methods help to prevent heat loss as you travel. There are of course different ways but these are my two go-to methods to best trap heat.
More easy party ideas