These bottles are the five best New Zealand sauvignon blanc under $20. If you're looking for a delicious bottle of white wine to sip that won't break the bank, look no further!
These are my favorite, go-to wines with a great price point that are easy to find and easy to drink. These are perfect for sharing with friends.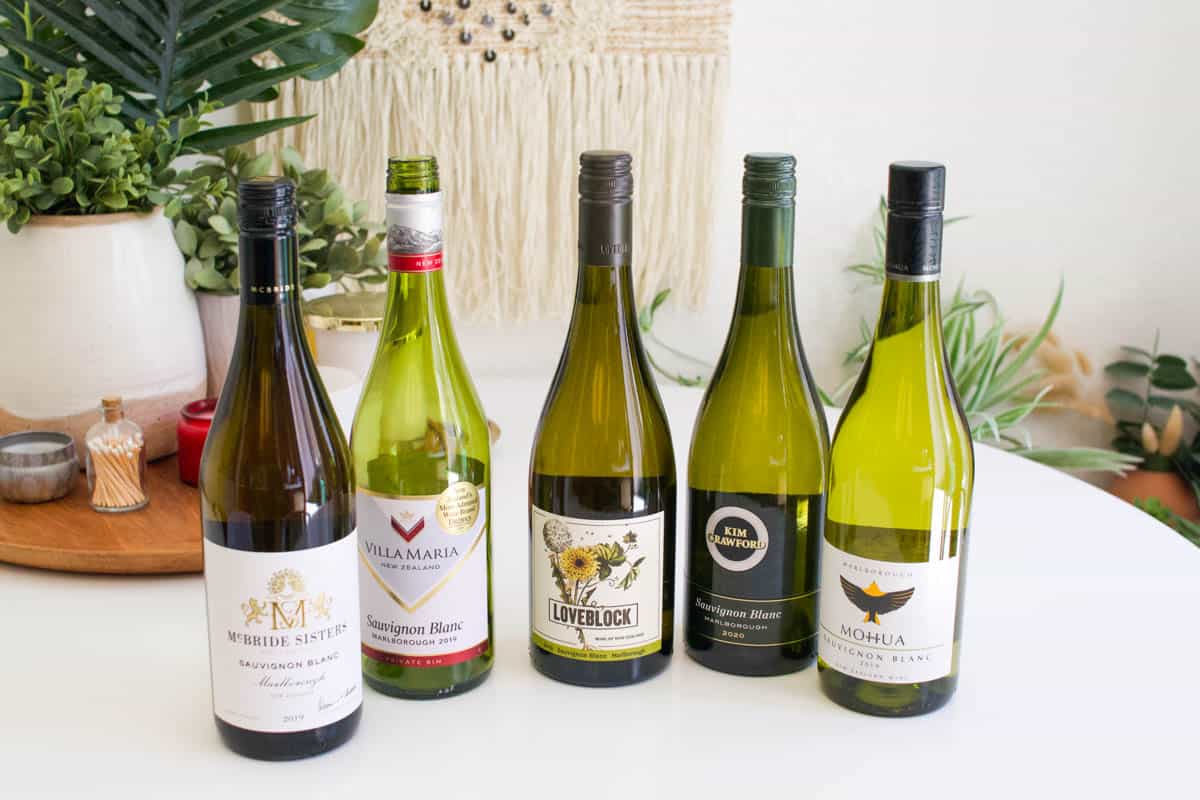 Jump to:
The best New Zealand sauvignon blanc under $20 is perfect for everyday drinking.
While there are a few bottles of sauvy b that I like to splurge on from time to time. I save those for a more special occasion and instead look for a better value.
Why Sauvignon Blanc
Sauvignon blanc is versatile and one of the best white wines that you can drink, especially if you don't like the oak flavor of chardonnay.
It can be served with food or enjoyed by itself. There are many brands and a variety of price points making it easy to find great value in lower-priced bottles without sacrificing flavor.
It has a light, citrus fruit taste and a decent amount of crisp acidity that helps cut through heavier foods like steak and fish. (Bottles that have a lot of grapefruit or lemon notes help balance out heavier foods).
Related post: Sauvignon Blanc Jello Shots
Sauvignon blanc also pairs well with spicy dishes like curries and Mexican mole.
But a chilled glass of tangy sauvignon blanc is also just right when sipped without food, on a warm day.
While chardonnay is a very popular white wine, sauvignon blanc is easy-drinking and great to serve to people whose wine preferences you may be unsure of.
With more zing than pinot grigio, this wine is on the dry side and full of fruit and citrus flavors.
And the best part is there are many tasty bottles of New Zealand sauvignon blanc under $20.
My Favorite New Zealand Sauvignon Blanc Brands
I'm a wine enthusiast, just like you. And I don't think an expensive bottle will always be the best option. (You can read about my wine background near the bottom of the post).
Along with the wines listed below, I've also had some tasty bottles from Winc wine club. You can read my full Winc review but I usually pick up a few bottles several times a year to practice tasting and they are usually always delicious and under $20.
You can try the wines below individually or even host a tasting with wine-tasting score cards (like my Rosé Tasting) for friends and try all of these at once.
Or pick your favorite bottle and invite your gal pals over for a girl's night and host a Wine and Essential Oils party. There's no wrong way to enjoy wine!
1. Kim Crawford Sauvignon Blanc
I've spent a lot of time with Kim. You'll find it on many restaurant menus and it's in every grocery store. It's a great, all-around yummy wine.
Kim Crawford Sauvignon Blanc is delicious and has a lot of grapefruit notes. If you're looking for a wine that can be paired with heavier fish dishes, this wine will not disappoint.
It also tastes of juicy peaches, mangoes, passionfruit, and tropical flowers. With crisp acidity and a refreshing finish, this is a great wine perfectly suited for the summertime.
The smell is intoxicatingly fruity with stone fruit notes coming through. Citrus fruit is also present on the nose as well as floral aromas that come from the passionfruit and ripe peach.
I have heard that they use grapes from all over New Zealand which means that the flavor can differ slightly from bottle to bottle. But overall you know what you're getting and it's a good, consistent sip.
The price range is between $10 (when on sale) up to $20 depending on where you buy it from. Find it in grocery stores, wine stores, and even Target.
They also sell it in cans now although the cost for those is crazy outrageous. You're better off pouring a bottle of wine into an insulated bottle and taking that with you.
Kim Crawford also offers a bottle called Illuminate that is lower in calories. It's still pretty tasty but certainly not what I want to drink all the time. They also offer rosé and a sparkling wine.
2. McBride Sisters Sauvignon Blanc
McBride Sisters wine is a family-owned boutique winery with a real-life 'Parent Trap' story. Growing up in two prestigious wine regions, these two half-sisters both fell in love with wine and eventually found each other and began to produce delicious wines together.
Their wines are light, fruity and refreshing—perfect for any occasion!
And not only are they the largest Black-owned wine company in the United States but one of the most inclusive, accessible, socially aware creating sustainable wines.
And they create wines that are accessible and under $20 so that everyone can enjoy them.
The McBride Sisters Sauvignon Blanc has some ripe tropical fruit notes. You will also taste passion fruit, honeydew melon and green pepper flavors. These are beautifully balanced with a bright acidity and a nice finish.
It's super refreshing and easy to drink. It's found in local grocery stores and bigger wine shops and runs about $16. They also sell other varietals and canned options.
This company also makes sparkling wine, rosé and pinot noir as well as some chardonnay.
3. Mohua Sauvignon Blanc
Mohua Sauvignon Blanc has a light crispness and sweetness to it. It's slightly dry with a full-bodied mouthfeel. It is good for drinking with spicy food or sipping on it's own.
Mahua is a family-owned winery based in New Zealand winery based in Marlborough. This wine is a good-value white that has the complexity of more expensive wines.
I first had it at a local wine bar and quickly set out to buy a bottle. I accidentally confused Mohua for Matua and bought a bottle of that instead. It was just ok. Until recently, I could find Mohua at one local grocery store but I haven't been able to find it there lately.
At around $14, this is one you should try to track down at a local wine shop or order it online. They also make a Pinot Noir if you're interested.
4. Loveblock Sauvignon Blanc
Because my neighbor and I love to share a bottle of Kim Crawford at our Friday night happy hours, I was looking for a bottle to celebrate her birthday with.
I did a little research and found out that THE Kim Crawford (the man behind THE Kim Crawford brand) had sold the company and semi-retired. He and his wife started making Loveblock and I knew I had to try it.
Loveblock Sauvignon Blanc has a fruity nose along with flavors of grapefruit, kiwi, lime and passion fruit. The wine is refreshing and light with a slightly herbal finish.
The winemaker's philosophy is to make premium quality wine that won't break the bank. They believe this is achieved by sourcing high-quality fruit from renowned vineyards around New Zealand and using small production methods to produce world-class wines at affordable prices.
The wine is delicious and the perfect summer (and beyond!) quencher. This is around $17 a bottle and I buy this one from my local Total Wine store.
This winery also makes Pinot Noir, Pinot Gris and more unique varietals.
In my opinion, this is one of, if not the best sauvignon blanc under $20.
5. Villa Maria Sauvignon Blanc
Villa Maria Sauvignon Blanc was an accidental find! My husband bought it for me for Christmas. He's not that into wine and doesn't know too much about what I look for, but boy! Did he get it right!
The wine is a vibrant light straw color with rich tropical fruit and citrus aromas. The flavor is very refreshing and has notes of tropical fruit, such as mango, pineapple, grapefruit, and lime mixed with a hint of white peach. It's creamy on the palate and finishes dry.
Villa Maria is a top-notch winery in the Marlborough region of New Zealand that consistently produces world-class wines. They have won a number of awards since their inception as well and are known for their consistency over the last decade and more.
The best part yet? This bottle is just $7 (although I noticed it was marked up at the grocery store on my last visit to about $14) so it's the best cheap sauvignon blanc! And I do not end up feeling awful the next day either.
This is one that I'm now keeping around and it's a great one to use in cooking and wine cocktails since the flavor is great and the price is super reasonable.
This one is easy to find at most grocery stores. Villa Maria also makes Chardonnay, Syrah, Pinot Gris, Merlot and more!
Again, I am NOT an expert but I've tried a ton! And this wine drinker loves to help others find something delicious to enjoy.
If you're looking for the best white wines to bring to your next party that you think everyone will enjoy, try one of these bottles of New Zealand sauvignon blanc under $20.
They're a great value and the best sauvignon blancs to start exploring with. You'll really like them!
And one over $20
I recently came across a new-to-me bottle of sauvignon blanc (Cloudy Bay) that I fell in love with. But at $24-33 a bottle, it's a definite splurge! These 5 bottles below are my go-to picks for everyday drinking and sharing with friends.
New Zealand Vs. CA
Wineries from California and New Zealand produce sauvignon blanc, but they differ in style. Many people say that the best New Zealand sauvignon blanc is more fruity with a softer taste and less tannin than California.
Made in and around Napa Valley as well as other major wine regions in the central valley, CA sauvignon blanc is also popular.
But in my opinion, sauvignon blanc made in California lacks excitement. They fall a little flat for me.
If you think of them like sisters, the CA sauv blanc is the one that wears tiny gold hoops. The NZ sauv blanc wears big, bold colorful earrings that you wonder how she doesn't knock herself out when she turns her head.
Sauvignon blanc is also made in other parts of the world. It is said to have originated in the Loire Valley of France (Sancerre is always a delicious wine to try but they are usually over $20).
It's also made in Chile, South Africa, and Baja, Mexico has some great bottles coming out of the Guadalupe Valley. Read more about planning a tasting trip here on Passport to Friday.
Sipping or Pairing
There are many bottles of sauvignon blanc under $20, and your wine purchase will sometimes depend on what you are expecting from the bottle.
If you are just looking to enjoy a nice crisp wine, you can't go wrong with sauvignon blanc. Light, tart and on the dry side, it's perfect to sip.
There is no oak like you typically find in chardonnay and they are more vibrant than a pinot grigio.
If you are looking for a bottle to pair with food you may choose a bottle suited for the meal you are serving. I am not an expert in food pairings and prefer to ask the pros at my local wine shop for guidance.
You can't go wrong with one of these New Zealand wine brands.
How to Serve Sauvignon Blanc
I like to have my sauvignon blanc a little on the colder side so I can really taste its flavors.
If you want to enjoy your wine on a warm day, don't put ice cubes in it because it will water the wine down. (Or do. It's up to you how you like you're wine).
You can use reusable wine cubes to keep it chilled or use an insulated cup (only on very hot days or if you are in the pool).
I like to drink mine out of a wine glass. I move between this pretty, somewhat traditional glass and this more modern glass when sipping at home.
I love to use sauvignon blanc in a white wine spritzer recipe. Or I clap a few pieces of fresh basil between my hands and place it in the wine. It gives it an amazing aroma as you bring your lips to the glass and also mildly infuses the taste.
If you have a bottle that has been open for a few days, you can infuse it with herbs and citrus to make it taste ok for a little bit longer.
I'll be honest, even out of a plastic cup, sipped with watered-down ice, I still prefer it to most other white wines.
If you want to use these bottles in a legit tasting just chill the bottles, invite some friends and print out some wine-tasting score cards. Everyone can take notes on flavor, etc and keep track of which bottles they want to drink more of.
How to Store Sauvignon Blanc
Since sauvignon blanc does not have tannins and it even has a light body, it can be stored anywhere from 1-3 years in the right conditions.
Keep in mind that sauvignon blanc wine will always taste better young so drink it sooner rather than later. It is still delicious with age but the dry grassy flavors of sauvignon blanc tend to get stronger over time while the fruity flavors get weaker.
And the fruit flavors are the best part!
Keep spare bottles in a cool dark place. While you can keep them in a wine fridge to keep them at a great holding temperature, I like to sip it colder.
I like to put a bottle in the fridge the night before I plan on enjoying it.
How to Chill a Bottle of Wine Fast
One of the easiest ways to chill a bottle of white wine quickly is by using cold water or ice. So don't fret if you don't have one ready to go when happy hour rolls around.
Grab an ice bucket, wine bucket (I know this isn't what you think of when you think of an ice bucket but this is what I use when we happy hour outside...), or use your sink. You should be able to fit a whole bottle of wine almost to the top.
2. Fill the container with water and, depending on the size of the bucket, add a few cups of salt. The salt helps to significantly drop the temperature of the water. (If you've ever worked in a restaurant you may have used an ice and salt and lemon technique to clean coffee pots. My hands would freeze!).
3. Add a lot of ice cubes. As many as you can fit and still fit the bottle. You may end up using all of your ice in your freezer. If you are needing to do this for a party you should pick up a few bags of ice. (You can cool several bottles of wine at the same time this way as long as your receptacle allows for several bottles to be submerged).
4. Fully submerge the wine bottle once you have the salted water and ice mixture all set. Turn the bottle a few times if you think about it and in about 15 minutes your wine will be chilled enough for drinking.
My wine background (or lack thereof)
I am not a wine expert but I really enjoy drinking and learning about it. As a cocktail server in college, I was given very basic wine service training and did some tastings with distributors.
It was there that I tasted pinot grigio which opened up the world of wine to me. Before then, I was strictly a cocktails girl.
Over the years I've tasted more wines (I love to taste in Temecula!) and figured out that I prefer Sauvignon Blanc from New Zealand. Kim Crawford is my go-to bottle. It's always delicious and you know what to expect.
It's not "good" wine. But I think great wines are super subjective and it's all about what you like and what you want out of that bottle. Just wanted to share my baseline and let you know where I'm coming from.
More wine posts