This Chicks and Salsa girls night in theme is easy to recreate! With delicious food and simple decorations, this party idea is a great way to spoil your girlfriends with a relaxed evening at home.
These easy Mexican-inspired party ideas will help you host your friends with ease. They'll be talking about all the fun little Pinterest-worthy details for months to come.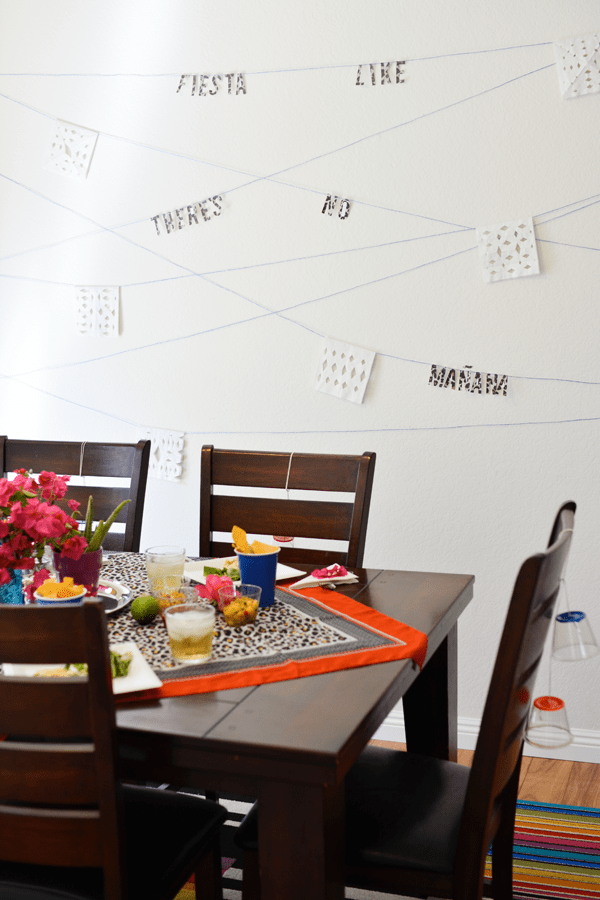 This post was originally published on September 23, 2013 and has now been updated with even more details so you can easily recreate this girls night theme for your friends.
Mexican-Inspired Girls Night In Theme
Who doesn't love a girl's night, am I right? It is the perfect time to reconnect with those gals that you can say anything to and laugh at everything with.
When I would visit my sister, who went to another state for college, we would go to this little bar that had a "Chicks and Salsa" night. The name always stuck with me and I think it is great theme idea for a fiesta-inspired girl's night in!
Let this post be your guide for how to host one of these themed parties, but by all means, get creative! Mexican-themed parties are more than just tacos.
The culture is rich and colorful and I always try to look for authentic touches when doing a themed party from outside my own cultural experiences.
Related: Toast and Jams Brunch Party Theme
I grew up going to Loreto, Mexico on vacation and have gotten to go back as an adult (see here also Food and Fun in Loreto and details of my stay at Villa del Pal Mar Loreto) and I have the utmost respect for the people and culture.
As you can tell by looking at this post, this is a very Americanized version of a Mexican-inspired party. And you can even see my serape on the couch in the image below. (Smacks forehead).
When planning themed parties, we (the collective we) sometimes have a tendency to make things feel very gimmicky. So just watch out for that.
I am much more proud of this party I styled that had some of my favorite influences without feeling like you bought everything from Party City. (Even though the recipe in that post was nowhere near authentic. I keep trying to grow and learn. It's all we can do).
This post was originally sponsored by a disposable cutlery and cup company so that played into a lot of the decorations used in these photos. I loved that it allowed me to use everyday items in a creative way and encourage you do to the same in your own parties.
So if you want to throw this type of party, I encourage you to look beyond what you typically see used for a "fiesta" and see if you can do this theme in a new way.
Easy Party Decorations
An easy wall decoration can have big impact without a lot of work. I used simple string to criss-cross back and forth so I could hang words and a very janky attempt at papel picado made from napkins.
(From now on I will only be buying papel picado as it is a true art form and should be done by someone who KNOWS how to do it. You need to see the work of @aymujer on Instagram and her Ay Mujer shop. Absolute paper magic!)
The "Fiesta Like There's No Manana" words were printed out on printer paper which was then used as a template to cut out the letters on fabric.
I get that leopard print is not a traditionally used pattern in a Mexican-themed party but I can't stop using it. It also matched the scarf I used as a table covering. And half of my closet.
Quick place card idea
While it isn't exactly a formal affair, I decided to hang place cards on the back of the chairs. I used a variety of bold colors (like those found in my favorite blankets) to paint the inside of the bottoms of the cups. I figured the extra color would help make it a little bit more festive.
Custom party sign idea
I made this quick little sign for the occasion to add more ambiance. I love all the marquee signs with lights that you can DIY but am totally afraid of power tools. So I decided to mimic the look with cups that I painted and a little hot glue.
Fresh flowers and plants
I wanted to add some color to the table but not spend a lot of money. I used a silver tray to group aloe plants with the pink bougainvillea flowers which made for a really easy centerpiece with lots of color.
You don't have to make everything as I did here, you can also purchase party decorations. I encourage you to look for a family-owned store to buy from to help support a small business.
Or you can check out Amol's, a 4th generation family-owned store specializing in fiesta supplies based in San Antonio.
What to Serve
Cocktails
Any good girl's night starts off with cocktails. Or at the very least, wine. I'm obsessed with white wines from the Valle de Guadalupe in Baja. See if you can find some of those to serve.
Drizly has some options that can be delivered right to your door or check with your local wine shop.
I am in love with Moscow Mules. But while I was in Mexico I started dreaming of a twist with tequila instead of vodka. A Mexican Mule is a great signature cocktail idea.
More easy cocktails for your girls night in:
I'm not sure if you're into that kind of thing but a tequila shot isn't a bad idea. Deleon tequila is super smooth and won't make your mouth feel like gasoline going down.
A Basil Margarita is a unique twist on a classic tequila cocktail.
A Vodka Margarita keeps things interesting by skipping tequila altogether.
I recently fell in love with a Tequila Gimlet. It's so easy to make and super refreshing.
For non-alcoholic drinks serve Topo Chico or Jarritos both of which are easy to find in the grocery store. And Jarritos colorful soda is another way to add color to your table decor.
Girls Night Dinner
For an appetizer, a trio of salsas will surely please your guests. I have never met a chip or salsa that I or my friends didn't like. And since the name, Chicks and Salsa, is a play on the term, it just fits.
These were all store-bought to keep things easy. Because that's what I'm all about. Choose 3 different types of salsa to offer a variety. I did a traditional style salsa, a corn salsa and a mango salsa.
I served this individually using small plastic cups for each salsa, but you could easily turn this into an Epic Chips and Salsa Board.
See even more easy appetizer ideas here.
I kept dinner simple with my favorite White Chicken Enchilada Casserole recipe that can be made ahead of time and put into the oven to bake as your guests arrive. It's creamy and filling and something your guests might not have had before.
While the casserole is not the prettiest to look at, it is absolutely delicious!
I paired that with a bagged salad mix topped with the delicious Trader Joe's cilantro dressing (so yum!). I added some pepitas for crunch which is optional but worth it in my opinion.
I made sure to keep chips and salsa on the table through the main course. I don't know about you but I can eat chips and salsa all night long.
This menu is super easy so you can whip together this girls night theme quickly, even on a weeknight.
Dessert
For dessert, I created a Churro Cream Cheese Fruit Dip. This dessert can also be made ahead of time making this menu super easy and totally yummy.
Serve your creamy fruit dip with fresh fruit (like strawberries and mango) or cinnamon sugar pita chips.
I served this individually but you can also serve it family style if you prefer.
Need a few more dessert ideas?
To serve dinner, you can keep things super simple by using disposable tableware. If your friends are like mine, they could care less if I use paper plates in order to save time on clean up.
Or you can use your favorite plates and just save the dishes for the next morning.
Activities for Girl's Night In
If you're hosting a dinner party, you don't really need to add any activities. But you know your friends best and if you feel like they would like to do something, plan to have a few activities ready to go.
Craft something: Buy the supplies and have the gals make DIY Lava Rock Diffusers.
DIY Spa Night: Mix up a fresh batch of Coffee Scrub to send everyone home with.
Wine Swap: Have each gal bring a bottle of her favorite wine. Draw numbers and have each person choose a bottle to take home with them. This is a fun way to learn more about wine without having a full-on wine tasting.
Entertaining doesn't have to be crazy complicated. Once you've chosen your girl's night in theme give yourself a little time to plan and set up and then make sure you enjoy the evening with your friends.
This Chicks and Salsa party theme is a fun excuse to invite your friends over!
Save and pin this recipe for later!
Save this party idea for later by pinning it or clicking the teal heart at the bottom right of the page. For more fun ideas make sure you're following me on Pinterest, Instagram and like my page on Facebook.
More easy party ideas