Want a fun way to spoil your besties? Grab the chicks and salsa and have a Mexican themed girl's night in!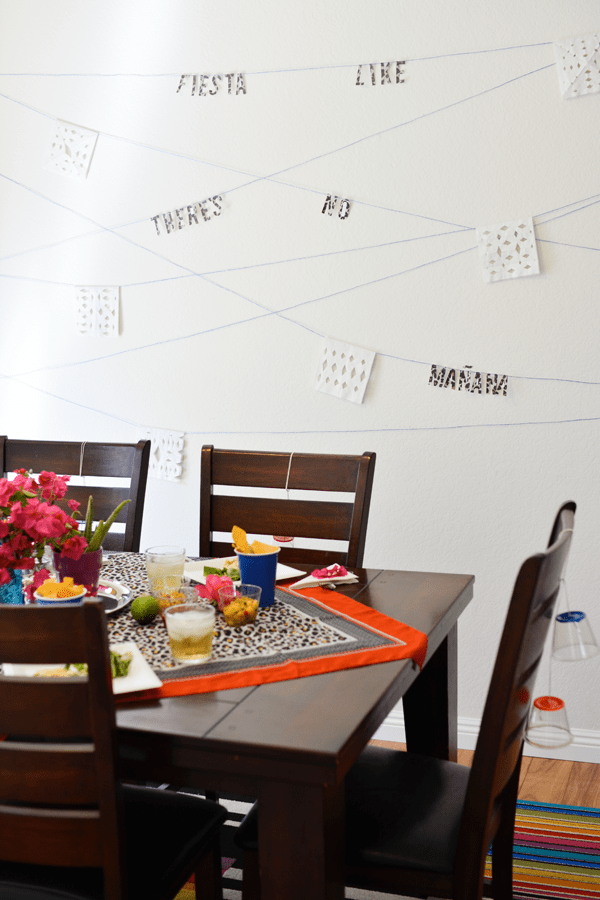 Who doesn't love a girl's night, am I right? It is the perfect time to reconnect with those gals that you can say anything to and laugh at everything with. I've been dying to host a "Chicks and Salsa" party forever. When I would visit my sister, who went away for college, we would go to this little bar that had a Chicks and Salsa night. The name has stuck with me and I think it is great inspiration for a Mexican themed girl's night in!
While it isn't exactly a formal affair, I decided to hang place cards on the back of the chairs. My dining room is so plain (except for the rug – but we STILL haven't hung any artwork) I figured the extra color would help make it a little bit more festive.
I made this quick little sign for the occasion to add more ambiance. I love all the marquee signs with lights that you can DIY but am totally afraid of power tools. So I decided to mimic the look with cups that I painted and a little hot glue.
As you may remember I am in love with the Moscow Mule cocktail. But while I was in Mexico I started dreaming of a Mexican Mule – which is the same drink just using Tequila instead of the Vodka. Any good girl's night starts off with cocktails. Or at the very least, wine.
For an appetizer, a trio of salsas will surely please your guests. I have never met a chip or salsa that I didn't like. These were all store-bought to keep things easy. Because that's what I'm all about.
The point of this post is to share that your entertaining doesn't have to be crazy complicated to have a nice little party and a great time. I wanted to add some color to the table but not spend a lot of money or time on the decorating. I picked up two aloe vera plants from Trader Joe's (you can never have enough aloe vera in my opinion so these will live on long past the party!) and added in some bougainnvillea that I got from my neighbor's yard (I asked first!!!).
I kept dinner simple with my favorite white chicken enchilada recipe (which I turned in to a casserole) and a pre made salad with Trader Joe's cilantro dressing (so yum!). Adding some pepitas for crunch is optional but worth it in my opinion. The enchilada casserole can be made ahead of time so this party would be really easy to pull off on a week night.
While the casserole is not the prettiest to look at, it is absolutely delicious! I made sure to keep chips and salsa on the table through the main course. I don't know about you but I can eat chips and salsa all night long.
I kept the decor super simple. I used blue string to hold up my paper letter garland. Just come up with a fun saying and cute out the letters. Easy. You can use paper napkins to resemble papel picado.
I had originally intended to use one of the blankets I picked up in Mexico as the tablecloth but I am in love with this scarf and thought it was the perfect choice.
For dessert I created a Churro Cream Cheese Fruit Dip. This dessert can also be made ahead of time making this menu super easy and totally yummy. Clean up was super simple since most of the items I used were disposable! Boom. That's how you do it. So when are you planning your Mexican themed girl's night in? Your friends will love it!
*Thank you to Chinet for sponsoring this post. My sponsors allow me to be creative and share ideas with you. And as always, all opinions are mine!