It's about that time! The playoffs have just started and the chips are being poured.
If you like to tailgate at home, and host your friends and family on game day, here are some easy tips to help you party with ease.
These simple party ideas are the key to throwing a football party that you'll enjoy too.
Some links in this post may be affiliate links. As an Amazon Associate in the Amazon Services LLC Associates Program, I earn from qualifying purchases by linking to Amazon.com and affiliated sites. I also participate in affiliate programs for other retailers.
Tailgate at Home
Ah, football. I don't love it. But I do love to tailgate at home!
I've never been to a professional football game. But it's on my bucket list for this year.
I hear tailgating is super fun. But until I get to experience that, I like to invite people over to watch the big game at my house.
For me, it's not really about the game, it's about connecting with people and enjoying an afternoon together.
Yes, some people won't want to talk or have any distractions from the game. But others will be happy for the distraction.
I'm not a big sports gal, but I am a big entertaining gal!
Easy Home Tailgate Party Ideas
When I host a party at home, I like to create an atmosphere that goes along with the reason for the party (in this case, football) but also lets me stretch my creative muscles a little bit.
Sure, you can hang up store-bought decorations, but I always like to put a little of my style into it.
As I mentioned above, there are two types of people who attend football parties. Those who love the game and those who are along for the ride.
The hardcore football fans won't care about your decorations, but the people who are there for the fun of it all will appreciate the effort.
There are two areas that I focus on at every party (food and activities), to make sure that ALL the guests have a good time.
Our guest list usually includes kids and adults so we try to come up with things that will keep everyone happy.
Home Tailgate Food Ideas
I set out a Moscow mule bar…so you know there were some good times had by the adults…
Kids love to be active so we made sure to set out some footballs for them to play catch with. In my experience kids don't sit and watch whole football games. I also made sure there were paper and pens set out for drawing for the kids who weren't into sports.
We set up a super simple photo booth in the kitchen so the kids could get silly. You KNOW kids love to take photos of themselves. Just think of the number of selfies you find on your phone. For the backdrop, I kept it super simple with a cute football themed garland and some easy braids made out of crepe paper streamers and used ready-made props.
It was total boys club in front of the TV watching the game. The kids didn't hang too long but the men stayed parked here all afternoon. We won! Just kidding, I don't even know who was playing. I set out paper partyware for the kids to grab when they needed a snack or drink. This ensured that I got to enjoy the party also.
A cooler of drinks makes it really self-serve. It is really funny, though, to listen to kids talk about football. My older son has definite opinions about teams and players, and I have NO idea where his information is coming from considering he has never sat through one whole game.
Food is an important part of any football party. And frozen pizzas from Freschetta, Red Baron and Tony's are the perfect thing to serve! With very minimal effort, you can serve them as an appetizer or a main course. They are inexpensive and feed a large crowd, easily. You don't typically see pizza served at tailgate parties, which is why tailgating at home is awesome – I heart pizza.
It may be selfish of me to want to enjoy a party that I am hosting, but if that's wrong, I don't want to be right. I love to spend time and catch up with the guests. I always do as much prep work as possible before anyone shows up so that I'm not running around all crazy and can actually connect and chat. Serving these frozen pizzas is the best idea ever! They require very little work (pop them in, set a timer, and cut into pieces!) yet result in full, happy bellies.
We put a few pizzas in the oven throughout the afternoon and served them kind of like an appetizer. That way everyone could eat when they were hungry and there was no full on dinnertime to try to juggle. Serving a meal can get stressful especially when your house is small, like mine, and it's hard to find a spot for all the guests.
Some of our friends have food allergies so they brought their own pizza to ensure that their needs were met. As the host, I always work with the guests to make sure that they are safe and happy, in this case, they brought their own pizza that didn't have cheese, but I modified a snack mix recipe I made so they could both eat it. But FYI, Freschetta does have Gluten Free options if you need them!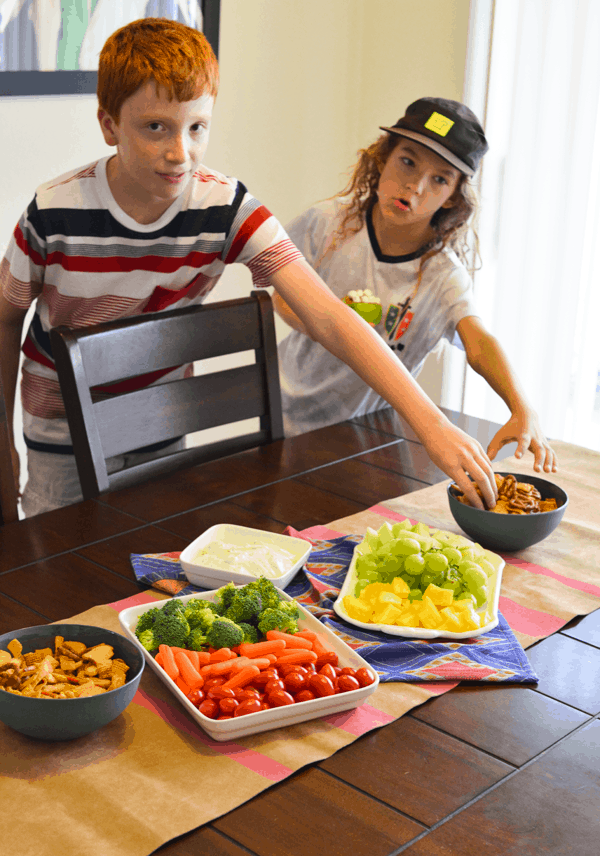 I always try to set out fresh fruits and veggies at my parties. My kids are grazers and if it's out, they will eat it. Plus with dietary restrictions, there will be something for everyone. I always hated when my son was left out due to his allergies (mostly outgrown, Amen). And I know I'm biased but this Chex Mix recipe is the best ever. IT'S SO GOOD!
How to Make the Best Cream Cheese Dip Recipe
But OMG you guys! This easy chip dip recipe is perfect for you to serve at your home tailgate! All football parties must have chip and dip. I think that is a written rule somewhere. And this cream cheese dip is crazy flavorful. Not only is it the perfect snack food for your guests to grab, I use it to dip my pizza crusts in…YUM! The dip is based on this one.
The dip is super simple to make and only uses a few ingredients. The flavor is out of this world. The hardest part was coming up with a name for it! Are you ready for it? It's called, The Best Chip Dip Ever. Super creative, right?
Printable Best Chip Dip Recipe
Best Chip Dip Ever
The name is not a joke. It's that good. And it's perfect for serving at all your parties.
Print
Pin
Rate
Instructions
Make sure your cream cheese is well softened before you begin.

Heat water in microwave safe cup or bowl for about 30 seconds (it needs to be warm enough to help break up the bouillon cube.

Add the bouillon cube and stir until completely dissolved.

In a large bowl, add cream cheese, liquified bouillon cube, Old Bay, Worcestershire and garlic clove.

Use a hand held mixer and beat until all mixed and smooth and creamy.

Serve with ridged potato chips and/or veggies.
Nutrition
Serving:
1
Servings
|
Calories:
110
kcal
|
Carbohydrates:
3
g
|
Protein:
2
g
|
Fat:
10
g
|
Saturated Fat:
6
g
|
Polyunsaturated Fat:
3
g
|
Cholesterol:
29
mg
|
Sodium:
312
mg
|
Sugar:
2
g
Looking for other Tailgate Recipes? Try these:
20 Appetizer Ideas That Pair Great with Netflix (but are great for football too!)
Loaded Tater Tots with Buffalo Aioli
Or you can browse through all my easy recipes. There are lots of appetizers and snack ideas sprinkled throughout!